A true artist can take an everyday item and invest it with so much skill and imagination that it becomes something much bigger in the eye of the beholder. That case could be made for music or film or gallery art, but could it actually be made for pumpkins? Based on the Louisville Jack O'Lantern Spectacular, currently running until November 4th at Iroquois Park in Louisville, Kentucky, it's entirely possible.
This year's installation includes 5,000 pumpkins along the trail, which runs one-third of a mile. Jack O'Lantern Spectacular got its start in Oxford, Massachusetts in 1988 as a local school fundraiser featuring artistically carved jack o'lanterns. The creators behind it eventually formed Passion for Pumpkins, Inc., and the company has gone on to produce art shows and events around the country. Their artists combine traditional carving with Sharpies, paint and more to pull off some truly spectacular pieces. All of the Jack O' Lanterns in their shows are indeed made from real pumpkins. Roughly 40 artists did all of the work for this year's show. In the beginning, local talent was solicited through resources like Craig's List, but it's grown to the point where word-of-mouth and outreach to Louisville Visual Arts attracts talent.
Louisville Parks and Rec produced this video about the 2015 Jack O'Lantern Spectacular.
Today, the company operates shows in communities like Providence, Rhode Island, and Minneapolis, Minnesota. The Louisville installation is in its sixth year and runs as a benefit for the Louisville Parks Foundation, a non-profit that works on park improvements through the area. Mounting the show takes several months of planning; layout and designs typically begin in June, with actual carving taking place much closer to the event due to the fact that the pumpkins will rot. Pumpkins are frequently modified or swapped out during the course of the show, creating slightly different viewing experiences if you attend more than once.
According to Erika Nelson, Communications Director of the Louisville Parks Foundation, the temporary nature of a carved pumpkin is something that the show considers. The pumpkins may last up to a week, but warm weather can make that stay shorter. Another danger to the pumpkins is posed by animals. Nelson says, "Being in the woods, animals are absolutely taking nibbles here and there. Sometimes they will eat most of the pumpkin and it will need to be replaced. Other times, we may be able to get by with a couple of bites out and leave it on the trail for another day. It really depends on where they decided to snack and how hungry they were."
The event is also conscious of repurposing resources. Nelson explains that Passion for Pumpkins takes care of the seeds and innards. She says, "Most of the material goes to compost. Seeds for the bigger pumpkins are returned to the growers so they can continue to grow prize winning pumpkins." As for after the event, if any pumpkins are intact, they are generally donated to any organization that might want them.
You may be wondering what's so special about a jack o' lantern display, perhaps picturing a single simple carved pumpkin perched on a neighbor's porch. If that's the case, you'd be comparing a local folk singer busking for quarters to Live Aid. This is the Godzilla of Halloween displays, and it's earned raves from the likes of The Huffington Post, CityNova, and MSN.com, who called it one of the "10 Best Places to Celebrate Halloween in America." The show has drawn about 75,000 people annually over the course of the event. This year, Nelson says, "We're projecting closer to 90,000."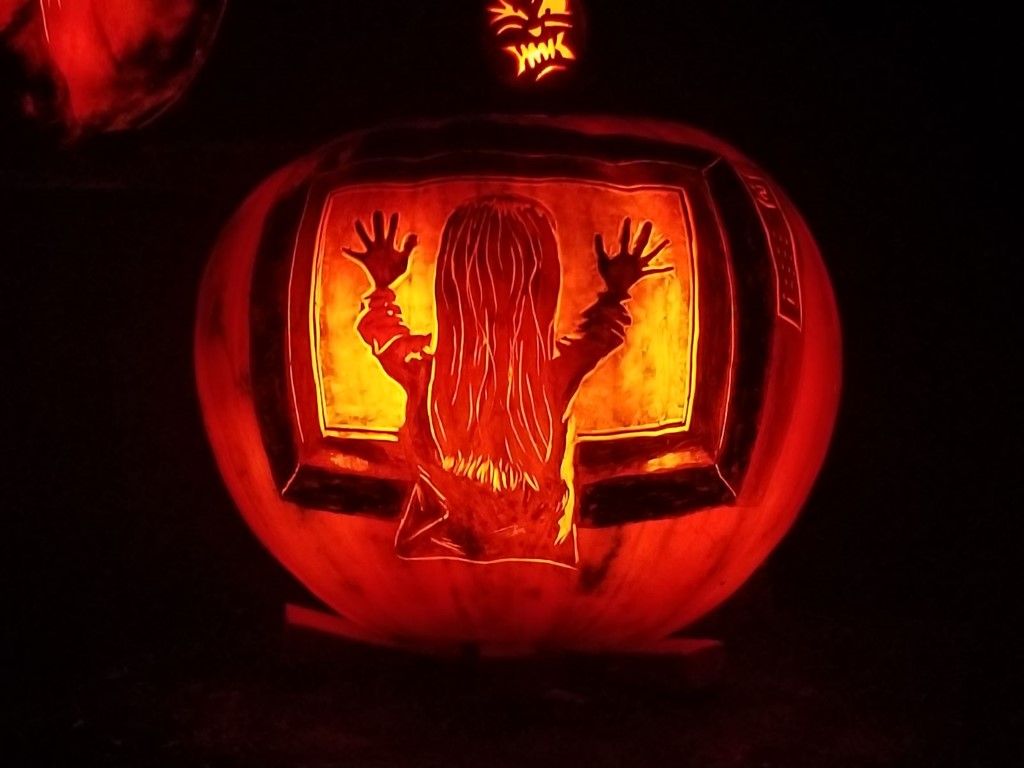 The structure of the event is impressive in terms of both scale and execution. Arranged on a wooded trail that goes for one-third of a mile, the Spectacular weaves along a path that's surrounded by the 5,000 jack o'lanterns. There are areas dedicated to specific themes like "Grimm Fairy Tales" or "Science Fiction." The decorated pumpkins encompass a dazzling array of characters, books, and films. Other jack o'lanterns feature inventive facial designs and expressions.
Some areas include builds that reflect the theme. The fairy tale area includes a castle, for example, while lighted UFOs hover over the science fiction area. A 20,000 Leagues Under the Sea display features a giant squid with tentacles grasping other decorations. Over it all is a sea of twinkling green lights in the tree canopy. Further backdrop is providing by music chosen for each area; the theme from The X-Files plays near the aliens, while the theme from The Avengers plays by the super-hero jack o'lanterns. Local color gets a shout-out as well, with a segment dedicated to famous people and events from Kentucky, including Hunter S. Thompson and local sports legends.
The Jack O'Lantern Spectacular easily earns its name. It's definitely something that you need to see for yourself in order to comprehend the sheer scale and immersive overall experience. It's fun for all ages, it benefits a great cause, and it's an honest artistic achievement. The Great Pumpkin himself would most certainly approve.
Become a Saturday Evening Post member and enjoy unlimited access. Subscribe now