Read all of art critic David Apatoff's columns here.
When Norman Rockwell was a young art student, he idolized Joseph Leyendecker, who he called "the most famous illustrator in America."  Leyendecker was a cover artist for The Saturday Evening Post, and painted more than 300 covers between 1903 and 1943. Rockwell dreamed of becoming a cover artist too, but didn't know how he could ever paint as well as the great Leyendecker.
In his autobiography, Rockwell recounted how he spied on Leyendecker, trying to learn his artistic secrets:
I'd followed him around town just to see how he acted…I'd ask the models what Mr. Leyendecker did when he was painting. Did he stand up or sit down? Did he talk to the models? What kind of brushes did he use? Did he use Winsor & Newton paints?
Unfortunately, none of this information seemed to make Rockwell a better painter.
A few years later, Rockwell finally got to visit Leyendecker in his studio and watched first-hand the master working on a painting. It turned out that Leyendecker's secret had nothing to do with his brand of brushes or paint. Rockwell recalled:
New Rochelle published a brochure illustrated with reproductions of paintings by all the famous artists who lived in the town. Joe worked on his painting for months and months, starting it over five or six times. I thought he'd never finish it.
The painting that Rockwell saw on Leyendecker's easel was beautiful, with many fine touches.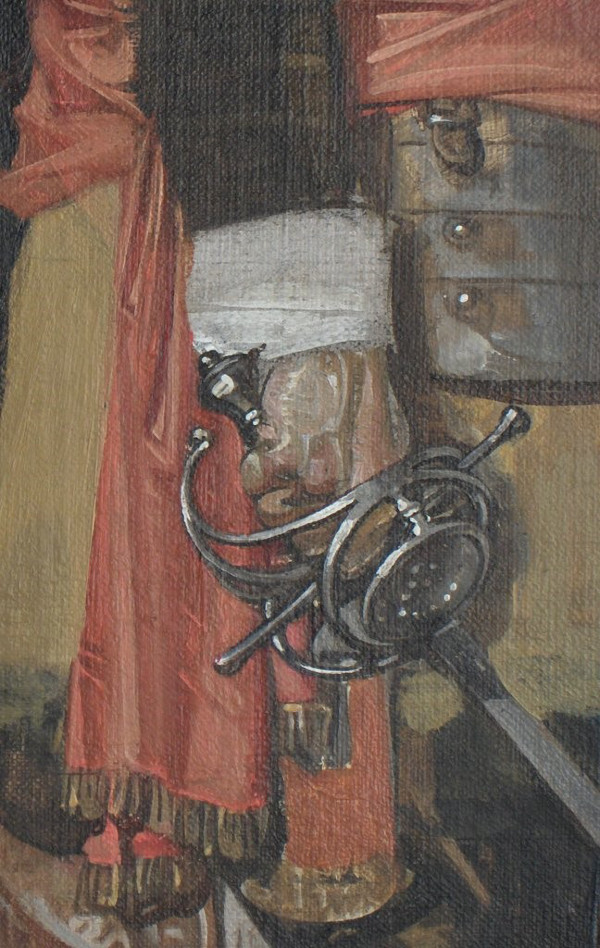 The painting was 95 percent finished and the client would have been happy to pay for it. All Leyendecker needed to do was finish this hand and a few other touches.
Yet, Leyendecker remained unsatisfied. The painting didn't meet his high personal standards.
Rather than correct the parts he wanted to improve, Leyendecker set the entire painting aside and started all over again, searching for the exact image he envisioned.
Later, when Rockwell saw the final version published by New Rochelle, it looked like this:
­­­­­­This gave young Rockwell a lot to think about: Leyendecker's first version was perfectly acceptable; it just wasn't 100 percent what it could have been. Leyendecker seemed to spend a lot of time starting over in search of that elusive missing five percent.
Leyendecker's high standards made Rockwell nervous about showing his own work to the master. Rockwell wrote, "You never asked Joe…what he thought of your painting unless you wanted a real critique; he thought nothing of starting a picture over again."
But when it was Rockwell's turn to become a professional illustrator, it seems he had learned the lesson. He painted "100%" in gold at the top of his easel to remind himself never to give anything less. That philosophy kept Rockwell at his easel seven days a week painting countless studies in order to get the details right. If he'd been willing to accept 95 percent, Rockwell could've worked faster, made more money and spent more time with his family. But he learned the lesson of Leyendecker, and that's why people still remember him and admire his work today.
Featured image: Painting by J.C. Leyendecker. Photo courtesy of David Apatoff
Become a Saturday Evening Post member and enjoy unlimited access. Subscribe now