Variety, they say, is the spice of life. There was a time when it was the spice of television as well. Variety series and specials brought the 20th century's most iconic and popular performing artists into homes for command performances.
Steve Binder was a variety virtuoso. He produced and directed some of television's finest, most famous hours (and in the case of The Star Wars Holiday Special, most infamous). His first film, The T.A.M.I. Show, ranks in the pantheon of rock and roll concert films (it's the one where James Brown stole the show from The Rolling Stones).
But Binder is most famous for directing Singer Presents…Elvis, better known as the '68 Comeback Special. The riveting hour resurrected Elvis's dormant career and, for a brief and shining moment, restored his title as the King of Rock and Roll. It went downhill soon after that; less than a decade later, Elvis would be dead at the age of 42.
Reinventing Elvis: The '68 Comeback, a new documentary produced by Spencer Proffer and directed by John Scheinfeld (streaming on Paramount+), puts this extraordinary television event in cultural context through evocative archival footage, interviews, and scenes from the special. In his four-star Saturday Evening Post review, Bill Newcott hailed the film as "a chance to experience the raw power of Presley as a performer."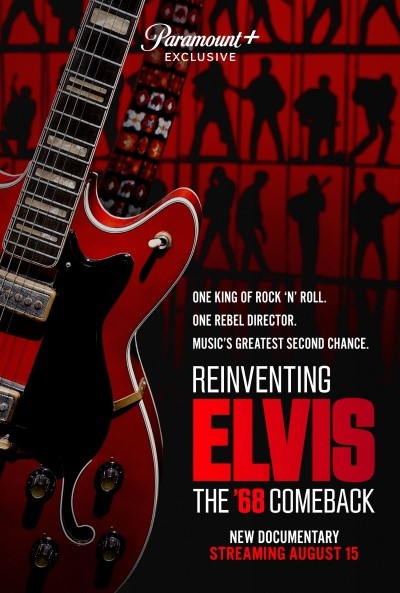 But what makes the film "essential," he writes, is Binder's participation. Binder was present at the creation: "A natural storyteller, Binder regales the filmmakers with tales of trying to balance Elvis's artistic and social aspirations with the baser instincts of his manager, the now-reviled Colonel Tom Parker," Newcott writes.
In a recent interview with The Saturday Evening Post, Binder shares his cherished memories of Elvis. For an artist who has worked with, to name just a few, ABBA, Harry Belafonte, Petula Clark, Olivia Newton-John, Paul Reubens (as executive producer of Pee-Wee's Playhouse), Diana Ross, and, of course, Luke, Leia, and Han Solo, the Q&A format doesn't quite do him justice. He's got stories that for anyone else would be epic, but for him are just casual asides, like getting Laura star Gene Tierney's autograph at the age of five when she moved onto his street.
Here are excerpts from our conversation (edited for clarity and length).
Before Binder could sign on to do the special, he had to pass muster with Elvis's manager, Colonel Tom Parker.
Bob Finkel, who produced the special for NBC, said I had to get Colonel Parker's approval. But before I left to meet the Colonel, Finkel told me to pick up some croissants at a nearby bakery. I bought about 10. I get to MGM and walk in with a paper bag with all these croissants. Colonel Parker doesn't say thank you, he just takes the bag, opens his briefcase, and puts them in. To this day, I don't know what he did with them. But I get back to my office and there is an urgent call from Bob Finkel. He says he doesn't know what I did, but the Colonel loved me.
But not for long. The Colonel undermined Binder and company every step of the way.
My experience with the Colonel was confrontational to the very end, right up to the minute that Elvis walked out on stage (for the informal, intimate acoustic jam session in which he played his classic hits with members of his core band, which was a highlight of the special). There was no audience, even though the Colonel said he was going to fly a plane in from Memphis with bouffant hairdo-ed, blue-eyed Elvis fanatics. He never intended to do that, but I was stupid enough to believe him. We had to pull people from everywhere at the very last minute. We went over to Bob's Big Boy and asked people eating their breakfast if they wanted to come over to NBC to see and hear Elvis. We got disc jockeys to broadcast a message to get over to NBC Burbank.
Why would the Colonel try to sabotage the very thing that could rescue his client's career?
Colonel Parker was a great promoter but not a great manager. He had no vision for the creative side of Elvis Presley. He was only interested in the dollar and being in control. He didn't want anyone to get between himself and Elvis.
When Elvis asked Binder to give his assessment of Elvis's career, did he, as depicted in Baz Luhrmann's biopic, tell Elvis that he thought his career was in the toilet?
I did, but Baz took a lot of license. I never smoked a cigarette, maybe once in high school. And Elvis and I never, during the entire production of the special, went up to the Hollywood sign. But I think Baz did a great job. He really set us up to do the documentary, because the movie was seen worldwide, and my name was mentioned repeatedly. [laughs]
Elvis liked people who spoke truth to the King.
Pricilla told me years after Elvis had passed that after my first meeting with Elvis, he came home and said, "I don't care what the Colonel says, I've got a gut feeling this kid Binder knows what he's doing." It was the first and only time where he really took a stand and lived up to it. He delivered.
Binder was a self-confessed West Coast guy, more Beach Boys and Jan and Dean than Elvis. But getting to know Elvis was a revelation.
I had never seen anybody who was perfect. As a director, you have all your stars demanding they be shot on their right side, their left side, from a higher angle. Elvis didn't say any of that. I told him to just do his thing and I would capture him. It was incredible to see him from behind; just his body language.
Elvis did not want to travel back and forth from Beverly Hills, where he and Pricilla had rented a house, to Burbank. He asked for a bed to be put in his dressing room.
Every day after rehearsing or taping, he'd go back to his dressing room, get out his guitar, and jam with whoever happened to be hanging around. Nobody had ever captured that. It was what I was looking for to make the special special. The Colonel wouldn't let me bring cameras into his dressing room, but he finally let me recreate that intimate setting onstage. Then Elvis asked for his longtime drummer D.J. Fontana and guitarist Scotty Moore to participate. They didn't even have time to rehearse, but it was like when you haven't seen somebody for 20-30 years, and then when you do, it's like it was only the day before. It was instant magic.
Elvis' reaction to Elvis
Elvis asked me the first time we met what if the special tanked. I said he would still be remembered for his early rock and roll hits, his millions of fans, and his movies. He worried that with the Beatles and Rolling Stones, the kids would not know who he was or accept him again. I told him to stop thinking negatively, that if the special was a hit, every door he thought was closed to him would re-open. When we watched the show in a projection room, just the two of us, he enjoyed it so much. He told me that he never again wanted to record a song that he didn't believe in or a movie where he didn't like the script. There's a subtle thing that I see when I watch Elvis that probably goes over the head of most people. Elvis rediscovered himself. It's like Sally Fields' Oscar speech, where she shouted, "You like me." I think Elvis got that same vibe.
"My window was only five months."
I didn't know Elvis before we made the special and I never talked to him after, but not for lack of trying. The Colonel blocked a phone number that Elvis gave me, but I would get messages from [composer] Billy Goldenberg that Elvis wanted to know how I was doing.
About The Star Wars Holiday Special, which was broadcast only once in 1978 and never officially released on home video. It was ranked No. 1 in David Hofstede's book, What Were They Thinking: The 100 Dumbest Events in Television History.
I loved my experience on it. I was a fireman on the project; I replaced the original director just days before shooting started. I had a great time. The end of the special was a huge production number with the entire cast and 100 extras, and I had little money left in the budget. I told the art director to take any money left and go buy up all the candles in Hollywood [to light the scene]. And that's what we did. I just saw a documentary about the making of the special [A Disturbance in the Force]. I think it will do very well.
Become a Saturday Evening Post member and enjoy unlimited access. Subscribe now