Our sister publication, The Country Gentleman, has featured dozens of elegant equines. If you're a horse person, these covers are for you.
These beachgoers on the covers of the Post are having the dream summer vacation.
The Saturday Evening Post was the first magazine to accept Ellen Pyle's work after her husband's death in 1919. "The girl I am most interested in painting is the unaffected natural American type," Pyle said in her 1928 interview with the Post. Her children often posed as models for Pyle's paintings, but it was her brilliant use of color and loose, broad brushstroke style that made her one of the Post's most recognizable female artists.
Charles A. MacLellan started creating art for the Post during a time when narrative illustrations dominated the covers. His most memorable covers were those with children, typically boys. Often these boys were in some kind of trouble, but it's the kind of trouble that makes their viewer smile. In his portraits of women, MacLellan nearly always drew them in action and often gave his models a prop, such as this woman and her beach clothes.
This is one of six covers that Alex Ross painted for the Saturday Evening Post. All of his covers featured beautiful women, but this beach scene is the only one that doesn't focus on a single girl. This 1943 cover does follow Ross' usual style, however, because the women don't appear to be over-joyed about their card game.
Constanin Alajalov's painting of the new arrivals picking their green and embarrassed way through the tanned regulars, could have been made on any beach in the country. For that feeling of outstanding pallor is well known from coast to coast, and there is no lotion for it, except that in a few days you can sneer at even later arrivals. Alajalov made his sketches in Palm Beach, Florida, when the Northerners were arriving last winter.
Artist John Falter's setting for his surf-bathing cover is Ogunquit, Maine. He made his first sketches while spending the summer in Maine, but didn't get around to painting until last winter. By that time the lucky lad was in Phoenix, Arizona. The hotter that Arizona sun got, the more fondly the artist thought of Maine's cool air and cool spray. So he went to work on a picture of Maine as remembered in the Southwest. The pretty girl in the left foreground, just emerging and shaking out her hair, often appears in Falter's cover paintings. But doesn't get a model's pay for her work. She is Margaret Falter. John's wife.
Don't worry about the tiny cover girl who is going down to the awesome sea with her eight-inch ship. Just as Austin Briggs, who was vacationing at Folly Beach, Charleston, South Carolina, spied the seagoing tot, her mother let out a yelp and splashed into the foam after her. Now there, thought Briggs prophetically, could be my first Post cover.
In the winter, people buy sun lamps to get sun, and in the summer they buy beach umbrellas to keep the sun off. Well, have a wonderful time, folks; build your sand castles and your dream castles; let the cool winds and the hot dogs renew you; and don't even let the annoyment creep in if that boy's radio prevents your hearing the sweet nothings he whispers to his girl. Now turn the page, before the kids start throwing sand.
Mr. Rodney Fischer, an eminent metropolitan banker who is accustomed to being treated with deep respect, is not being. If that is a sardine he has caught, it may cop the surf-casting championship, for it is indeed of great size. But the boys' happy faces and the man's apoplectic face indicate that it is a small sample, or child, of something more ambitious. Mr. F. should set his rod in the gadget Dick Sargent has painted behind him, and lie down and relax his bile; if he goes to sleep, he may catch something decent. While he stands up, his blinding raiment must terrify all the fish who are old enough to think.
On the anniversary of Florence Nightingale's birth, we celebrate nurses everywhere. Although most of these Post covers limit nurses to the maternity ward, the reality of their jobs was much more complex, far-reaching, and demanding than these sunny snapshots reveal.
While much has changed (can you imagine your nurse helping you light your cigarette?), we can't overestimate the enormous contribution that nurses have made to health care. Thank you for all that you do!
Woman at the Shore – Bradshaw Crandall
With floppy sunhat providing shade and shield from harsh rays, this head-turner is free to luxuriate in the beachside aurora of a salty summer's day.
Sunburned Sunbather – Penrhyn Stanlaws
No amount of lathering is going to ease a smolder that red. Though this burned beachgoer can take comfort in the fact that her dual-toned skin and swimsuit form a rather patriotic guise.
Sunbathers – John LaGatta
Stretched out under the lacy shelter of a parasol, these ladies are prepared to transform the lawn into a first-class pinup photo shoot.
Three Bathing Beauties – John LaGatta
Garbed in their complementary aquamarine getups, this trio may just fade into the luster of the ocean blue once they've hit the dunes.
Sitting on the Diving Board – Penrhyn Stanlaws
For those seaside loungers wishing to hold court over the shimmering surface without dampening their locks, perching on a diving board is a suitable compromise.
Woman in Beach Outfit – Charles A. MacLellan
Sporting sandals is just an invitation to trek sand about for weeks afterward. But it's well worth it when the elegantly casual ensemble will draw every eye on the shore.
Ski Boarding Couple – Robert C. Kauffmann
It's surf's up or more appropriately skis up for this golden couple as they crest another foamy wave. And if they should happen to capsize, that striking crimson of hers will make them easily spotted for pickup.
At the Pool – John LaGatta
Whether perfecting a competitive breaststroke or just dipping toes in the drink, poolside is the place to be in summer's steamiest weeks.
Broken Beach Chair – John Hyde Phillips
A smarting smack to the rear wasn't exactly on this perturbed stunner's checklist for beach day. At least she had a sandy landing to cushion the spill.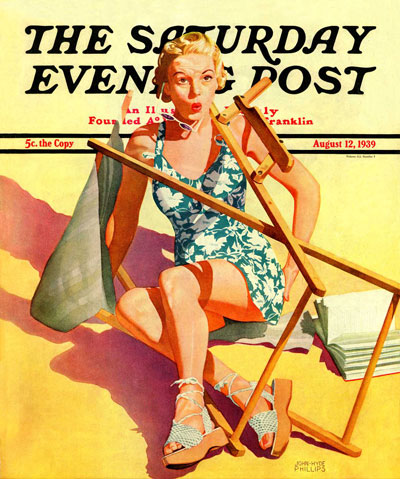 Up on the Roof – Dominice Cammerota
Everyone pines for a tropical escape; but in a pinch, an urban rooftop destination will do, and it's just as toasty. If you can't reach the beaches, you can always climb a little closer to the sun.
Tan Lines – Albert W. Hampson
X marks the spot for tan-line regret as this socialite discovers her sun-cooked body art isn't going to pair well with the plunging backline of that pearly frock.
Card Game at the Beach – Alex Ross
When the hours have worn everyone down, a few bubbly sips and a cool-off card game under the umbrella may be just the right pick-me-up before a final splashdown.
"April Showers" by J.C. Leyendecker
This 1919 cover shows a lady prepared for a downpour, but not everyone is ready for the worst.
"Baseball Rained Out" by Charles A. MacLellan
Game called on account of wetness. The artist, Charles A. MacLellan, did almost fifty Saturday Evening Post covers and this 1917 one is a treat.
"Commuters in the Rain" by John Falter
Making a run for it in 1961 are these commuters rushing from the train. Why does the rain on the plains fall mainly when we detrain? This was by one of our favorite cover artists, John Falter, who cheated: he painted the railroad station in Gynedd Valley, PA while it was sunny and dry.
"Cub Scouts in Phone Booth" by Richard Sargent
Somehow on their country hike, these Cub Scouts were able to use their tracking skills to find a phone booth. "We realize this is an awfully small Cub pack," Post editors wrote, "but artist Dick Sargent simply couldn't pack any more boys into the booth." Good luck finding a phone booth these days, but this cover was from 1961.
"Flat Tire, Flat Evening" by Ellen Pyle
It's raining, you are in formal wear, and a tire goes flat – anything else? Oh yes, the nearest garage is five miles away. This 1934 cover is a unique one for delightful artist Ellen Pyle; most of her Post covers were of adorable children or young ladies.
"Splashed" by John LaGatta
Stylish, willowy ladies and gorgeous colors – it must be the work of artist John LaGatta. But as we learned from the cover above, being elegantly attired tempts fate. What can be more of an affront than looking urbane and polished and getting splashed by a passing car? We have an answer below. (See more of The Elegant Art of John LaGatta.)
"Muddied by Dry Cleaning Truck" by Stevan Dohanos
Adding insult to wetness, these pedestrians are getting soiled by, what else? A dry-cleaning truck. Ever the realist, artist Stevan Dohanos followed delivery trucks around Bridgeport, Connecticut for a while in order to study "splash detail." Once he got the technique, that twisted humor that afflicted so many of our fine cover artists kicked in and he decided to paint a truck delivering clean laundry. We're sure it was a driver oversight and not an attempt to drum up business. For more wonderful art by this artist, see "The Great Covers of Stevan Dohanos."
There is an up side to winter weather – looking at it through a window from the inside, as these covers from 1925 to 1962 show.
These are my favorite windows applications.
By the Fire – Walter Humphrey
This was the last of seven Post covers by artist Walter Humphrey from 1921 through 1934. Although he was known for his beautiful paintings of the colonial era, his Post illustrations show more modern topics, such as his 1923 covers of a boy practicing his putting and a young lady speeding in her roadster. This cozy cover of man and best friend by the fire makes me want to build a fire and veg out.

Snowy Night – E.M. Jackson
This lady is also warming herself by the fire while the weather outside is frightful. Her lovely fringed shawl is a treat. Artist E.M. Jackson did nearly fifty-eight covers for the Post and Country Gentleman, often with an architectural feature such as this beautiful window. There was a reason for that: the artist graduated from Georgia Tech with a degree in architecture.
Rain and Melting Snow – George Hughes
The people looking out this window regret that it is NOT snowing. Instead of the ten-inch base with an anticipated two inches of new powder, the thermometer took a turn for the warmer, melting the snow instead of adding to it. Artist George Hughes was a big name in Saturday Evening Post covers, doing 115 great ones. If you're into skiing history, another big name was Austrian skier, Sig Buchmayr. He's the dark-haired man in the red sweater among the would-be skiers here.
Birdtalk – Gyo Fujikawa
Is the budgie in the cage longing to be out or is the wren out in the winter weather thinking that cozy cage looks good? Well, the grass is always greener…even if it is covered with snow. In spite of her Japanese name, Gyo Fujikawa (1908-1998) was an American artist well known for children's book illustrations and one lovely Saturday Evening Post cover. Another claim to fame: she was the artist behind the adorable round-faced Eskimo child on Eskimo Pies (which sounds darn good right now, even if it is cold outside). When this cover ran in 1962, Post editors noted that the original had been stolen. I haven't been able to find out if it was ever recovered, so if anyone out there knows, e-mail me! ([email protected]). And yes, reprints are available at www.curtispublishing.com.
Snow Birds – Charles A. MacLellan
In spite of the fact that artist Charles A. MacLellan did over fifty colorful covers for The Saturday Evening Post between 1912 and 1936, I can find virtually no information on him. Until someone kindly enlightens me about this artist, I'll just enjoy covers like this pretty lady making sure the snow birds have enough to eat. If you have a question on a Post cover, drop me an e-mail or comment below.
As we all know, we have too many wars to remember. Last month on this website, we ran a story on a Post newsboy who was killed in World War I. Seeing the photos from the article inspired me to show some World War I covers from both The Saturday Evening Post and Country Gentleman, a longtime sister publication. Some are well known, but I've discovered a few surprises. All are intended as a tribute to our veterans of today and yesterday.
Farm Appetites – Clyde Forsythe – November 24, 1917
We have plenty of poignant wartime covers, but this one is fun! These are hearty farm-boys-turned-soldiers, and the painting is appropriately named: "Farm Appetites." It was done by cartoonist Clyde Forsythe, a friend of Norman Rockwell. In fact, it was Forsythe who encouraged the reticent, nervous young Rockwell to try to sell a cover to the venerable Saturday Evening Post. So Forsythe not only painted history, he helped to make it.
Women Work for War – Charles A. MacLellan – July 20, 1918
And who, pray, worked the land while the male farm hands were fighting the war? The "women's land army", that's who. Some were country girls, others were out of their element working farms, but the women of the U.S. and Europe wanted to do their part back home.
Her Boy – K.R. Wireman" – September 15, 1917
Another seldom-seen Country Gentleman cover shows a proud mother at the mailbox, receiving a photo of her son in uniform. Let's hope he's back at the farm soon. This was by artist K.R. Wireman.
Necessary Height – Norman Rockwell – June 16, 1917
Back at The Saturday Evening Post, a gent we all know and love, Norman Rockwell, was also recognizing the war in his art. Only about 22 himself at the time, Rockwell shows us that even the youngsters were getting into the war effort. Playing recruiter, a boy (notice the "recruiting poster") seems to be questioning the qualifications of a vertically challenged applicant.
Uncle Sam – Herbert Johnson – June 16, 1917
This trio was vitally important to the nation in World War I. The American soldier, good old Uncle Sam and the American farmer. This was from a painting by Herbert Johnson, a well-known political cartoonist for both the Post and Country Gentleman.
Soldier's Christmas – J.C. Leyendecker – December 22, 1917
I can't leave without sharing my favorite World War I cover, "Soldier's Christmas" by J.C. Leyendecker. A soldier is sharing his meager holiday meal with a tiny French girl. Can't help it – gets me every time.