Christmas is a season outside of time. Each holiday is new and fresh while at the same time connecting u to every other Christmas we've ever known. So each holiday season brings with it not just joyful moments but a generous helping of the past.
Christmas planning can be a joy, but it often veers towards comedy. In the hands of Post cover artists, the experience is presented in equal parts delight, misery, and silliness.
If the windup to Christmas is hectic and exhausting, John Falter's cover reminds us what an amazing spectacle the holiday is to children. In their cautious, pajama'd descent down the staircase at first light, one can almost feel their joy that, after weeks of longing and anticipation, the magical day has finally arrived.
This article is featured in the November/December 2019 issue of The Saturday Evening Post. Subscribe to the magazine for more art, inspiring stories, fiction, humor, and features from our archives.
Featured image and artwork: SEPS.
Whether it's work, weltschmerz, or worm farming woes, we all experience insomnia about something at some point in our lives. Here are some of our favorite covers of the things that keep us up at night.
While our young camper dreams of fires and "bug juice" (that favorite beverage of camp mess halls), mom is willing to forego a few hours of sleep in exchange for four weeks of boylessness. Tomorrow morning mom will be informed by her son that, while most of the paraphernalia assembled here by artist Ben Prins is okay, a camper has not more use for washcloths and a pincushion than he was for silk pajamas and an arithmetic book. Why, with the space they occupy her could make room for important stuff such as candy bars, a whittling knife, and, for a little fun after lights-out, his rubber snake and a package or two of sneezing powder.
Of course, the children haven't been frightened by Papa's snoring, but by the awful sounds of Nature on an electrical rampage. So mother will gather them in her arms and love away their fear. Coby Whitmore's man of the house, buried there in the bed. must be the deepest sleeper this side of the proverbial log. How does she get him up mornings—rap on his head with the book?
We see by the cover that Mlle. Rosalie de Paris has unloaded on madam a chapeau avec beaucoup de flower garden topside. It is darling, madam is fully convinced. And if you think it is a malformed nightmare whose logical repository is the ash-can, you must be just a puritanical old fogy, for it is also regarded as a masterpiece by that great American designer, Monsieur Alajalov de New York. As for the character in the other bed, for once in his life he is noticing that his wife has a new hat.
Who's going to get up and give the baby her bottle and a new deal in underwear? Mom and dad dearly love their little alarm clock, but they do wish that babies came equipped with a lever by which they could be set, the night before, to ring at 7:30 a.m. instead of at one of the more unholy hours. Mom and dad will battle it out for a few more howling minutes to see which one will totter out of bed and do the honors.
Some years ago, Frank Kilker, an associate art editor, heard artists complaining about a fellow named Jack Welch, of Valhalla, New York, who worked for an advertising agency. Welch did sketches of proposed illustrations, for the guidance of the artists who would do the finished job. But the rough sketches were so good that it was tough for the artists to better them. Kilker looked Welch up, and Welch started doing illustrations for the Post, including this one—his first cover. In painting his picture of a father's Sunday reveille, Welch was drawing on experience with his two daughters.
We've all been there at 3 a.m. when a fly dive bombs your head or that invisible mosquito whines in your ear. Much has changed since 1938, but two things haven't: that fly swatter and the fact that this guy isn't going back to bed anytime soon.
Madam is remorseful about her own greed," commented famed contract-bridge authority Charles H. Goren about the dilemma of the sleepless bridge player depicted by artist Constantin Alajalov. "It has dawned on her that withholding her ace of diamonds on the first trick, because she would have had to waste her singleton king, may have been penny-wise and pound-foolish," said Goren. "If she had been satisfied with two diamond tricks instead of three, she could easily have made her game at three no-trump, by playing the ace from the dummy. She would then have been in position to take the important club finesse. But when she all too frugally won with the king in her own hand, she had no way to reach dummy without letting East in, and that character rudely led back the queen of hearts, so that Madam lost five tricks."
Valentine's Day is a popular time to get engaged, so we thought we'd share some of our loveliest engagement covers, from early-1900s Edwardian beauties to the 1960s woman who knows just what she wants.
This artist's "Fisher Girl" was as well known at the time as Charles Dana Gibson's "Gibson Girl." The rosy cheeks and softly styled hair were hallmarks of his style, and this 1910 cover bears all the characteristic of a typical Fisher cover. His art appeared frequently in The Saturday Evening Post and Cosmopolitan, which called him "The World's Greatest Artist." He clearly had a preference for painting women, as the bridegroom is nowhere to be seen.
Artist John LaGatta used depictions of glamorous, elegant women in a romanticized world of "old Hollywood" to provide an escape from the realities of the Great Depression. Coming to America from Italy with nothing, LaGatta eventually become one of the most sought after illustrators in the country, earning as much as $100,000 a year throughout the 1930s and 40s. This illustration is typical of his oil-over-charcoal technique.
When an artist in Arlington, Vermont, needs models, he can always call on neighbors—it must have been a rare citizen of that New England town whose face hadn't appeared in at least one cover or illustration. So George Hughes drafted artist Mead Schaeffer's daughters Patty and Lee. Lee is the one with the engagement ring; you might remember her from this crazy story. Then he asked neighbor Paul Benjamin to pose as the gent who didn't share the ladies' excitement about matrimony. "The picture is out of character," said Hughes. "Benjamin actually is a very amiable guy." The only real problem was the bus. Arlington wasn't big enough to need city bus service, and Hughes had to wait until a bus operator who hauls workers to a nearby factory had a bus in the garage for repairs.
This cover features an emerald necklace (in the background, middle shelf) that was in the Post twice. It first appeared in May of 1948, in an photo for an article about Jules Glaenzer of Cartier and Company. When artist Alajalov, a friend of Glaenzer, wanted to look at a jewelry store without buying jewels, he just popped in at Cartier. "Want to put this in the picture?" Glaenzer asked, producing the necklace featuring a 107-carat emerald. "As an academic question, how much is it?" Alajalov asked, his eyes watering. "A million dollars," was the reply. "Let's just see the price tag." the painter gasped. Glaenzer replied, "We never tag anything over a hundred thousand dollars." (No word on how much that engagement ring cost.)
Constantin Alajalov must have been in a loving mood, because here we have yet another engagement ring cover from him. The young couple may only have eyes for each other, but the proprieter would rather have his eyes on his TV set at home.
Artist Kurt Ard is an expert at painting charming scenes of everyday life: a boy waiting nervously in the dentist's chair, a couple (one luxuriating, the other suffering) in the sun, a group of ladies—and one tired boy—at the hair salon. Ard clearly shares Norman Rockwell's sense of mischief and warmth that make his illustrations universally appealing.
This cover by George Hughes brings to mind the slogan of a Baltimore, Maryland, jewelry store: "Marriages are made in heaven, but engagements are made at S. and N. Katz." Love may be forever, but the price has sure gone up over the years.
Sticking to your diet can be a drag. Since this is the time of year when New Year's resolutions start to wane, we thought we'd provide a little encouragement in the form of Saturday Evening Post covers featuring weight watching woes.
Mr. Noble, on Constantin Alajalov's 1959 cover, doesn't even make it through dessert. His pretty dinner companion is overjoyed at the thought of strawberry shortcake, but Mr. Noble (panel 2) nobly declines. Pretty lady jabbers away, enjoying her dessert, while Mr. N looks like…well, remember that dog you had who watched with pitiful, soulful eyes as you forked down your dinner? Like that. Finally taking pity by the eighth panel of this scenario, the lady gives the last bite of dessert to the man, making for a happy couple in the last segment.
If ever the battle of the bulge was a losing battle, it is Norman Rockwell's pastry chef on the January 3, 1953 cover. Poor man. Eating rabbit food while surrounded by luscious cakes makes a New Year's resolution doomed to failure. That book on dieting is only going to provide so much motivation.
Looking for motivation a few decades earlier (1924) is artist Frederic Stanley's gentleman with a record player and a book all about reducing to music. Sorry, fella, but that gut is going to take some serious John Philip Sousa marches at the very least.
Artist Alajalov found cafeterias a dieting minefield. To work on this November 1956 cover, the artist lugged trays of food up to his New York studio. He couldn't eat it all afterwards without getting fat himself, so the elevator boys were the happy recipients of his largesse. He is demonstrating just how unfair life could be. The rather large lady is valiantly sticking to a small salad and meager crackers while three charming (and thin) young ladies are tucking into enough food to feed an army. Ah, youth.
Yes, youth. That was when I had a figure, thinks the lady in Amos Sewell's January 1957 cover. Wistfully looking at her former dress form, she wonders where the time (and bod) went. Okay, so we don't use dress forms much these days, but who hasn't looked at a former favorite pair of jeans with the same forlorn expression? The editors noted that the artist had "borrowed that dress form in Westport, Connecticut, walked to his car with it under his arm, and nobody gave him the raspberry. In artists' colonies people evidently become shockproof."
How the ounces add up if you don't keep fending off the darned little things every day, month, year. It's unfortunate for Mrs. Pounds, as she tries to make both sides meet. Well, artist Alajalov's cover deserves a happy ending. Elsewhere in that room, Mister P. is futilely trying to encase himself in his old uniform too; and suddenly they go into each other's arms—" Oh, the heck with midriffs. After all, we love each other just as we are!'' Does anything else really matter?
Cooking Is a Man's Job: Women, said the editors, had no place in the modern kitchen.
Science has busied itself with converting the ordinary substances of our food into food at once palatable and wholesome. And science is not likely to do much for us so long as the matter is in the hands of women cooks, who naturally look at the problem from the personal side, seeking to please our palates much more than is good for our stomachs.
When a great undertaking in cookery is on hand, as for an army, or a palace, or a big hotel, nobody thinks of calling upon a woman to do it. A man is always taken. For one woman who has made a name for cooking there have been 10 men. It is only because we have not given the subject thought that we think of cook as a feminine noun.
This article is featured in the January/February 2018 issue of The Saturday Evening Post. Subscribe to the magazine for more art, inspiring stories, fiction, humor, and features from our archives.
Humor is like a magic trick. To succeed, it needs to look effortless, and the devices used to make it must work invisibly. Comedy is often found in the unexpected, a contrast between the serious and the frivolous or the modern and the old-fashioned. Or it may be discovered in the all-too-familiar. Such is the case here with Richard Sargent's portrayal of a dad who is about to be vanquished by his Christmas Eve wrapping project. Sargent, who referred to himself as "king of the pregnant pause," tended to de-emphasize an illustration's background, drawing full attention to his subject matter.
Whatever our age, we never lose our inner child, particularly at Christmas. Russian-born Constantin Alajalov specialized in illustrations gently pointing out human frailty. While a youth in St. Petersbug, his life was disrupted by the Russian Revolution. For years he survived by painting propaganda murals and posters, but he managed to defect, first to Turkey and finally to the United States. He quickly found success in America as a muralist. His magazine careerwas launched when a friend suggested he send some paintings to The New Yorker. To his surprise, they were accepted and used as covers. He would eventually complete 74 lighthearted covers for the Post.
Rockwell went to extraordinary lengths to create verisimilitude. Here, instead of working in the studio, he set up his easel in Chicago's Marshall Field's department store even though all we see of it is the back of a sales counter. The store happily provided the setting and toys for the scene, but the artist felt the picture needed more dolls, so he went out and purchased a number of them. He reported the Post editors that he owned more dolls than any other 53-year-old-kid.
As the camera became ubiquitous, the new tradition of the family Christmas card was taking hold. But it's not always so easy getting everyone to cooperate. Sewell was widely known for his skill in capturing average Americans — and children in particular — with humor and affection.
We were delighted a few years ago to receive an email from Betsy Norfleet with information about the creation of this iconic 1951 cover. Betsy told us that it was her mother, Betty, who portrays the housewife directing her harried real-life husband, George. As the story goes, George was not only brutally scratched by the needles but also threw his back out posing in the scrunched-up position for house on end.
Dutch-born Prins turns this over into a vivid story that umps off the page like a movie sequence. Notice his clever evocation of the passage of time in the differing differing degrees of light shining (or not shining) through the kitchen window. This sweetly humorous illustration also has a wistful quality: All those weeks of preparation — the buying of gifts, the careful wrapping — then suddenly we're left with a roomful of shredded paper.
The outdoors beckons, and there beneath the tree are some keen skates that would be great to take to the pond. Unfortunately, this young man has some work to do. It may prove to be a long afternoon, with just two letters written and five more to go.
These illustrations and many others are featured in the Post's Special Collector's Edition, Norman Rockwell: Christmas in America. This edition can be ordered here. 
We're celebrating dads and everything they teach us.
This father and daughter duo was painted by the Post's most famous artist, Norman Rockwell. With their matching strides, these two are ready for their Spring walk.
This 1933 cover was done by Post artist Douglas Crockwell. If the name didn't confuse readers, this cover certainly did. Many people thought it was a Rockwell because of its close attention to detail, like the mother's patterned dress.
This cover was painted by Eugene Iverd. Iverd typically painted children or boys at play, like this father and son ready to go canoeing. He also painted landscapes, which he signed with his birth name, George Erickson.
These father and son sailors are the subjects of Charles Dye's only cover for the Saturday Evening Post.
These two ranchers fit in perfectly with Fred Ludekens' other Post covers. Horses were typically a major theme in his cover art, as well as people hard at work.
"That your baby you're drawing?" a spectator asked artist Constantin Alajalov. "Yes," said Alajalov, in a nice mixture of pride and modesty. He sketched another. "That one, too?" the onlooker asked in surprise. "Yes," said Alajalov, and sketched in a third. The spectator wouldn't ask about that one, and when the artist began sketching the fourth, the onlooker left.
Amos Sewell has set this theme for his first Post cover at the Shelter, a refuge for homeless dogs conducted in Jamaica. Long Island, by the S.P.C.A. After Sewell had finished sketching and photographing detailshe found himself thinking awfully hard about one particular dog in the "for-adoption" pen. But he resolutely pulled himself together and went back home alone-to the four Sewell cats.
Sewell's theory about this pleasant scene is that Shorty was adopted, not purchased, his previous home probably having been one of the SPCA's shelters for homeless dogs. Shorty will hereafter have two homes, the big house where his favorite human beings live, and his own house, where he can retire when he wishes to be quite alone for unhindered rest or meditation.
While dad bares his lily-white flesh, little does he dream that presently a sun shower will invigorate him.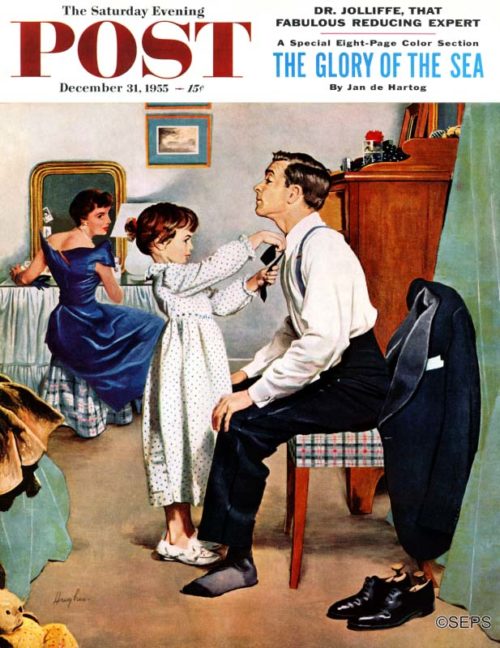 George Hughes painted this pre-New-Year party scene, where even the little one can participate in the celebration.
June means the start of wedding season. These Post covers show beautiful brides of the twentieth century.
In this painting by prolific artist J.C. Leyendecker, he shows a solemn couple having their photograph taken. Leyendecker illustrated the nuptial moments of other pairs, including Romeo and Juliet and Henry V and Catherine Valois. It appears this couple has got the "wedded" part down, if not the "bliss."
Catherine of Valois married Henry V in June of 1420 and later gave birth to Henry VI. Henry V died shortly after his son's birth, leaving the young Catherine a widow and her infant son the King of England.
The groom doesn't look too happy about this scenario. Given the line of enthusiastic groomsmen, the bride may not have enough energy for the honeymoon.
LaGatta had an uncanny knack for translating from model to canvas an appreciation and sensual perspective of the female figure. LaGatta began his artistic process by sketching the models in charcoal and pastels and then would almost always refine his interpretation into an oil painting. His subjects were sophisticated, upper-class men and women with long graceful figures and with classic clothing designs. His images  gave the impression that the models didn't have a care in the world, as in this 1939 cover of a couple running off after their wedding ceremony.
This 1940 bridal photograph was Wynn Richards' one and only cover for the Saturday Evening Post. Richards was born "Martha Kinman Wynn" before marrying Dorsey Eugene Richards, according to her biography.. She opened her own photography studio in 1919, but left the business to a friend after a social scandal that involved her taking nude portraits of a local school teacher. Richards divorced her husband and left their son with his grandmother before opening a new portrait studio a few years later. Initially signing her work "Matsy Wynn Richards," she learned that revealing her gender could hinder her career, and changed her signature to "Wynn Richards." Richard's work mostly appeared in Vogue, Harper's Bazaar, and Mademoiselle magazine.
[From the editors of the June 1, 1946 issue of the Post] Just after Constantin Alajalov finished his kid-sister painting, he set out from New York for Florida, to work on other cover assignments. The artist went by automobile, and sent back a short report on his three-day journey. The highways are full of displaced persons at the moment, sorting themselves out after the great disruption of war, and we think Alajalov's account is a thumbnail picture of America in Transition. "The first day," he wrote, "I picked up a corporal just back from Tokyo, hitch-hiking to Alabama to marry a girl there. The second day I picked up a marine hitch-hiking to Jacksonville, Florida, to get his wife. The third day I picked up a sailor who was going to Miami for any girl he could get."
[From the editors of the May 29, 1954 Post] Away go the newly-marrieds into their brave new world and thank heaven it isn't raining. John Clymer is nice about weather; on his covers it hardly ever rains. That church, says Clymer, is located in one state and the landscape in another state, and the honeymoon will take place in the state of bliss always visited on such trips.
[From the editors of the May 17, 1958 Post] Here come the bride and groom to carve the cake. Two-handed carving isn't an efficient way to dismember food, but He and She have just become One and this is the tender symbol of their unity. They probably aren't hungry; in a day or two food will become attractive, but right now they are not of this world, they are up in the clouds, in a state of bliss where folks subsist on love alone. Conversely, those youngsters have their feet on the ground and their eyes on the cake. Oh, the girls may save a few crumbs to put under their pillows to incite romantic dreaming, but the boys will put their cake where it belongs, and let's hope they don't consume enough to turn dreams into nightmares. Well, a toast to artist Ben Prins' newlyweds: bon voyage, all the way through life!
The weather may be dreary, but these rainy day covers will make you feel cheery!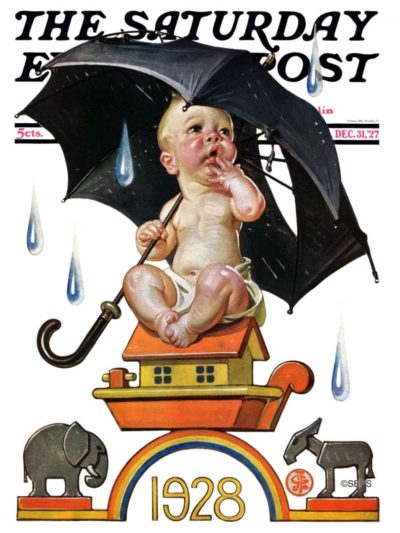 Artist J. C. Leyendecker was well known for his Baby New Year illustrations that graced many Post covers from the 1910s through the 1940s. Our 1928 baby awaits the possible repeal of Prohibition, symbolized by "wet" weather.
The subjects in this illustration were likely artist Ellen Pyle's own children; they served as the models in more than 20 of her Post covers.
[From the editors of the April 14, 1945 issue] Norman Rockwell suggested the idea to Atherton. The hatrack is in the hall of the Community House at Arlington, Vermont. Neighbors contributed the hats, coats and galoshes seen in the painting.
[From the editors of the July 17, 1945 issue] We imagine it is hard for anyone who has never sat on a Pacific spit kit of an island for months on end, contemplating the shapely curves of a can of tinned-pork products for emotional release, to understand Stevan Dohanos' cover. After such soul-gnawing, a flickering, one-dimensional pin-up girl enlarged many times on an improvised screen must have the pulling power a naked electric-light bulb has for a moth. Most South Pacific movies are now first-run, sometimes world premieres; but when "Wilson" was shown on Okinawa before an audience just back from the front lines, there were eight air-raid interruptions, and the show assumed a three-and-a-half-hour Gone With the Wind proportion. Perhaps the reason why Dohanos' G.I.'s are willing to sit in the rain is that their bucket seats are really magic carpets taking them home to Main Street for an hour or two.
[From the editors of the August 31, 1946 issue] The man who has determined to go fishing, Constantin Alajalov observed when he was in Florida, will go fishing until he catches a fish, in spite of bad weather. Alajalov determined to paint this truth. There were a few things on which he needed to refresh his recollection, but to do this, he needed only to go out in a boat on a similar day. We don't know how long the average determined fisherman has to wait for a sunny day. We do know how long Alajalov had to wait to catch a rainy one. One fair day followed another. He waited three weeks.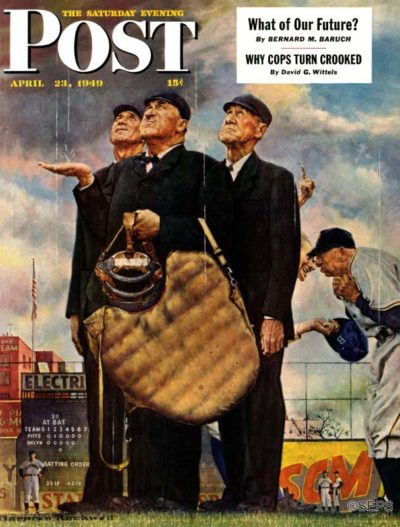 [From the editors of the April 23, 1949 issue] This week's Norman Rockwell cover depicts Ebbets Field, the home of the Brooklyn Dodgers. Here, the Dodgers are trailing the Pittsburgh Pirates 1-0 in the sixth inning. If the arbiters—left to right, Harry Goetz, Beans Reardon and Lou Jorda—call the game because of rain, the score will stand as is, and Pittsburgh will win. This irks the Brooklynites, who dislike having other teams win. In the picture, Clyde Sukeforth, a Brooklyn coach, could well be saying, "You may be all wet, but it ain't raining a drop!" The huddled
Pittsburgher—Bill Meyer, Pirate manager—is doubtless retorting, "For the love of Abner Doubleday, how can we play ball in this cloudburst?"
[From the editors of the May 22, 1954 issue] Rather than be depressed by Mr. Dohanos' soggy scene, note how the deluge has improved the situation. Any birthday party is fun, even if nothing more happens than the duly expected games, grub and slight fights between incompatible little boys. But to arrange for the routine confusion to be stepped up into the joyous chaos of a garden party dispersed by a cloudburst, that's a charming innovation indeed. And how delightful it is to throw a party in or into a garage, where tools and other weapons are available for favors as well as paper hats, where joy can he so much more unconfined than in an ordinary living-room hullabaloo. Even that pony thinks, Bless the rain—no more work. Fortunately, there isn't space here for what mother thinks.
[From the editors of the October 5, 1957 issue] Women can be such a handicap sometimes—"Aw, ma, halfbacks don't wear rubbers. Next thing, you'll want me to make touchdowns with my poncho on. Next thing, you'll want me to run the end with an umbrella." To which mother replies, "James, football men obey the quarterback's signals or get benched. The bench is home. Now then, four, eleven, forty-four, hip—on rubbers!" Well, the maxim says that mothers know best, and if James catches cold by getting wet everywhere except his feet, let's switch to the maxim that only Monday-morning quarterbacks think of everything. This might have been some action picture if Dick Sargent hadn't rung in mother; yet let's settle for the maxim that when it comes to painting, painters know best.
[From the editors of the March 22, 1958 issue] Of course, the children haven't been frightened by Papa's snoring, but by the awful sounds of Nature on an electrical rampage. So mother will gather them in her arms and love away their fear—mustn't it be wonderful to be a mother? If that lightning is bedeviling a far-north state, it should signify the breaking up of a winter which certainly needed breaking up; and yet not long ago some northern areas had thunderstorms followed by the blankety-blankest descent of snow for thirty-something years. Let's leave forecasting to the weatherman, who is welcome to it. Coby Whitmore's man of the house, buried there in the bed, must be the deepest sleeper this side of the proverbial log. How does mother get him up mornings—rap on his head with the book?
[From the editors of the May 25, 1958 issue] This wet cover had its origin in a drought. When crops withered in the Eastern states last summer, the Rev. Benjamin Axleroad, seen there at the door of St. Mark's Episcopal Church in Bridgewater, Conn., included in his prayers a plea for precipitation. And one Sunday, just as his service ended, down came the rain, exit drought. Weeks later artist Melbourne Brindle, a St. Mark's vestryman, puzzled some of the congregation by posing them at the church and refusing to tell them what it was all about—surprise, folks, you're in the Post! Comments on the cover scene: (l) artistic license helped keep that grass green during the drought; (2) if any of the parishioners were out on a golf course during the deluge, how remorseful they must have been that they weren't in church.
[From the editors of the July 8, 1961 issue] How do you like that? On Saturday afternoon—prime time at any golf club—comes the deluge. Well, that's par for the course, we suppose, and the course in this Ben Prins cover belongs to The Dunes Club of Myrtle Beach, South Carolina. That wave in the background is a fringe of the Atlantic Ocean, not the crest of an oncoming flood. The three-wheeled vehicle under the umbrella is what is known as a caddy car, and its occupants are either fair-weather athletes scurrying toward the indoor recreation of the nineteenth hole, or spirited souls bent on challenging their fellow duffers to a game of motorized water polo. At any rate they're not slowing down at the putting green. The weather being what it is, they're probably less concerned about sinking putts than about sinking, period.
Comedy is often found in the unexpected, a contrast between the serious and the frivolous, the modern and the old fashioned. Or, it may be discovered in the all-too-familiar. Such as here – the more accurate account of the holiday season. Specifically for those of us who don't wrap presents like mall workers, have a Christmas photo with everyone smiling and can't make it through the tree-decorating process without dad throwing out his back.
All Wrapped Up in Christmas—Richard Sargent
This dad is about to vanquished by his Christmas Eve wrapping project. Maybe he should have delegated this task to someone else…
Doggy Basket—Charles Kaiser
Christmas, candy canes, and a puppy! There's nothing not to love about this classic Post cover. Unless, of course you're the dog who will be receiving a flee treatment and bath.
Santa's Helper—Norman Rockwell
This retail worker is done with the holiday season and, by the looks of it, so is the store. Instead of working in the studio for this cover, Norman Rockwell setup shop in Chicago's Marshall Field's department store. The store happily provided the setting and toys for the scene but Rockwell felt the picture needed more dolls so he went out and purchased a large number of them. He joked with the Post editors that he owned more dolls than any other 53-year-old kid.
Hidden Gifts—Constantin Alajalov
A cover revealing the difficulty even adults face when compelled to investigate their presents. Depicted by Russia-born artist Constantin Alajalov who specialized in illustrations gently pointing out human frailty. Though, it's hard to fault this lady when the temptation lays less than five feet from her bed.
Trimming the Tree—George Hughes
Can't we all relate to the exhaustion after the Christmas decorating has ended? This man couldn't even make it to a couch. In reality though, Hughes set the scene for this painting in June of 1949 after he ventured into the Vermont woods, chopped down a pine tree, took it home, and decked it with holiday cheer. He was forced to finish his work quickly, as the summer heat was causing the tree to drop needles and his 2-year-old daughter kept pulling off the ornaments.
Tree Love—Constantin Alajalov
As if one tree wasn't difficult enough! Alajalov's art can often be located at the intersection of cartoonish and realistic. His ability to combine a fashionable, clean stlye with warm-hearted satire was not only perfect for the Post but also for The New Yorker. He is the only artist to work for both magazines (each normally demanded exclusivity).
Christmas Photograph—Amos Sewell
As the camera became ubiquitous, so did the family Christmas card. The only problem? Getting everyone to cooperate.
Topping the Tree—John Falter
Tipping point? Falter specialized in capturing the comedy in family life, often delivering a small, humorous moral. We'd proposed, for this one, the lesson: "Behind every holiday-decorating hero is a woman firmly holding him upright."
Christmas Morning—Ben Kimberly Prins
Prins artfully unveiled Christmas morning. This sweetly humorous illustration also has a wistful quality: All those weeks of preparation-the buying of gifts, the careful wrapping—then suddenly we're left with a roomful of shredded paper.
Merry Christmas from the IRS—Ben Kimberly Prins
How nice to be remembered with cards and packages bursting from one's cheerfully decorated mailbox! But Christmas might be ending early for this man after receiving a notice from the U.S. Treasury Department.
Let's begin the New Year with the charming art of Constantin Alajálov.
Giant Clock on New Year's Eve — January 1, 1949
Not everyone has a fancy party to attend on New Year's Eve. Some of us have to work, like this less-than-enthused office cleaner. The artist was visiting Gardone, Italy when he found a local to model as his scrubwoman and "invented a skyscraper to go around her neck," according to Post editors.
Constantin Alajálov was born in 1900 to well-off Russian parents. They were able to give him the advantage of schooling, but his professional training did not last long; he had barely started at the University of Petrograd when the Russian Revolution broke out. He traveled around the country with a group of artists, painting posters and murals of Communist propaganda in order to survive.
No Desserts — March 12, 1949
Ah, so begins the New Year for many of us. It would not do to spoof a "stout" lady these days, but it worked in 1949.
Alajálov became the court painter for a khan in Persia. The khan was hanged by his successor, so there went that position. He moved on to Constantinople and painted murals and posters before landing in New York in 1923. Within three years, he sold his first cover to The New Yorker.
Sunday Paper — February 21, 1948
This late-sleeping Sunday slacker is one of my favorite Alajálov covers. The poor sinner really wants that Sunday paper and the milk for his coffee, but who is having a confab outside his door? None other than the minister, of course.
Alajálov eventually became the only person to do covers for both The New Yorker and The Saturday Evening Post, despite the fact that both magazines required exclusivity in their cover artists. He was naturalized in the United States and spent the rest of his life traveling and painting in and out of the country.
Fall Gab Session — November 7, 1953
This wonderful autumn cover from 1953 shows a gossip session in full force. It looks like the Smith boy is seeing the Jones girl and the ladies of the town will only be too happy to spread the rumor that they are in love—confidentially, of course.
Trying on the Old Uniform — May 31, 1958
What a difference 10 or 15 years makes! It is now 1958, and slipping into her old WWII WAVE uniform for a Memorial Day parade is not as easy as the charming young matron thought. (WAVES was an acronym for Women Accepted for Volunteer Emergency Service, began in 1942. It was technically US Naval Reserves, but the term "WAVES" caught on.) What did the 1958 crop of WAVES think of Post cover? They loved it! The WAVES director asked for the painting to be hung permanently in Washington and a WAVE at the Anacostia Naval Air Station asked for 50 autographed reprints for her crew. The artist happily granted both requests.
Photo of Constantin Alajálov — October 6, 1945
The October 6, 1945, issue of the Post not only boasted Alajálov's first cover for that magazine, but a playful photo in the "Keeping Posted" column. The artist is sitting in his comfy chair next to a charming piano. The piano, however, as with most of the room's "furnishings," is not real. "If a room seems to need a door," Post editors noted, "Alajálov paints himself a door. If it needs a window and a view, he paints both window and view, and can thereby look out on anything he wants."
Of course, the room has limitations as well as advantages. "Guests cannot sit down and stay," editors noted, "which is a good thing, and Alajálov has furniture of any period…he fancies. He can have the throne Catherine of Russia sat in, if he likes—in fact, he can have Catherine of Russia, gazing at him in admiration and ardor."
Bridge Hand Disturbs Sleep — December 1, 1962
At the age of sixty-two, a retiring Alajálov submitted his final Saturday Evening Post cover. The December 1, 1962, issue depicted a bridge player distressed over a game where she should have bid this or played that or should not have withheld the ace of diamonds.
Roger T. Reed of Illustration House once said of Alajálov, "When I met him in 1984, the artist was a refined and patrician figure, with reason to be proud of a rich body of work in fine illustrative art." The artist passed away in New York at the age of 87.
It isn't just the farmers and poultry truck drivers who have a hard time handling turkeys. Sometimes the big birds were a handful for our cover artists and models. Why did one famous cover artist start "to feel like an assassin"?
Turkey Loose Atop Truck by Constantin Alajalov
"When I wanted to sketch turkeys as they look in a crate," said cover artist Constantin Alajalov, "I found a wholesaler who sells a lot of them. For the turkey on the lam…he said, 'Take your pick'. Every time I started to sketch a model, somebody bought it and bang, it was a dead bird. I began to feel like an assassin." Our artist got the delightful Thanksgiving cover done, but said, "For Thanksgiving I may skip turkey…and have hamburger that I'm sure I don't know, socially."
Squawking Turkey by Tony Sarg
This youngster managed to catch the turkey, but now what? The boy with arms full of squawking fowl is from 1915.
Cousin Reginald Catches the Thanksgiving Turkey by Norman Rockwell
Norman Rockwell painted a lad he called Cousin Reginald, a city slicker. As we've shown you before, his mischief-loving country cousins often made a fool of Reginald. Now, we just know those rural boys told Reggie that catching the turkey would be a breeze. They are in the background being royally entertained.
Where's That Turkey? by Wm. Meade Prince
This is no dumb Tom Turkey. When someone with an ax is looking for you, hiding is a good option. This colorful cover was painted for the Post's sister publication, Country Gentleman by artist William Mead Prince.
Pilgrim Stalking Tom Turkey by J.C. Leyendecker
Would you believe this beautiful cover is from 1907? Artist J.C. Leyendecker did much more than paint ridiculously handsome men for Arrow Shirt ads. He did more Saturday Evening Post covers than any other artist. One of the earliest, and smartest, acts of George Horace Lorimer after taking charge of the Post was to hire J.C. Leyendecker to do a cover in 1899. Between then and 1943, Leyendecker did 322 Post covers, one more than Norman Rockwell. To honor his mentor, Rockwell chose to do one fewer cover.
Thanksgiving by J.F. Kernan
There's an old myth that if you sprinkle salt on a turkey's tail, you can catch it. Also, if you sprinkle pepper on a hen's tail, she will lead you to her nest. These tricks may work, but only because if you're close enough to sprinkle salt on a turkey's tail, you're close enough to catch it anyway and if you pepper a hen's tail, she'll probably get disgusted with you and stalk off….back to her nest.
Poor, late-rising sinner. He really wants the Sunday paper, and needs that milk for his coffee. But who should be outside his house enjoying fellowship with good parishioners but the minister himself! The Post editors commiserated. "Miss church," they said, "and if you see no one else all afternoon, you are bound to meet the pastor." There must be a moral in artist Constantin Alajalov's 1948 cover.
At least the slug in Norman Rockwell's May 16, 1959 cover got out of bed on time for church. He's just not going. Curled up with the Sunday paper, he feels a decided chill in the air as his properly turned out family marches behind him on the way to church. If you'll look closely, you'll see something devilish about the man's tousled hair – Rockwell's little joke, no doubt. Perhaps Dad will repent by next Sunday.
Well, we're gradually improving here. The gentleman in artist Charles MacLellan's 1912 cover got up, dressed nicely and made it all the way to the pew. Alas, to the dismay of the Mrs., he fell asleep during the singing (we assume, from the open hymnal she is holding). Let us hope for her sake that his snores don't drown out "Rock of Ages".
The women's choir is getting ready in the two-part cover by Thornton Utz. The top panel shows the silver-haired organist preparing to sit, no doubt wondering about the chaos in the dressing room behind her. But as the bottom panel shows, all the ladies make it on time. Well, almost. While the choir opens, two young ladies (or maybe one and a half) are scampering to their spots. But at least their songbooks are open and their voices are preceding them. And once they catch their breath, they can send up a little prayer of thanks that the congregation cannot see the state of the choir room.
Happy New Year!
Welcoming in the New Year is a welcome break from homework. Miss Teen-babysitter has her glass of milk ready and is watching the revelers in living black and white. Even the little guy in the crib is awake for the excitement. This cover by artist Ben Prins is a quintessential 1950's illustration: the home décor, the rolled-up jeans, and oxfords with bobby socks. Happy 1958!
Now, if that doesn't sound like an exciting New Year's celebration to you, consider the poor waiter on the December 31, 1949 cover by artist Constantin Alajalov. Not only does he have to work New Year's Eve, but everybody except him has someone to kiss.
Okay, that's sad, but at least he is in a festive environment. The same artist did a cover showing a "scrubwoman" waiting for the midnight countdown. All alone, maybe in the whole darn building, she hangs out the window, waiting to toot her horn when the clock does its thing. Now that's sad.
Norman Rockwell shows us another waiter in a cover titled The Morning After. The setting is the Waldorf-Astoria in New York. The slump of the guy's shoulders can only mean one thing: "Where do I begin?" Wherever you begin, make it a great year!
To browse our collection of covers or purchase your favorite, visit ShopThePost.com.
Midnight and Nobody to Kiss
Constantin Alajalov
December 31, 1949

Giant Clock on New Year's Eve
Constantin Alajalov
January 1, 1949
How will you welcome 2010? Post a comment below to share your experiences and expectations.
"Eavesdropping" was a common theme for Post cover artists. If "curiosity is the very basis of education," to quote writer Arnold Edinborough, then some very curious individuals on our covers have certainly learned a great deal. Perhaps more than they bargained for …
We hate to rat out a famous Post cover artist. But, alas, that is exactly what our editors did regarding the June 7, 1952, cover. Apparently, an interesting young lady was "number two" on the party line. When artist Constantin Alajalov was visiting Nantucket, number two rang and, according to Post editors at the time, "he, being alone at the moment, picked up the receiver and found that a young man was making romantic statements to a young woman. After eavesdropping for half an hour, the artist decided maybe he was eavesdropping, and hung up." We'd like to report that is all, but there is no shame among snoops. Number two rang again, and "Alajalov found that it was the same girl and a different man …" The situation is getting rather sticky, isn't it? The editors tell the rest of the story: "After a third different man had gone through the works, Alajalov was in love with Miss Ring Two himself. So then did he, a bachelor, marry the girl, and thus make us a swell story? He did nothing, the quitter, but paint a cover." Well, we'll settle for the Telephone Party Line cover, simply because it is fun.
We also love Artist Lawrence Toney's 1928 cover of two aproned matrons talking on the phone and four, count 'em, four nosey neighbors listening in with various facial expressions. Alas, not one of those expressions is shame!
Being a switchboard operator provided a classic opportunity to eavesdrop on interesting conversations. In Albert W. Hampson's 1941 cover, the young blonde lady is getting an earful indeed. Is she overhearing a cheating lover or, heaven forbid, a murder plot? Whatever it is, it is apparently scandalous.
We were surprised to find this behavior bouncing into in the 1960s. But not as shocked as Constantin Alajalov's April 1962 operator! Whatever juicy secrets those two ladies are sharing have our lady-of-the-headphones stunned. Are the two hatching a homicide? Maybe they're just talking about someone the astonished operator knows. Or thought she knew.
You don't need a switchboard or party line to eavesdrop. Just being a pesky little brother is license enough. George Hughes' November 1949 cover shows Junior not only listening to big sis' conversation (with a boy, no doubt), but relentlessly mocking her. We told you there was no shame among snoops. This same artist shows a young man listening in on the extension while his sister is on the phone. Any female who was, er, blessed with male siblings will tell you this is not uncommon behavior.
What kid doesn't want to know what grown-ups are saying? While the youngsters in Hughes' December 1950 cover are supposed to be tucked up in their little beds, they aren't. Ears pressed against the banister, the two older ones are listening intently to adult secrets. Since this is a December cover, perhaps they're hoping to unravel some Christmas gift mysteries.
Some of the most interesting eavesdropping is not what Mom and Dad or the neighbors are saying, but listening in on lovers. Who can resist? Mushy stuff must be going on behind the beach umbrella in Amos Sewell's August 1960 cover, because the boy and girl listening in are finding the conversation hilarious. And let's not forget Norman Rockwell's famous Travel Experience cover (of a girl on a train) from 1944 showing the young lady in question watching unabashedly at the goings-on in the seat behind her. Perhaps she is getting more from her travel experience than her mom bargained for. And one of the cutest eavesdropping covers is Rockwell's November 1936 cover showing a man attempting to read his book on a park bench. While he may look somewhat stuffy (spats, no less!), the gent is discovering that, at times, real life is more interesting than fiction.
Gallery