The attitude of pre-World War II America was quite different from the heroic era of the war years. The U.S. was still a modest, isolationist nation, with limited industry, a tiny army, and the hope that, by minding its own business, it could remain untouched by war. Although the December 6, 1941, issue of the Post shows a country at peace, the signs that war was spreading are evident throughout its pages.
In this podcast, Jeff Nilsson interviews historian Marc Wortman. In his book 1941: Fighting the Shadow War, Wortman reveals the depths to which the United States had already been involved in World War II before the attack on Pearl Harbor. Dispelling the myth that the United States was a neutral nation caught flat-footed by the Japanese attack, Wortman shows how the U.S., through military deployments, the Lend-Lease Program, and actual confrontations with Axis forces, was "neck-deep in the war before December 7."

Sound files excerpted in the podcast:
News announcement of the Pearl Harbor attack, December 7, 1941, station unidentified
NBC radio announcement of the attack on Pearl Harbor
Eleanor Roosevelt speaking for the Pan-American Coffee Bureau Series, episode 11, December 7, 1941
"Boogie Woogie Bugle Boy," Andrews Sisters, 1941
G. Wodehouse's second broadcast on Reich Broadcasting Service, July 9, 1941
"Moonlight Cocktail," Glenn Miller Band, 1941
"World News Today," CBS radio, December 6, 1941
Winston Churchill speech to Parliament, July 14, 1941
Charles Lindbergh, America First Committee speech, Des Moines, Iowa, September 11, 1941
"Chattanooga Choo Choo," Glen Miller Band, 1941, the top song in the U.S. on December 7, 1941
Featured image: By United States Air Force [Public domain], via Wikimedia Commons
Three Movies You Should Watch
Yes, it's December, and the holiday season has officially begun. We all know what the greatest Christmas movies are. They're the ones we've all watched a million times and watch every year: It's a Wonderful Life (my favorite movie of all time), Miracle on 34th Street, A Christmas Story, Holiday Inn, the 97 versions of A Christmas Carol, and all of those TV specials where noses glow red and grinches steal. But I'd like to point you to three Christmas movies that are pretty terrific that you might not be aware of:
Christmas in Connecticut (1945). This film, like all of the films on this list, is starting to become more known and popular thanks to annual showings on Turner Classic Movies. It stars Barbara Stanwyck as a Martha Stewart-ish columnist who actually knows nothing about the home or cooking and is only pretending to be married with a child. When her boss (Sydney Greenstreet) and a war hero (Dennis Morgan) come to her home for Christmas, chaos ensues! A really fun film.
Holiday Affair (1949). A Christmas movie with hard-boiled Robert Mitchum might not scream "festive" at first, but he's actually quite good in this comedy-drama. He plays a department store salesman who falls in love with customer Connie (Janet Leigh), which is a problem because she's engaged to someone else. (Gordon Gebert, who plays Leigh's young son, talked about his role at a screening in 2014).
It Happened on Fifth Avenue (1947). Wouldn't it be fun to break into a mansion owned by a millionaire who spends the holidays someplace else and have complete run of the place with your friends and your dog? That's the premise of this comedy starring Don DeFore, Victor Moore, Ann Harding, and Alan Hale, Jr.
You can find out when these movies will be shown this month by checking out TCM's schedule.
In This Corner …
I've been keeping you up to date on what's going on with former America's Test Kitchen host Christopher Kimball and his new venture, Milk Street Kitchen. The latest news is a plot twist to say the least.
The company that owns America's Test Kitchen and Cook's Illustrated has filed a lawsuit accusing Kimball of many things since he left to form the new company, including the poaching of employees and transferring to himself relationships with vendors. Now, lawsuits happen every single day, and it's not really surprising. What is surprising, however, is that ATK has created an entire website devoted to the lawsuit! It explains why they're suing, has the text of the complaint, and even has a chronology of what transpired, with copies of Kimball's emails that supposedly show he did something illegal. This is all pretty stunning (I don't think I've seen anything like it before), and like a lot of people I'm curious about how the site will affect the legal proceedings. It must be doubly odd because Kimball still hosts the weekly ATK radio show.
By the way, if you noticed, the URL of the lawsuit's site is WhyWeAreSuingChristopherKimball.com. It can't be a good feeling to see a website address that has your name and the word suing in it.
RIP Ron Glass, Fritz Weaver, Ralph Branca, Grant Tinker, and Jim Delligatti
Ron Glass had a lot of roles over the years but is probably best known for playing nattily dressed Detective Ron Harris on Barney Miller. He also had roles on Firefly, All Grown Up, Mr. Rhodes, Amen, and an '80s reboot of The Odd Couple. He also guest-starred on shows like Murder, She Wrote, Friends, and Agents of S.H.I.E.L.D. Glass passed away last week at the age of 71.
Fritz Weaver was an acclaimed actor on the stage, in film, and on television. He appeared in such stage plays as Baker Street (playing Sherlock Holmes), Child's Play, The Chalk Garden, and Angels Fall. He made his film debut in 1964's Fail-Safe and also appeared in Marathon Man, Black Sunday, Creepshow, and the Pierce Brosnan remake of The Thomas Crown Affair, along with TV shows like Armstrong Circle Theatre, The Man from U.N.C.L.E., Mission: Impossible, The Twilight Zone, Gunsmoke, Mannix, The X-Files, Law & Order, and the miniseries Holocaust. He passed away last weekend at the age of 90.
Bobby Thompson hit "The Shot Heard 'Round the World" in the final game of the 1951 National League championship series in which the New York Giants beat the Brooklyn Dodgers. The pitcher who gave up that famous home run, Ralph Branca, passed away last week. He was 90.
Grant Tinker was the head of MTM Enterprises in the 1970s. MTM stands for Mary Tyler Moore, whom Tinker was married to for several years. As head of the production company, he was responsible for shows like The Mary Tyler Moore Show, The Bob Newhart Show, Rhoda, and Phyllis.
As if that wasn't enough, in the 1980s he helped save NBC by bringing us The Cosby Show, Cheers, Family Ties, The Golden Girls, Miami Vice, Remington Steele, and Night Court. He was also in charge of the TV department of the advertising agency McCann Erickson (which you might remember from Mad Men) in the '50s and later was an executive with Benton and Bowles, where he got a sponsorship for his client Procter & Gamble on The Dick Van Dyke Show, where he met Moore. I should add that over the last five decades, he also had a hand in shows like Marcus Welby, M.D., I Spy, It Takes a Thief, Dr. Kildare, and Get Smart. That's quite a track record.
Tinker passed away Wednesday at the age of 90.
Jim Delligatti? He invented the Big Mac! He passed away this week at the age of 98.
What Does Your Smartphone Say about You?
Do you use an iPhone? You might be a liar.
That's one of the findings of this study from England's Lancaster University. Researchers concluded that iPhone users tend to be female, younger, and extroverted, while Android users tend to be male, older, more honest, and more agreeable.
In related news, an ex-Google exec says that we're all addicted to our phones and it might be time to kick the habit. If any of these cartoons look like a scene from your life, you might have a problem. Another good way to check if you're addicted: Do you keep your phone with you all the time, even when you're eating holiday dinner with your family? There you go.
La La Land
Sometimes a film comes along and people say, "They don't make movies like this anymore." But it's usually not true. Whatever movie they're talking about has probably been done a dozen times recently.
La La Land, the new film starring Ryan Gosling and Emma Stone, can really be described that way, though. He plays a pianist who falls in love with an aspiring actress in Los Angeles. That makes the film sound rather dull, so here's a trailer that shows what the movie is all about. It seems to be a modern-day homage to the musicals of the '40s and '50s. I can imagine this being shown on Turner Classic Movies in 40 years.
I'm looking forward to this more than I am any Star Wars or Marvel movie. It opens in selected cities on December 9 and elsewhere later in the month.
This Week in History
Samuel Clemens Born (November 30, 1835)
Was the young Clemens — a.k.a. Mark Twain — an amusing scoundrel, a storytelling genius, or both?
Rosa Parks Arrested (December 1, 1955)
The National Archives has a fascinating record of the arrest of the civil rights icon after she refused to move to the back of a bus in Montgomery, Alabama.
Senate Votes to Censure Joseph McCarthy (December 2, 1954)
The senator's attack on the U.S. Army was too much for his Congressional colleagues.
National Comfort Food Day
Comfort food is a form of nostalgia. It's the food that reminds us of our childhoods or a good time in our lives. It's a memory that figuratively warms us and foods that may literally warm us (even if those foods happen to be cold). Music and movies and TV shows and relationships can take us back to certain times in our lives, and so can food.
This Monday is National Comfort Food Day, and since it's the holiday season, it's a food holiday whose placement on the calendar actually makes sense. I don't know what your personal favorite comfort foods are, but maybe they could include this Cowboy Beef and Black Bean Chili or this Rich Roasted Tomato Soup. Or maybe it's a Red Velvet dessert that warms your heart. Or maybe a Classic Chicken Soup is all you need.
I like all those things. Which probably says a lot more about me than any smartphone could.
Next Week's Holidays and Events
Pearl Harbor Day (December 7)
It's the 75th anniversary of the attack on Pearl Harbor. Here's an excerpt from a feature that ran in The Saturday Evening Post in October 1942, part of our Pearl Harbor special edition available in bookstores now.
Christmas Card Day (December 9)
Facebook may be hurting Christmas card sales, but maybe it's something you should start doing again. I still send them out every year. So go out and buy some real cards and actually mail them to those you love, instead of sending a text or social media post to wish someone happy holidays.
After the bombing of Pearl Harbor in 1941, men went off to fight. Women became essential on the factory floor as industrial production soared to support the war effort. Read this excerpt, Surprise! Women Do the Heavy Lifting, from the print publication, Pearl Harbor: 75th Anniversary Special.
Originally published on May 30, 1942
Fuming over the sneak bombing of Pearl Harbor, Mrs. Clover Hoffman, diminutive and spirited mother of Cliff and Charlotte, twins aged 3½, reached a decision important in the task of defeating the Japs and the Nazis. Resigning her job as waitress in a San Diego restaurant, and parking the twins with her mother, Mrs. Hoffman presented herself at the employment office of the Consolidated Aircraft Corporation.
"Why do you want to work on a bomber?" asked Mrs. Kipple.
"That's something I can do to help bring Harry back."
"Who is Harry?"
"My husband. He's machinist's mate on a destroyer at Pearl Harbor."
"Have you ever worked in a factory?"
"No; but I can learn, if you'll give me a chance."
Like other aircraft manufacturers of Southern California, where half the country's bombers and fighters first take wing, the Consolidated management, which began employing women for factory work last September, had a soft spot for Pearl Harbor wives and widows. The following day, Mrs. Hoffman, in trim blue jumperalls, was busily sorting and testing small parts in the blister department. A blister is a transparent plastic turret from which gunners aboard the huge
flying boats and heavy-bombardment bombers fight off enemy attackers.
Within a month, with nimble fingers and a will to learn, Mrs. Hoffman was rated as a veteran factory hand among the thousands of "Keep-'Em-Flying girls" helping to build planes in West Coast aircraft plants, strictly a man's world until eight months ago. When they first appeared on the assembly benches, the women were "the lipsticks" to the men. Workers and bosses alike said, as did hard-boiled Bert Bowler, plant manager for Consolidated, "The factory's no place for women."
Now Bowler says, "They're better than men for jobs calling for finger work. They will stick on a tedious assembly line long after the men quit. Women can do from 22 to 25 percent of the work in this plant as efficiently as men." At the Inglewood plant of North American Aviation, Inc., with 1,100 women on the payroll, M.E. Beaman, ­industrial-relations director, goes further than that. "Women can do approximately 50 percent of the work required to construct a modern airplane," he estimated. Douglas Aircraft, which started late in the employing of women in the factory, expects to have 40,000 on the payrolls of its four plants by the end of 1942. After a study of British plants, Douglas engineers think women may have to do 60 percent of the building of planes before the aircraft plants reach all-out production. Lockheed and Vega, with 2,000 women filtered into groups working on everything from radio wiring to tubing-detail assemblies — plumbing, in plain English — are hiring and training housewives and girls fresh out of school at the rate of 200 a week. Vultee, which pioneered the use of women in aircraft building one year ago, rates them as indispensable. At Seattle, the Boeing Aircraft Company launched courses for women factory hands on the first of the year. In Midwestern cities, all the major Pacific Coast plane builders except Lockheed and Vega are rushing supplementary plants in which approximately 50 percent of the work will be handled by women. By the end of the year, it is estimated that 200,000 housewives will have left their homes for the aircraft factories.
"If they're not wives when they are hired, they soon will be," laughed Mrs. Kipple. "Around San Diego the saying is, 'If you want to find a husband, get a job at Consolidated.' That's how I found mine."
"Work on planes is a natural for women," a Consolidated engineer explained. "There are more than 101,000 separate and distinct parts in one of our bombers, counting rivets, and most of them are so light in weight that women can assemble and test them as easily as men. Better, in some cases."
"Every woman we train for some simple step in aircraft work releases a man for a job calling for more experience," pointed out Aileen Carmichael, assistant personnel director, who started as a clerk on the night shift, learned mechanics in a trade school, then took charge of hiring women for the new Vega factory. "You ought to talk with some of the girls on the assembly lines and see why they are here and what they say about the work. It will give you a lift."
So I did. I talked with dozens of them above the din of the riveting and stamping machines. It was an eye opener, not only in wartime industrial readjustment but in devotion to purpose. In every plant, foremen who once dreaded the influx of "the lipsticks" told with enthusiasm how mixing women workers in the teams had stepped up both morale and the output of planes.
Kitchen Technique
"The main problem with women," one foreman told me, "is to get them to take it easy for a while and not rush and worry about the work. So I tell 'em, 'Just imagine you're in a kitchen baking a cake instead of in a factory building a bomber.'
"Women workers handle the repetitive jobs without losing interest or a letdown in efficiency," he continued. "I guess it's because this is win-the-war work for them, while men are eager to get ahead personally. We team the women with the men because they learn faster from men than from women."
In the Vega sheet-metal department, I watched Mrs. Mary Rozar, barely 5 feet tall, dressed in slacks and blouse, protected by a leather apron, absorbed in smoothing the edges of odd-shaped parts for Flying Fortresses. Mrs. Rozar appeared at the employment office when the Vega management announced it would give preference to wives and widows of men in service at Pearl Harbor and in the Philippines.
"I'm not a Pearl Harbor widow," she told Miss Carmichael, apologetically, "but I'm a Pearl Harbor mother. My Johnny boy lost his life on the Arizona. I have another son, Earl, somewhere in Alaska with the United States Army. I want to help build planes."
Upstairs, where hundreds of girls deftly connect and mark wires for the electrical-control assemblies, I noticed an attractive young woman with much poise who came in with the second shift and hit her stride in nothing flat. The foreman introduced her as "Jerry" Patterson.
"You don't look like a factory worker," I said.
"Maybe I don't, and maybe I'm not, but I can put these assemblies together," she replied. Her husband, Capt. Russell Patterson, was on Bataan Peninsula under General Wainwright, she said. The young Pattersons were living in Chicago, where he was an attorney when called to the service early in 1941.
"I tried working in a dentist's office first," she said. "That gave me no satisfaction, so I came out here, took the tests, and they put me to work on these assemblies. I haven't heard from Russell, and I can't get word to him, but every night I write half a page of a letter to tell him what I did that day to help finish a plane. I'm saving the letters for the day when General MacArthur goes back to the Philippines."
At the Lockheed factory, one of the plant's best woman spot welders is Mrs. Prisalla Maury. Her father is Col. Paul D. Bunker, in command of a coast-artillery unit at Fort Mills, "topside" of Corregidor. Across the narrow strait on the Ba­taan Peninsula, her husband, Major Thompson B. Maury III, was in a field-artillery unit that repeatedly hurled back the Japs. To most women, that might seem enough to do to beat the Japs. Not for Prisalla Maury, who, trained as a chemist, goes to the factory each morning, leaving four red-headed young Maurys, Richard, 6, Ann, 5, William, 2½, and Sarah, 1, at home with her mother.
"They need planes over there," she declared. "This is the best thing I can do to help get them there."
"She's doing her share all right," added John Ferguson, group leader of the spot-welding unit to which Mrs. Maury belongs. "She likes to stand on her own. If any man tries to help her, she shoos him off in a hurry."
Two-Way Whistle
At Douglas, shortly after the first woman appeared on the assemblies, the men began whistling when an attractive young girl in bright-colored slacks and blouse walked down the aisle. The women held an indignation meeting. The following day, as the men spewed out of the plant for lunch, the girls were waiting for them. Every time a handsome young buck came through the door, they whistled and shouted, "Look at Tarzan! Isn't he wonderful? Oh, Handsome!"
The whistling in the factory ended abruptly.
"Women are in the airplane plants to stay," predicted Mrs. Kipple at Consolidated. "Our idea at first was they would step into the men's shoes as the men were called for military service. They would build the planes and they would be the earners, until the men came back. But there will be a lot of jobs in the factory that the men will never get back. The women have demonstrated they can handle them better."
Excerpted from a serialized article originally published October 10–24, 1942
This feature is included in Pearl Harbor: 75th Anniversary Special, a print publication highlighting articles, picture galleries, and editorials that appeared in The Saturday Evening Post before, during, and after December 7, 1941. This special edition is available for sale a shoptthepost.com. 
You would damn well remember Pearl Harbor if you had seen the great naval base ablaze as we of Scouting Squadron 6 saw it from the air, skimming in ahead of our homeward-bound carrier. The shock was especially heavy for us because this was our first knowledge that the Japs had attacked on that morning of December 7. We came upon it stone cold, each of us looking forward to a long leave that was due him.
It wasn't that we pilots didn't sense the tension that gripped the Pacific. You could feel it everywhere, all the time. Certainly the mission from which we were returning had the flavor of impending action. We had been delivering a batch of 12 Grumman Wildcats of Marine Fighting Squadron 211 to Wake Island, where they were badly needed. On this cruise, we had sailed from Pearl Harbor on November 28 under absolute war orders. Vice Admiral William F. Halsey Jr., the commander of the Aircraft Battle Force, had given instructions that the secrecy of our mission was to be protected at all costs. We were to shoot down anything we saw in the sky and bomb anything we saw on the sea. In that way, there could be no leak to the Japs.
There was no trouble at all, and we headed back from the Wake errand with a feeling of anticlimax — all of us, that is, except one young ensign. The Wildcats had taken off for Wake at a point about 200 miles at sea, escorted by six scout dive bombers, and this ensign was in the escort. The mist was heavy, and once, looking down through it, he saw three ghostlike shapes that resembled ships. Immediately the scouting line closed in for a search, but found nothing. However, the ensign, rightly or wrongly, was convinced to the end of his life — not many days away — that what he had seen was Japanese warships. If he did, and if mist hadn't hampered the search, the course of history might have been changed. As we steamed back toward Pearl Harbor, the rest of us gradually came to look upon the incident as just another scare.
Bad weather delayed us and we were getting home on Sunday instead of on Saturday, as planned. While the engines were being warmed up on the flight deck early on Sunday morning, my rear-seat gunner and radioman, W.C. Miller, a lad of 21 or 22, had a word for me as he stood on the wing and helped adjust my radio cord. He said that his four-year tour of duty was to end in a few days and that there was "something funny" about it.
"Mr. Dickinson," he went on, "out of 21 of us fellows that went through radio school together, I'm the only one that hasn't crashed in the water. Hope you won't get me wet today, sir."
"Miller," I replied, "next Saturday we all go home for five months, so probably this will be our last flight together. Just stick with me, and the first thing you know we'll be on the Ford Island runway. That's all we've got to get by — this morning's flight."
Miller and I were both North Carolinians and had been flying together since I joined the squadron in April 1941. He was dependable and cool, the kind of man I like to have at my back when I'm in the air.
He climbed into the rear cockpit, faced the tail in his regular position, and the squadron was off; 18 planes flying in nine 2-plane sections; 72 eyes to scrutinize a 100-mile-wide corridor of ocean through which our carrier and its accompanying destroyers could follow safely. It was 6:30 a.m. When the squadron reached 1,000 feet, the prows of the vessels seemed to be making chalk-white V's on slate. As we took off, the task force was 210 miles off Barber's Point, which is at the southwest tip of the island of Oahu. Barber's Point is about 10 miles west of Pearl Harbor.
Flying Straight into History
Several times on the way in I had Miller take a bearing with his direction finder on a Honolulu radio station, to be sure we were on the prescribed course. The last time he did it, it was about five minutes past eight and we were 25 miles or so off Barber's Point. It seems amazing now, but they were still broadcasting Hawaiian music from Honolulu.
I noticed a big smoke cloud near my goal, then saw that it was two distinct columns of smoke swelling into enormous cloud shapes. But I paid little attention. Smoke clouds are familiar parts of the Hawaiian landscape around that season, when they burn over vast fields after harvest.
Four ships lay at the entrance to Pearl Harbor, one cruiser and three destroyers. I could tell they were ours by their silhouettes. Ahead, well off to my right, I saw something unusual — a rain of big shell splashes in the water, recklessly close to shore. It couldn't be target practice. This was Sunday, and anyway the design they made was a ragged one. I guessed some coast-artillery batteries had gone stark mad and were shooting wildly.
I remarked to Miller, through my microphone, "Just wait! Tomorrow the Army will certainly catch hell for that."
When we were scarcely three minutes from land I noticed something that gave a significant and terrible pattern to everything I had been seeing. The base of the biggest smoke cloud was in Pearl Harbor itself. I looked up higher and saw black balls of smoke, thousands and thousands of them, changing into ragged fleecy shapes. This was the explanation of the splashing in the water. Those smoke balls were antiaircraft bursts. Now there could be no mistake. Pearl Harbor was under air attack.
I told Miller and gave him the order, "Stand by." Ensign McCarthy's plane was 300 or 400 yards to my right. As Mac closed in, I was charging my fixed guns. I gestured, and he charged his. Mac signified, by pointing above and below, that he understood the situation.
When we were probably three miles from land, we saw a four-engined patrol bomber that we knew was not an American type. It was a good 10 or 12 miles away. Mac and I started for him as fast as we could go, climbing. We were at 1,500 feet, he was at about 6,000 feet. He ducked into the smoke cloud which loomed like a greasy battlement.
We darted in after him and found ourselves in such blackness we couldn't see a thing. Not even then were we aware that the source of the smoke in which we hunted was the battleship Arizona.
Mac and I came out and headed back for Barber's Point for another look. In a few minutes we were over it at 4,000 feet, flying wing to wing. A glance to the right at McCarthy's plane was almost like seeing Miller and myself in a mirror — there they were, in yellow rubber life jackets and parachute harnesses, and almost faceless behind black goggles and radio gear fixed on white helmets. Mac's gunner, like mine, was on his seat in his cockpit, alert to swing his twin machine guns on the ring of steel track that encircled him.
Things began happening in split-second sequences. Two fighters popped out of the smoke cloud in a dive and made a run on us. Mac dipped his plane under me to get on my left side, so as to give his gunner an easier shot. But the bullets they were shooting at me were passing beneath my plane. Unlucky Mac ran right into them. I put my plane into a left-hand turn to give my gunner a better shot, and saw Mac's plane below, smoking and losing altitude. Then it burst into yellow flame. The fighter who had got Mac zipped past me to the left, and I rolled to get a shot at him with my fixed guns. As he pulled up in front of me and to the left, I saw painted on his fuselage a telltale insigne, a disk suggesting, with its white background, a big fried egg with a red yolk. For the first time I confirmed what my common sense had told me; these were Jap fighters, Zeros.
I missed him, I'm afraid.
A Casualty of the Zeros
Those Zeros had so much more speed than I did that they could afford to go rapidly out of range before turning to swoop back after McCarthy. Four or five more Zeros dived out of the smoke cloud and sat on my tail. Miller was firing away and was giving me a running report on what was happening behind me.
It was possibly half a minute after I had seen the Jap insigne for the first time that Miller, in a calm voice, said, "Mr. Dickinson, I have been hit once, but I think I have got one of them."
He had, all right. I looked back and saw with immense satisfaction that one of the Zeros was falling in flames. In that interval, watching the Jap go down, I saw McCarthy's flaming plane again, making a slow turn to the right. Then I saw a parachute open just above the ground. I found out later it was Mac's. As he jumped he was thrown against the tail surface of his plane and his leg was broken. But he landed safely.
Jap fighters were behind us again. There were five, I should say, the nearest less than 100 feet away. They were putting bullets into the tail of my plane, but I was causing them to miss a lot by making hard turns. They were having a field day — no formation whatever, all of them in a scramble to get me, each one wildly eager for the credit.
One or more of them got on the target with cannon. They were using explosive and incendiary bullets that clattered on my metal wing like hail on a tin roof. I was fascinated by a line of big holes creeping across my wing, closer and closer. A tongue of yellow flame spurted from the gasoline tank in my left wing and began spreading.
"Are you all right, Miller?" I yelled.
"Mr. Dickinson, I've expended all six cans of ammunition," he replied.
Then he screamed. It was as if he opened his lungs wide and just let go. I have never heard any comparable human sound. It was a shriek of agony. When I called again, there was no reply. I'm sure poor Miller was already dead. I was alone and in a sweet fix. I had to go from a left-hand into a right-hand turn because the fast Japanese fighters had pulled up ahead of me on the left. I was still surprised at the amazing maneuverability of those Zeros. I kicked my right rudder and tried to put my right wing down, but the plane did not respond. The controls had been shot away. With the left wing down and the right rudder on and only eight or nine hundred feet altitude, I went into a spin.
I yelled again for Miller on the long chance that he was still alive. Still no reply. Then I started to get out. It was my first jump, but I found myself behaving as if I were using a check-off list. I was automatically responding to training. I remember that I started to unbutton my radio cord with my right hand and unbuckle my belt with my left. But I couldn't unfasten my radio cord with one hand. So, using both hands, I broke it. Then I unbuckled my belt, pulled my feet underneath me, put my hands on the sides of the cockpit, leaned out on the right-hand side, and shoved clear. The rush of wind was peeling my goggles off.
I had shoved out on the right side, because that was the inside of the spin. Then I was tumbling over in the air, grabbing and feeling for the rip cord's handle. Pulling it, I flung my arm wide.
There was a savage jerk. From where I dangled, my eyes followed the shroud lines up to what I felt was the most beautiful sight I had ever seen — the stiff-bellied shape of my white silk parachute. I heard a tremendous thud. My plane had struck the ground nose first, exploding. Then I struck the ground; feet first, seat next, head last. My feet were in the air and the wind had been jarred out of me. Fortunately, I had jumped so low that neither the Japs overhead nor the Marines defending Ewa Field had time to get a shot at me.
I had come to earth on the freshly graded dirt of a new road, a narrow aisle through the brush to the west of Ewa Field, and had had the luck to hit the only road bisecting that brush area for five miles. Except for a thorn in my scalp, my only injury was a slight nick on the anklebone, where machine-gun bullets had made horizontal cuts in my sock.
My main worry was to get out of the parachute tangle and on to Pearl Harbor to stand by for orders. Afterward, I walked and ran for about a quarter of a mile to the main road, bordered by cane fields. I knew this was the way to Pearl Harbor. There were curious tremors underfoot. Those were the bombs. It seemed, too, as if many carpets were being beaten. That was machine-gun fire. Heavier overtones came from ­antiaircraft batteries not far off. I could orient myself by the smoke obscuring much of the sky. The nearer and smaller column tapered to earth nearby. So I knew that there on my right hand, possibly two miles away, was Ewa Field, the Marine air base. But five miles ahead, everything was blackly curtained by smoke.
The first automobile that came along, a blue sedan about two years old, was headed my way. I stepped out and signaled by waving my white helmet. The car rolled to a stop where I stood. A nice-looking gray-haired man was driving. The woman beside him, wearing a blue-and-white polka-dot dress, was stout, cheerful, and comfortable looking. They smiled cordially.
"I'm sorry, sir," I said, "but I must have a lift to Pearl Harbor. I've just been shot down."
The man accepted the urgency in my voice without, I think, really grasping the significance of what I had said. He reached behind him and opened a door. I got into a backseat crowded with picnic things — a wicker basket brim-full of wax-paper packages; a vacuum bottle, and a brown paper bag of bananas. On the floor was a bottle wrapped in a clean dish towel. The woman half turned her head and said that it was too bad they wouldn't have time to take me to my destination, because they were going on a picnic.
"I'm sorry, ma'am," I said, "but you have got to take me to Pearl Harbor."
"But our friends are waiting for us. We are bringing the potato salad and they have the chicken."
Japanese planes droned overhead. Taking a hand myself, I told her to look.
"Japanese planes? Those?"
"Yes, ma'am."
Suddenly she became tender and solicitous. Had I really been shot down? Was I hurt? Would I like something to eat? I told her I was thirsty. That was true enough. My mouth was so dry it was an effort for me to speak. But all they had was a bottle of whisky — it was what was wrapped in that dish towel. I didn't take any because I figured I would have to fly again that day. By this time we were approaching a few houses and a general store in the cane fields. As far as I was concerned, the war was going to have to wait until I had a Coke.
As we started off again, Jap planes were strafing the road with machine guns and cannon. Through the rear window I could see a low-flying Jap, his guns winking like malefic jewels. He missed us, but hit a sedan 50 feet in front of us, in which another couple were riding. Riddled with tiny holes and jagged cannon slashes, the sedan careened, turned over, and landed in a ditch in a cloud of yellow dust. As we sped on, we saw other bullet-torn automobiles that had either rolled or been pushed into ditches and fields along the way.
We got to Pearl Harbor just in time to see the big dive-bombing attack that was going on about 9:00 in the morning.
It was just 55 minutes since Miller had taken that final bearing by tuning in on the Honolulu radio station. The leaning column of smoke I had seen then was now close enough for us really to see its source.
There was so much smoke the sun was obscured and lemon-yellow gun flashes pierced the somber backdrop. Except for the fiercely burning Arizona, all the ships were letting go with everything they had — battleships, cruisers, destroyers, submarines, and little boats. The whole system of shore defenses was in action. From Fort Weaver, clear on the other side — where this couple with me had planned to spend a lazy day — the Army had angry guns shooting at the darkened sky. But where were all our planes, Navy and Army?
When we reached the southeast segment of the harbor, at the entrance of Hickam Field, I left the blue sedan and that admirable couple. I hope I thanked them adequately in my hurry. All over Hickam Field there were fires — answers to the questions in my mind about our planes. Rows of planes were blazing on the field. So were hangars, barracks, and other buildings. Guns were rattling and pounding around the field. Men were fighting fires.
Hitchhiking to War
I got another hop in a station wagon from a Filipino clad in sailor whites. Apparently he was a steward for some captain and had been sent ashore the day before to do some marketing. The floor of the station wagon was loaded with vegetables, and piled on top of them were about as many men as could squeeze in. All of us jumped out at Hospital Landing, except the driver, and joined a throng of a hundred or so soldiers, sailors, Marines, and civilian employees on the channel edge. What we saw then was so overwhelming that I felt as if something had me by the throat.
Thirty yards out in the channel, and seeming to tower over us, moved the vast gray bulk of an old-type battleship. She was traveling slowly, and on her deck, stretcher bearers were rushing to carry away the wounded, while steel was roaring skyward from her 5-inch antiaircraft weapons, her lesser cannon, and machine guns. Beyond her, at the far end of Battleship Row, lay the Arizona, the blackest sort of smoke belching from her broken, twisted wreckage amidships and forming fantastic, ominous shapes in the sky. One fighting top and tripod mast canted out of this incredible shambles. On all the ships in that double two-mile lane, guns were blasting at the planes. Yet all the terrific power of the biggest guns on those battleships was ineffective now. They were made to fight monsters like themselves, not a swarm of gadflies.
The ship near us was trying to get out to sea, and the Japs were trying to sink her in the channel, where her 29,000 tons of steel hull, machinery, and guns would choke Pearl Harbor and bottle up the fleet. There was a tremendous ear-splitting explosion. A bomb had struck on her deck close to one of her antiaircraft guns. Thirteen hundred men, I guess, were aboard the ship. Some were killed, more were hurt, but only one antiaircraft gun stopped firing. Everywhere I could see, the crew was well under control. For the first time in my life I was seeing a naval vessel in action, and I was just watching in that helplessness in which you find yourself caught sometimes in dreams. But this was real enough, and what was striking at the battleship was a newer weapon, my kind of weapon. Dive bombers.
All the time I was watching the attack I was trying to evaluate the ability of the Japanese as dive bombers. They had concentrated at least the equivalent of one of our own dive bomber squadrons in an effort to knock out the ship. Eighteen, possibly 20, planes took part, going at it one by one. They were so eager that bombs fell first on one side of the old battle wagon and then on the other. We on the landing had to throw ourselves flat before each explosion because the concussion was terrific. If caught standing, you would be knocked flat. Lying down on the concrete or on rocky earth, I had a frantic impulse to claw myself into the ground.
Dodging Death
The battleship got clear of the channel all right, and grounded on a point of land opposite the hospital. Just at that time I had turned about to watch the bombing attack on the destroyer Shaw, which was going on behind us. As I watched, a bomb tipped her bow, and after the explosion, fire broke out.
Just then a motor launch picked us all up and shuttled us across to Ford Island. A lot of damage had been done there. Three or four squadrons of PBYs, which are big patrol planes sometimes called Catalinas, had been massed on the point of the island. Only charred remains were left. I could scarcely believe what I was seeing. Hangars were afire, and their glass-wall fronts were black with holes. In front of the nearest hangar was the appalling wreckage of those Catalinas. There was nothing shipshape anywhere in sight. As we watched from the concrete ramp, there was a great flare across the channel, and a tremendous blast. The destroyer Shaw had blown up. Fire had reached her magazine. I saw a big ball of red fire erupt from her. It shot up like a rocket to about 400 or 500 feet. Spellbound, I saw it burst open from the middle. It was like a rotten orange exploding. The concussion knocked me on my face.
Someone yelled, "Here comes a Jap plane!" We swarmed into the undamaged hangar. Not one but a number of planes roared across Ford Island with their guns going. I was behind a steel column in that hangar.
In a few minutes I was on my way again, to the other side of the air field, where the carrier planes are based. The island is a little more than a mile long, and in places about three quarters of a mile wide. Right down its middle is a runway. Sprinting on that stretch of concrete, I saw that it was strewn with pieces of shrapnel, misshapen bullets from Jap machine guns, and empty cartridges that had fallen from their planes. I could guess, from the quantity of this stuff, that they had done a lot of systematic strafing here to keep our fliers on the ground. They love to strafe. It seems to be characteristic of them, a thing that has been noticed in many of the battle areas.
Marines at Ewa Field told me they saw a Jap gunner quit firing long enough to thumb his nose at them. Another Jap, while strafing the Marines, was moved to let go the handles of his gun, clasp his hands high above his head and shake them in that greeting with which American prize fighters salute their fans. Then he grabbed his guns and shot some more. This will help to explain why the United States Marines could hardly wait.
The Ties of Conflict
When I reached the other side of the air field, I could find only 3 of the 18 pilots with whom I had left the carrier about three hours before. Communications were pouring into the command center. I went to find out if the Japanese carriers had been located. My commanding officer, Lt. Cmdr. H.L. Hopping, was there. He had been able to get in with just a couple of bullet holes in his plane. Others of our squadron trickled in until we had about half our planes and pilots on the ground.
We were all so glad to see one another alive that it was a deeply touching scene. With a whoop of delight, I saw Earl Gallaher walk into the command center to report for instructions. Lieutenant Gallaher was the executive officer of Scouting Squadron 6. As flight officer, I was third in the squadron — that is, next to Gallaher, who was second in command. We shook hands in an effusive greeting and then just stood there for a few seconds, grinning at each other. There wasn't time to say much. We were expecting to be sent after those Jap carriers as soon as they were located. So we went back to see what planes we could find, and managed to get together nine planes that we could man. We had bombs put on them and the rear guns manned.
Those of Scouting Squadron 6 who were present and accounted for finally decided to get a little sleep. We had our orders — to be up and standing by at 4:00 the next morning. We went to sleep on cots. The next thing I knew, it was 4 a.m., and I was dressing in the dark.
We got orders to take off immediately and fly out to the carrier. We didn't think much of that idea. We thought considerably less of it as somewhere a gunner began shooting red-hot pin points into the overcast sky. He was directing his tracer bullets at the only point of light he could see overhead. Then it seemed as if every gun within a 10-mile radius was being fired. That lasted about 10 minutes, until, one by one, they discovered they were shooting at a star.
Commander Hopping was impatient to take off. Happily for us, it was daybreak by the time we started down the runway, and men on the destroyers down that way could see who was aloft. After flying in absolute radio silence some 80 miles to a rendezvous at sea, we found our carrier. She was out there with the task force, of course, and she was flying the biggest American flag that I had ever seen on a ship. It was her battle flag, flown only in battle. Seeing her out of sight of land, in fighting trim, we were more than ever grateful for the bad weather that had delayed our return from Wake.
Under normal conditions she would have been at her dock by 6:00 on Saturday night — and so would another carrier, the Lexington. On the maps of the harbor carried by the Japs, the data were so nearly up to the minute that the two carriers were shown where we ourselves had expected them to be — until that bad weather delayed us.
I have been attached to one ship or another for about a fourth of my life. Almost invariably, you develop a warm feeling for your ship, but for a carrier the feeling is deeper. When you fly as one of the air group of a carrier, no matter how confident you are of your ability as navigator, each time you actually find your carrier on an otherwise empty sea, your heart sings a little.
Everyone on the carrier was wild with curiosity, and the experiences of each of us were heard over and over, with flattering attention. We got a few scraps of information on what had happened to other ­members of our squadron. One had jumped a Jap fighter about the same time I was shot down and in the same area, near Barber's Point. The Marines at Ewa Field had witnessed the action. Apparently, our man was doing a fine job and was getting the best of the Jap — a real test of his skill, because our scout bombers weren't designed to outmaneuver fighters. He was so intent on keeping his fixed guns pouring bullets into the rear of his adversary that when the Jap pulled up the nose of his plane — possibly there was a dead pilot at the stick — and it lost forward speed, our man's plane collided with it. Pilot and rear-seat man both jumped. But there wasn't sufficient altitude, and their parachutes failed to open in time.
As we listened to stories like this one, a pattern of understanding soon formed, and we realized that revenge was going to be our job. We would have to get those Jap carriers somehow, somewhere, someday, and not waste time and hurt our personal efficiency by brooding over the deaths of our friends.
By Tuesday morning, after the task force had dropped into Pearl Harbor for oil and provisions, the hunt started again. The task force was in charge of Vice Admiral Halsey, who believes in action, and we knew we would do some real punching. We didn't catch the carriers on this jaunt, but the area was infested with long-range Jap submarines and we potted plenty of them.
The Wednesday-morning scouting flight turned up several subs, and we were sent out to get them. I took off after one of them around noon, when our carrier was 200 miles north of Pearl Harbor. As my rear-seat man, I took along a lad named Merritt, who was about 21 years old. He turned out to be an extremely reliable radioman and gunner.
The sub had been 75 miles to the south when seen at 6 a.m., and naturally had had time to move elsewhere in the interim. I flew a big rectangle over the probable area. After about an hour I spotted her, lying on the surface, about 15 to 18 miles distant.
I headed for her, meanwhile radioing the carrier: "This is Sail Four. Have sighted submarine. Am attacking."
I was about 800 feet off the water, and to make a good dive-bombing attack I would have to start from 5,000 to 6,000 feet, at least. So I began climbing, too, desperately hoping the sub wouldn't submerge before I could unload. She didn't, and as soon as I was within range, her deck guns began throwing shells at me.
"Is the bomb armed, Mr. Dickinson?" Merritt kept asking me. He was referring to the removal of the arming wires, which prepare the bomb to explode on contact. It is the pilot's job to do this and the gunner's job to remind him, lest the bomb fall a dud. This kid Merritt was getting his first chance for revenge and he was determined not to have a failure on his hands.
"Look here," I finally said. "The bomb is armed. For God's sake, relax. Maybe we can get this sub. Take my word for it, the bomb is armed." At the same time, the carrier was calling me for a progress report. I replied that I would call in after dropping my bomb.
The Jap's two deck guns fired at least 25 antiaircraft shells at me. I had had him in sight for almost eight minutes. Yet he had made no attempt to submerge. All he was doing was turning to the right a few degrees. Obviously, there was something wrong with him. Probably he was unable to submerge.
Now the Japs were firing a couple of machine guns too. The explosions from the antiaircraft guns occasionally washed a slight tremor into the plane.
I was getting nicely set when my gunner spoke again, "Is the bomb armed, Mr. Dickinson?" I dived.
All the way down I could see those heathens still shooting. When I was about 30 stories higher than the Empire State Building, I yanked the bomb-release handle. By the time I was able to pull out of the dive and turn so as to get my plane's tail out of my line of vision, it was probably 15 seconds after the bomb struck. It dropped right beside the submarine, amidships. In about three quarters of a minute after my bomb struck, the sub had gone under.
Right after she disappeared, from her amidships, as near as I could tell, there was an eruption of oil and foamy water, like the bursting of a big bubble. Seconds later there was a second disturbance. Another bubblelike eruption of foam and oil churned to the whitecapped surface of the sea.
This time I saw some debris. I reported to the carrier what I had done and what I had seen. But I was careful to say that "possibly" the submarine had been sunk. You simply can't be sure on such evidence.
"Looks like we got him, Mr. Dickinson," chirped Merritt.
"Yes, I think we did."
"That's certainly pretty nice, huh?"
I said it sure was.
Attack on Kwajalein Atoll
We had one fairly uneventful cruise of 10 days, and then our carrier went out from Pearl Harbor again as part of a convoy escort. The convoy was carrying reinforcements to our garrison on a South Sea island base, which protected our supply line to Australia and had to be strong enough to withstand whatever the Japs might send from their islands. Except for those reinforcements, the Pacific route to Australia might have been cut, and men and supplies for any offensive would have to be brought clear around Africa.
We stood guard in the open sea while the reinforcements were being discharged, then departed. We got orders to be ready for action. Our task force had a real job to do.
On a day around the end of January, we altered our course and turned west toward the Marshall Islands, primed for an all-day attack. The Japs had called at Pearl Harbor on a Sunday eight weeks before. This was our first chance to return the call.
We got up early — about 3:00 in the morning. The anticipation of battle was a noticeable thing in the wardroom, something you could detect almost as plainly as you could smell the fragrance of the coffee, toast, and bacon. This middle-of-the-night breakfast was the climax of four or five days of tension, of worrying. Each man was challenging his own soul to tell him how he would measure up in battle. No man ever lived who got the answer in advance.
I was feeling a trifle smug because twice before I had been under fire. All of us who had been up at Pearl Harbor were exchanging glances; we were regarding one another with a certain comfort. We were, we felt, veterans.
I had put the first piece of fried egg in my mouth when I made a peculiar discovery: I couldn't swallow. That piece of egg seemed to swell and turn into something the size of a tennis ball. I crammed my mouth with dry toast and washed it down with water. After puttering a bit with my knife and fork, I decided to call that piece of toast my breakfast and went to the ready room of Scouting Squadron 6.
We pilots took our places in 21 chairs arranged in seven rows of three. Time spent in the ready room is as much of a strain as flying. But after every scrap of data was down and digested, the seconds began to drag and minutes were like hours. Actually, of course, we hadn't been there long. It still was night when finally we heard the telephone, and the talker relayed the order we'd been waiting for: "Pilots, man your planes!"
Scouting 6 had something like 175 miles to go to reach its objective, Roi Island, which is a part of Kwajalein Atoll. The scouts were going to attack; the bombers were coming along in reserve and to see how we made out. Then they were to seek an objective. Whoever came back from this raid, we knew, would be able to draw a better map of Kwajalein Atoll than the one we carried with us. Well, we would bomb whatever we could see.
After 30 or 40 miles, below we could see many islands. These were low-­lying, circular reefs, and down there, 10,000 feet below, were many Japs, and we hoped the Japs were sleeping.
We had been told to make a glide bombing attack. In a dive attack you swoop down at the target at an angle of 65 to 75 degrees, but in a glide attack, you approach at an angle of no more than 55 degrees. Our skipper, Lt. Cmdr. Hopping, had labored mightily to get us ready for this morning's work. Hopping was a brilliant tactician. He taught us a lot, and our squadron went into the war much better off for having been his. A graduate of the Naval Academy, class of '24, he was a tall man — 6 foot 1 — and strong, and strong in his opinions too. But he was extremely hard to "fly on." Men don't fly with equal skill any more than they play tennis with equal skill. We were always a little leery when flying on Hopping, but we were devoted to him, and therefore afraid that he would get himself into a situation out of which he couldn't fly.
We had climbed to 15,000 or 16,000 by the time we reached Roi Island. After about 15 minutes, far off to my right I saw my skipper starting to coast, taking the first division in. I saw their bombs exploding on the ground, saw fires erupt down there, and knew the skipper's division was strafing hangars and field. But what I did not learn until later was that a Jap fighter was taking off from the airfield as our skipper was coming down at the head of his division.
Earl Gallaher, leading the second division, saw it happen. Seemingly, Hopping had pushed over too early. You really ought to have that angle of about 55 degrees as you come down on the target to give you the speed you need. And you do need it. A shallow angle won't give you that extra push. We know that well now. As the skipper reached a low altitude he was still some distance from the island.
Instead of going in at 300 knots, or, better still, 350, he was doing no more than he could get with his engine, which was scarcely half what he needed. Passing over the island he was a low, clear target, and they concentrated on him. A Jap fighter, just getting airborne, came up on his tail. The skipper's plane struck the water and went right under. Gallaher, diving, saw the whole thing plainly.
I took the third division in on the left of Gallaher's. We made practically a simultaneous attack. I think our 12 planes arrived at the end of our glide with considerably more speed than those first six planes had had. Going in, I saw the angry flashing of the antiaircraft guns throwing stuff at us. But it is surprising how quickly you come to a state of mind which almost disregards AA fire. It doesn't bother a pilot much more than lightning. It isn't especially effective — yet — but more important to your self-control, as your enemy trains his big guns on you, is your utter absorption in the job you are doing. A man who has precious bombs to drop hasn't time to be scared.
I had three, but I was saving my 500-pounder for dessert. What I released as I flew toward a bunch of buildings on the airfield were my two 100-pounders. After pulling out, I kicked my tail around, the better to see what damage I had wrought. My two bombs hit a building or a house.
My wing man, Lt. Norman West, who was flying just back of me, had startling luck. His load struck right next to the building I hit, but he got the jackpot. It must have been a storehouse for ammunition, probably TNT. It went up with a tremendous bang and a gigantic flare. An enormous smoke cloud came swelling after us. When that smoke thinned, there were no buildings left there. They had been leveled. That was quite gratifying.
Crossing the island, we scattered. I found myself well off the island, about 1,500 feet above the sea, completely entranced with one of the most glorious fireworks shows I had ever seen. The moon was gone and the first glowing hint of morning was in the east. All over the island there was an extravagant flowering of flame. Great white-and-pinkish-streaked fire shapes bloomed profusely, each for just an instant, as plane after plane went in and unloaded. The explosions were fiercely jagged, intensely bright. The Japs down below were getting more than a taste of Pearl Harbor.
I must have been a mile off the island, above the sea, just drunk with the fantastic beauty of this extraordinary dawn before I suddenly realized that for any antiaircraft gunner on the ground or any Jap fighter in the air I was just a cold turkey. Several thousand feet up I saw a couple of our planes. I pulled up the nose of my plane, shoved the throttle all the way forward, and went away from there, sensible again. As I breezed up alongside my friends and they fell in on either side of me, we all felt better.
We three had come together for mutual protection just in time. On my left-hand side, two Jap fighters — the first I had seen — were coming in to make an attack on us. They took turns making runs, but always both from the left. Had they known a little more about their business we would have been finished, because for some reason our rear-seat men were having a bit of trouble with their guns just then.
I had time to wonder what species of shark would get me for his breakfast when our rear guns got going and started shooting dark red lines at the Japs. They turned tail and ran. Apparently these two had never affiliated themselves with any suicide squadron.
Watching them climb up and away, I gave a sigh of relief that practically blew the cockpit open. Then they really did astonish us. Out of range, the two of them started doing stunts. They looped together and followed with an elegant slow roll. This went on and on. They just sat up there, well out of battle, and did what we call "flat-hatting," a term for all kinds of stupid, show-off flying. They had been sent to fight us, but they just kept on waltzing in the sky. I can't guess what was in their minds, unless they had agreed they weren't going to risk their necks excessively for dear old Nippon.
I had just rendezvoused with two others of my squadron when a report came over the radio giving information we had been yearning to hear.
"Targets suitable for heavy bombs. Targets suitable for heavy bombs at Kwajalein anchorage."
I recognized the voice and was satisfied that this was no wild goose chase. The voice had come from somewhere in the sky above. It was that of Commander Young, our group leader. We three immediately headed south.
Kwajalein anchorage was 40 miles or so from where we were, and everybody wanted to get there first. Targets for heavy bombs were what we all had been hoping for, and when mention of a carrier was added to the good news, that was like offering fresh meat to dogs.
Because we had to climb, we could do scarcely more than 130 miles an hour. I was leading my three-plane section. The pilot on my right, a big fellow, kept shoving his shoulders and arms forward in a pantomimed plea to me for hurry. That was Dobby — Ensign Dobson.
Lieutenant Junior Grade Kleiss was the other pilot. He has had a nickname ever since a day when he landed at the Hawaiian Marine base, Ewa Field, before it was fully paved. Kleiss had turned his tail up into the wind and his propeller was blowing up a lot of dust, which hid the plane from the man in the control tower. So, when Kleiss called, requesting permission to take off, by radio the reply came back: "Unknown dust cloud. From Ewa Field tower. Permission granted." So he had become Dusty.
In no more than seven or eight minutes, we could see a vast ruffle of beach sand embroidered with lacy surf and touched here and there with green. Inside this ruffle was the lagoon, Kwajalein anchorage. Moored there in five or six symmetrical rows, as if on a chart, were more than a score of ships.
I saw one new cruiser, a row or two of big auxiliaries, an old light cruiser, tankers, a seaplane tender, three or four submarines and other ships. As we flew over the reef toward all these fine targets, I saw on the beach below us two great four-engined flying boats. They were temptingly exposed to strafing, but we had no time for that. All the ships were shooting at us as the wide atoll beach passed astern of our three planes.
It was broad daylight then, nearly 20 minutes to eight. Far below on the wide lagoon, the big new cruiser was winking at us with many glittering eyes. Time and time again as her 8 or 10 bigger antiaircraft guns let go, she seemed to be an angry mass of living flame. All told, that one warship probably had 30 or 35 guns shooting at us.
We had gone far apart to make the attack. I was on the left, Dobby in the middle, and Dusty on the right as we put our noses down and went into steep dives.
I was sighting at the deck of a tanker, of 12,000 tons I'd say, when I saw that all the while she'd been masking a richer prize. It was a thundering big Jap liner. She was about 17,000 tons. Poised aft, high up on her stern, was a seaplane. I wanted this liner. I pulled my nose up to hedge-hop the tanker and aimed right for the plane on the liner's deck; aimed well, too, because my 500-pound bomb struck the stern, and the blast of it wrapped her in flame.
As I pulled out of my dive at 600 feet, the Jap liner was well on fire. I saw Dusty's bomb land right on the big new cruiser, and a lot of Japs aboard her stopped shooting. Dobby's bomb struck a submarine tied alongside a bigger ship, the tender. The sub blew up and sank so fast that the tender listed from the pull of lines and gangways.
Because of my passionate interest in what was going on, any concern for myself was simply crowded out of consciousness. It was as if somebody else were flying and I were watching. My best subject at the academy had been naval battles; I had such an interest in old sea fights that I would sometimes argue in the classroom with instructors and get my ears knocked down for stubbornly coming back lugging 11 books to support a point. Right there at Kwajalein anchorage, below, above, and all around me was a sea fight, and it wasn't in any book.
War from a Box Seat
I'll admit that if I find myself alone in a dark, creaky old house, I can scare myself near to death. But neither at Pearl Harbor nor afterward in action was I really scared. There is worry underneath, of course, and the nervous strain of it finally tells in subtle ways.
But battle is grand excitement. It is excitement beside which any other kind I've ever known seems diluted and lacking in the real flavor. This was the essence.
I hung around watching the show until the antiaircraft shells burst too close, then got out of Kwajalein. I was about 40 miles out over the water when Dobby and Dusty caught up with me. The three of us headed back to the carrier.
I was standing on the deck as our carrier was warped in to Pearl Harbor. I heard her cheered as she came around the island. The commander in chief of the Pacific, Admiral Nimitz, had passed the word around about our raid on the Marshalls. Work would stop on any warship the carrier passed, and men would crowd to the rail, even on the half-submerged wreckage of the Arizona. In impudent Tokyo broadcasts, the Japs had been asking the world, "Where's the American Navy?" Well, now they knew where a part of it had been.
That was why there was something special in the cheers our admiral got, and hearing them was something special for any Navy man. We could see the admiral's head and shoulders as he walked back and forth on his bridge high in the superstructure. Several times he raised his hand to salute friends greeting him from the dock. Afterward, we heard the admiral had tears in his eyes. I shouldn't wonder if he had.
Footnote: Lt. Dickinson engaged in numerous additional air battles, sank another Japanese ship, ditched a plane in the ocean after running out of fuel, and must be regarded, by any account, as one of the great heroes of the war. 
To help us mark the upcoming 75th anniversary of the attack on Pearl Harbor, we asked you to share your memories and family stories of how life changed after the Japanese attack on Pearl Harbor. Here are the stories some of our readers have shared.
Do you have a memory or a family story you'd like to share about life after December 7, 1941? We'd love to hear it! Click here to find out how.
An Italian Cobbler in Hawaii
From Joe Pacific Jr.
On December 7, 1941, my dad, Joe Pacific Sr., was having breakfast in his house in Honolulu with my eleven-year-old half-sister when they heard the distant explosions. He had a house on his property that he rented out to an Army officer. On that December 7 morning, my dad went to the door of the rental house, knocked on it, and woke up the officer, saying, "Get up, you have a war to fight!"
Later that day, the government agents were at the door saying that they had to take my dad to the immigration station to "check his papers." My dad had emigrated from Italy as a teenager. He learned how to repair shoes in the United States and worked as a shoe repair shop manager in New York City until the shop closed during the Great Depression in the early '30s. Then he moved to Hawaii after seeing pictures of paradise in the theater. In Honolulu, he opened a shoe repair shop, Joe Pacific Shoe Repair, that is still in business with a new owner who kept the shop's original name.
The government agents did more than just check my dad's papers. During the war in Hawaii, citizens of German and Italian ancestry were rounded up and detained alongside the Japanese. They held him for three months, eventually moving him and other Italian, German, and Japanese detainees to a hastily constructed tent camp called Sand Island in the harbor of Honolulu. In fact, the first Japanese prisoner of war was held at the Sand Island Detention Center. The prisoner was a crewman from a midget sub that had been damaged on the day of the attack. My dad said that this POW kept burning his arms with cigarettes to try to kill himself, as it was a dishonor to be captured alive.
The Japs Were Poor Shots
From Barbara Holyoak
My uncle, Robert Morrison, was in the U.S. Navy and was stationed at Pearl Harbor. He was assigned to serve in the Navy postal department and was driving a postal truck at the time of the bombing. He picked up many of the wounded and transported them to safety. During the rescue mission, planes would swoop down on them, machine guns peppering bullets, forcing them to dash for shelter under the truck. He risked his life many times, but continued his mission to pick up and help the wounded to safety.
He said the Japs were poor shots. He was lucky.
Mistaken Identity
From Mildred Bailey
I am from Oahu, Honolulu and my daddy was in the Navy stationed at Pearl Harbor. We were taking him to his ship and just when we got to his gate to let him off, a Japanese plane flew over our heads — we were being attacked!
I was 5 years old and saw the big red sun on the plane wing.
Someone in the military police carried me under his arm, and the rest of my family ran to his jeep. We were rushed to a bomb shelter while bombs were dropping on the ships. I could see all the planes, fires, and damage starting.
We stayed in the bomb shelter for a long time and had to wear gas masks. When the all-clear signal blew, we left the shelter to see the damage and fires.
My daddy was safe!
When we got home, the military police were going from house to house rounding up the Japanese neighbors, where I was visiting my 5-year-old friend. The military police man asked my friend's mother if I was her daughter, and since I wore a Japanese haircut, she said yes and I was taken with my friend and his family to a Japanese camp with barbed wire all around, into a camp house made like those the Germans used.
My family couldn't find me when I didn't return from my classmate's home. They were told I was taken with the family to a camp during the Japanese round-up. My grandmother, aunt, and brothers had to get my birth record to prove that I was not Japanese.
I have not forgotten what I saw at Pearl Harbor. I am 80 years old now and the memories are still fresh today. I'm thankful that my family — my dad, uncles, and brothers — all survived.
Ragged Old Flag
From W. Neigh Gallagher
He fought on the beaches of Normandy and in the Battle of the Bulge to secure freedom for millions. His D-Day came on Saturday, October 8, 2016, when WWII vet Leon Wiseman died.
The men and women of the "Greatest Generation" are dying at 1,000 men and women a day. All are in their 90s and 100s now. Words like duty, honor, reverence, patriotism, loyalty, godliness, fidelity, and trustworthiness marked their lives.
Even in his later years, when blind, Leon recited to audiences (from heart) the words to Johnny Cash's "Ragged Old Flag," precious words memorializing the values he held dear.
Dad Got Serious
From Bright K. Newhouse Jr.
I was born in Fisher County, Texas, on April 11, 1931. On December 7, 1941, we were getting ready to go to church. We were listening to our radio on battery when the news came over the air waves: Pearl Harbor had been attacked by the Japanese. My dad got serious, and I knew it was important.
I will always remember that time for the rest of my life.
News in the Midwest
From Ellen Loken
On the first Sunday in December, my parents, sister, and I had finished eating supper, but remained at the table to listen to The Jack Benny Show. Halfway through the program, an announcer broke in to say that Pearl Harbor had been attacked.
My parents looked at each other. They had lived through World War I. Jean, 7, and I, 9, didn't really understand at the time. On December 8, President Roosevelt declared war on Japan.
My dad became an air raid warden, though chances of enemy planes reaching north Minneapolis were nil.
Years later, while working and living in San Francisco, I became lifelong friends with a Japanese girl. She told me her family members had been truck farmers in Lodi, California; they were sent to a detention camp, and she had been born there.
A Neighbor Lost
From Nancy Lockwood
My mom, dad, younger brother, and I lived in Bedford, Ohio. I was 8 years old. It was a Sunday. I had been at church that morning. The big Philco radio in the living room relayed the message of the terrible bombing raid at Pearl Harbor.
The Leeks family lived next door. They had two older daughters, a son, Herbie, who was in the Navy, and a much younger daughter — 7-year-old Sally, who I played with. Herbie was stationed in Hawaii, and his parents spent a frantic day trying to find out if he was okay.
Monday was a school day, as was Tuesday when I walked home and saw a black car parked in front of the Leeks' home. Two military men walked back to the car, and Sally ran out to tell me her brother had been killed on December 8 while he was helping repair the electric power in Honolulu.
My dad had been a member of the Ohio National Guard for most of my life. He had not been shipped to China the year before with most of the men in his unit because he had two children. They had been sent to help Chinese soldiers learn how to use American weapons as they resisted the Japanese army invading their country.
When December 7 happened, those guardsmen remaining became the home guard. For the duration of World War II, my dad monitored his assigned area of our town during blackout air raid drills. Every home quickly found ways to cover all the windows so no light could be seen by any potential bomber flying over the city, and lights inside were turned off. A flashlight or maybe a candle in a dark room was all we had to see by until the all-clear siren sounded.
Fear of being bombed, probably by German bombs, was constant. We played and went to school, but there was a sort of alert tension all the time. Few folks believed we could be reached by bombs so far from the Atlantic coast, but we were vigilant. After all, London had been bombed by V-2 bombers all the way from Germany. And the Cleveland area was where steel and tanks and planes were being made (and probably more stuff I didn't know about).
Protecting Freedom Is a Family Business
From Mark Kintzley
Shortly before the Pearl Harbor attack on December 7, 1941, two of my mother's five brothers (Bob and Louis Byron) had joined the Navy. They were both assigned to the repair ship USS Vestal.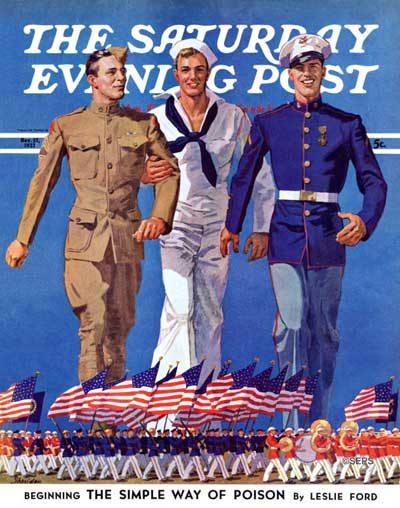 My Uncle Louis narrated the attack on Pearl Harbor to one of his sons, who recorded the narration. At the time, Louis was long retired and in the late stages of Parkinson's disease.
The USS Vestal was moored to the USS Arizona on Saturday, December 6, so that the crew could have an early start repairing it the following Monday. But that was not to happen as the Japanese attacked Oahu on Sunday, December 7.
After devastating the U.S. airplanes on the airfield, the Japanese attacked the ships in Pearl Harbor. The Arizona received the first bomb hit at shortly after 8 a.m. The bomb went through four decks and hit the munitions storage, which split the ship apart. It took only nine minutes to sink.
The blast from the Arizona sent the captain and many sailors flying into the waters. "Abandon ship!" was thought to have been announced. The Byron brothers had not heard such a command, so they remained aboard as the captain boarded and ordered those swimming toward shore to return to the Vestal.
The Vestal itself was bombed and strafed as the captain moored it to Aiea and repaired it quickly and then proceeded to assist other ships in need. The captain and crew saved other sailors and Marines who were thrown into the water. Captain Cassin Young would receive the Medal of Honor for his intense efforts and bravery. He would later die in service of his country.
My uncles helped pull many Marines and sailors from the oily and fiery fields. As far as I know, neither received awards for their heroism during the attack. Both were very hesitant to talk about their experiences at length until Louis relented to his son.
All five of my mother's brothers served in the military — three in the Navy and two in the Army. As a 3-year-old in 1945, I recall my two uncles coming through the front door of our house in Fort Collins, Colorado. My parents commented that the hype was extraordinary during the times, and it was no different in our household as our heroes were streaming homeward throughout the country at the end of the war.
In my family of 14 siblings, six have served our country — two in the Army and three as Marine Corps. Many of our children have served (some in the Gulf War) or are now serving in the military, including every branch.
Saving Mops
From John Volpe
In March 1999, Newsweek ran a special issue about Americans at War, and part of it covered Pearl Harbor, for obvious reasons.
In that story was the story of Adam Czerwenka, who was stationed on the West Virginia. My uncle, Tony "Mops" Volpe, was on the West Virginia and had always thrilled the family with the story and how the events unfolded that morning. So I read with much interest the story of Mr. Czerwenka.
He had found a motorized launch and thrown it into the harbor to boat around and pick up men who had abandoned ship. This was a big part of uncle Tony's story, and I was excited!
Tony had told us many times that he and many others had been sleeping when the bombing started. He had run up on deck with many others to see the inferno that was the Arizona, and the West Virginia was hit. They had to abandon ship. They jumped in the water and the water was COLD, he told us, which was hard to believe since it was in Hawaii.
Tony was not a good swimmer, but as fate would have it, some sailor came around in a motorized launch and pulled him and some others from the harbor. He saved Tony's life!
For over a week, no one in the family knew if Tony had survived, due to the minimal communication with Hawaii at the time. It was a tense time, Dad would always tell us.
Anyway, I wrote to Newsweek to tell them this story and to ask that they pass along a BIG THANK YOU to Mr. Czerwenka. They did better than that … they helped me get in touch with him via email.
We had several email communications, but Mr. Czerwenka was in failing health. He had tried to find his roster book from the WEE VEE, as he called it, to locate Tony Volpe, but I did not hear back from him from my last email. I only thank God that he was at Pearl Harbor helping save Americans, and PROBABLY my uncle.
My uncle had passed away from a virus in 1995 that, oddly enough, he had picked up on a return trip to Pearl Harbor. But we still reminisce about his stories. And we have a postcard that he sent to my dad in December 1938 telling dad that he had been assigned to the West Virginia and was leaving Great Lakes Naval Base for San Diego right away.
The Last Ring Home
From Minter Dial II
My grandfather, Lt. Minter Dial (USN), was stationed in the Philippines in December 1941. In the early morning of December 8th, across the dateline, at 0410 hours, as captain of the USS Napa, he handwrote in the logbook the following words:
"Received word that hostilities with the Japanese Empire had started. M Dial"
The USS Napa was scuttled in March 1942 (the logbook was saved and is now stored at the National Archives). My grandfather was awarded the Navy Cross for bravery before the fall of Bataan and Corregidor, but was then taken prisoner by the Japanese for the following 2 1/2 years. He was killed in January 1945 after American dive-bombers hit the unmarked Enoura Maru hellship.
I was named after my grandfather and, for the last 25 years, have been researching his life and death. The end result is a new documentary and book, The Last Ring Home, that will be coming out in November 2016 (PBS affiliate stations MPT and WHYY).
On September 11, 2001, my office overlooked the World Trade Towers. When I saw with my own eyes the second airplane fly all the way down and into the South Tower, I remember very distinctly believing that I was experiencing "my Pearl Harbor." Having been steeped in the history of WWII and having managed to meet 130 people who were friends of, served for, or knew my grandfather before he was killed, I experienced much of 9/11 through my grandfather's spirit.
I may not have been around for Pearl Harbor, but my interviews of those who were there and of those who were in the service at the outbreak of WWII, along with the need to document my grandfather's life have certainly given me a true sense of purpose and reminded me of the great privilege and freedom we have today thanks to their sacrifices.
Today, I am hoping that through this film and book, somehow my grandfather's Annapolis ring, which was lost, found 17 years after my grandfather's death, and then stolen, will be returned to my father.
We Interrupt This Movie …
From Mrs. R.G.S.
We lived in a small town north of Indianapolis. December 7, 1941, is a day I can clearly recall: I was 9 years old and up to that day, my life had been as routine as most everyone else's was.
On rare occasions, my mother would attend a Sunday matinee movie — a break from her household duties, husband, and four children. This was one of those Sundays. She drove downtown to the movie, and wasn't half an hour later that she was back home. She came inside and said, "Turn the radio on. They shut down the movie and turned the lights off and told all of us to go home. Japan had just declared war against the United States — they bombed Pearl Harbor!"
I could tell by the terror in my mother's voice that this was something I'd never witnessed before.
My sister and brother and I sat on the floor around the radio and listened to all the reports that afternoon; it was so scary! War was something that we had never been concerned with before. I thought my whole family would be killed. (I was only 9 and it was all so weird to me.) We listened for hours, and then in the evening, President Roosevelt spoke to America — it was still very scary.
Our lives changed from that morning till the war was over nearly five years later.
Several of my uncles were drafted, as well as many young men from our town, who I knew but only because I saw them around town. Drives were held to gather scrap material for the war effort, including rubber, metal, etc.
Rationing items was another thing we did for the war effort. We had rationing of certain items — gasoline, sugar, chocolate, even the number of shoes you could buy.
Air raids were always taking place after dark; they were kinda scary. The loud sirens would blast away maybe monthly, and at that time we all had to turn off every light in every house. The air raid wardens would go up and down every street to make sure no lights were on. They even made people who smoked put out their cigarettes! Then in about 20 or 30 minutes the all-clear siren would come on. That was always eerie.
Something I clearly recall was the huge Flying Fortresses going overhead regularly. They were mammoth — it was amazing they could even get them in the air. You couldn't take your eyes off of them! The sound they made was unforgettable.
The times were so different then: no TVs and no computers. People were taught to be polite. Everything was cheap, incomes were far lower than now. However, I survived and my family on each parent's side did as well.
Blue-Star Siblings
From Robert Watson
It had been a perfect day for playing touch football at our local field. Following our routine, we quit late in the afternoon and headed to the local store to share cold Cokes that cost a nickel.
As we neared the store, a neighbor walked toward us yelling, "Have you heard the news?" He said that the Japanese had bombed our base at Pearl Harbor. Most of us had no idea where Pearl Harbor was.
There was immediate tacit agreement that we should go home to be with our families. When I reached my house, I discovered my older brothers and sisters (our parents had died several years earlier) huddled around the radio in the living room. We were soon told that President Roosevelt would address the nation. Within a matter of minutes FDR's distinctive voice filled the airways reviewing the facts of this "dastardly" attack. Moreover, he went on to say that he would recommend that Congress declare war on Japan.
Life in America changed significantly for all of us. The very next week, Germany declared war on the United States. Local draft boards went into high gear. Within the next month, several of our neighbors were drafted. One of my brothers joined the Navy, as did two of his friends, to avoid being called up by the Army. Another brother got his "greetings" from the Army the following month. Young men were sent off to boot camps or naval bases for training before being sent into combat.
Locally formed volunteer civil defense organizations became very active. Since the prospect of enemy air raids was very real, periodic blackout drills became standard practice. Loud horns signaled the beginning of a drill that lasted about 30 minutes and ended when the all-clear signal sounded.
One night, during a drill, as our family sat somewhat nervously in the lighted living room, blackout shades tightly drawn, the doorbell rang. It was a local air raid warden who instructed my older brother rather sternly to extinguish our lights and get our shades adjusted before the next drill — there were cracks of light showing from the outside.
When I turned 14, I was able to acquire working papers and applied to Western Union for a job delivering telegrams. Following an on-the-spot interview with the manager, I was hired to start work the next day. It soon became evident that 98 percent of the telegrams I delivered were military related and contained one of three messages: that the veteran of the household was coming home, that a family member was missing in action, or the most dreaded news of all — that a family member had been killed in action. As I descended the stairs from recipients' front doors, I often heard shouts of delight or anguished wails, depending on the telegram's content.
Eventually, three "kids" (ages 19, 18, and 18) in our neighborhood made the ultimate sacrifice: Ray died in an airplane accident during his second month of training, Gordie was killed during the Normandy invasion, and Roger did not survive the Battle of the Bulge.
The war became the dominant theme of our daily lives. We not only kept track of family and relatives' whereabouts but were always anxious about where they may end up when new orders came. Moreover, everyone tuned in to the nightly radio newscasts in order to keep abreast of the larger picture. In school, we participated in regular drills and were instructed to crouch beneath our desks when the alarm was sounded. I remained skeptical about how much protection that practice would provide should a real air raid occur.
When I turned 15 in 1943, I applied for work at General Electric, which at that time employed over 20,000 people in its Lynn plant alone. The grapevine had circulated the word that G.E. would hire a limited number of high school students. I started work the day after I applied, working from 3 to 8:30 p.m. five days a week. Through the summer months, we were scheduled for a full 40 hours per week and received 50 cents an hour, a very generous compensation at that time.
My work operating a machine was fussy and repetitious, and the foreman checked it regularly throughout our shift. We were never told what we were making but were aware that the product was integrated into a greater whole. We were instructed often not to talk about the work we did. There were, in fact, many signs throughout our building and the entire plant discouraging conversation about our "defense work." Such signs as "Loose lips sink ships" were posted throughout the plant and were not to be taken lightly.
Schools, too, had to make adjustments for the war. It was common knowledge that G.E. employed many high school students, along with more and more women. As a consequence, teachers revised their lesson plans. Homework was cut drastically. In fact, only English teachers could issue an assignment for Monday nights; Tuesday was reserved for mathematics; Wednesday was for science; foreign language homework was for Thursdays; and last but not least, history was for Fridays. No lengthy compositions or papers were ever assigned to us during the war's duration.
Later, in the fall of 1943, our Navy brother came home for a 10-day leave. When we first spotted him walking down the street toward our house, the three of us were struck by his physical appearance. There was not an ounce of fat on him, and he walked with a new spring in his step. He spent five of his nine nights on leave with the sweetheart he left behind. The rest of the time he visited with immediate family, relatives, and friends.
He was pleased that the used automobile he had purchased just before the war had begun still ran like a top. While he was away in the service, I had driven his car about 80 feet back and forth in our driveway every day to prevent the battery from going dead.
The day before my brother was to return to base, he informed me that he would like to go to the South Station by automobile — his. He proposed that he would drive and I would accompany him and drive the car home.
Somewhat startled by this, I informed him that I was still 15 years old and had no license.
"So what?" he said. "You know how to drive, don't you?"
"Sure," I answered. "But what if a policeman stops me?"
"Tell him what you're doing and that it's for the war effort," he said. "He will probably pat you on the back and say, 'Drive carefully.'"
Well, I did accompany my brother to South Station in his automobile, and I did drive back to Lynn without incident — though I was nervous the entire trip.
For the next couple of years, we kept track of the war's various battles on land and sea. We were always alert to the possibility that eastern Massachusetts would be a target for bombing, given the knowledge of the important roles various industries now played in the war effort.
On the morning of August 7, 1945, as I rode to work with a neighbor and two women who also worked at G.E., the conversation was about the "super bomb" that the United States had dropped on Hiroshima the day before, though none of us knew the real devastation it had wrought. On August 9, we detonated another one over Nagasaki.
Five days later, President Truman announced Japan's surrender and declared the following two days national holidays. This was explosive news! Church bells rang. Horns blew. People took to the streets, shouting, dancing, singing, eating, drinking beer, and hugging one another. The next day, the celebratory mood still prevailed at G.E. Mr. Foster, the personnel director who had hired me, informed me that I probably would be let go in about a month since the "boys" were coming home to their jobs. I told him I was happy to give up my job and welcome them back, especially my two brothers who made it.
Midwestern Concern
From Joan Jensen
I remember very well where I was when Pearl Harbor was struck by Japan! I was in church at Memorial Presbyterian in Cherokee, Indiana. I was born and raised in that nice Midwest town.
Our immediate concern was for my brother and his best friend who both attended the Naval Academy in Annapolis. Due to the tragedy, the cadets were pushed through in three years instead of four. They served on the battleship North Carolina.
I Remember
From Gene Delapenia
I remember December 7, 1941. It was Sunday morning in Claremont, California. Grandma was in the kitchen putting the roast in the oven so it would be ready when we came home from church. Momma was upstairs getting dressed while she listened to the radio. Grandpa was outside watering the winter vegetables, and I was sitting halfway up the staircase reading the Sunday comics when the news came on the radio: Pearl Harbor was being bombed. Momma was crying when she stumbled over me as she came down the stairs. My daddy was stationed on the U.S.S. Nevada, and it was one of the ships mentioned as having been torpedoed.
I remember later when my grandpa was an air raid warden. He would wake us up and we would go outside to watch the big searchlights slashing across the night sky. We would listen for the distant thunder of the planes as they flew in from the sea, never knowing who they might be.
I remember Grandma saving empty coffee cans full of leftover cooking fat and ends of soap for the war effort, and Captain America on the radio Saturday morning, urging us kids to save our pennies to buy war stamps. And how I would cut off cereal box tops so I could send away for my very own special decoder ring to catch spies.
I remember the news reels at the Saturday matinee, showing the refugees crowding the roads in Europe and Asia and how very lucky we were that the war was not here! I remember how our next-door neighbors suddenly had to move away, and I cried because my very best friend Amiko was not there to play with anymore.
I remember when my daddy came home on shore leave. He would bring sailors from his ship with him so they could have a good home-cooked meal and some family life before they went out to sea again.
I remember my great-aunt Bess hanging the two gold stars in her front room window (two of her sons had been on the Arizona that day). And how my mother would get that stiff, scared look on her face when the doorbell would ring. And how relieved she would be when it wasn't the boy from Western Union.
I remember my mother going to work on the night shift at the Lockheed Aircraft factory, building fighter planes. And how the ladies on the radio would sing "Bell Bottom Trousers, Coat of Navy Blue," and I thought that song was just for me so I could sing about my daddy.
I remember when the war was over and everyone was dancing in the street, and my momma was fired from her job at Lockheed because the men were coming home and they didn't need her anymore.
And it all started on December 7, 1941.
All Leaves Canceled!
From Gerald A. Edgar
My parents were both 22 when the "day of infamy" occurred.
Mom, a high school science teacher in Greenwood, Wisconsin, had come home for the weekend to visit her parents, and with her two sisters had attended a late church service that day. Afterward, as they drove into their driveway, a neighbor came running over to them, shouting, "Quick, get in your house and turn on the radio!" This being 1941, very few cars had radios, so indeed they raced into their home to hear the terrible news. Life changed VERY suddenly. Ultimately, Mom's dad moved to Bremerton to paint ships at the Puget Sound Naval Shipyard, one sister became a nurse, the other a military plant worker, and Mom took on the duties of teaching meteorology to student pilots as a captain in the Civil Air Patrol.
Dad, on the other hand, had enlisted in the Army Air Corps a year before. He could see the proverbial handwriting on the wall and wanted his choice of service. Stationed at McDill Army Air Base in Tampa/St. Pete for ordnance training, he had a weekend pass that day. He was walking down a Tampa street when a jeep careered around a corner. An MP with a bullhorn kept shouting, "All leaves canceled, everyone return to base NOW!" So Dad, in uniform, boarded the next street car out to McDill, got off at the last stop, and started walking up to the main gate.
Normally there would be only one MP on duty, casually standing with a pistol on his hip, waving in any young man in uniform. This time there were two MPs standing erectly, each with Thompson submachine guns, who shouted, "Show us your ID!" So Dad promptly obliged and then asked, "What's going on?"
Their reply? "Haven't you heard, kid? The Japs just bombed Pearl!"
A few months later he was with the first American P-38 fighter plane group to be shipped to Australia. We were very concerned that would be the next invasion target for the Japanese as they had already bombed the north coast. Dad spent nearly three years in the Pacific, returning home as a 1st lieutenant.
Mom and Dad passed away just 3 and 4 years ago, respectively, so they knew full well of the 9/11 tragedy, but in their minds it paled in significance to that Sunday morning in December of '41. Other memories faded, but never "that day of infamy."
A Resting Point
From Emile C. Ott
My father joined the Army Signal Corps in 1914. He was assigned to Ft. Mommouth, New Jersey, during the 1930s, and I was born in 1932. In the late fall of 1939, we sailed from New York harbor on an army transport ship for a long voyage to Dad's new assignment in Honolulu, Hawaii. In the fall of 1941, my father's commanding officer in New Jersey was assigned command of the Presidio in San Francisco and offered Dad a promotion if he would cut short the Honolulu tour to run his office in San Francisco. He accepted, and we sailed to San Francisco a few weeks before December 7, 1941.
Soon after our arrival, our home provided a resting point for the wives and children of friends who had been evacuated and awaited transportation to their homes in the States. During this time, I sold The Saturday Evening Post by making house calls at the Presidio on Saturday morning, and I sold the early edition of the Sunday paper to wounded servicemen in the wards of Letterman General Hospital in the afternoon. What stands out in my memory was how kind these military people were to a kid with a load of magazines and papers on a Flexi (sled on wheels).
V-I-C-T-O-R-Y!
From Margie B. Bleier
When we heard that the Japanese had attacked Pearl Harbor, my parents talked and I worried. I feared they would bomb us, too.
Mother told me that there was water between us and the Japanese. The fact that I was only 2-1/2 and had never seen an ocean played a big part in my fear.
As I fretted over the possibility of being bombed, the war effort took shape, and long convoys of soldiers in various army vehicles drove slowly past our house toward Fort Benning, Georgia. I decided that I could boost the morale of the soldiers, so I waved for hours while the soldiers cheered and whistled as they rode pass me.
Since Dad was a welder. We moved to Savannah and later Jacksonville, where he helped build war ships. I saw the Atlantic. What a relief! Then Dad was drafted into the army. Everywhere we went there were housing shortages.
Pearl Harbor plunged our country into war, and Americans rose to the challenge. We made do without many things and felt close and patriotic. We children chanted, "V-I-C-T-O-R-Y," and we were not talking about a ball game.
Where's Bud?
From Mona Alice Lowery
"Where's Bud? Where's Bud?" That question kept repeating in my mind.
I was 16, a junior in high school, preparing to listen to the Sunday opera broadcast on the radio, when instead I heard President Roosevelt announce the bombing of Pearl Harbor. My sweetheart, James "Bud" Lowery had enlisted in the Naval Reserves the year before, at age 17. In May, his unit had been called to active service because of the national emergency. Now I knew he was aboard a refrigerated supply ship, but I did not know where.
Weeks later, I learned that on December 7, 1941, Bud's ship, the USS Polaris, was safe at Guantanamo Bay, Cuba. On a break from loading supplies, he and his shipmates were playing softball and drinking beer. For almost four years after that, they would be busy carrying supplies through the Atlantic, the Mediterranean, and eventually, after the war ended in Europe, the Pacific.
At home, life changed for me, as well, After graduating high school in June 1943, I first took a job at the Red Cross in downtown Cleveland. Then I found a better job at Cleveland Welding in Lakewood, Ohio. From 4 p.m. to 2:30 a.m., six days a week, I inspected and packed 75-millimeter antiaircraft shells. The shells came hot off the assembly line, and it was my job to carefully feel their surfaces for any burrs that might cause them to misfire. To ensure that I did not miss any defects, I could not wear gloves during work. Eventually the hot metal wore away my fingerprints.
Years later, I realized the clanking of metal shells in the Quonset hut we worked in had taken a toll on my hearing. Today, I struggle to hear conversations, even with hearing aids.
Still, I felt I was doing my part while Bud was doing his. During the war, we helped each other despite long and difficult separations. After we married in 1944, I traveled by train to join him whenever his ship came in to port on the East or West coast. After the war, we enjoyed a long and happy marriage and his shipmates remained among his best friends for the rest of his life.
Knittin' for Britain
From Norine Johnson
On the afternoon of December 7, 1941, I boarded a city bus in downtown Savannah, Georgia, to return home. I was a junior in high school and had just completed my shift at the Bandbox Theatre, where I worked as a cashier in the evenings and on weekends.
There was very little activity as the bus traveled down Broughton Street, and I lazily enjoyed watching the strollers window shop at the large department stores and dress shops along the way. The stores were closed, of course, for in 1941, we did not shop on the Lord's day.
The bus turned onto Abercorn Street, and other passengers began to board. As we left the downtown area, I noticed small groups of people standing about on street corners shaking their heads, shuffling their feet, and talking excitedly. Others were leaning out windows or huddled about on their porches and I realized that this was no ordinary Sunday afternoon. Suddenly, the bus jerked to a stop and an excited passenger jumped on shouting a sickening announcement: "The Japanese have bombed Pearl Harbor!"
A blanket of shocked silence quickly spread through the bus as the passengers mulled over this news and sifted through their private thoughts and concerns. Some began immediately to question the source: Where had he heard this? When did this happen? Were there casualties?
I was a teenager. My older brother was in the Marine Corps and he was home on a 30-day leave. His station was Pearl Harbor. I could hardly wait to leave that bus, and when at last it reached my corner, I jumped off and ran the half-block to the security of my home and family.
We spent the evening gathered around our radio, weeping, praying, touching, and talking. Gradually, we came out of our shock and as self-assurance was restored, we were confident that God and Franklin Delano Roosevelt could guide our nation through any adversity. After all, look how those two had handled the Great Depression.
On Monday, we listened to President Roosevelt's stirring speech as he announced that the Congress of the United States had declared war on Japan. We knew little of the changes which were to take place in our lives and in our world.
My brother was ordered immediately to Camp Lejune where he was engaged in training others in jungle fighting. Within the year, he returned to the South Pacific, where he participated in bloody battles on Guam, Okinawa, and other islands. Once, we each received mail from him where he used the letters G-U-A-M in our address — a different letter for each family member — and this was his code to let us know where he was fighting. My mother cried. She thought her son was shell-shocked and had forgotten our names. I corresponded with my brother's friends, and I still treasure some of the victory letters I received from them.
Back home, we busied ourselves with war-related activities. In Junior Red Cross, I was "knittin' for Britain," learning to roll bandages and to make beds using the hospital fold. In school I saw the male population drastically dwindle as young men closed their books and went into the military. At work, I watched Broughton Street change from a pleasant, slow-paced avenue for strollers to a busy hub-bub of lonely servicemen standing in long lines at theaters and restaurants, always cheerfully searching for a diversion from the unknown that lay ahead of them.
Our churches kept fellowship halls open, where pink-cheeked soldiers, sailors, and Marines were served coffee, sandwiches, and cakes made by our mothers with Karo syrup. We bought war bonds and we danced at the U.S.O. We stood in line to get ration coupons and we stood in line to spend them. Beef, sugar, soap, and chocolate were rare items to come by. There were no stockings, so we painted our legs with leg makeup. We were to learn later that it took many, many chocolate bars and nylons for our servicemen to barter their way through France and Italy.
Americans joked about shortages, we grieved over casualties, we saluted the flag, we prayed for victory and, along with Kate Smith, we sang "God Bless America." Our confidence and trust were placed in God and in America and at no time did we ever doubt the outcome of the terrible war which was triggered at Pearl Harbor on December 7, 1941.
The Ultimate Sacrifice
From Lucille Bamberg
On December 7, 1941, a neighbor took his two daughters, my sister, and me to visit an elderly man who lived alone. When we returned home, my parents and my brother told us Pearl Harbor had been attacked. One of my brothers, who had not been long out of service, said he was going to reenlist to be with his friends. Our friends asked him not to, but he did anyway. Another brother was in the National Guard, and a third was in college — both of them decided to enlist as well. All three were in what was called "the Pacific Zone."
The oldest and youngest brothers did not make it home. They gave their lives for their country. The third brother was removed from the danger zone and sent home. He later became the Veteran's Administrator for our country. Those were sad times for our family, and when I visit their graves, I think about the sacrifice they, and my parents, made for their country.
Brothers in Arms
From Jean Stella
This event was a personal historical event in my family. It happened on my grandfather's 53rd birthday. I was just 10 years old at the time. We lived on adjacent farms. My grandfather rushed over to tell us the news. He took the event as a personal affront and declared he would never celebrate another birthday.
In a family where birthdays were almost state occasions, that declaration impressed the seriousness of the news on my 10-year-old mind. The news of the bombing of Pearl Harbor didn't register in my world.
In the following years, my grandfather's son and two stepsons served in the military. Two of them served in the South Pacific. His son was in the Army Air Corps. He was unmarried and offered to be part of the Japanese Occupation so a man with a family could go home. My grandfather considered this as a fitting end to the December 7, 1941, event, but still did not overtly celebrate his birthday again.
No Place to Land
From Elaine Eagon
I started high school in September, but on December 7, 1941, the world came crashing down! Japan had attacked Pearl Harbor! My uncle, Merlin C. Huebner, one of my mother's twin brothers, was in the Navy. He was in a ship which was bombed by the Japanese and was one of the few survivors of the attack. WE WERE AT WAR!
The Navy took over all the land on the south side of 24th Street there in North Chicago, so there was no more having lunch on the big rock in the woods. A fence went up, and Navy guards marched up and down inside the fence, day and night. Barracks were built in no time flat. I could hardly believe what was happening!
A small factory, Bartlett Engineering, opened up in North Carolina. My mother got a job there. She had never worn jeans before, but she wore them to work (actually, they were men's denim work pants); I just couldn't get over that as we were not even allowed to wear jeans or leggings in high school. We could wear them in the wintertime going to and from school, but never in school!
After the war, we learned that Barlett Engineering made components for the atomic bomb! My mother had never been told what the components she had been working on were for. My mother also used her teaching experience because, during the war, the supply of teachers had dwindled.
My dad got a job at Johns Manville in Waukegan and worked 12 hours a night; so he had to sleep during the day, and nobody had better wake him up! My dad's normal sleep pattern was early to bed and early to rise, so working nights really fouled him up. He was a "bear!"
It seemed as if the war went on and on. My mother's other twin brother, Marvin D. Huebner, went into the Air Force; he became a 1st lieutenant and flew cargo planes. He was in the South Pacific, and I remember him telling about going on a supply mission. The navigator told him to land, but there was no place to land his big plane. But the navigator again told him to land; so my uncle landed in a little tiny open spot. Of course, it was the wrong place. The navigator looked at his map again and found he had made some miscalculations; the problem then was how to get out. It was suggested that they remove some of their cargo to make the plane lighter but my uncle said, "No, we got in here and we will get out." So my uncle maneuvered the plane somehow and took off, and successfully made it out of the jungle; and the supplies were properly delivered.
My cousin Eugene was over in Europe as part of the D-Day Invasion, June 6, 1944, on my sister Lila's 14th birthday. And my dad's best friend, Fred Nelson, and his wife, Hazel, had but one son — Sonny who was in the Army. They lived in Chicago, and would come out and visit now and then. Sonny was killed in the war; life was never the same for his parents again.
May 8, 1945, was V-E Day, Victory in Europe! and V-J Day, Victory in Japan, was September 2, 1945. There were celebrations in the streets and ticker-tape parades in larger cities, but my folks were very strict with us girls, so we only heard about them on the radio and read about them in the Waukegan newspaper.
Save the Last Dance for Me
From Henry Worthington
On Sunday evening, December 7, 1941, I was at an eighth-grade school dance out in the country, 15 miles west of Philadelphia.
Around 8:30 p.m., when things were winding down, a father came to pick up his daughter. He told us that the Japanese had bombed a place called Pearl Harbor in the Hawaiian Islands. I knew that the Hawaiian Islands were in the Pacific Ocean, so I and a couple other kids ran upstairs to a classroom where a big world map covered most of the wall. There it was, on the island of Oahu — a very big harbor.
I remember the next day, my father and two uncles listening to President Roosevelt's famous speech on our old green metal cabinet Atwater Kent Radio. The radio stations kept playing that speech over and over all that following week — and everybody kept listening over and over again. Five years later, seven months after my 18th birthday, I was in the Mariana Islands — on Saipan — helping to close things down.
College Life
From Helen Wilson
Pearl Harbor happened during my freshman year at West Chester State Teachers College in West Chester, Pennsylvania. It caused lots of changes there. Men were drafted or enlisted for army duty. This resulted in some empty buildings on campus that were no longer needed for students. Eventually the U.S. government decided to use these buildings as an area to train soldiers to run an army post office. In those days, letters were the only means of communication for soldiers outside the U.S., so post offices were very important. The soldiers would spend eight weeks training and return to their camps; then another group would arrive to be trained.
I lived with a family in town, where I worked for my room and board while attending classes. On Sundays, I would go with them to church. One Sunday, four soldiers were ushered into the pew in front of ours. After the service, this family invited the soldiers to have Sunday dinner with them and they accepted. We hurried home to prepare dinner.
It was interesting to hear of their army life. We exchanged addresses with them. Only one continued to write to me; that was Sgt. Warren W. Wilson, who had spent most of his life on a farm in Randolph, Iowa. I was also raised on a farm, so we had some common interests. His army camp was in Camp Adair, Oregon, where he spent some 18 months.
In October of 1944 he was sent to New York prior to departing for Europe. There were delays, and when he received, a furlough he came to Pottstown, Pennsylvania, where I was teaching school. We were married in Reading on December 2, 1944. He was in Europe until end of war and received his discharge in Camp Gordon, Georgia.
After that, I resigned my teaching position. I came with him to his home in Randolph. He ran the hardware store here. We had been married nearly 60 years when he passed away in April 2003.
Wounded at Pearl Harbor
From Betty Rotramel
William "Bill" Rotramel was serving in the Army Air Force at Pearl Harbor, on December 7, 1941. Three years earlier, at age 21, he had enlisted in the Navy Reserves as he saw signs indicating the United States could be heading toward involvement in "a shooting war." He wanted to have proper training and preparation if that were to happen. After enlisting in the Navy in 1938, he was transferred to the Army Air Force in January 1940.
At the time of the attack, Bill was assigned to a small army transport vessel named Haleakala (differing from the USS Haleakala built in the late '50s). His vessel was docked at Pearl Harbor, moored between two larger ships. They were to lift anchor on Monday morning, December 8, heading out to the Christmas Islands, carrying a load of dynamite to be used in site preparation for construction. Bill had received a weekend pass, so was not on the vessel when the first wave of attack began.
So, on that fateful Sunday morning, having spent the night ashore with friends, Bill was standing near the kitchen window cooking breakfast prior to the first wave of attack. He commented to his friends, "They're really putting on a show today." All assumed this to be a sound of regular military exercises, which were common to the area, until a bullet ripped through the door, acutely jarring them into awareness that this was something serious. They were under attack! At this point, Bill's sole mission was to get to the ship.
He recounts, "When we went outside the house, the air was already becoming thick with smoke, making it difficult to see exactly what was happening. The whole area was being strafed with bullets from Japanese planes. I remember running down the street toward the shipyard with another young man running beside me — I didn't know him. A bullet struck and killed him instantly. When I got closer, I saw the mess hall had been heavily bombed. I began to help carry out the dead and wounded." He said he would never forget the sight of that area in the aftermath of the first wave of attack.
By the time he reached the Haleakala, the next wave of the attack was coming more heavily on the large battleships. On Bill's ship, the dynamite was sitting on deck and the holds were uncovered. Bill and another shipmate were moving large timbers to cover the holds when a shell struck near the center of the timber, splintering it in two. He said he was afraid to look down, as he feared his arm would not be there. Thankfully, he was still intact. Perhaps the larger vessels provided a measure of protection for their smaller vessel as they escaped with little damage overall. They actually departed the next morning, heading down to the islands as planned.
During the attack, Bill had been hit with shrapnel above his left hip. At the time, the shrapnel was not removed, but some weeks later the wounds became infected, so he had to have surgery to remove the shrapnel in a tent hospital on one of the islands in the South Pacific.
In the confusion of all the happenings subsequent to the attack, perhaps somewhere in the midst of his surgery and recovery, the army lost track of Bill's paperwork and whereabouts. His paychecks stopped coming, and he discovered he was actually counted as deceased at one point. His family did not find out he was still alive until May of 1942. Subsequent to his recovery, Bill recounted that he was flown all over the South Pacific in his role in repairing radio equipment. He recalled some of the most dangerous times beyond that day at Pearl Harbor were experienced in Leyte and Guadalcanal areas, working with the Infantry radio operators. He said, "At night, men would infiltrate the enemy lines under cover of darkness and then return to report the enemy positions to the radio operators who would send the information on." He considered those men as having the most dangerous jobs in the military.
Bill never received the medals, such as the Purple Heart, which would have come through his being wounded at Pearl Harbor. Later in life, there was an effort on the part of his children to have the medals awarded to him. Their inquiries yielded only one response, suggesting if the facility and surgeon could be identified, perhaps the incident could be explored further. Needless to say, this information was not going to be available! While this was disappointing to the family, Bill always said that he didn't consider himself a hero. He said, "The heroes were the ones who didn't make it home."
Thankfully, Bill did make it home. After his time in the service, he met a young lady named Betty. They were married in 1952 and enjoyed the next 52 years together, being blessed with four children, who all surely considered their dad to be a hero.
No One Complained
From Sonia Schork
On December 7, 1941, we were at my girlfriend's home in Wurtsboro, New York. We were 7. Descending the stairs, we saw our parents huddled around the radio, our mothers crying. We asked why, of course; "We are at war," one of them said.
So began our conservation of paper at school, our lack of rubber erasers and bubble gum, our victory gremlins clubs to help the war efforts, our victory gardens, our picking milkweed pods to stuff life preservers since the [Southeast Asian] plants were no longer available due to Japanese occupation, our making of shoebox gifts of razors, tooth powder, candy bars, etc. for service men. Mom saved enough (rationed) sugar for our birthday cakes. We had few Sunday rides to save (rationed) gas and rubber tires. No one complained.
Dad and Mom moved to Newburgh, New York, as Dad (a retired-on-disability New York state trooper) got a job organizing and supervising a large civilian guard force for Stewart Field (then Army Air Corps) and West Point Military Academy — to free up military personnel. Mom cleaned in a parts warehouse at The Field. Grams took care of us at home.
Everyone, "for the duration," listened to Pres. Roosevelt's "Fireside Chats" on the radio, and everyone helped everyone in every way. I grew up during those years of sacrifice, caring, and work for our country. We had to win, and we did.
One day when the fire siren rang and rang, everyone came out into the streets, jumped, cheered, and fell in prayer on their knees, hugged and cried. It was over, at last.
Hello to Manzanar
From Judith Fujito
I am a third-generation Japanese American (sansei), so that means my parents were born in the United States; therefore, we are all American citizens by birth. They are second-generation (nisei).  My grandparents were first-generation (issei) and born in Japan. The attack on Pearl Harbor had a life-changing effect on my entire family as my parents and grandparents lost everything we had as we, along with approximately 120,000 other Japanese Americans, were incarcerated in internment camps (basically POW camps) with very little warning. We could only take what possessions we could carry, and of course nothing that was considered illegal or dangerous, such as cameras or any type of Japanese souvenirs (especially swords or any type of weaponry).
The camps were put up hastily, and many Japanese Americans were initially taken to temporary housing, such as race tracks, and forced to live in horse stalls under squalid conditions. The food was substandard in the camps, and we had to live in barracks constructed with tar-paper roofs and had to contend with sand and wind coming in with very crowded quarters.  Since I was only 2 years old, living in the camp was not as hard on me as on my parents and grandparents. We were taken to a camp in California called Manzanar, which was near Lone Pine close to Mount Whitney. It was extremely cold and windy, with snow in the winter and hot and dry air in the summer.
My husband and I have revisited Manzanar on three occasions, as it is now a national monument and has a fine interpretive center there as a living monument of what we went through during the War. It was a very hard time for my parents and grandparents as they had no idea how long we would be living in the camp and had to depend on the government for our survival. Our entire way of life had been totally uprooted, with our civil rights as U.S. citizens taken away from us. Although we had no allegiance to Japan or its people and their part in the War, we were persecuted because we were Japanese in physical appearance, and we felt, through racial bias, that we were being singled out as "the enemy." We were frustrated and puzzled by the way we were treated by the U.S. government, as though we were enemies of the U.S. even though we were U.S. citizens!
It seems there are many American citizens today who are totally unaware of what happened to us Japanese Americans who were U.S. citizens during World War II; I think it is important for people to be made aware of what went on so this never unjustifiably happens to any minority group again.
A Welcoming Place
From Carol Cochran Higgins
My story begins prior to this historic date.
My parents were instrumental in setting up a satellite Sunday school from our church within a Japanese-American community on Mormon Island in Los Angeles harbor. This community consisted mostly of fishermen and employees of the local cannery. There were kids my age, young adults, and a few elderly. There were Halloween parties, Christmas programs, and social get-togethers. Mom started an English class for the older ladies. At home, my sister and I played house in our kimonos and Japanese "zori" sandals or flip-flops.
Then came Sunday, December 7, 1941. We had returned home from church on the island, and my aunt and uncle had come to visit. They brought me a gift for my eighth birthday. The radio was on with the appalling news of Pearl Harbor, and I remember the atmosphere of shock and sadness among the adults. Of course, I couldn't realize how this was to affect all of our lives.
Our Japanese friends were sent away, pretty quickly, to a holding camp. At Santa Anita Race track, they were housed in jockey quarters, stables, and barracks. We would go visit on Sundays and have dinner with them in the cafeteria. Mrs. Arihara knitted sweaters for my sister and me while they were there before being sent to internment camps in Arkansas and Arizona. These were our friends.
Then, in early 1942, an Army Tent Camp was set up across the street. Mom woke us in the middle of the night and warned us not to turn on the lights. Army trucks, lots of Army trucks, were rolling in. In the next day or two there was a large camp of tents set up. It was a Barrage Balloon Battalion. The headquarters was located in a small white house on the corner of our street.
It didn't take long for my parents to start befriending these young soldiers. Our home became a welcoming place for them. About 10 of the soldiers formed a band and set up practice in our living room. Our home had an enclosed front porch which was cordoned off to form a bedroom at one end for a couple of wives when they could visit.
That December, I celebrated my birthday with six soldiers as my guests. I still have the little heart necklace they gave me. A Christmas party was planned with young ladies from our church to be in attendance. Then there was an alert and all were confined to the base — so no party. Well, Mom marched up to headquarters to approach the commander and told him about the planned party and all these young men spending their first Christmas away from home and that it just wasn't right. He pondered this a bit and then suggested, if she agreed, to have our house included in the parameters of the camp for 24 hours so they could go on with the party. It was done!
One day there was a phone call to Mom. The young GI on the phone said, "Mom, they left me. I'm in Palos Verde! We were on maneuvers in camouflage in the undergrowth, and when I went back, I couldn't find them … the trucks were gone, they just left me! Can you come get me?" So, Mom piled us in the car and we headed out to the hills, picked him up, and returned him to base.
My parents kept in touch with both groups all through the war and for years afterward. Two Japanese families came to celebrate my parents' 50th wedding anniversary in 1972. Soldiers identified themselves as "Army Son" and "Ex-Army Son" in letters to my parents up until my father's death in 2003.
Many more wonderful instances come to mind, and I am so aware of the relationships I was privileged to have had. For the soldiers who gave up so much of their young lives and my Japanese friends who embraced the love of this country … they were just as American as my brother, sister, or myself, but were portrayed as a threat because of their physical appearance. All of us should take a close look at our intentions and acknowledge the human spirit in all of us.
I have many beautiful artifacts in my home — dolls, platters, and hand carved vases — that have brought me so much pleasure over the years and are a constant reminder of those friends from long ago who enriched our lives, and make me so thankful my home was a welcoming place for Japanese and GIs alike. I learned such valuable lessons that have lasted a lifetime.
Survivors
From Doris Chrastina
I received my second copy of The Saturday Evening Post and was surprised to see the picture of the West Virginia during the Pearl Harbor attack (Sept/Oct 2016, p. 34). The small motor launch was there to rescue the men in the water. One of them was my husband. He saved many men: leading them in the boat, taking them to the "mess" hall, stacking their bodies to be identified later.
He said everything was blacked out, and when the second wave of planes came in, they thought they would take over. He said that they could have, since the U.S. wasn't prepared. I believe that God in His mercy spared us.
My late husband wasn't one who wanted recognition, and it was some time later with the encouragement of family that he decided to write his story.
After we met and married, he had duty there (again), stationed at Barber's Point Naval Air Station. He served 22 years in the Navy.
After the war, the surviving men formed groups all over the U.S. The survivors met once a month, wearing their "Pearl Harbor" caps. They were recognized during Memorial Day and Labor Day in parades. How thankful we are that because of so many sacrifices and lives given, we can live in a free country. My prayer is that we can continue to live in a free country; mostly for our children and grandchildren.
A Wedding Day
From Bernadette Cammerata
Pearl Harbor — who can ever forget that day? Not my family. December 7, 1941, was the day my sister Teresa got married. I remember it was a cold, sunny day in New York. As the Maid of Honor, I wore a blue dress and carried yellow mums. Two hours before the wedding, we heard that Pearl Harbor had been bombed.
"Where's Pearl Harbor?" everybody asked.
Terry and Jack McKenna were married that afternoon at St. Peter and Paul Catholic Church in the Bronx. When Terry and Jack left, I went to the local movie house with the Best Man to see Sergeant York played by Gary Cooper.
The next day, my brother Bill enlisted in the Army Air Forces. Russell, a year later, went into the Navy. My sister Terry lived near St. Raymond Cemetery, and she could see it from her apartment. Terry didn't like the view. Three months later, she was buried there, having died on an operating table. She was 21.
Forget Pearl Harbor? Never! Anybody who lived at that time will never forget. Wars leave an imprint on the heart. I'm 94. I hope to see my sister someday. John Adams wrote that he couldn't conceive that God would make us to only live and die on this earth. I hope he's right.
Stars in the Windows
From Beverly M. Johnson
On October 25, 1941, I became 10 years old. On December 7, I was playing with my cousin at her home when we heard from the radio that the Japanese had bombed Pearl Harbor — we were stunned, how horrible! We knew we had some of our soldiers in Europe fighting. Now we saw them going off to war in huge numbers.
Each household that sent a soldier off got a little banner with a star on it to hang in their window. If the family member was killed, they were given a banner with a gold star. We saw a lot of them around our town. When we learned of the Japanese attack and their brutality, a wave of indignation swept our country, and we were willing to do anything we could to help our soldiers and sailors. We were issued ration stamps for shoes, tires, sugar (as we could no longer get sugar from Hawaii and the Philippines). So many men and women had gone to work in the munitions plants, as President Roosevelt said we needed 60,000 airplanes in 1942 — twice that in 1943.
My brother-in-law, who was in the Navy, was sent to the Pacific to work on a drydock, a floating shipyard that repaired the huge ships and returned them to duty; 11 ships could be worked on at once. The CCC boys who were stationed in our town were recruited to build roads and air strips at air bases. German and Italian prisoners were sent to Idaho and housed in a sugar factory and sent out to work on the farms with military guards.
Children organized, and were called the National Junior Salvage Corps. We went from house to house looking for salvage metal. We grew victory gardens to provide us with food so that as much as possible could be sent to the military. We were much more patriotic then than we are now!
Barbed Wire Beach
From Pat Evan
I was 12 years old when Japan attacked Pearl Harbor. I was living on an acreage just outside Aberdeen, Washington. A friend and I had gone to a movie, and we learned about the attack when her parents picked us up. The news of war was frightening, and I was anxious to get home to the protective arms of my mother.
Home was relatively close to the ocean beach, which had been closed for recreation — even cordoned of with rolled barbed wire and made ready to be defended if necessary. Our two-lane highway was busy with convoys of trucks loaded with troops, tanks, and weaponry, the same highway where I boarded the bus for school every day. In addition to that, our area was designated for blackout over the nighttime hours. Local citizens became air raid wardens who enforced the order for all windows to be covered with black tar paper through the night.
Our air space covered a lightly populated area regularly used to train Air Force pilots. I often lay on the ground on my back to watch P38s going through their "dog fight" maneuvers. Of course, everyone in the country was issued ration stamps for sugar, meat, and gasoline. Sugar was a consideration in our area, with many garden plots of berry patches the ladies used for pies, jam, and jelly. Honey became a substitute for sugar in baking.
Since nylon was used for making parachutes, nylon stockings were not produced — rayon was an unsatisfactory substitute. I graduated from high school in 1946 and nylon stockings were in very short supply, even then. My mother stood in line for two hours to get a pair for me to wear at graduation (they had cotton feet and tops).
My brother and future husband both served in the Pacific, and my mother worked for a company manufacturing landing craft. It's mind-boggling to think both my brother and husband might have been aboard one of those boats as they landed, facing battle for you and me.
A Front-Row Seat
From Virginia Gordy Baker
I was a 10-year-old girl who had a front-row seat to the attack on Pearl Harbor, December 7, 1941. We lived in Navy housing located between Hickam Field and Pearl Harbor. That morning, I was upstairs getting dressed for Sunday school. My father was in the living room sitting in his favorite chair and reading the paper while my mother was in the kitchen cooking breakfast when the electricity went off. We could hear popping noises from outside and see planes flying low over the houses. I got my father's binoculars and, with my elbows propped up on the window ledge of my bedroom, I could see the planes flying low over the houses … so low I could see the faces of the pilots. The sky was full of puffs of black smoke from antiaircraft guns on the ground.
My father called up to me to get away from the window and come downstairs. He told us to stay inside and then left for his duty station at the Instrument Shop located on Ford Island. (He had been recalled to active duty on October 3 and was back in uniform the next time I saw him.)
My mother gave me my Christmas presents that morning because she wasn't sure we'd be alive on Christmas. She was sitting in an armchair near the staircase, and I was sitting on her lap when we heard a crashing noise upstairs and a splintering of wood coming down the staircase behind us. All of a sudden, a long, bullet-shaped object landed at our feet and kept spinning around. My mother grabbed me and we ran out the back door because she was afraid it would explode. Nothing happened, and a neighbor came in to look at it. He picked it up and dropped it because it was still hot. He said it was an American tracer bullet from one of the planes dog-fighting overhead.
Later, we discovered its point of entry. It had come through the side of our second-story unit, through the headboard of my parent's bed, which was up against the outside wall. It tore through the pillows and covers, hit the bedroom wall and ricocheted around the bathroom walls, down the staircase, and then landed on the living room floor at our feet.
We weren't allowed out of the house after dark because we might have been shot by Marine sentries. Flashlights were permissible if covered with dark blue cellophane, which cut visibility along with light. It was just safer to stay inside. We were told to sleep on mattresses on the floor downstairs in case planes returned during the night to strafe the houses. For weeks after the attack, I had nightmares of Japanese soldiers parachuting to the ground. Needless to say, it was an unforgettable experience.
Amateur Hour Interrupted
From Jewell Haney
In 1941, it was a regular thing to do our Sunday afternoon on the farm. I was 14 years old, my little brothers 10 and 8 years, and with our parents we listened, on our battery powered radio, to Major Bowes Amateur Hour. On December 7, 1941, we went into the living room and turned the radio on to the Amateur Hour, and it was interrupted by "the Japanese have bombed Pearl Harbor."
My little brother didn't understand, and I was confused and not quite sure what had just happened, because I remembered that the men had saved their razor blades to send to Japan — and they had done this to us?
I'm 89 years old, my husband of 67 years passed in 2014, and was a veteran of WWII and served in the U.S. Navy.
We Donated Our Comic Books
From Carol Gallo McDaniel
My late husband Charles McDaniel served as a Marine in the South Pacific during the war. When Pearl Harbor was attacked on December 7, 1941, I was an 8-year-old child living in Yuma, Arizona. I don't remember that day, so perhaps my parents shielded my young ears. I do remember when the two neighbor boys entered the war. Mike Gilliland was a paratrooper and was killed soon after he joined. His brother Ralph was drafted into the Army and died in battle shortly after Mike.
My memories of those early years included collecting foil from empty cigarette packages that had been dropped in the gutter on our street. We soon became aware that we could no longer buy Bazooka bubblegum as this treat went to the servicemen. We were no longer able to buy jacks because they were made of steel needed for the war effort. We donated our comic books to the paper drives. Once in a while our parents had to pull down all the window shades and turn out all the lights as a precaution.
My parents joined the Civil Air Patrol and began to watch the skies for enemy planes. Many things were rationed: gasoline, coffee, shoes, sugar, to name a few.
I Had Never Seen Him Cry
From Judy Steele
On December 7, 1941, I walked into the living room of my home in Pennsylvania to find my father crying. I was 6 years old and had never seen him cry. He and my mother were listening to the radio and had just heard the news of Japan's attack on Pearl Harbor.
I stood mute — listening to their sobs. I knew, even as a 6-year-old, that the event was something awful.
We Set Aside Childish Things
From Howard Norlin
December 7, 1941, was a snowy winter Sunday, and six high school graduate couples were tobogganing in the beautiful winter snow in northern Minnesota when we heard the news on Dad's '36 Ford car radio. We then matured fast!
A Broadcast in Britain
From Frances Walsh
I am almost 96 years old, but I can clearly recall every moment on the night that we heard it. A group of us were in the living room in England, listening to the BBC 9 p.m. news, when the announcement came: "Pearl Harbor has been attacked." A moment of shock ensued; then my husband —in uniform and on leave — said, "Oh, this will bring the Americans in with us!"
Friends Behind Barbed Wire
From William Drewes
I remember the bombing of Pearl Harbor like it was just yesterday. I was living in the small town of Arcadia, California, which is just east of Los Angeles, with my mother, father, and sister. Arcadia was a farming town, and most of the farmers were Japanese Americans. My best friend was Japanese American, as was my first girlfriend. The Japanese Americans were always very clean and hard-working individuals. They also were among the smartest in school and excelled in most sports they played.
Sunday morning, December 7, 1941, my mother and father were attending church services while my sister and I were listening to the radio. The radio station we were listening to broke in to report that our military and naval forces at Pearl Harbor were being bombed by the Japanese. I had no idea where Pearl Harbor was, but soon found out.
Then in the early part of 1942, the decision was made to round up all the Japanese Americans living on the West Coast of the U.S. and place them behind barbed wire in the parking lot of the Santa Anita race track, which was very close to where we lived. I can remember seeing my best friend when I rode my bike to the race track, and he asked me why were they placing us here, as we had done nothing wrong. That was the last time I saw my friend.
Packing the Churches
From Jean Rolf
My memories are vivid … like it wasn't very long ago. I recall my teenage uncle came to our house. I was 14 years old. My parents were upset with his news that Pearl Harbor had been bombed! Those days before television, we got vivid news on the screen at the movie theater between the movies that were shown (there were usually two movies and a cartoon and news). I dreaded seeing the news of war in other countries. And now the U.S. would be in the war that was to be the big World War II.
My dad wanted to join the Army to do his part, as did so many young men. Dad was 35, and mom reminded him that their third child was due soon and he was not in line to be drafted. Dad took a second job — nights driving an auto repair truck.
Our citizens were willing to join the war effort, in the military or at home, in an effort to stop another country from taking over the U.S. Women joined the work force in ship yards in California. We had rationing of sugar and shoes, among other things that were limited. Also, people collected special things to help the war effort. My family attended a weekly evening prayer service at our church, and when the war began, I noticed the big increase in attendance at that church service as we prayed to end the war and bring our troops home safely. We had some black-out nights to prepare for the possibility of bombing on the home front. Fortunately, that never happened — war was always "overseas," but fear was real!
I remember the joy of the summer day in 1945 when war was over. I was getting ready for my last year of high school as the U.S. rejoiced and prepared to recover from World War II.  It was sad to have many of our military killed in action and others returned with injuries for life. The effects of war linger and are painful. May we always strive for peace.
A Child on the Church Lawn
From Katie Freeman Bullard
I was caught up doing the things 4-year-olds do in the nursery while one's parents are attending the church service. The teachers stopped everything and herded us outside to the front lawn to find our parents. Everyone who should be in church was outside. I remember walking around the groups of people looking up to find my Daddy. I remember feeling out of place and unreal … everyone was upset and angry … even afraid… but were talking in hushed voices.
My family lived in central Nebraska. The small airport in Kearney mushroomed into a huge airbase, becoming the gathering place of soldiers being shipped to the Pacific theater.
America Honored Its Fallen
From Larry Estes
Every family was devastated on December 7, 1941, when the United States was attacked by the forces of evil and cowardice. However, our soldiers did not die in vain. Through respect, hard work, and dedication, American honored its fallen, and once again turned itself into the greatest nation on earth.
Fire on the Water
From Harold Hogan
I was in the National Youth Administration (NYA) in Marshall, Texas, where I learned the sheet metal trade. In August 1941, a job came open in Hawaii paying 75 cents an hour. Three other boys and I at the NYA applied and were accepted for the job at the Naval Yard in Hawaii.
Each day, a bus would come by and carry us to the Naval Yard, where we were assigned to work on ships or wherever else we were needed. We lived at the barracks for about two months, and then we moved up into the hills. On December 7, 1941, I was awakened by one of the men saying, "The Japs are bombing Pearl!" I couldn't believe him, but when I looked out the window, I could see the fire and smoke and hear the bombing. We listened to the radio and where to report for work.
When we arrived at the yard, hundreds were going through the gates trying to get to the Naval Yard shop. Only a fence separated us from Hickam Field as the Japanese were bombing and strafing the people, planes, and buildings. Our boys were trying to return fire, but they couldn't get to their guns. If the Japanese planes had made a pass over the gate where we were coming in, they could have killed hundreds. Our shop was about a mile from the gate, and as we ran to the shop, we could see that the Pennsylvania had been bombed. Fire was all in the water.
Inside the shop, we could not see anything, but we could hear the explosions and chaos of people running and screaming. We were not allowed to leave the shop area, so we could only imagine what was going on outside. We didn't know if the Japanese were invading or if they were still bombing. When the shop doors were opened, our beautiful island had changed. Smoke filled the sky — debris everywhere — Hickam Field had planes smoking — airplane hangars gone — and men were cleaning the runway. We ran to the dock. We couldn't believe our eyes — ships burning — many on their sides — others upside down. People were everywhere cleaning debris and removing bodies. We had to wait until they finished their work, and then our job of repairing damaged ships began. We started working 12 hours a day. Our crews were able to get most of the ships repaired to join the fleet and fight.
I continued working in the Naval Yard for the next few years. I enlisted in the Navy on the 12 of April 1944, but after I was sworn in, the commander told me he was leaving me at the shipyard. When I asked why, he told me I was more valuable to the war effort in my position at the Naval Yard than on a ship. He said he could take a man and make a sailor out of him in a month or two, but he couldn't train him to do my job.
On the 22nd of September, 1945, I was discharged under honorable conditions as a ASV-6 USNR-SV. After Christmas in 1945, I boarded the Harrison (the same ship that brought me to Hawaii in 1941), and I came back home. How wonderful home and family looked to me.
A Terrible Scream
From Ernest Rush
In Duboistown, Pennsylvania, my trapping partner Lamont Eoute and I were skinning muskrats in the basement when a terrible scream upstairs scared us. Lamont's mother was hysterical, screaming that her father stated that the yellow people would rule the world. We both served in the U.S. Navy during World War II.
The Story Must Be Told
From Julie (Ferguson) Anderson
Because our father, Richard F. Ferguson, survived the attack on Pearl Harbor, my siblings and I grew up hearing many stories of the conflict. He was passionate about sharing these stories of patriotism, heroics, heroes, and how America's history was impacted that fateful day. Often, he said, "If the story isn't told, all that history and loss of life will be lost." So, he spoke at elementary schools, junior high schools, and high schools here in southwest Missouri; he was a frequent speaker at civic clubs and various organizations; and he wrote two books of prose and poetry concerning Pearl Harbor. Both books (Look Back Once More and Forget Pearl Harbor? … No Way!) were compilations of his experiences in Hawaii — its beauty, but also the ugliness of war and bloodshed.
Our father died November 7, 2008, at the Missouri Veteran's Home in Mt. Vernon, Missouri. His memorial service was at 11:00 a.m., November 11 — Veteran's Day. Thank you for the opportunity to share an important part of our father's life.
Letters Home
From Joyce Keller
Sunday, December 7, 1941. How can it be 75 years ago, when it seems like yesterday? I was nearly 6 years old. My brother was in college. We got home from church, and I was in the backyard when I heard the radio on louder than usual. I went inside and Mother was standing in the kitchen crying. I was frightened to see her cry and clung to her legs. My father was silently standing by the radio, and I finally crawled up on his lap and he explained what had happened. Pearl Harbor was being bombed.
It was a long, sad, quiet day with the radio continually giving reports. My brother had been with his girlfriend's family and was driving home. The next morning, my father, who was 42 and had been a Marine in World War I, went to town to re-enlist. They refused him, and mother was so relieved. My brother tried to enlist in the Marines but was colorblind, so they told him to join the Army or go home and eat carrots and come back! He joined the Army and was gone for over three years in Africa and France.
My father worked at the post office, and so every package we sent would be padded, and I would throw it against the basement wall and jump on it to see how sturdy it was. Every letter from my brother was read aloud, and my hundreds of questions were patiently answered.
75 years ago? No. Only yesterday.
Aboard the Ward
From Harriet Wood
My husband, Russell W. Wood, passed away in 1999. He was 18 years old when he joined the U.S. Navy. He served aboard the destroyer the Ward. He was one of the guys on the gun that sank the Jap sub that was trying to enter Pearl Harbor after calling the base; they did not believe the message. He would have been happy to hear they found the remains of the sub some years ago. The gun proudly sits in front of the capitol in St. Paul Minnesota today with a sign naming the guys that were serving on that ship. The Pearl Harbor museum has a nice display about his ship.
In the Shadow of War
From Marilyn Zielke
"J-E-L-L-O! – Welcome to the Jack Benny Hour." My ear was glued to our tall floor radio at 6 pm on Dec 7, 1941. News interrupted the program. "Pearl Harbor was attacked by Japanese warplanes Sunday morning. Many people were killed, planes destroyed, and ships sunk. The president will speak…" I was 13 and old enough to understand this was serious and would affect our lives for a long time. After the first shocked seconds, I ran to the barn where my parents were doing chores after an afternoon of visiting an uncle, aunt, and cousins. The looks on my parents' faces I remember to this day. I finished eighth grade in our rural school and went on to high school years overshadowed by war. In some ways life went on, but always the specter of war was part of every decision.
News of loved ones leaving for war, deaths, injuries, and missing soldiers came in our newspapers every day. That news and the news reels we saw along with the movies were delayed compared to our instant news today. Movies had war themes, whether serious or entertaining. There was a feeling of fear lurking as our prayers went up, wondering if we were to be overrun by German or Japanese soldiers. That fear remains somewhere in my memory today.
Sundays after church, my father spent the afternoons driving around selling war bonds. He could do this because we were farmers and had enough gas for our car. His work on the farm went on, along with [his participation in] farm organizations, the church, and as chairman of our school board. My parents grew their usual big garden. My mother continued to can vegetables and fruit. I think corn syrup took the place of sugar sometimes because sugar rationing made that a problem. Mother managed to buy enough flour to do her bread baking but complained of the quality sometimes.
Everything at school was done with the war as the background. The older boys knew they were graduating to military service. The year after the war, I started college with the veterans on the GI bill. It put new meaning to the phrase green frock! These people left as boys and returned as a new breed of men.
A Real-life Rosie the Riveter
From Clarice M. Grove
How well Pearl Harbor stays in memory! I was a young farm girl, just married November 20, 1941 —17 days — to a young fellow that had enlisted in the Air Force for one year! He was stationed at McChord Field in western Washington state. We lived in an apartment at Seattle, Washington. He was home for a weekend pass. We heard the news early Sunday morning, and he went back to the camp immediately — ALL LEAVES CANCELED.
A couple weeks later, I was hired and went to work at Plant 2 in South Seattle in the machine shop, on the Burr Bench. Two days later, I was moved to a "milling machine," and before the week was over, I got moved to a large electric lathe, making "nuts and bolts." I did that for over three years.
My husband Irl was getting his training and preparing for overseas service. Soon he left for the European Theatre of Operations with the 9th Air Force and spent over three years there during that horrible war. Five years passed before his discharge — a long and lonely time for a young girl away from her family.
I will be 96 on my next birthday. We were married 68 years. He was 93 years old when he died. We lost many relatives and dear friends during that war event. I am still living on the 10 acres we bought and built our home on, still raising Concord grapes, staying as active as I can.
An Arizona Survivor
From Robert Shroyer
My dad, Frank Shroyer, was a plank owner (a member of the original or first crew) on the USS Arizona. His brother-in-law, my mom's brother, Eldon Reifert, was on the Arizona when it was bombed at Pearl Harbor. Eldon was a radioman who survived the bombing but soon after changed his rating to boatswain mate, as he didn't want to be inside the ship anymore. He retired as a chief boatswain mate after 20+ years.
He and my dad used to say that dad was on the Arizona and put it in commission and Uncle Eldon was on it when it went out of commission."
Run for the Hills!
From Sam Parnes
I am now 83 years old, was 8 years old "then." My father was stationed at Hickam Field until October 1942. The following is my story I wrote for my family many years ago, a personal, handwritten story to be passed down to children, grandchildren, etc.
"THE JAPS ARE HERE!" this 8-year-old child, who didn't know there was another side of mankind, shouted upon hearing the first blast of the attack on the fleet a few blocks away. My father — a master sergeant in the U.S. Air Corps — was reaching to remove the first waffle from the waffle iron on that Sunday morning, December 7, 1941. We were preparing to eat breakfast.
But how did an 8-year-old child know "The Japs are here!"? I can still hear myself shouting that exclamation, which changed my life, along with millions of others. How did I know? Maybe the fact that we drove to Pearl City on Saturday, December 6, to do our usual thing of buying meat at the Japanese Meat Market and getting our hair cut at the next-door Japanese Barber Shop. Both, along with other Japanese businesses — always open on Saturdays — had been closed. Maybe my father had said something that my paradise-laden mind didn't register … until that first blast the following day.
That first blast was quickly followed by more blasts. The sound of low-flying aircraft joined the noise. We ran out to our front yard.  Our trees were swaying violently because of the low-flying Japanese aircraft. Because of their open cockpits, we could easily see the pilots' faces, their goggles and scarves as they passed by. As "interesting" as that was, we dashed back into our quarters and took positions in an interior hall. We learned later that the Japanese did not intend to bomb or strafe residential areas. Not much comfort would have been gained had we known that, because the early noises had become mixed with the noise of various Navy antiaircraft weapons. Everything fired into the air from the Navy fleet in the nearby harbor had to come down, without discriminating between residential and nonresidential.
My father and mother, on one hand, assured me we would be okay. On the other hand, they were not able to hide their fear from me. For eight years, I had trusted their protectiveness, but now …? They were adults, and they were scared. Why shouldn't I be scared also?
There appeared to be, and it was confirmed later, two waves of aircraft during the almost three hours, with an almost-quiet time between. But realize that when that first wave pretty much stopped, we didn't know a second wave was coming. We thought we had survived, only to have that second wave begin.
I don't recall how we learned it was safe enough — not safe, just safe enough — to make a run for the hills. My father of course couldn't leave the post. Sgt. Elmer and Marie Drier lived around the corner from us. They had one daughter, about my age and two teenage sons. One of the sons drove their car and we quickly arranged for the other son to drive our car (my mother did not drive). We said our frightful goodbyes to the husbands/fathers quickly and drove to the isolation of the mountains.
While we were still on Hickam, we drove past a quickly improvised .30 caliber machine gun emplacement. It appeared to be a bomb crater in which two soldiers had set up their machine gun. As we drove by, one man had ripped his own undershirt off and was using it as compression to stop the bleeding of the other man. Remember: "safe enough, not safe" to try to escape.
Between Hickam and Pearl City, the road is higher in elevation than Pearl Harbor, where the fleet was barely visible because of all the black smoke coming from so many sources. Having that advantage of elevation, we had a good but sorrowful view of the devastation. I have seen that view several times since in magazines or on TV. I can close my eyes and see it today. We proceeded on.
We saw a lineman quickly scampering down a roadside power pole. We then noticed a Japanese plane trailing smoke and in a steep angle — which is what the lineman had seen. The plane crashed. The lineman ran toward the crash, machete in hand. "Not safe, just safe enough."
We eventually arrived at a headquarters, I suppose you would call it, for a pineapple or sugarcane plantation in the mountains, where several other women and children had previously arrived.  Others continued to arrive. It was early afternoon. We did not have radio broadcast, but we did learn from latecomers that Japanese troops had landed on the island. Days — long days — later, we learned that was not true. Rumors!
We were taken by the people at the plantation to some buildings where we would spend the night. Everyone slept on the floor that night. My mother and I had a difference of opinion: I wanted to keep my pocketknife in my shoe next to me on the floor, so it would be easily accessible when the Japs burst through the door. Those Japs, we were told, had invaded the island. My mother thought it would be better for an 8-year-old boy not to pick a fight with several Japanese solders with various weapons.
The next day (maybe two days later?), all the women and children assembled at the plantation, and were taken to civilian families' homes in Honolulu. My father came to visit us on about the second or third day there. Prior to that visit, we didn't know anything about his well-being. He had been notified that we were okay and where we were, but seeing is believing. It was a joyful reunion.
We were allowed to return to Hickam after 10 days, during which the men of the post picked up bodies, body parts, and shell and bomb fragments and otherwise cleaned up the mess. Immediately after arriving at our quarters, I picked up a one-gallon Price Albert Tobacco can full of shrapnel from our front yard. My mother and I walked the three blocks to the harbor where we had enjoyed the tranquility so many times before. We got a close-up look at the twisted, burned remains of once-beautiful Navy ships, including those famous battleships. We saw a man's arm floating in the water.
It was mid-December 1941 by then. I had my issued gas mask and steel helmet, adult size, which I was required to have with me at all times. There was an underground bomb shelter behind our quarters that had been dug during those 10 days. We had occasional drills to run to the bomb shelter. We continued to hear rumors of coming air attacks and even parachute drops. What happened to paradise?
Even with the perceived and rumored dangers, my father managed to arrange for my mother and me to remain with him at Hickam until the last of several dependent-filled ships left. That was March 1942.  We got on the USS Wharton at the dock, said so long (not goodbye, we hoped), and sailed out of Pearl Harbor into the Pacific Ocean. We passed all of those familiar sites we had seen so many times from land: downtown Honolulu, Aloha Tower, the mountains, until Diamond Head eventually disappeared over the stern. What happened to paradise?
The ocean voyage took 16 days. We arrived in San Francisco and were "processed" and placed on a train bound for San Antonio. We were settled at last. My mother enrolled me in a nearby school. I was a curiosity to the students and the teachers, who asked questions about December 7. I had that feeling of being looked at and examined by fellow students and teachers. One very nice teacher gave me the standing permission to leave the classroom to go outside to cry whenever I wanted to. I did, often.
Born on That Day
From Marge Keohane
I was born on the morning of December 7, 1941. While I naturally have no recollection of the event, my mother always told of how with the birth of her two prior children, her hospital stay was 10 days or sometimes more. Because of the attack, new moms were made to get up and out of the hospital as soon as safely possible. This marked the beginning of a new protocol of getting healthy moms home within a few days after childbirth rather than the unsafe, unnecessary, and lengthy stays.
A Different Type of Baby Boom
From Beatrice W. Byrd
Sunday, December 7, 1941, I was a 13-year-old girl studying in my family's living room in Union, Maine. My 36-year-old father, Harold Wentworth, was glued to the radio at the opposite end of the 24-foot room. When President Roosevelt's "day of infamy" speech came on, our hearts froze. Dad had started his own business as a carpenter/contractor a short time before. War meant he could no longer obtain building materials. Needing steady employment to support Mother, myself, and two younger sisters, Vera and Phyllis, he took a job as a casket trimmer in our local casket factory. He also had to register for the draft.
The thought of leaving for war with no son to carry on the family name resulted, two years later, in the arrival of our youngest sister. She was born at home, and I kept my Dad company pacing the floor during her delivery. I never forgot Mother's disappointment that the beautiful baby was not a boy. (My two sisters and I loved Sally!)
Two years later, as I was working in the kitchen for the summer in the town's newest boys' camp, I overheard a telephone call to our cook. At last, I had a brother! Dad promptly named him after himself. Three years later, I was home for Christmas weekend from my first permanent employment, when Mother delivered her final child, and our second brother, whom we three older girls persuaded our Dad to name Joel.
We three older girls adore our younger siblings. Mother declared she'd had to have the boys to keep us from fighting over Sally! I know if it hadn't been for the war, we would never have had our precious younger siblings.
Blackouts and Searchlights
From Kathy Dart
My Nana told me stories of how they listened to FDR on the radio, and how every man in the neighborhood signed up to fight — her two sons, my dad and his brother, both served — and how they had "blackout curtains" (we lived in South Brooklyn, near the Navy Yard), and how they'd see the giant searchlights sweeping the skies at night, looking for enemy planes …
A Family in Service
From Betty Murphy
I was 12 years old. I was listening to the radio when we heard the news. I remember so much of those days. How we saved anything metal to get into the movies; how gas, coffee, shoes, and tires were all rationed. I had a brother in the Navy and two stepbrothers in the service. Six years later, I married a vet who had served in the South Pacific in the Army as an infantryman, received a Purple Heart and other awards. He passed away in 2004 at 83. I have the article about his unit that this magazine published many years ago, the unit known as the Deadeyes, the 96th Infantry. Thanks to all veterans who served and those who are still serving.
Gathered Around in Prayer
From Paul Van der Stelt
That was a terrible Sunday morning and our family gathered around in prayer. We were floored when they said 2,403 had died and 19 ships had either been sunk or damaged. It was 7:55 a.m. And, just as the president announced that day, it was certainly a day that was going to be absolutely remembered in infamy. … If my grandmother could have gotten a hold of the names of those 2,400 people that had died in Pearl Harbor, she would have prayed for every one of them, name by name. (You can listen to the entire interview with Paul Van der Stelt on SoundCloud here.)
Farming Communities Contribute
From Emeral Morrett
I was a farm boy, 10 years old. I had great uncles that served. Our schoolteacher kept us advised and had us do reports on the war. The rationing was not hard for farmers to deal with, except they had to monitor and cut back on gas for car and tractors. Us kids would enjoy the war updates included with the movies we would see on Friday or Saturday nights. I do remember helping dad supply rabbit hides for the war effort — used for gloves and pilot headgear liners, or that was what we were told. I remember bombers flying over towing gliders.
Personal Sacrifices
From Ruth Mcdermott
I was only 5 years old. I remember the president's announcement on our radio. The entire room got quiet. I did not understand it at first. But I soon learned. I remember. The blackout curtains, the air raid wardens patrolling the neighborhood, the searchlights. The ration stamps to buy certain foods — butter, sugar, oil, that is if you could find it in the store. All goods made of metal were collected and melted down and used in the fight for our freedom. These men and women have made the ultimate sacrifice, their lives for our safety and freedom. Let's not let them down. Freedom is ours. This is our country; let's band together and make it safe and free again.
An Unexpected Birthday Present
From Chris Shimer
My dad always called 12/7/1941 his unexpected 20th "birthday present." He was in the kitchen eating fresh-baked cookies his mother made him for his birthday when the radio announced the attack. He enlisted two days later and became a USAAF bombardier.
From the Court to the Battle
From R. Christian Anderson
My stepfather was Raymond D. Bowman, who was a survivor of the Pearl Harbor attack. He was an early member of the survivors association. He was in the Army and was about to play tennis when the planes flew overhead. While wearing his tennis outfit, he was manning a large gun and shooting at planes over the Army base. I heard his Pearl Harbor story many times growing up. At his funeral in 1991, he had mostly Navy buddies present, and a Marine Corps firing squad, recruited at the last minute, gave him the 21-gun salute.
Around the Family Radio
By John Feeley
I heard it on our huge RCA console radio. I was 3 years old. I had five uncles that went to war. All came home. Three in the Navy and two in the Army. On the same radio, we heard about V-E Day and V-J Day and even the death of President Roosevelt. I remember tacking blankets over the windows to keep lights from showing during blackouts. I remember ration stamps and meatless Tuesdays. I remember trying to read letters that the censors made look like lace. I remember hearing my friend tell about him being in the hospital in Pearl and watching his buddies go down with their ship in the Harbor. I remember a family friend who came back from the Pacific wounded by an enemy grenade loaded with Gillette razor parts. I remember going to the power company showroom for a rally, where entertainers sang patriotic songs. "When Johnny Comes Marching Home Again" had everyone crying.
Yes, I remember Pearl Harbor.
The Interrupted Sermon
From Willa Dean Reynolds
We were nearing the end of morning church services at First Baptist Church, Port Arthur, Texas. The minister was in full voice exhortations when we heard a newsboy outside the open windows calling an Extra. ("Extra, Extra, Read All About It!") The preacher paused midsentence, then continued. An usher went out to buy a paper, walked it to the front to give to the now waiting minister. He announced sadly that Japanese bombs had fallen on Hawaii. (His son was a missionary in the Philippines.) After a lengthy prayer, the congregation was adjourned en masse to listen to the radio. All unattached boys and men were immediately eager to "join up." I was 15.
The Maytag Man
From Frederick Larrison
Our family lived in Newton, Iowa, on the west side of town. My family was my dad, mom, younger brothers, and sister. Dad was working at the Maytag factory in 1941. That year on Sunday, December 7, we were sitting at the dinner table enjoying family time. As we were eating, Dad was listening to WHO radio news. All of a sudden, he exclaimed, "Those dirty bastards!" Mom was taken aback because Dad did not swear around us kids.
We said, "What happened?"
He said the Japs bombed Pearl Harbor and we were at war. He was upset, and Mom started crying. Then they told me what was going on in the world and why we were going to war. I was 5 years old at the time, and I'm 81 now, but I remember the time as if it were yesterday.
Dad was too old to be drafted, and he had a family, so he kept working at Maytag making war supplies instead of washing machines. He was also a volunteer air raid warden and had to check houses to make sure no lights were showing at night. Newton was considered a possible target because of Maytag making war supplies. We had war bond drives in town and collected metal of all kinds, including pots, pans, junk, and even tinfoil. Food and gas were rationed, and the Capitol Theater started showing a lot of war movies. There were a lot of patriotic events held in Newton. It seemed like everyone joined in the war effort.
We were at my grandparents' home in Corydon, Iowa, when the Japs surrendered. There were parades and parties, and we celebrated with a family game of croquet.
On the Move for America
From Pat Howard
I was 5 years old, living in Centralia, Washington, with my parents and two sisters. My dad was 39 years old with three children, a minister at the Baptist church there, and we lived in the parsonage. I was just starting first grade.
We had gone out for ice cream, and dad had the radio on in the car. They announced the attack on Pearl Harbor, and that's when my life changed. The military put out a call for chaplains. My dad resigned his church, moved us to Southern California to be near both of their families, and volunteered for the Army Air Force.
Shortly after that, Mom became pregnant. I don't remember much of the training period or exactly when he actually enlisted. I know he was home for the birth of my sister.
Chaplains were assigned to a troop, and they were moved all over the country for training. Since we did not have a house, Mom followed Dad wherever they sent him. My parents packed bedding, clothes, and cookware in our four-door sedan.
I started in Laurel, Mississippi, where we lived on the third floor of a widow's home. (That's where we learned about discrimination.) After that we moved to Louisiana, where we lived on a pig farm. From there we moved to Tampa, Florida, but were warned not to go to the end of the street because of the alligators! From there we moved briefly to somewhere in West Texas, where we lived in a motel.
Many people would not rent to servicemen and their families because they were afraid they would not get paid (I guess).
From there we moved to Dinuba, California, where my mom's parents lived. She rented a house about a block from them, and Dad went to the Hawaiian Islands. He was there for a couple of years and then was transferred to the Gilbert Islands until the end of the war.
After the signing of the peace treaty, he was sent to Japan for a period of time before being released from the service. He chose to go in the Air Force when the Air Force split from the Army.
The war impacted my life somewhat because of the constant moving and making new friends, only to be uprooted again. However, if that had not happened, I would not have met my husband during my senior year of high school.
A Pacific Feast
From Phil Gioia
My uncle was a crewmember on destroyer Shaw at Pearl Harbor. The entire front of the ship was blown off in the attack. Rebuilt, Shaw sailed again in 1942. He served on her all through the Pacific. In mid-1945, he was transferred to the battleship Missouri as a replacement, where he witnessed the Japanese surrender.
When I returned from my second tour in Vietnam I asked him about all those incredible experiences. His only reply was. "The chow was much better on the battleship."
That World War II generation was a different species.
Evacuation from Puerto Rico
From Jean Lawson
My dad was already in the Navy, stationed in Puerto Rico on Dec 7, 1941.
Mother and my three older siblings were sent home in January, the ship full of military spouses and children while navigating the U.S. coastal waters with German submarines all around. Their captain said that if any other ship in the area were torpedoed, he would not be able to stop to render help as his mission was to get the wives and kids to New York.
Dad, of course, was gone the next four years. I was born in 1946 about 10 months after his return. So I suppose if not for the attack on Pearl Harbor and the resulting war, I probably would never have existed.
I suppose that goes for most of the rest of us baby boomers — and the changes we created would take a much different direction.
The Day That Changed Everything
From Gerald Burke
There aren't many of us left who were living that day, but I am, and I remember it well. Franklin D. Roosevelt, president of the United States, called it in a radio speech the next day, "… a day that will live in infamy."
Years later, my son-in-law asked me how my life would have progressed had Pearl Harbor not occurred, and I had to say I did not know. He had wondered if he would have ever met my daughter, a child not yet born.
But on that December 7, I knew that very soon I would be a member of the United States Armed Forces. It was a time that took some four years of my life, a time that probably changed my life forever. It hurried my marriage to the girl I loved, it ended my hopes of continuing in college, where I was studying journalism, and it moved me from the state of Idaho to California, then to North Carolina, then back to California, then to Oklahoma, then to England, France, and Germany.
In Germany, serving, with the rank of First Lieutenant, in a Combat Engineer Battalion, I defused booby traps and bombs, helped clear mine fields. And I did recon of roads, streets, routes through villages and towns, to serve forward-moving troops, then later to ease traffic coming west, traffic that included returning troops, and thousands of displaced people, liberated by the advancing allies.
Eventually WWII ended and I came home to the wife I left behind me. I searched for a job, and there were millions of us in the search, but I did find employment. The girl I married presented me with a son, and then a daughter (the one my son-in-law wondered about), then another daughter and two more sons.
But I will never forget that chilling day, December 7, 1941, when Pearl Harbor was bombed.