To help us mark the upcoming 75th anniversary of the attack on Pearl Harbor, we asked you to share your memories and family stories of how life changed after the Japanese attack on Pearl Harbor. Here are the stories some of our readers have shared.
Do you have a memory or a family story you'd like to share about life after December 7, 1941? We'd love to hear it! Click here to find out how.
An Italian Cobbler in Hawaii
From Joe Pacific Jr.
On December 7, 1941, my dad, Joe Pacific Sr., was having breakfast in his house in Honolulu with my eleven-year-old half-sister when they heard the distant explosions. He had a house on his property that he rented out to an Army officer. On that December 7 morning, my dad went to the door of the rental house, knocked on it, and woke up the officer, saying, "Get up, you have a war to fight!"
Later that day, the government agents were at the door saying that they had to take my dad to the immigration station to "check his papers." My dad had emigrated from Italy as a teenager. He learned how to repair shoes in the United States and worked as a shoe repair shop manager in New York City until the shop closed during the Great Depression in the early '30s. Then he moved to Hawaii after seeing pictures of paradise in the theater. In Honolulu, he opened a shoe repair shop, Joe Pacific Shoe Repair, that is still in business with a new owner who kept the shop's original name.
The government agents did more than just check my dad's papers. During the war in Hawaii, citizens of German and Italian ancestry were rounded up and detained alongside the Japanese. They held him for three months, eventually moving him and other Italian, German, and Japanese detainees to a hastily constructed tent camp called Sand Island in the harbor of Honolulu. In fact, the first Japanese prisoner of war was held at the Sand Island Detention Center. The prisoner was a crewman from a midget sub that had been damaged on the day of the attack. My dad said that this POW kept burning his arms with cigarettes to try to kill himself, as it was a dishonor to be captured alive.
The Japs Were Poor Shots
From Barbara Holyoak
My uncle, Robert Morrison, was in the U.S. Navy and was stationed at Pearl Harbor. He was assigned to serve in the Navy postal department and was driving a postal truck at the time of the bombing. He picked up many of the wounded and transported them to safety. During the rescue mission, planes would swoop down on them, machine guns peppering bullets, forcing them to dash for shelter under the truck. He risked his life many times, but continued his mission to pick up and help the wounded to safety.
He said the Japs were poor shots. He was lucky.
Mistaken Identity
From Mildred Bailey
I am from Oahu, Honolulu and my daddy was in the Navy stationed at Pearl Harbor. We were taking him to his ship and just when we got to his gate to let him off, a Japanese plane flew over our heads — we were being attacked!
I was 5 years old and saw the big red sun on the plane wing.
Someone in the military police carried me under his arm, and the rest of my family ran to his jeep. We were rushed to a bomb shelter while bombs were dropping on the ships. I could see all the planes, fires, and damage starting.
We stayed in the bomb shelter for a long time and had to wear gas masks. When the all-clear signal blew, we left the shelter to see the damage and fires.
My daddy was safe!
When we got home, the military police were going from house to house rounding up the Japanese neighbors, where I was visiting my 5-year-old friend. The military police man asked my friend's mother if I was her daughter, and since I wore a Japanese haircut, she said yes and I was taken with my friend and his family to a Japanese camp with barbed wire all around, into a camp house made like those the Germans used.
My family couldn't find me when I didn't return from my classmate's home. They were told I was taken with the family to a camp during the Japanese round-up. My grandmother, aunt, and brothers had to get my birth record to prove that I was not Japanese.
I have not forgotten what I saw at Pearl Harbor. I am 80 years old now and the memories are still fresh today. I'm thankful that my family — my dad, uncles, and brothers — all survived.
Ragged Old Flag
From W. Neigh Gallagher
He fought on the beaches of Normandy and in the Battle of the Bulge to secure freedom for millions. His D-Day came on Saturday, October 8, 2016, when WWII vet Leon Wiseman died.
The men and women of the "Greatest Generation" are dying at 1,000 men and women a day. All are in their 90s and 100s now. Words like duty, honor, reverence, patriotism, loyalty, godliness, fidelity, and trustworthiness marked their lives.
Even in his later years, when blind, Leon recited to audiences (from heart) the words to Johnny Cash's "Ragged Old Flag," precious words memorializing the values he held dear.
Dad Got Serious
From Bright K. Newhouse Jr.
I was born in Fisher County, Texas, on April 11, 1931. On December 7, 1941, we were getting ready to go to church. We were listening to our radio on battery when the news came over the air waves: Pearl Harbor had been attacked by the Japanese. My dad got serious, and I knew it was important.
I will always remember that time for the rest of my life.
News in the Midwest
From Ellen Loken
On the first Sunday in December, my parents, sister, and I had finished eating supper, but remained at the table to listen to The Jack Benny Show. Halfway through the program, an announcer broke in to say that Pearl Harbor had been attacked.
My parents looked at each other. They had lived through World War I. Jean, 7, and I, 9, didn't really understand at the time. On December 8, President Roosevelt declared war on Japan.
My dad became an air raid warden, though chances of enemy planes reaching north Minneapolis were nil.
Years later, while working and living in San Francisco, I became lifelong friends with a Japanese girl. She told me her family members had been truck farmers in Lodi, California; they were sent to a detention camp, and she had been born there.
A Neighbor Lost
From Nancy Lockwood
My mom, dad, younger brother, and I lived in Bedford, Ohio. I was 8 years old. It was a Sunday. I had been at church that morning. The big Philco radio in the living room relayed the message of the terrible bombing raid at Pearl Harbor.
The Leeks family lived next door. They had two older daughters, a son, Herbie, who was in the Navy, and a much younger daughter — 7-year-old Sally, who I played with. Herbie was stationed in Hawaii, and his parents spent a frantic day trying to find out if he was okay.
Monday was a school day, as was Tuesday when I walked home and saw a black car parked in front of the Leeks' home. Two military men walked back to the car, and Sally ran out to tell me her brother had been killed on December 8 while he was helping repair the electric power in Honolulu.
My dad had been a member of the Ohio National Guard for most of my life. He had not been shipped to China the year before with most of the men in his unit because he had two children. They had been sent to help Chinese soldiers learn how to use American weapons as they resisted the Japanese army invading their country.
When December 7 happened, those guardsmen remaining became the home guard. For the duration of World War II, my dad monitored his assigned area of our town during blackout air raid drills. Every home quickly found ways to cover all the windows so no light could be seen by any potential bomber flying over the city, and lights inside were turned off. A flashlight or maybe a candle in a dark room was all we had to see by until the all-clear siren sounded.
Fear of being bombed, probably by German bombs, was constant. We played and went to school, but there was a sort of alert tension all the time. Few folks believed we could be reached by bombs so far from the Atlantic coast, but we were vigilant. After all, London had been bombed by V-2 bombers all the way from Germany. And the Cleveland area was where steel and tanks and planes were being made (and probably more stuff I didn't know about).
Protecting Freedom Is a Family Business
From Mark Kintzley
Shortly before the Pearl Harbor attack on December 7, 1941, two of my mother's five brothers (Bob and Louis Byron) had joined the Navy. They were both assigned to the repair ship USS Vestal.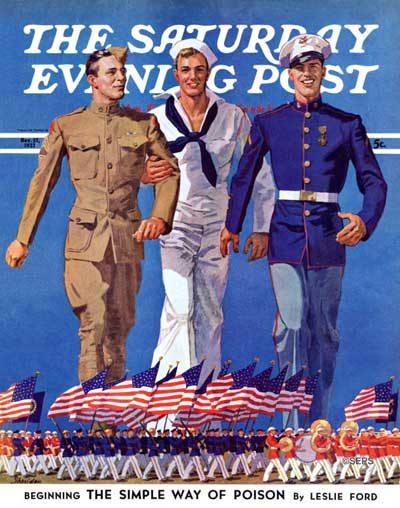 My Uncle Louis narrated the attack on Pearl Harbor to one of his sons, who recorded the narration. At the time, Louis was long retired and in the late stages of Parkinson's disease.
The USS Vestal was moored to the USS Arizona on Saturday, December 6, so that the crew could have an early start repairing it the following Monday. But that was not to happen as the Japanese attacked Oahu on Sunday, December 7.
After devastating the U.S. airplanes on the airfield, the Japanese attacked the ships in Pearl Harbor. The Arizona received the first bomb hit at shortly after 8 a.m. The bomb went through four decks and hit the munitions storage, which split the ship apart. It took only nine minutes to sink.
The blast from the Arizona sent the captain and many sailors flying into the waters. "Abandon ship!" was thought to have been announced. The Byron brothers had not heard such a command, so they remained aboard as the captain boarded and ordered those swimming toward shore to return to the Vestal.
The Vestal itself was bombed and strafed as the captain moored it to Aiea and repaired it quickly and then proceeded to assist other ships in need. The captain and crew saved other sailors and Marines who were thrown into the water. Captain Cassin Young would receive the Medal of Honor for his intense efforts and bravery. He would later die in service of his country.
My uncles helped pull many Marines and sailors from the oily and fiery fields. As far as I know, neither received awards for their heroism during the attack. Both were very hesitant to talk about their experiences at length until Louis relented to his son.
All five of my mother's brothers served in the military — three in the Navy and two in the Army. As a 3-year-old in 1945, I recall my two uncles coming through the front door of our house in Fort Collins, Colorado. My parents commented that the hype was extraordinary during the times, and it was no different in our household as our heroes were streaming homeward throughout the country at the end of the war.
In my family of 14 siblings, six have served our country — two in the Army and three as Marine Corps. Many of our children have served (some in the Gulf War) or are now serving in the military, including every branch.
Saving Mops
From John Volpe
In March 1999, Newsweek ran a special issue about Americans at War, and part of it covered Pearl Harbor, for obvious reasons.
In that story was the story of Adam Czerwenka, who was stationed on the West Virginia. My uncle, Tony "Mops" Volpe, was on the West Virginia and had always thrilled the family with the story and how the events unfolded that morning. So I read with much interest the story of Mr. Czerwenka.
He had found a motorized launch and thrown it into the harbor to boat around and pick up men who had abandoned ship. This was a big part of uncle Tony's story, and I was excited!
Tony had told us many times that he and many others had been sleeping when the bombing started. He had run up on deck with many others to see the inferno that was the Arizona, and the West Virginia was hit. They had to abandon ship. They jumped in the water and the water was COLD, he told us, which was hard to believe since it was in Hawaii.
Tony was not a good swimmer, but as fate would have it, some sailor came around in a motorized launch and pulled him and some others from the harbor. He saved Tony's life!
For over a week, no one in the family knew if Tony had survived, due to the minimal communication with Hawaii at the time. It was a tense time, Dad would always tell us.
Anyway, I wrote to Newsweek to tell them this story and to ask that they pass along a BIG THANK YOU to Mr. Czerwenka. They did better than that … they helped me get in touch with him via email.
We had several email communications, but Mr. Czerwenka was in failing health. He had tried to find his roster book from the WEE VEE, as he called it, to locate Tony Volpe, but I did not hear back from him from my last email. I only thank God that he was at Pearl Harbor helping save Americans, and PROBABLY my uncle.
My uncle had passed away from a virus in 1995 that, oddly enough, he had picked up on a return trip to Pearl Harbor. But we still reminisce about his stories. And we have a postcard that he sent to my dad in December 1938 telling dad that he had been assigned to the West Virginia and was leaving Great Lakes Naval Base for San Diego right away.
The Last Ring Home
From Minter Dial II
My grandfather, Lt. Minter Dial (USN), was stationed in the Philippines in December 1941. In the early morning of December 8th, across the dateline, at 0410 hours, as captain of the USS Napa, he handwrote in the logbook the following words:
"Received word that hostilities with the Japanese Empire had started. M Dial"
The USS Napa was scuttled in March 1942 (the logbook was saved and is now stored at the National Archives). My grandfather was awarded the Navy Cross for bravery before the fall of Bataan and Corregidor, but was then taken prisoner by the Japanese for the following 2 1/2 years. He was killed in January 1945 after American dive-bombers hit the unmarked Enoura Maru hellship.
I was named after my grandfather and, for the last 25 years, have been researching his life and death. The end result is a new documentary and book, The Last Ring Home, that will be coming out in November 2016 (PBS affiliate stations MPT and WHYY).
On September 11, 2001, my office overlooked the World Trade Towers. When I saw with my own eyes the second airplane fly all the way down and into the South Tower, I remember very distinctly believing that I was experiencing "my Pearl Harbor." Having been steeped in the history of WWII and having managed to meet 130 people who were friends of, served for, or knew my grandfather before he was killed, I experienced much of 9/11 through my grandfather's spirit.
I may not have been around for Pearl Harbor, but my interviews of those who were there and of those who were in the service at the outbreak of WWII, along with the need to document my grandfather's life have certainly given me a true sense of purpose and reminded me of the great privilege and freedom we have today thanks to their sacrifices.
Today, I am hoping that through this film and book, somehow my grandfather's Annapolis ring, which was lost, found 17 years after my grandfather's death, and then stolen, will be returned to my father.
We Interrupt This Movie …
From Mrs. R.G.S.
We lived in a small town north of Indianapolis. December 7, 1941, is a day I can clearly recall: I was 9 years old and up to that day, my life had been as routine as most everyone else's was.
On rare occasions, my mother would attend a Sunday matinee movie — a break from her household duties, husband, and four children. This was one of those Sundays. She drove downtown to the movie, and wasn't half an hour later that she was back home. She came inside and said, "Turn the radio on. They shut down the movie and turned the lights off and told all of us to go home. Japan had just declared war against the United States — they bombed Pearl Harbor!"
I could tell by the terror in my mother's voice that this was something I'd never witnessed before.
My sister and brother and I sat on the floor around the radio and listened to all the reports that afternoon; it was so scary! War was something that we had never been concerned with before. I thought my whole family would be killed. (I was only 9 and it was all so weird to me.) We listened for hours, and then in the evening, President Roosevelt spoke to America — it was still very scary.
Our lives changed from that morning till the war was over nearly five years later.
Several of my uncles were drafted, as well as many young men from our town, who I knew but only because I saw them around town. Drives were held to gather scrap material for the war effort, including rubber, metal, etc.
Rationing items was another thing we did for the war effort. We had rationing of certain items — gasoline, sugar, chocolate, even the number of shoes you could buy.
Air raids were always taking place after dark; they were kinda scary. The loud sirens would blast away maybe monthly, and at that time we all had to turn off every light in every house. The air raid wardens would go up and down every street to make sure no lights were on. They even made people who smoked put out their cigarettes! Then in about 20 or 30 minutes the all-clear siren would come on. That was always eerie.
Something I clearly recall was the huge Flying Fortresses going overhead regularly. They were mammoth — it was amazing they could even get them in the air. You couldn't take your eyes off of them! The sound they made was unforgettable.
The times were so different then: no TVs and no computers. People were taught to be polite. Everything was cheap, incomes were far lower than now. However, I survived and my family on each parent's side did as well.
Blue-Star Siblings
From Robert Watson
It had been a perfect day for playing touch football at our local field. Following our routine, we quit late in the afternoon and headed to the local store to share cold Cokes that cost a nickel.
As we neared the store, a neighbor walked toward us yelling, "Have you heard the news?" He said that the Japanese had bombed our base at Pearl Harbor. Most of us had no idea where Pearl Harbor was.
There was immediate tacit agreement that we should go home to be with our families. When I reached my house, I discovered my older brothers and sisters (our parents had died several years earlier) huddled around the radio in the living room. We were soon told that President Roosevelt would address the nation. Within a matter of minutes FDR's distinctive voice filled the airways reviewing the facts of this "dastardly" attack. Moreover, he went on to say that he would recommend that Congress declare war on Japan.
Life in America changed significantly for all of us. The very next week, Germany declared war on the United States. Local draft boards went into high gear. Within the next month, several of our neighbors were drafted. One of my brothers joined the Navy, as did two of his friends, to avoid being called up by the Army. Another brother got his "greetings" from the Army the following month. Young men were sent off to boot camps or naval bases for training before being sent into combat.
Locally formed volunteer civil defense organizations became very active. Since the prospect of enemy air raids was very real, periodic blackout drills became standard practice. Loud horns signaled the beginning of a drill that lasted about 30 minutes and ended when the all-clear signal sounded.
One night, during a drill, as our family sat somewhat nervously in the lighted living room, blackout shades tightly drawn, the doorbell rang. It was a local air raid warden who instructed my older brother rather sternly to extinguish our lights and get our shades adjusted before the next drill — there were cracks of light showing from the outside.
When I turned 14, I was able to acquire working papers and applied to Western Union for a job delivering telegrams. Following an on-the-spot interview with the manager, I was hired to start work the next day. It soon became evident that 98 percent of the telegrams I delivered were military related and contained one of three messages: that the veteran of the household was coming home, that a family member was missing in action, or the most dreaded news of all — that a family member had been killed in action. As I descended the stairs from recipients' front doors, I often heard shouts of delight or anguished wails, depending on the telegram's content.
Eventually, three "kids" (ages 19, 18, and 18) in our neighborhood made the ultimate sacrifice: Ray died in an airplane accident during his second month of training, Gordie was killed during the Normandy invasion, and Roger did not survive the Battle of the Bulge.
The war became the dominant theme of our daily lives. We not only kept track of family and relatives' whereabouts but were always anxious about where they may end up when new orders came. Moreover, everyone tuned in to the nightly radio newscasts in order to keep abreast of the larger picture. In school, we participated in regular drills and were instructed to crouch beneath our desks when the alarm was sounded. I remained skeptical about how much protection that practice would provide should a real air raid occur.
When I turned 15 in 1943, I applied for work at General Electric, which at that time employed over 20,000 people in its Lynn plant alone. The grapevine had circulated the word that G.E. would hire a limited number of high school students. I started work the day after I applied, working from 3 to 8:30 p.m. five days a week. Through the summer months, we were scheduled for a full 40 hours per week and received 50 cents an hour, a very generous compensation at that time.
My work operating a machine was fussy and repetitious, and the foreman checked it regularly throughout our shift. We were never told what we were making but were aware that the product was integrated into a greater whole. We were instructed often not to talk about the work we did. There were, in fact, many signs throughout our building and the entire plant discouraging conversation about our "defense work." Such signs as "Loose lips sink ships" were posted throughout the plant and were not to be taken lightly.
Schools, too, had to make adjustments for the war. It was common knowledge that G.E. employed many high school students, along with more and more women. As a consequence, teachers revised their lesson plans. Homework was cut drastically. In fact, only English teachers could issue an assignment for Monday nights; Tuesday was reserved for mathematics; Wednesday was for science; foreign language homework was for Thursdays; and last but not least, history was for Fridays. No lengthy compositions or papers were ever assigned to us during the war's duration.
Later, in the fall of 1943, our Navy brother came home for a 10-day leave. When we first spotted him walking down the street toward our house, the three of us were struck by his physical appearance. There was not an ounce of fat on him, and he walked with a new spring in his step. He spent five of his nine nights on leave with the sweetheart he left behind. The rest of the time he visited with immediate family, relatives, and friends.
He was pleased that the used automobile he had purchased just before the war had begun still ran like a top. While he was away in the service, I had driven his car about 80 feet back and forth in our driveway every day to prevent the battery from going dead.
The day before my brother was to return to base, he informed me that he would like to go to the South Station by automobile — his. He proposed that he would drive and I would accompany him and drive the car home.
Somewhat startled by this, I informed him that I was still 15 years old and had no license.
"So what?" he said. "You know how to drive, don't you?"
"Sure," I answered. "But what if a policeman stops me?"
"Tell him what you're doing and that it's for the war effort," he said. "He will probably pat you on the back and say, 'Drive carefully.'"
Well, I did accompany my brother to South Station in his automobile, and I did drive back to Lynn without incident — though I was nervous the entire trip.
For the next couple of years, we kept track of the war's various battles on land and sea. We were always alert to the possibility that eastern Massachusetts would be a target for bombing, given the knowledge of the important roles various industries now played in the war effort.
On the morning of August 7, 1945, as I rode to work with a neighbor and two women who also worked at G.E., the conversation was about the "super bomb" that the United States had dropped on Hiroshima the day before, though none of us knew the real devastation it had wrought. On August 9, we detonated another one over Nagasaki.
Five days later, President Truman announced Japan's surrender and declared the following two days national holidays. This was explosive news! Church bells rang. Horns blew. People took to the streets, shouting, dancing, singing, eating, drinking beer, and hugging one another. The next day, the celebratory mood still prevailed at G.E. Mr. Foster, the personnel director who had hired me, informed me that I probably would be let go in about a month since the "boys" were coming home to their jobs. I told him I was happy to give up my job and welcome them back, especially my two brothers who made it.
Midwestern Concern
From Joan Jensen
I remember very well where I was when Pearl Harbor was struck by Japan! I was in church at Memorial Presbyterian in Cherokee, Indiana. I was born and raised in that nice Midwest town.
Our immediate concern was for my brother and his best friend who both attended the Naval Academy in Annapolis. Due to the tragedy, the cadets were pushed through in three years instead of four. They served on the battleship North Carolina.
I Remember
From Gene Delapenia
I remember December 7, 1941. It was Sunday morning in Claremont, California. Grandma was in the kitchen putting the roast in the oven so it would be ready when we came home from church. Momma was upstairs getting dressed while she listened to the radio. Grandpa was outside watering the winter vegetables, and I was sitting halfway up the staircase reading the Sunday comics when the news came on the radio: Pearl Harbor was being bombed. Momma was crying when she stumbled over me as she came down the stairs. My daddy was stationed on the U.S.S. Nevada, and it was one of the ships mentioned as having been torpedoed.
I remember later when my grandpa was an air raid warden. He would wake us up and we would go outside to watch the big searchlights slashing across the night sky. We would listen for the distant thunder of the planes as they flew in from the sea, never knowing who they might be.
I remember Grandma saving empty coffee cans full of leftover cooking fat and ends of soap for the war effort, and Captain America on the radio Saturday morning, urging us kids to save our pennies to buy war stamps. And how I would cut off cereal box tops so I could send away for my very own special decoder ring to catch spies.
I remember the news reels at the Saturday matinee, showing the refugees crowding the roads in Europe and Asia and how very lucky we were that the war was not here! I remember how our next-door neighbors suddenly had to move away, and I cried because my very best friend Amiko was not there to play with anymore.
I remember when my daddy came home on shore leave. He would bring sailors from his ship with him so they could have a good home-cooked meal and some family life before they went out to sea again.
I remember my great-aunt Bess hanging the two gold stars in her front room window (two of her sons had been on the Arizona that day). And how my mother would get that stiff, scared look on her face when the doorbell would ring. And how relieved she would be when it wasn't the boy from Western Union.
I remember my mother going to work on the night shift at the Lockheed Aircraft factory, building fighter planes. And how the ladies on the radio would sing "Bell Bottom Trousers, Coat of Navy Blue," and I thought that song was just for me so I could sing about my daddy.
I remember when the war was over and everyone was dancing in the street, and my momma was fired from her job at Lockheed because the men were coming home and they didn't need her anymore.
And it all started on December 7, 1941.
All Leaves Canceled!
From Gerald A. Edgar
My parents were both 22 when the "day of infamy" occurred.
Mom, a high school science teacher in Greenwood, Wisconsin, had come home for the weekend to visit her parents, and with her two sisters had attended a late church service that day. Afterward, as they drove into their driveway, a neighbor came running over to them, shouting, "Quick, get in your house and turn on the radio!" This being 1941, very few cars had radios, so indeed they raced into their home to hear the terrible news. Life changed VERY suddenly. Ultimately, Mom's dad moved to Bremerton to paint ships at the Puget Sound Naval Shipyard, one sister became a nurse, the other a military plant worker, and Mom took on the duties of teaching meteorology to student pilots as a captain in the Civil Air Patrol.
Dad, on the other hand, had enlisted in the Army Air Corps a year before. He could see the proverbial handwriting on the wall and wanted his choice of service. Stationed at McDill Army Air Base in Tampa/St. Pete for ordnance training, he had a weekend pass that day. He was walking down a Tampa street when a jeep careered around a corner. An MP with a bullhorn kept shouting, "All leaves canceled, everyone return to base NOW!" So Dad, in uniform, boarded the next street car out to McDill, got off at the last stop, and started walking up to the main gate.
Normally there would be only one MP on duty, casually standing with a pistol on his hip, waving in any young man in uniform. This time there were two MPs standing erectly, each with Thompson submachine guns, who shouted, "Show us your ID!" So Dad promptly obliged and then asked, "What's going on?"
Their reply? "Haven't you heard, kid? The Japs just bombed Pearl!"
A few months later he was with the first American P-38 fighter plane group to be shipped to Australia. We were very concerned that would be the next invasion target for the Japanese as they had already bombed the north coast. Dad spent nearly three years in the Pacific, returning home as a 1st lieutenant.
Mom and Dad passed away just 3 and 4 years ago, respectively, so they knew full well of the 9/11 tragedy, but in their minds it paled in significance to that Sunday morning in December of '41. Other memories faded, but never "that day of infamy."
A Resting Point
From Emile C. Ott
My father joined the Army Signal Corps in 1914. He was assigned to Ft. Mommouth, New Jersey, during the 1930s, and I was born in 1932. In the late fall of 1939, we sailed from New York harbor on an army transport ship for a long voyage to Dad's new assignment in Honolulu, Hawaii. In the fall of 1941, my father's commanding officer in New Jersey was assigned command of the Presidio in San Francisco and offered Dad a promotion if he would cut short the Honolulu tour to run his office in San Francisco. He accepted, and we sailed to San Francisco a few weeks before December 7, 1941.
Soon after our arrival, our home provided a resting point for the wives and children of friends who had been evacuated and awaited transportation to their homes in the States. During this time, I sold The Saturday Evening Post by making house calls at the Presidio on Saturday morning, and I sold the early edition of the Sunday paper to wounded servicemen in the wards of Letterman General Hospital in the afternoon. What stands out in my memory was how kind these military people were to a kid with a load of magazines and papers on a Flexi (sled on wheels).
V-I-C-T-O-R-Y!
From Margie B. Bleier
When we heard that the Japanese had attacked Pearl Harbor, my parents talked and I worried. I feared they would bomb us, too.
Mother told me that there was water between us and the Japanese. The fact that I was only 2-1/2 and had never seen an ocean played a big part in my fear.
As I fretted over the possibility of being bombed, the war effort took shape, and long convoys of soldiers in various army vehicles drove slowly past our house toward Fort Benning, Georgia. I decided that I could boost the morale of the soldiers, so I waved for hours while the soldiers cheered and whistled as they rode pass me.
Since Dad was a welder. We moved to Savannah and later Jacksonville, where he helped build war ships. I saw the Atlantic. What a relief! Then Dad was drafted into the army. Everywhere we went there were housing shortages.
Pearl Harbor plunged our country into war, and Americans rose to the challenge. We made do without many things and felt close and patriotic. We children chanted, "V-I-C-T-O-R-Y," and we were not talking about a ball game.
Where's Bud?
From Mona Alice Lowery
"Where's Bud? Where's Bud?" That question kept repeating in my mind.
I was 16, a junior in high school, preparing to listen to the Sunday opera broadcast on the radio, when instead I heard President Roosevelt announce the bombing of Pearl Harbor. My sweetheart, James "Bud" Lowery had enlisted in the Naval Reserves the year before, at age 17. In May, his unit had been called to active service because of the national emergency. Now I knew he was aboard a refrigerated supply ship, but I did not know where.
Weeks later, I learned that on December 7, 1941, Bud's ship, the USS Polaris, was safe at Guantanamo Bay, Cuba. On a break from loading supplies, he and his shipmates were playing softball and drinking beer. For almost four years after that, they would be busy carrying supplies through the Atlantic, the Mediterranean, and eventually, after the war ended in Europe, the Pacific.
At home, life changed for me, as well, After graduating high school in June 1943, I first took a job at the Red Cross in downtown Cleveland. Then I found a better job at Cleveland Welding in Lakewood, Ohio. From 4 p.m. to 2:30 a.m., six days a week, I inspected and packed 75-millimeter antiaircraft shells. The shells came hot off the assembly line, and it was my job to carefully feel their surfaces for any burrs that might cause them to misfire. To ensure that I did not miss any defects, I could not wear gloves during work. Eventually the hot metal wore away my fingerprints.
Years later, I realized the clanking of metal shells in the Quonset hut we worked in had taken a toll on my hearing. Today, I struggle to hear conversations, even with hearing aids.
Still, I felt I was doing my part while Bud was doing his. During the war, we helped each other despite long and difficult separations. After we married in 1944, I traveled by train to join him whenever his ship came in to port on the East or West coast. After the war, we enjoyed a long and happy marriage and his shipmates remained among his best friends for the rest of his life.
---
The Saturday Evening Post is honored to present a special collector's edition marking the 75th anniversary of the attack on Pearl Harbor. Taken from the pages of the Post, this commemorative issue brings to life the "date which will live in infamy," portraying a deeply divided nation that overnight united in a spirit of solidarity rarely seen before or since. Order your copy today at shopthepost.com.
Want to share your memories or family stories about life after Pearl Harbor? Click here to find out how.
---
Knittin' for Britain
From Norine Johnson
On the afternoon of December 7, 1941, I boarded a city bus in downtown Savannah, Georgia, to return home. I was a junior in high school and had just completed my shift at the Bandbox Theatre, where I worked as a cashier in the evenings and on weekends.
There was very little activity as the bus traveled down Broughton Street, and I lazily enjoyed watching the strollers window shop at the large department stores and dress shops along the way. The stores were closed, of course, for in 1941, we did not shop on the Lord's day.
The bus turned onto Abercorn Street, and other passengers began to board. As we left the downtown area, I noticed small groups of people standing about on street corners shaking their heads, shuffling their feet, and talking excitedly. Others were leaning out windows or huddled about on their porches and I realized that this was no ordinary Sunday afternoon. Suddenly, the bus jerked to a stop and an excited passenger jumped on shouting a sickening announcement: "The Japanese have bombed Pearl Harbor!"
A blanket of shocked silence quickly spread through the bus as the passengers mulled over this news and sifted through their private thoughts and concerns. Some began immediately to question the source: Where had he heard this? When did this happen? Were there casualties?
I was a teenager. My older brother was in the Marine Corps and he was home on a 30-day leave. His station was Pearl Harbor. I could hardly wait to leave that bus, and when at last it reached my corner, I jumped off and ran the half-block to the security of my home and family.
We spent the evening gathered around our radio, weeping, praying, touching, and talking. Gradually, we came out of our shock and as self-assurance was restored, we were confident that God and Franklin Delano Roosevelt could guide our nation through any adversity. After all, look how those two had handled the Great Depression.
On Monday, we listened to President Roosevelt's stirring speech as he announced that the Congress of the United States had declared war on Japan. We knew little of the changes which were to take place in our lives and in our world.
My brother was ordered immediately to Camp Lejune where he was engaged in training others in jungle fighting. Within the year, he returned to the South Pacific, where he participated in bloody battles on Guam, Okinawa, and other islands. Once, we each received mail from him where he used the letters G-U-A-M in our address — a different letter for each family member — and this was his code to let us know where he was fighting. My mother cried. She thought her son was shell-shocked and had forgotten our names. I corresponded with my brother's friends, and I still treasure some of the victory letters I received from them.
Back home, we busied ourselves with war-related activities. In Junior Red Cross, I was "knittin' for Britain," learning to roll bandages and to make beds using the hospital fold. In school I saw the male population drastically dwindle as young men closed their books and went into the military. At work, I watched Broughton Street change from a pleasant, slow-paced avenue for strollers to a busy hub-bub of lonely servicemen standing in long lines at theaters and restaurants, always cheerfully searching for a diversion from the unknown that lay ahead of them.
Our churches kept fellowship halls open, where pink-cheeked soldiers, sailors, and Marines were served coffee, sandwiches, and cakes made by our mothers with Karo syrup. We bought war bonds and we danced at the U.S.O. We stood in line to get ration coupons and we stood in line to spend them. Beef, sugar, soap, and chocolate were rare items to come by. There were no stockings, so we painted our legs with leg makeup. We were to learn later that it took many, many chocolate bars and nylons for our servicemen to barter their way through France and Italy.
Americans joked about shortages, we grieved over casualties, we saluted the flag, we prayed for victory and, along with Kate Smith, we sang "God Bless America." Our confidence and trust were placed in God and in America and at no time did we ever doubt the outcome of the terrible war which was triggered at Pearl Harbor on December 7, 1941.
The Ultimate Sacrifice
From Lucille Bamberg
On December 7, 1941, a neighbor took his two daughters, my sister, and me to visit an elderly man who lived alone. When we returned home, my parents and my brother told us Pearl Harbor had been attacked. One of my brothers, who had not been long out of service, said he was going to reenlist to be with his friends. Our friends asked him not to, but he did anyway. Another brother was in the National Guard, and a third was in college — both of them decided to enlist as well. All three were in what was called "the Pacific Zone."
The oldest and youngest brothers did not make it home. They gave their lives for their country. The third brother was removed from the danger zone and sent home. He later became the Veteran's Administrator for our country. Those were sad times for our family, and when I visit their graves, I think about the sacrifice they, and my parents, made for their country.
Brothers in Arms
From Jean Stella
This event was a personal historical event in my family. It happened on my grandfather's 53rd birthday. I was just 10 years old at the time. We lived on adjacent farms. My grandfather rushed over to tell us the news. He took the event as a personal affront and declared he would never celebrate another birthday.
In a family where birthdays were almost state occasions, that declaration impressed the seriousness of the news on my 10-year-old mind. The news of the bombing of Pearl Harbor didn't register in my world.
In the following years, my grandfather's son and two stepsons served in the military. Two of them served in the South Pacific. His son was in the Army Air Corps. He was unmarried and offered to be part of the Japanese Occupation so a man with a family could go home. My grandfather considered this as a fitting end to the December 7, 1941, event, but still did not overtly celebrate his birthday again.
No Place to Land
From Elaine Eagon
I started high school in September, but on December 7, 1941, the world came crashing down! Japan had attacked Pearl Harbor! My uncle, Merlin C. Huebner, one of my mother's twin brothers, was in the Navy. He was in a ship which was bombed by the Japanese and was one of the few survivors of the attack. WE WERE AT WAR!
The Navy took over all the land on the south side of 24th Street there in North Chicago, so there was no more having lunch on the big rock in the woods. A fence went up, and Navy guards marched up and down inside the fence, day and night. Barracks were built in no time flat. I could hardly believe what was happening!
A small factory, Bartlett Engineering, opened up in North Carolina. My mother got a job there. She had never worn jeans before, but she wore them to work (actually, they were men's denim work pants); I just couldn't get over that as we were not even allowed to wear jeans or leggings in high school. We could wear them in the wintertime going to and from school, but never in school!
After the war, we learned that Barlett Engineering made components for the atomic bomb! My mother had never been told what the components she had been working on were for. My mother also used her teaching experience because, during the war, the supply of teachers had dwindled.
My dad got a job at Johns Manville in Waukegan and worked 12 hours a night; so he had to sleep during the day, and nobody had better wake him up! My dad's normal sleep pattern was early to bed and early to rise, so working nights really fouled him up. He was a "bear!"
It seemed as if the war went on and on. My mother's other twin brother, Marvin D. Huebner, went into the Air Force; he became a 1st lieutenant and flew cargo planes. He was in the South Pacific, and I remember him telling about going on a supply mission. The navigator told him to land, but there was no place to land his big plane. But the navigator again told him to land; so my uncle landed in a little tiny open spot. Of course, it was the wrong place. The navigator looked at his map again and found he had made some miscalculations; the problem then was how to get out. It was suggested that they remove some of their cargo to make the plane lighter but my uncle said, "No, we got in here and we will get out." So my uncle maneuvered the plane somehow and took off, and successfully made it out of the jungle; and the supplies were properly delivered.
My cousin Eugene was over in Europe as part of the D-Day Invasion, June 6, 1944, on my sister Lila's 14th birthday. And my dad's best friend, Fred Nelson, and his wife, Hazel, had but one son — Sonny who was in the Army. They lived in Chicago, and would come out and visit now and then. Sonny was killed in the war; life was never the same for his parents again.
May 8, 1945, was V-E Day, Victory in Europe! and V-J Day, Victory in Japan, was September 2, 1945. There were celebrations in the streets and ticker-tape parades in larger cities, but my folks were very strict with us girls, so we only heard about them on the radio and read about them in the Waukegan newspaper.
Save the Last Dance for Me
From Henry Worthington
On Sunday evening, December 7, 1941, I was at an eighth-grade school dance out in the country, 15 miles west of Philadelphia.
Around 8:30 p.m., when things were winding down, a father came to pick up his daughter. He told us that the Japanese had bombed a place called Pearl Harbor in the Hawaiian Islands. I knew that the Hawaiian Islands were in the Pacific Ocean, so I and a couple other kids ran upstairs to a classroom where a big world map covered most of the wall. There it was, on the island of Oahu — a very big harbor.
I remember the next day, my father and two uncles listening to President Roosevelt's famous speech on our old green metal cabinet Atwater Kent Radio. The radio stations kept playing that speech over and over all that following week — and everybody kept listening over and over again. Five years later, seven months after my 18th birthday, I was in the Mariana Islands — on Saipan — helping to close things down.
College Life
From Helen Wilson
Pearl Harbor happened during my freshman year at West Chester State Teachers College in West Chester, Pennsylvania. It caused lots of changes there. Men were drafted or enlisted for army duty. This resulted in some empty buildings on campus that were no longer needed for students. Eventually the U.S. government decided to use these buildings as an area to train soldiers to run an army post office. In those days, letters were the only means of communication for soldiers outside the U.S., so post offices were very important. The soldiers would spend eight weeks training and return to their camps; then another group would arrive to be trained.
I lived with a family in town, where I worked for my room and board while attending classes. On Sundays, I would go with them to church. One Sunday, four soldiers were ushered into the pew in front of ours. After the service, this family invited the soldiers to have Sunday dinner with them and they accepted. We hurried home to prepare dinner.
It was interesting to hear of their army life. We exchanged addresses with them. Only one continued to write to me; that was Sgt. Warren W. Wilson, who had spent most of his life on a farm in Randolph, Iowa. I was also raised on a farm, so we had some common interests. His army camp was in Camp Adair, Oregon, where he spent some 18 months.
In October of 1944 he was sent to New York prior to departing for Europe. There were delays, and when he received, a furlough he came to Pottstown, Pennsylvania, where I was teaching school. We were married in Reading on December 2, 1944. He was in Europe until end of war and received his discharge in Camp Gordon, Georgia.
After that, I resigned my teaching position. I came with him to his home in Randolph. He ran the hardware store here. We had been married nearly 60 years when he passed away in April 2003.
---
The Saturday Evening Post is honored to present a special collector's edition commemorating the 75th anniversary of that infamous day. It features articles, editorials, eyewitness accounts, and art from the Post archive exactly as it was before and after the Pearl Harbor attack. Order your copy at shopthepost.com.
Want to share your memories or family stories about life after Pearl Harbor? Click here to find out how.
---
Wounded at Pearl Harbor
From Betty Rotramel
William "Bill" Rotramel was serving in the Army Air Force at Pearl Harbor, on December 7, 1941. Three years earlier, at age 21, he had enlisted in the Navy Reserves as he saw signs indicating the United States could be heading toward involvement in "a shooting war." He wanted to have proper training and preparation if that were to happen. After enlisting in the Navy in 1938, he was transferred to the Army Air Force in January 1940.
At the time of the attack, Bill was assigned to a small army transport vessel named Haleakala (differing from the USS Haleakala built in the late '50s). His vessel was docked at Pearl Harbor, moored between two larger ships. They were to lift anchor on Monday morning, December 8, heading out to the Christmas Islands, carrying a load of dynamite to be used in site preparation for construction. Bill had received a weekend pass, so was not on the vessel when the first wave of attack began.
So, on that fateful Sunday morning, having spent the night ashore with friends, Bill was standing near the kitchen window cooking breakfast prior to the first wave of attack. He commented to his friends, "They're really putting on a show today." All assumed this to be a sound of regular military exercises, which were common to the area, until a bullet ripped through the door, acutely jarring them into awareness that this was something serious. They were under attack! At this point, Bill's sole mission was to get to the ship.
He recounts, "When we went outside the house, the air was already becoming thick with smoke, making it difficult to see exactly what was happening. The whole area was being strafed with bullets from Japanese planes. I remember running down the street toward the shipyard with another young man running beside me — I didn't know him. A bullet struck and killed him instantly. When I got closer, I saw the mess hall had been heavily bombed. I began to help carry out the dead and wounded." He said he would never forget the sight of that area in the aftermath of the first wave of attack.
By the time he reached the Haleakala, the next wave of the attack was coming more heavily on the large battleships. On Bill's ship, the dynamite was sitting on deck and the holds were uncovered. Bill and another shipmate were moving large timbers to cover the holds when a shell struck near the center of the timber, splintering it in two. He said he was afraid to look down, as he feared his arm would not be there. Thankfully, he was still intact. Perhaps the larger vessels provided a measure of protection for their smaller vessel as they escaped with little damage overall. They actually departed the next morning, heading down to the islands as planned.
During the attack, Bill had been hit with shrapnel above his left hip. At the time, the shrapnel was not removed, but some weeks later the wounds became infected, so he had to have surgery to remove the shrapnel in a tent hospital on one of the islands in the South Pacific.
In the confusion of all the happenings subsequent to the attack, perhaps somewhere in the midst of his surgery and recovery, the army lost track of Bill's paperwork and whereabouts. His paychecks stopped coming, and he discovered he was actually counted as deceased at one point. His family did not find out he was still alive until May of 1942. Subsequent to his recovery, Bill recounted that he was flown all over the South Pacific in his role in repairing radio equipment. He recalled some of the most dangerous times beyond that day at Pearl Harbor were experienced in Leyte and Guadalcanal areas, working with the Infantry radio operators. He said, "At night, men would infiltrate the enemy lines under cover of darkness and then return to report the enemy positions to the radio operators who would send the information on." He considered those men as having the most dangerous jobs in the military.
Bill never received the medals, such as the Purple Heart, which would have come through his being wounded at Pearl Harbor. Later in life, there was an effort on the part of his children to have the medals awarded to him. Their inquiries yielded only one response, suggesting if the facility and surgeon could be identified, perhaps the incident could be explored further. Needless to say, this information was not going to be available! While this was disappointing to the family, Bill always said that he didn't consider himself a hero. He said, "The heroes were the ones who didn't make it home."
Thankfully, Bill did make it home. After his time in the service, he met a young lady named Betty. They were married in 1952 and enjoyed the next 52 years together, being blessed with four children, who all surely considered their dad to be a hero.
No One Complained
From Sonia Schork
On December 7, 1941, we were at my girlfriend's home in Wurtsboro, New York. We were 7. Descending the stairs, we saw our parents huddled around the radio, our mothers crying. We asked why, of course; "We are at war," one of them said.
So began our conservation of paper at school, our lack of rubber erasers and bubble gum, our victory gremlins clubs to help the war efforts, our victory gardens, our picking milkweed pods to stuff life preservers since the [Southeast Asian] plants were no longer available due to Japanese occupation, our making of shoebox gifts of razors, tooth powder, candy bars, etc. for service men. Mom saved enough (rationed) sugar for our birthday cakes. We had few Sunday rides to save (rationed) gas and rubber tires. No one complained.
Dad and Mom moved to Newburgh, New York, as Dad (a retired-on-disability New York state trooper) got a job organizing and supervising a large civilian guard force for Stewart Field (then Army Air Corps) and West Point Military Academy — to free up military personnel. Mom cleaned in a parts warehouse at The Field. Grams took care of us at home.
Everyone, "for the duration," listened to Pres. Roosevelt's "Fireside Chats" on the radio, and everyone helped everyone in every way. I grew up during those years of sacrifice, caring, and work for our country. We had to win, and we did.
One day when the fire siren rang and rang, everyone came out into the streets, jumped, cheered, and fell in prayer on their knees, hugged and cried. It was over, at last.
Hello to Manzanar
From Judith Fujito
I am a third-generation Japanese American (sansei), so that means my parents were born in the United States; therefore, we are all American citizens by birth. They are second-generation (nisei).  My grandparents were first-generation (issei) and born in Japan. The attack on Pearl Harbor had a life-changing effect on my entire family as my parents and grandparents lost everything we had as we, along with approximately 120,000 other Japanese Americans, were incarcerated in internment camps (basically POW camps) with very little warning. We could only take what possessions we could carry, and of course nothing that was considered illegal or dangerous, such as cameras or any type of Japanese souvenirs (especially swords or any type of weaponry).
The camps were put up hastily, and many Japanese Americans were initially taken to temporary housing, such as race tracks, and forced to live in horse stalls under squalid conditions. The food was substandard in the camps, and we had to live in barracks constructed with tar-paper roofs and had to contend with sand and wind coming in with very crowded quarters.  Since I was only 2 years old, living in the camp was not as hard on me as on my parents and grandparents. We were taken to a camp in California called Manzanar, which was near Lone Pine close to Mount Whitney. It was extremely cold and windy, with snow in the winter and hot and dry air in the summer.
My husband and I have revisited Manzanar on three occasions, as it is now a national monument and has a fine interpretive center there as a living monument of what we went through during the War. It was a very hard time for my parents and grandparents as they had no idea how long we would be living in the camp and had to depend on the government for our survival. Our entire way of life had been totally uprooted, with our civil rights as U.S. citizens taken away from us. Although we had no allegiance to Japan or its people and their part in the War, we were persecuted because we were Japanese in physical appearance, and we felt, through racial bias, that we were being singled out as "the enemy." We were frustrated and puzzled by the way we were treated by the U.S. government, as though we were enemies of the U.S. even though we were U.S. citizens!
It seems there are many American citizens today who are totally unaware of what happened to us Japanese Americans who were U.S. citizens during World War II; I think it is important for people to be made aware of what went on so this never unjustifiably happens to any minority group again.
A Welcoming Place
From Carol Cochran Higgins
My story begins prior to this historic date.
My parents were instrumental in setting up a satellite Sunday school from our church within a Japanese-American community on Mormon Island in Los Angeles harbor. This community consisted mostly of fishermen and employees of the local cannery. There were kids my age, young adults, and a few elderly. There were Halloween parties, Christmas programs, and social get-togethers. Mom started an English class for the older ladies. At home, my sister and I played house in our kimonos and Japanese "zori" sandals or flip-flops.
Then came Sunday, December 7, 1941. We had returned home from church on the island, and my aunt and uncle had come to visit. They brought me a gift for my eighth birthday. The radio was on with the appalling news of Pearl Harbor, and I remember the atmosphere of shock and sadness among the adults. Of course, I couldn't realize how this was to affect all of our lives.
Our Japanese friends were sent away, pretty quickly, to a holding camp. At Santa Anita Race track, they were housed in jockey quarters, stables, and barracks. We would go visit on Sundays and have dinner with them in the cafeteria. Mrs. Arihara knitted sweaters for my sister and me while they were there before being sent to internment camps in Arkansas and Arizona. These were our friends.
Then, in early 1942, an Army Tent Camp was set up across the street. Mom woke us in the middle of the night and warned us not to turn on the lights. Army trucks, lots of Army trucks, were rolling in. In the next day or two there was a large camp of tents set up. It was a Barrage Balloon Battalion. The headquarters was located in a small white house on the corner of our street.
It didn't take long for my parents to start befriending these young soldiers. Our home became a welcoming place for them. About 10 of the soldiers formed a band and set up practice in our living room. Our home had an enclosed front porch which was cordoned off to form a bedroom at one end for a couple of wives when they could visit.
That December, I celebrated my birthday with six soldiers as my guests. I still have the little heart necklace they gave me. A Christmas party was planned with young ladies from our church to be in attendance. Then there was an alert and all were confined to the base — so no party. Well, Mom marched up to headquarters to approach the commander and told him about the planned party and all these young men spending their first Christmas away from home and that it just wasn't right. He pondered this a bit and then suggested, if she agreed, to have our house included in the parameters of the camp for 24 hours so they could go on with the party. It was done!
One day there was a phone call to Mom. The young GI on the phone said, "Mom, they left me. I'm in Palos Verde! We were on maneuvers in camouflage in the undergrowth, and when I went back, I couldn't find them … the trucks were gone, they just left me! Can you come get me?" So, Mom piled us in the car and we headed out to the hills, picked him up, and returned him to base.
My parents kept in touch with both groups all through the war and for years afterward. Two Japanese families came to celebrate my parents' 50th wedding anniversary in 1972. Soldiers identified themselves as "Army Son" and "Ex-Army Son" in letters to my parents up until my father's death in 2003.
Many more wonderful instances come to mind, and I am so aware of the relationships I was privileged to have had. For the soldiers who gave up so much of their young lives and my Japanese friends who embraced the love of this country … they were just as American as my brother, sister, or myself, but were portrayed as a threat because of their physical appearance. All of us should take a close look at our intentions and acknowledge the human spirit in all of us.
I have many beautiful artifacts in my home — dolls, platters, and hand carved vases — that have brought me so much pleasure over the years and are a constant reminder of those friends from long ago who enriched our lives, and make me so thankful my home was a welcoming place for Japanese and GIs alike. I learned such valuable lessons that have lasted a lifetime.
Survivors
From Doris Chrastina
I received my second copy of The Saturday Evening Post and was surprised to see the picture of the West Virginia during the Pearl Harbor attack (Sept/Oct 2016, p. 34). The small motor launch was there to rescue the men in the water. One of them was my husband. He saved many men: leading them in the boat, taking them to the "mess" hall, stacking their bodies to be identified later.
He said everything was blacked out, and when the second wave of planes came in, they thought they would take over. He said that they could have, since the U.S. wasn't prepared. I believe that God in His mercy spared us.
My late husband wasn't one who wanted recognition, and it was some time later with the encouragement of family that he decided to write his story.
After we met and married, he had duty there (again), stationed at Barber's Point Naval Air Station. He served 22 years in the Navy.
After the war, the surviving men formed groups all over the U.S. The survivors met once a month, wearing their "Pearl Harbor" caps. They were recognized during Memorial Day and Labor Day in parades. How thankful we are that because of so many sacrifices and lives given, we can live in a free country. My prayer is that we can continue to live in a free country; mostly for our children and grandchildren.
A Wedding Day
From Bernadette Cammerata
Pearl Harbor — who can ever forget that day? Not my family. December 7, 1941, was the day my sister Teresa got married. I remember it was a cold, sunny day in New York. As the Maid of Honor, I wore a blue dress and carried yellow mums. Two hours before the wedding, we heard that Pearl Harbor had been bombed.
"Where's Pearl Harbor?" everybody asked.
Terry and Jack McKenna were married that afternoon at St. Peter and Paul Catholic Church in the Bronx. When Terry and Jack left, I went to the local movie house with the Best Man to see Sergeant York played by Gary Cooper.
The next day, my brother Bill enlisted in the Army Air Forces. Russell, a year later, went into the Navy. My sister Terry lived near St. Raymond Cemetery, and she could see it from her apartment. Terry didn't like the view. Three months later, she was buried there, having died on an operating table. She was 21.
Forget Pearl Harbor? Never! Anybody who lived at that time will never forget. Wars leave an imprint on the heart. I'm 94. I hope to see my sister someday. John Adams wrote that he couldn't conceive that God would make us to only live and die on this earth. I hope he's right.
Stars in the Windows
From Beverly M. Johnson
On October 25, 1941, I became 10 years old. On December 7, I was playing with my cousin at her home when we heard from the radio that the Japanese had bombed Pearl Harbor — we were stunned, how horrible! We knew we had some of our soldiers in Europe fighting. Now we saw them going off to war in huge numbers.
Each household that sent a soldier off got a little banner with a star on it to hang in their window. If the family member was killed, they were given a banner with a gold star. We saw a lot of them around our town. When we learned of the Japanese attack and their brutality, a wave of indignation swept our country, and we were willing to do anything we could to help our soldiers and sailors. We were issued ration stamps for shoes, tires, sugar (as we could no longer get sugar from Hawaii and the Philippines). So many men and women had gone to work in the munitions plants, as President Roosevelt said we needed 60,000 airplanes in 1942 — twice that in 1943.
My brother-in-law, who was in the Navy, was sent to the Pacific to work on a drydock, a floating shipyard that repaired the huge ships and returned them to duty; 11 ships could be worked on at once. The CCC boys who were stationed in our town were recruited to build roads and air strips at air bases. German and Italian prisoners were sent to Idaho and housed in a sugar factory and sent out to work on the farms with military guards.
Children organized, and were called the National Junior Salvage Corps. We went from house to house looking for salvage metal. We grew victory gardens to provide us with food so that as much as possible could be sent to the military. We were much more patriotic then than we are now!
Barbed Wire Beach
From Pat Evan
I was 12 years old when Japan attacked Pearl Harbor. I was living on an acreage just outside Aberdeen, Washington. A friend and I had gone to a movie, and we learned about the attack when her parents picked us up. The news of war was frightening, and I was anxious to get home to the protective arms of my mother.
Home was relatively close to the ocean beach, which had been closed for recreation — even cordoned of with rolled barbed wire and made ready to be defended if necessary. Our two-lane highway was busy with convoys of trucks loaded with troops, tanks, and weaponry, the same highway where I boarded the bus for school every day. In addition to that, our area was designated for blackout over the nighttime hours. Local citizens became air raid wardens who enforced the order for all windows to be covered with black tar paper through the night.
Our air space covered a lightly populated area regularly used to train Air Force pilots. I often lay on the ground on my back to watch P38s going through their "dog fight" maneuvers. Of course, everyone in the country was issued ration stamps for sugar, meat, and gasoline. Sugar was a consideration in our area, with many garden plots of berry patches the ladies used for pies, jam, and jelly. Honey became a substitute for sugar in baking.
Since nylon was used for making parachutes, nylon stockings were not produced — rayon was an unsatisfactory substitute. I graduated from high school in 1946 and nylon stockings were in very short supply, even then. My mother stood in line for two hours to get a pair for me to wear at graduation (they had cotton feet and tops).
My brother and future husband both served in the Pacific, and my mother worked for a company manufacturing landing craft. It's mind-boggling to think both my brother and husband might have been aboard one of those boats as they landed, facing battle for you and me.
A Front-Row Seat
From Virginia Gordy Baker
I was a 10-year-old girl who had a front-row seat to the attack on Pearl Harbor, December 7, 1941. We lived in Navy housing located between Hickam Field and Pearl Harbor. That morning, I was upstairs getting dressed for Sunday school. My father was in the living room sitting in his favorite chair and reading the paper while my mother was in the kitchen cooking breakfast when the electricity went off. We could hear popping noises from outside and see planes flying low over the houses. I got my father's binoculars and, with my elbows propped up on the window ledge of my bedroom, I could see the planes flying low over the houses … so low I could see the faces of the pilots. The sky was full of puffs of black smoke from antiaircraft guns on the ground.
My father called up to me to get away from the window and come downstairs. He told us to stay inside and then left for his duty station at the Instrument Shop located on Ford Island. (He had been recalled to active duty on October 3 and was back in uniform the next time I saw him.)
My mother gave me my Christmas presents that morning because she wasn't sure we'd be alive on Christmas. She was sitting in an armchair near the staircase, and I was sitting on her lap when we heard a crashing noise upstairs and a splintering of wood coming down the staircase behind us. All of a sudden, a long, bullet-shaped object landed at our feet and kept spinning around. My mother grabbed me and we ran out the back door because she was afraid it would explode. Nothing happened, and a neighbor came in to look at it. He picked it up and dropped it because it was still hot. He said it was an American tracer bullet from one of the planes dog-fighting overhead.
Later, we discovered its point of entry. It had come through the side of our second-story unit, through the headboard of my parent's bed, which was up against the outside wall. It tore through the pillows and covers, hit the bedroom wall and ricocheted around the bathroom walls, down the staircase, and then landed on the living room floor at our feet.
We weren't allowed out of the house after dark because we might have been shot by Marine sentries. Flashlights were permissible if covered with dark blue cellophane, which cut visibility along with light. It was just safer to stay inside. We were told to sleep on mattresses on the floor downstairs in case planes returned during the night to strafe the houses. For weeks after the attack, I had nightmares of Japanese soldiers parachuting to the ground. Needless to say, it was an unforgettable experience.
Amateur Hour Interrupted
From Jewell Haney
In 1941, it was a regular thing to do our Sunday afternoon on the farm. I was 14 years old, my little brothers 10 and 8 years, and with our parents we listened, on our battery powered radio, to Major Bowes Amateur Hour. On December 7, 1941, we went into the living room and turned the radio on to the Amateur Hour, and it was interrupted by "the Japanese have bombed Pearl Harbor."
My little brother didn't understand, and I was confused and not quite sure what had just happened, because I remembered that the men had saved their razor blades to send to Japan — and they had done this to us?
I'm 89 years old, my husband of 67 years passed in 2014, and was a veteran of WWII and served in the U.S. Navy.
We Donated Our Comic Books
From Carol Gallo McDaniel
My late husband Charles McDaniel served as a Marine in the South Pacific during the war. When Pearl Harbor was attacked on December 7, 1941, I was an 8-year-old child living in Yuma, Arizona. I don't remember that day, so perhaps my parents shielded my young ears. I do remember when the two neighbor boys entered the war. Mike Gilliland was a paratrooper and was killed soon after he joined. His brother Ralph was drafted into the Army and died in battle shortly after Mike.
My memories of those early years included collecting foil from empty cigarette packages that had been dropped in the gutter on our street. We soon became aware that we could no longer buy Bazooka bubblegum as this treat went to the servicemen. We were no longer able to buy jacks because they were made of steel needed for the war effort. We donated our comic books to the paper drives. Once in a while our parents had to pull down all the window shades and turn out all the lights as a precaution.
My parents joined the Civil Air Patrol and began to watch the skies for enemy planes. Many things were rationed: gasoline, coffee, shoes, sugar, to name a few.
I Had Never Seen Him Cry
From Judy Steele
On December 7, 1941, I walked into the living room of my home in Pennsylvania to find my father crying. I was 6 years old and had never seen him cry. He and my mother were listening to the radio and had just heard the news of Japan's attack on Pearl Harbor.
I stood mute — listening to their sobs. I knew, even as a 6-year-old, that the event was something awful.
We Set Aside Childish Things
From Howard Norlin
December 7, 1941, was a snowy winter Sunday, and six high school graduate couples were tobogganing in the beautiful winter snow in northern Minnesota when we heard the news on Dad's '36 Ford car radio. We then matured fast!
A Broadcast in Britain
From Frances Walsh
I am almost 96 years old, but I can clearly recall every moment on the night that we heard it. A group of us were in the living room in England, listening to the BBC 9 p.m. news, when the announcement came: "Pearl Harbor has been attacked." A moment of shock ensued; then my husband —in uniform and on leave — said, "Oh, this will bring the Americans in with us!"
Friends Behind Barbed Wire
From William Drewes
I remember the bombing of Pearl Harbor like it was just yesterday. I was living in the small town of Arcadia, California, which is just east of Los Angeles, with my mother, father, and sister. Arcadia was a farming town, and most of the farmers were Japanese Americans. My best friend was Japanese American, as was my first girlfriend. The Japanese Americans were always very clean and hard-working individuals. They also were among the smartest in school and excelled in most sports they played.
Sunday morning, December 7, 1941, my mother and father were attending church services while my sister and I were listening to the radio. The radio station we were listening to broke in to report that our military and naval forces at Pearl Harbor were being bombed by the Japanese. I had no idea where Pearl Harbor was, but soon found out.
Then in the early part of 1942, the decision was made to round up all the Japanese Americans living on the West Coast of the U.S. and place them behind barbed wire in the parking lot of the Santa Anita race track, which was very close to where we lived. I can remember seeing my best friend when I rode my bike to the race track, and he asked me why were they placing us here, as we had done nothing wrong. That was the last time I saw my friend.
Packing the Churches
From Jean Rolf
My memories are vivid … like it wasn't very long ago. I recall my teenage uncle came to our house. I was 14 years old. My parents were upset with his news that Pearl Harbor had been bombed! Those days before television, we got vivid news on the screen at the movie theater between the movies that were shown (there were usually two movies and a cartoon and news). I dreaded seeing the news of war in other countries. And now the U.S. would be in the war that was to be the big World War II.
My dad wanted to join the Army to do his part, as did so many young men. Dad was 35, and mom reminded him that their third child was due soon and he was not in line to be drafted. Dad took a second job — nights driving an auto repair truck.
Our citizens were willing to join the war effort, in the military or at home, in an effort to stop another country from taking over the U.S. Women joined the work force in ship yards in California. We had rationing of sugar and shoes, among other things that were limited. Also, people collected special things to help the war effort. My family attended a weekly evening prayer service at our church, and when the war began, I noticed the big increase in attendance at that church service as we prayed to end the war and bring our troops home safely. We had some black-out nights to prepare for the possibility of bombing on the home front. Fortunately, that never happened — war was always "overseas," but fear was real!
I remember the joy of the summer day in 1945 when war was over. I was getting ready for my last year of high school as the U.S. rejoiced and prepared to recover from World War II.  It was sad to have many of our military killed in action and others returned with injuries for life. The effects of war linger and are painful. May we always strive for peace.
A Child on the Church Lawn
From Katie Freeman Bullard
I was caught up doing the things 4-year-olds do in the nursery while one's parents are attending the church service. The teachers stopped everything and herded us outside to the front lawn to find our parents. Everyone who should be in church was outside. I remember walking around the groups of people looking up to find my Daddy. I remember feeling out of place and unreal … everyone was upset and angry … even afraid… but were talking in hushed voices.
My family lived in central Nebraska. The small airport in Kearney mushroomed into a huge airbase, becoming the gathering place of soldiers being shipped to the Pacific theater.
America Honored Its Fallen
From Larry Estes
Every family was devastated on December 7, 1941, when the United States was attacked by the forces of evil and cowardice. However, our soldiers did not die in vain. Through respect, hard work, and dedication, American honored its fallen, and once again turned itself into the greatest nation on earth.
Fire on the Water
From Harold Hogan
I was in the National Youth Administration (NYA) in Marshall, Texas, where I learned the sheet metal trade. In August 1941, a job came open in Hawaii paying 75 cents an hour. Three other boys and I at the NYA applied and were accepted for the job at the Naval Yard in Hawaii.
Each day, a bus would come by and carry us to the Naval Yard, where we were assigned to work on ships or wherever else we were needed. We lived at the barracks for about two months, and then we moved up into the hills. On December 7, 1941, I was awakened by one of the men saying, "The Japs are bombing Pearl!" I couldn't believe him, but when I looked out the window, I could see the fire and smoke and hear the bombing. We listened to the radio and where to report for work.
When we arrived at the yard, hundreds were going through the gates trying to get to the Naval Yard shop. Only a fence separated us from Hickam Field as the Japanese were bombing and strafing the people, planes, and buildings. Our boys were trying to return fire, but they couldn't get to their guns. If the Japanese planes had made a pass over the gate where we were coming in, they could have killed hundreds. Our shop was about a mile from the gate, and as we ran to the shop, we could see that the Pennsylvania had been bombed. Fire was all in the water.
Inside the shop, we could not see anything, but we could hear the explosions and chaos of people running and screaming. We were not allowed to leave the shop area, so we could only imagine what was going on outside. We didn't know if the Japanese were invading or if they were still bombing. When the shop doors were opened, our beautiful island had changed. Smoke filled the sky — debris everywhere — Hickam Field had planes smoking — airplane hangars gone — and men were cleaning the runway. We ran to the dock. We couldn't believe our eyes — ships burning — many on their sides — others upside down. People were everywhere cleaning debris and removing bodies. We had to wait until they finished their work, and then our job of repairing damaged ships began. We started working 12 hours a day. Our crews were able to get most of the ships repaired to join the fleet and fight.
I continued working in the Naval Yard for the next few years. I enlisted in the Navy on the 12 of April 1944, but after I was sworn in, the commander told me he was leaving me at the shipyard. When I asked why, he told me I was more valuable to the war effort in my position at the Naval Yard than on a ship. He said he could take a man and make a sailor out of him in a month or two, but he couldn't train him to do my job.
On the 22nd of September, 1945, I was discharged under honorable conditions as a ASV-6 USNR-SV. After Christmas in 1945, I boarded the Harrison (the same ship that brought me to Hawaii in 1941), and I came back home. How wonderful home and family looked to me.
A Terrible Scream
From Ernest Rush
In Duboistown, Pennsylvania, my trapping partner Lamont Eoute and I were skinning muskrats in the basement when a terrible scream upstairs scared us. Lamont's mother was hysterical, screaming that her father stated that the yellow people would rule the world. We both served in the U.S. Navy during World War II.
The Story Must Be Told
From Julie (Ferguson) Anderson
Because our father, Richard F. Ferguson, survived the attack on Pearl Harbor, my siblings and I grew up hearing many stories of the conflict. He was passionate about sharing these stories of patriotism, heroics, heroes, and how America's history was impacted that fateful day. Often, he said, "If the story isn't told, all that history and loss of life will be lost." So, he spoke at elementary schools, junior high schools, and high schools here in southwest Missouri; he was a frequent speaker at civic clubs and various organizations; and he wrote two books of prose and poetry concerning Pearl Harbor. Both books (Look Back Once More and Forget Pearl Harbor? … No Way!) were compilations of his experiences in Hawaii — its beauty, but also the ugliness of war and bloodshed.
Our father died November 7, 2008, at the Missouri Veteran's Home in Mt. Vernon, Missouri. His memorial service was at 11:00 a.m., November 11 — Veteran's Day. Thank you for the opportunity to share an important part of our father's life.
Letters Home
From Joyce Keller
Sunday, December 7, 1941. How can it be 75 years ago, when it seems like yesterday? I was nearly 6 years old. My brother was in college. We got home from church, and I was in the backyard when I heard the radio on louder than usual. I went inside and Mother was standing in the kitchen crying. I was frightened to see her cry and clung to her legs. My father was silently standing by the radio, and I finally crawled up on his lap and he explained what had happened. Pearl Harbor was being bombed.
It was a long, sad, quiet day with the radio continually giving reports. My brother had been with his girlfriend's family and was driving home. The next morning, my father, who was 42 and had been a Marine in World War I, went to town to re-enlist. They refused him, and mother was so relieved. My brother tried to enlist in the Marines but was colorblind, so they told him to join the Army or go home and eat carrots and come back! He joined the Army and was gone for over three years in Africa and France.
My father worked at the post office, and so every package we sent would be padded, and I would throw it against the basement wall and jump on it to see how sturdy it was. Every letter from my brother was read aloud, and my hundreds of questions were patiently answered.
75 years ago? No. Only yesterday.
Aboard the Ward
From Harriet Wood
My husband, Russell W. Wood, passed away in 1999. He was 18 years old when he joined the U.S. Navy. He served aboard the destroyer the Ward. He was one of the guys on the gun that sank the Jap sub that was trying to enter Pearl Harbor after calling the base; they did not believe the message. He would have been happy to hear they found the remains of the sub some years ago. The gun proudly sits in front of the capitol in St. Paul Minnesota today with a sign naming the guys that were serving on that ship. The Pearl Harbor museum has a nice display about his ship.
In the Shadow of War
From Marilyn Zielke
"J-E-L-L-O! – Welcome to the Jack Benny Hour." My ear was glued to our tall floor radio at 6 pm on Dec 7, 1941. News interrupted the program. "Pearl Harbor was attacked by Japanese warplanes Sunday morning. Many people were killed, planes destroyed, and ships sunk. The president will speak…" I was 13 and old enough to understand this was serious and would affect our lives for a long time. After the first shocked seconds, I ran to the barn where my parents were doing chores after an afternoon of visiting an uncle, aunt, and cousins. The looks on my parents' faces I remember to this day. I finished eighth grade in our rural school and went on to high school years overshadowed by war. In some ways life went on, but always the specter of war was part of every decision.
News of loved ones leaving for war, deaths, injuries, and missing soldiers came in our newspapers every day. That news and the news reels we saw along with the movies were delayed compared to our instant news today. Movies had war themes, whether serious or entertaining. There was a feeling of fear lurking as our prayers went up, wondering if we were to be overrun by German or Japanese soldiers. That fear remains somewhere in my memory today.
Sundays after church, my father spent the afternoons driving around selling war bonds. He could do this because we were farmers and had enough gas for our car. His work on the farm went on, along with [his participation in] farm organizations, the church, and as chairman of our school board. My parents grew their usual big garden. My mother continued to can vegetables and fruit. I think corn syrup took the place of sugar sometimes because sugar rationing made that a problem. Mother managed to buy enough flour to do her bread baking but complained of the quality sometimes.
Everything at school was done with the war as the background. The older boys knew they were graduating to military service. The year after the war, I started college with the veterans on the GI bill. It put new meaning to the phrase green frock! These people left as boys and returned as a new breed of men.
A Real-life Rosie the Riveter
From Clarice M. Grove
How well Pearl Harbor stays in memory! I was a young farm girl, just married November 20, 1941 —17 days — to a young fellow that had enlisted in the Air Force for one year! He was stationed at McChord Field in western Washington state. We lived in an apartment at Seattle, Washington. He was home for a weekend pass. We heard the news early Sunday morning, and he went back to the camp immediately — ALL LEAVES CANCELED.
A couple weeks later, I was hired and went to work at Plant 2 in South Seattle in the machine shop, on the Burr Bench. Two days later, I was moved to a "milling machine," and before the week was over, I got moved to a large electric lathe, making "nuts and bolts." I did that for over three years.
My husband Irl was getting his training and preparing for overseas service. Soon he left for the European Theatre of Operations with the 9th Air Force and spent over three years there during that horrible war. Five years passed before his discharge — a long and lonely time for a young girl away from her family.
I will be 96 on my next birthday. We were married 68 years. He was 93 years old when he died. We lost many relatives and dear friends during that war event. I am still living on the 10 acres we bought and built our home on, still raising Concord grapes, staying as active as I can.
An Arizona Survivor
From Robert Shroyer
My dad, Frank Shroyer, was a plank owner (a member of the original or first crew) on the USS Arizona. His brother-in-law, my mom's brother, Eldon Reifert, was on the Arizona when it was bombed at Pearl Harbor. Eldon was a radioman who survived the bombing but soon after changed his rating to boatswain mate, as he didn't want to be inside the ship anymore. He retired as a chief boatswain mate after 20+ years.
He and my dad used to say that dad was on the Arizona and put it in commission and Uncle Eldon was on it when it went out of commission."
---
See the art, editorials, and reporting exactly as they were in the weeks before and after the attack on Pearl Harbor in The Saturday Evening Post's special collector's edition commemorating the 75th anniversary of the attack. Order your copy today at shopthepost.com.
If you would like to share your memories or family stories about how life changed after December 7, 1941, we would love to hear from you. Click here to find out how.
---
Run for the Hills!
From Sam Parnes
I am now 83 years old, was 8 years old "then." My father was stationed at Hickam Field until October 1942. The following is my story I wrote for my family many years ago, a personal, handwritten story to be passed down to children, grandchildren, etc.
"THE JAPS ARE HERE!" this 8-year-old child, who didn't know there was another side of mankind, shouted upon hearing the first blast of the attack on the fleet a few blocks away. My father — a master sergeant in the U.S. Air Corps — was reaching to remove the first waffle from the waffle iron on that Sunday morning, December 7, 1941. We were preparing to eat breakfast.
But how did an 8-year-old child know "The Japs are here!"? I can still hear myself shouting that exclamation, which changed my life, along with millions of others. How did I know? Maybe the fact that we drove to Pearl City on Saturday, December 6, to do our usual thing of buying meat at the Japanese Meat Market and getting our hair cut at the next-door Japanese Barber Shop. Both, along with other Japanese businesses — always open on Saturdays — had been closed. Maybe my father had said something that my paradise-laden mind didn't register … until that first blast the following day.
That first blast was quickly followed by more blasts. The sound of low-flying aircraft joined the noise. We ran out to our front yard.  Our trees were swaying violently because of the low-flying Japanese aircraft. Because of their open cockpits, we could easily see the pilots' faces, their goggles and scarves as they passed by. As "interesting" as that was, we dashed back into our quarters and took positions in an interior hall. We learned later that the Japanese did not intend to bomb or strafe residential areas. Not much comfort would have been gained had we known that, because the early noises had become mixed with the noise of various Navy antiaircraft weapons. Everything fired into the air from the Navy fleet in the nearby harbor had to come down, without discriminating between residential and nonresidential.
My father and mother, on one hand, assured me we would be okay. On the other hand, they were not able to hide their fear from me. For eight years, I had trusted their protectiveness, but now …? They were adults, and they were scared. Why shouldn't I be scared also?
There appeared to be, and it was confirmed later, two waves of aircraft during the almost three hours, with an almost-quiet time between. But realize that when that first wave pretty much stopped, we didn't know a second wave was coming. We thought we had survived, only to have that second wave begin.
I don't recall how we learned it was safe enough — not safe, just safe enough — to make a run for the hills. My father of course couldn't leave the post. Sgt. Elmer and Marie Drier lived around the corner from us. They had one daughter, about my age and two teenage sons. One of the sons drove their car and we quickly arranged for the other son to drive our car (my mother did not drive). We said our frightful goodbyes to the husbands/fathers quickly and drove to the isolation of the mountains.
While we were still on Hickam, we drove past a quickly improvised .30 caliber machine gun emplacement. It appeared to be a bomb crater in which two soldiers had set up their machine gun. As we drove by, one man had ripped his own undershirt off and was using it as compression to stop the bleeding of the other man. Remember: "safe enough, not safe" to try to escape.
Between Hickam and Pearl City, the road is higher in elevation than Pearl Harbor, where the fleet was barely visible because of all the black smoke coming from so many sources. Having that advantage of elevation, we had a good but sorrowful view of the devastation. I have seen that view several times since in magazines or on TV. I can close my eyes and see it today. We proceeded on.
We saw a lineman quickly scampering down a roadside power pole. We then noticed a Japanese plane trailing smoke and in a steep angle — which is what the lineman had seen. The plane crashed. The lineman ran toward the crash, machete in hand. "Not safe, just safe enough."
We eventually arrived at a headquarters, I suppose you would call it, for a pineapple or sugarcane plantation in the mountains, where several other women and children had previously arrived.  Others continued to arrive. It was early afternoon. We did not have radio broadcast, but we did learn from latecomers that Japanese troops had landed on the island. Days — long days — later, we learned that was not true. Rumors!
We were taken by the people at the plantation to some buildings where we would spend the night. Everyone slept on the floor that night. My mother and I had a difference of opinion: I wanted to keep my pocketknife in my shoe next to me on the floor, so it would be easily accessible when the Japs burst through the door. Those Japs, we were told, had invaded the island. My mother thought it would be better for an 8-year-old boy not to pick a fight with several Japanese solders with various weapons.
The next day (maybe two days later?), all the women and children assembled at the plantation, and were taken to civilian families' homes in Honolulu. My father came to visit us on about the second or third day there. Prior to that visit, we didn't know anything about his well-being. He had been notified that we were okay and where we were, but seeing is believing. It was a joyful reunion.
We were allowed to return to Hickam after 10 days, during which the men of the post picked up bodies, body parts, and shell and bomb fragments and otherwise cleaned up the mess. Immediately after arriving at our quarters, I picked up a one-gallon Price Albert Tobacco can full of shrapnel from our front yard. My mother and I walked the three blocks to the harbor where we had enjoyed the tranquility so many times before. We got a close-up look at the twisted, burned remains of once-beautiful Navy ships, including those famous battleships. We saw a man's arm floating in the water.
It was mid-December 1941 by then. I had my issued gas mask and steel helmet, adult size, which I was required to have with me at all times. There was an underground bomb shelter behind our quarters that had been dug during those 10 days. We had occasional drills to run to the bomb shelter. We continued to hear rumors of coming air attacks and even parachute drops. What happened to paradise?
Even with the perceived and rumored dangers, my father managed to arrange for my mother and me to remain with him at Hickam until the last of several dependent-filled ships left. That was March 1942.  We got on the USS Wharton at the dock, said so long (not goodbye, we hoped), and sailed out of Pearl Harbor into the Pacific Ocean. We passed all of those familiar sites we had seen so many times from land: downtown Honolulu, Aloha Tower, the mountains, until Diamond Head eventually disappeared over the stern. What happened to paradise?
The ocean voyage took 16 days. We arrived in San Francisco and were "processed" and placed on a train bound for San Antonio. We were settled at last. My mother enrolled me in a nearby school. I was a curiosity to the students and the teachers, who asked questions about December 7. I had that feeling of being looked at and examined by fellow students and teachers. One very nice teacher gave me the standing permission to leave the classroom to go outside to cry whenever I wanted to. I did, often.
Born on That Day
From Marge Keohane
I was born on the morning of December 7, 1941. While I naturally have no recollection of the event, my mother always told of how with the birth of her two prior children, her hospital stay was 10 days or sometimes more. Because of the attack, new moms were made to get up and out of the hospital as soon as safely possible. This marked the beginning of a new protocol of getting healthy moms home within a few days after childbirth rather than the unsafe, unnecessary, and lengthy stays.
A Different Type of Baby Boom
From Beatrice W. Byrd
Sunday, December 7, 1941, I was a 13-year-old girl studying in my family's living room in Union, Maine. My 36-year-old father, Harold Wentworth, was glued to the radio at the opposite end of the 24-foot room. When President Roosevelt's "day of infamy" speech came on, our hearts froze. Dad had started his own business as a carpenter/contractor a short time before. War meant he could no longer obtain building materials. Needing steady employment to support Mother, myself, and two younger sisters, Vera and Phyllis, he took a job as a casket trimmer in our local casket factory. He also had to register for the draft.
The thought of leaving for war with no son to carry on the family name resulted, two years later, in the arrival of our youngest sister. She was born at home, and I kept my Dad company pacing the floor during her delivery. I never forgot Mother's disappointment that the beautiful baby was not a boy. (My two sisters and I loved Sally!)
Two years later, as I was working in the kitchen for the summer in the town's newest boys' camp, I overheard a telephone call to our cook. At last, I had a brother! Dad promptly named him after himself. Three years later, I was home for Christmas weekend from my first permanent employment, when Mother delivered her final child, and our second brother, whom we three older girls persuaded our Dad to name Joel.
We three older girls adore our younger siblings. Mother declared she'd had to have the boys to keep us from fighting over Sally! I know if it hadn't been for the war, we would never have had our precious younger siblings.
Blackouts and Searchlights
From Kathy Dart
My Nana told me stories of how they listened to FDR on the radio, and how every man in the neighborhood signed up to fight — her two sons, my dad and his brother, both served — and how they had "blackout curtains" (we lived in South Brooklyn, near the Navy Yard), and how they'd see the giant searchlights sweeping the skies at night, looking for enemy planes …
A Family in Service
From Betty Murphy
I was 12 years old. I was listening to the radio when we heard the news. I remember so much of those days. How we saved anything metal to get into the movies; how gas, coffee, shoes, and tires were all rationed. I had a brother in the Navy and two stepbrothers in the service. Six years later, I married a vet who had served in the South Pacific in the Army as an infantryman, received a Purple Heart and other awards. He passed away in 2004 at 83. I have the article about his unit that this magazine published many years ago, the unit known as the Deadeyes, the 96th Infantry. Thanks to all veterans who served and those who are still serving.
Gathered Around in Prayer
From Paul Van der Stelt
That was a terrible Sunday morning and our family gathered around in prayer. We were floored when they said 2,403 had died and 19 ships had either been sunk or damaged. It was 7:55 a.m. And, just as the president announced that day, it was certainly a day that was going to be absolutely remembered in infamy. … If my grandmother could have gotten a hold of the names of those 2,400 people that had died in Pearl Harbor, she would have prayed for every one of them, name by name. (You can listen to the entire interview with Paul Van der Stelt on SoundCloud here.)
Farming Communities Contribute
From Emeral Morrett
I was a farm boy, 10 years old. I had great uncles that served. Our schoolteacher kept us advised and had us do reports on the war. The rationing was not hard for farmers to deal with, except they had to monitor and cut back on gas for car and tractors. Us kids would enjoy the war updates included with the movies we would see on Friday or Saturday nights. I do remember helping dad supply rabbit hides for the war effort — used for gloves and pilot headgear liners, or that was what we were told. I remember bombers flying over towing gliders.
Personal Sacrifices
From Ruth Mcdermott
I was only 5 years old. I remember the president's announcement on our radio. The entire room got quiet. I did not understand it at first. But I soon learned. I remember. The blackout curtains, the air raid wardens patrolling the neighborhood, the searchlights. The ration stamps to buy certain foods — butter, sugar, oil, that is if you could find it in the store. All goods made of metal were collected and melted down and used in the fight for our freedom. These men and women have made the ultimate sacrifice, their lives for our safety and freedom. Let's not let them down. Freedom is ours. This is our country; let's band together and make it safe and free again.
An Unexpected Birthday Present
From Chris Shimer
My dad always called 12/7/1941 his unexpected 20th "birthday present." He was in the kitchen eating fresh-baked cookies his mother made him for his birthday when the radio announced the attack. He enlisted two days later and became a USAAF bombardier.
From the Court to the Battle
From R. Christian Anderson
My stepfather was Raymond D. Bowman, who was a survivor of the Pearl Harbor attack. He was an early member of the survivors association. He was in the Army and was about to play tennis when the planes flew overhead. While wearing his tennis outfit, he was manning a large gun and shooting at planes over the Army base. I heard his Pearl Harbor story many times growing up. At his funeral in 1991, he had mostly Navy buddies present, and a Marine Corps firing squad, recruited at the last minute, gave him the 21-gun salute.
Around the Family Radio
By John Feeley
I heard it on our huge RCA console radio. I was 3 years old. I had five uncles that went to war. All came home. Three in the Navy and two in the Army. On the same radio, we heard about V-E Day and V-J Day and even the death of President Roosevelt. I remember tacking blankets over the windows to keep lights from showing during blackouts. I remember ration stamps and meatless Tuesdays. I remember trying to read letters that the censors made look like lace. I remember hearing my friend tell about him being in the hospital in Pearl and watching his buddies go down with their ship in the Harbor. I remember a family friend who came back from the Pacific wounded by an enemy grenade loaded with Gillette razor parts. I remember going to the power company showroom for a rally, where entertainers sang patriotic songs. "When Johnny Comes Marching Home Again" had everyone crying.
Yes, I remember Pearl Harbor.
The Interrupted Sermon
From Willa Dean Reynolds
We were nearing the end of morning church services at First Baptist Church, Port Arthur, Texas. The minister was in full voice exhortations when we heard a newsboy outside the open windows calling an Extra. ("Extra, Extra, Read All About It!") The preacher paused midsentence, then continued. An usher went out to buy a paper, walked it to the front to give to the now waiting minister. He announced sadly that Japanese bombs had fallen on Hawaii. (His son was a missionary in the Philippines.) After a lengthy prayer, the congregation was adjourned en masse to listen to the radio. All unattached boys and men were immediately eager to "join up." I was 15.
The Maytag Man
From Frederick Larrison
Our family lived in Newton, Iowa, on the west side of town. My family was my dad, mom, younger brothers, and sister. Dad was working at the Maytag factory in 1941. That year on Sunday, December 7, we were sitting at the dinner table enjoying family time. As we were eating, Dad was listening to WHO radio news. All of a sudden, he exclaimed, "Those dirty bastards!" Mom was taken aback because Dad did not swear around us kids.
We said, "What happened?"
He said the Japs bombed Pearl Harbor and we were at war. He was upset, and Mom started crying. Then they told me what was going on in the world and why we were going to war. I was 5 years old at the time, and I'm 81 now, but I remember the time as if it were yesterday.
Dad was too old to be drafted, and he had a family, so he kept working at Maytag making war supplies instead of washing machines. He was also a volunteer air raid warden and had to check houses to make sure no lights were showing at night. Newton was considered a possible target because of Maytag making war supplies. We had war bond drives in town and collected metal of all kinds, including pots, pans, junk, and even tinfoil. Food and gas were rationed, and the Capitol Theater started showing a lot of war movies. There were a lot of patriotic events held in Newton. It seemed like everyone joined in the war effort.
We were at my grandparents' home in Corydon, Iowa, when the Japs surrendered. There were parades and parties, and we celebrated with a family game of croquet.
On the Move for America
From Pat Howard
I was 5 years old, living in Centralia, Washington, with my parents and two sisters. My dad was 39 years old with three children, a minister at the Baptist church there, and we lived in the parsonage. I was just starting first grade.
We had gone out for ice cream, and dad had the radio on in the car. They announced the attack on Pearl Harbor, and that's when my life changed. The military put out a call for chaplains. My dad resigned his church, moved us to Southern California to be near both of their families, and volunteered for the Army Air Force.
Shortly after that, Mom became pregnant. I don't remember much of the training period or exactly when he actually enlisted. I know he was home for the birth of my sister.
Chaplains were assigned to a troop, and they were moved all over the country for training. Since we did not have a house, Mom followed Dad wherever they sent him. My parents packed bedding, clothes, and cookware in our four-door sedan.
I started in Laurel, Mississippi, where we lived on the third floor of a widow's home. (That's where we learned about discrimination.) After that we moved to Louisiana, where we lived on a pig farm. From there we moved to Tampa, Florida, but were warned not to go to the end of the street because of the alligators! From there we moved briefly to somewhere in West Texas, where we lived in a motel.
Many people would not rent to servicemen and their families because they were afraid they would not get paid (I guess).
From there we moved to Dinuba, California, where my mom's parents lived. She rented a house about a block from them, and Dad went to the Hawaiian Islands. He was there for a couple of years and then was transferred to the Gilbert Islands until the end of the war.
After the signing of the peace treaty, he was sent to Japan for a period of time before being released from the service. He chose to go in the Air Force when the Air Force split from the Army.
The war impacted my life somewhat because of the constant moving and making new friends, only to be uprooted again. However, if that had not happened, I would not have met my husband during my senior year of high school.
A Pacific Feast
From Phil Gioia
My uncle was a crewmember on destroyer Shaw at Pearl Harbor. The entire front of the ship was blown off in the attack. Rebuilt, Shaw sailed again in 1942. He served on her all through the Pacific. In mid-1945, he was transferred to the battleship Missouri as a replacement, where he witnessed the Japanese surrender.
When I returned from my second tour in Vietnam I asked him about all those incredible experiences. His only reply was. "The chow was much better on the battleship."
That World War II generation was a different species.
Evacuation from Puerto Rico
From Jean Lawson
My dad was already in the Navy, stationed in Puerto Rico on Dec 7, 1941.
Mother and my three older siblings were sent home in January, the ship full of military spouses and children while navigating the U.S. coastal waters with German submarines all around. Their captain said that if any other ship in the area were torpedoed, he would not be able to stop to render help as his mission was to get the wives and kids to New York.
Dad, of course, was gone the next four years. I was born in 1946 about 10 months after his return. So I suppose if not for the attack on Pearl Harbor and the resulting war, I probably would never have existed.
I suppose that goes for most of the rest of us baby boomers — and the changes we created would take a much different direction.
The Day That Changed Everything
From Gerald Burke
There aren't many of us left who were living that day, but I am, and I remember it well. Franklin D. Roosevelt, president of the United States, called it in a radio speech the next day, "… a day that will live in infamy."
Years later, my son-in-law asked me how my life would have progressed had Pearl Harbor not occurred, and I had to say I did not know. He had wondered if he would have ever met my daughter, a child not yet born.
But on that December 7, I knew that very soon I would be a member of the United States Armed Forces. It was a time that took some four years of my life, a time that probably changed my life forever. It hurried my marriage to the girl I loved, it ended my hopes of continuing in college, where I was studying journalism, and it moved me from the state of Idaho to California, then to North Carolina, then back to California, then to Oklahoma, then to England, France, and Germany.
In Germany, serving, with the rank of First Lieutenant, in a Combat Engineer Battalion, I defused booby traps and bombs, helped clear mine fields. And I did recon of roads, streets, routes through villages and towns, to serve forward-moving troops, then later to ease traffic coming west, traffic that included returning troops, and thousands of displaced people, liberated by the advancing allies.
Eventually WWII ended and I came home to the wife I left behind me. I searched for a job, and there were millions of us in the search, but I did find employment. The girl I married presented me with a son, and then a daughter (the one my son-in-law wondered about), then another daughter and two more sons.
But I will never forget that chilling day, December 7, 1941, when Pearl Harbor was bombed.
Order your copy of The Saturday Evening Post's Pearl Harbor special collector's edition, featuring articles, editorials, eyewitness accounts, photos, and art from the Post archive at shopthepost.com.
Become a Saturday Evening Post member and enjoy unlimited access. Subscribe now