When Eugene Field died in 1895 at age 45, fellow authors and friends hastened to share their fond memories of the humorist and poet. He was a hilarious prankster and a heavy drinker with an impressive book collection, but, most of all, he was a loyal friend.
Field was born 170 years ago on September 2, 1850, although he reportedly told people his birthday was September 3rd if they were late to wish him a happy birthday, just so they wouldn't feel too bad about it.
Even though more than 30 elementary schools around the country have been named after the prolific writer, his literary renown has scarcely held up to the household-name status he enjoyed during his life. As a poet, he crafted the most popular children's poems and lullabies of the era, including "Little Boy Blue," "Wynken, Blynken, and Nod," and "The Sugar-Plum Tree," all of which were published in this magazine or its affiliated children's magazines. As a newspaperman, Field garnered a national following for his witty columns documenting people and the arts, first in Missouri, then in Denver, and finally at the Chicago Daily News.
His column "Sharps and Flats" ran in the latter paper six days a week for the last 12 years of his life. By at least one account, he was the most popular columnist in the country during that time. Of a young Rudyard Kipling, Field wrote that "he has been flattered to an amazing degree since he woke up one morning and found himself famous" and that "there may be … twenty newspaper reporters in New York City capable of doing as good work as Mr. Kipling has done; at the same time, they have not done it and Mr. Kipling has." Field gushed over a World's Fair exhibit on Hans Christian Andersen, writing of "that dear heart which beat in unison with the simplicity, the truth, the candor, the enthusiasm, the wisdom, and the pathos of childhood!"
Field was also known for his scathing and sardonic quips on politicians of the day. In 1883, he wrote, "Grover Cleveland seems to have suddenly and completely dropped out of sight. Perhaps he is rehearsing Santa Claus for a Sunday-school celebration next Christmas. These politicians are queer people." Writing for the Denver Tribune, he offered whimsical advice for all children aspiring to go into politics: "If you neglect your education and learn to chew plug tobacco, maybe you will be a statesman some time. Some statesmen go to Congress and some go to jail. But it is the same thing, after all." One can imagine that Field would have found no shortage of bon mots to pen on the Progressive Era of American politics, had he lived to see it.
A few years after his death, Francis Wilson memorialized the writer in a biography published in this magazine as "The Eugene Field I Knew," writing, "Field's mind and heart were wide open to the sunshine of humor and the joy of laughter." Sometimes this candidness expressed itself in wild antics, as when Field reportedly pranked a posh Thanksgiving dinner party by exploding the turkey with a firecracker: "He wasn't invited back."
Field's close friend George H. Yenowine wrote for the Post several years later on "The Serious Side of Eugene Field," claiming he had received the former's last written letter. Yenowine noted that Field wrote his correspondence in six different colors of ink, depending on the tone of a given letter. He was also known to spend hours embellishing the margins with drawings and designs. In his letter to Yenowine two days before his death, Field went on excitedly about many projects he was looking forward to, before finishing the missive with a characteristic confession: "Irving Way has been wanting me to do the preface to the volume of Anne Bradstreet's poems which the Duodecimo will publish; but Anne is a tough, uncongenial old bird, and I hesitate to tackle her. I suppose that one is justified in putting off a task he feels he cannot do well."
Although Field's prominence in the American literary canon has waned, his influential effect on humorists into the 20th century, such as John T. McCutcheon, Mark Twain, and even — tangentially — Molly Ivins, is undeniable. Don Marquis professed that he read "Sharps and Flats" every day. In his 2001 biography, Eugene Field and His Age, author Lewis O. Saum claims that Field created the newspaper column, and yet much of the writer's work from the Chicago Daily News was lost forever: "We knew him very well for something like a half-century. Then, recalling little other than something labeled 'calamitously sentimental,' we averted our gaze."
Field's irreverent approach to constructing the record of the day can be remembered as a quaint, but formative, addition to the uniquely American voice; the oversized role he played in holding a mirror to the country and its politics at such a precarious time as the late 19th century has received a fraction of the attention it deserves.
Featured image: Buffalo Evening News, December 3, 1895
In 1906, the prominent psychologist James McKeen Cattell published the first American Men of Science: A Biographical Directory. The 364-page publication strove to be "a fairly complete survey of the scientific activity of a country at a given period" by listing more than 4,000 men who'd contributed to "natural and exact sciences." But the names listed in his directory aren't all men. There are a handful of women in the book, and among them is Alice Hamilton. Today is the 150th anniversary of her birth.
Hamilton is included because of her work with "pathology and embryology of the nervous system; development of elastic tissue; tumors; tuberculous ulcers of stomach" and other specific medical research, but that only tells part of her story. As a researcher, activist, and humanitarian, Hamilton championed safer conditions in industrial workplaces and became the most important American advocate of what is known as occupational medicine.
Hamilton earned her medical degree from the University of Michigan in 1893 and furthered her studies in Minneapolis, Boston, Munich, and, finally, Johns Hopkins Medical School in Baltimore. In 1897, she began teaching pathology at Northwestern University's Women's Medical School in Chicago.
While in Chicago, Hamilton took residence at the famous Hull House, Jane Addams' settlement house that welcomed immigrants, particularly women and children. She joined Addams as well as other social reformers like Florence Kelley, Julia Lathrop, and Alzina Stevens. Hamilton ran the house's "well-baby clinic," but she noted in her autobiography that conversations and camaraderie with the other women of the house shaped her work for the rest of her life. The women of Hull House were influential in promoting a minimum wage, fighting against child labor, and demanding social welfare at the turn of the century. Another important characteristic of Hamilton's time at the house was her proximity to the working class of Chicago, where she began to help people beyond the confines of her distinguished medical training. She wrote of the changes she underwent during her 22-year stint at the Hull House:
"Life in a settlement does several things to you. Among others, it teaches you that education and culture have little to do with real wisdom, the wisdom that comes from life experience. You can never, thereafter, hear people speak of the 'masses,' the 'ignorant voters,' without feeling that if it were put up to you whether you would trust the fate of the country to 'the classes' or to 'the masses,' you would decide for the latter."
Around 1910, Hamilton began to research the possibility of "industrial disease" in the U.S. While worksite accidents received some attention, she believed the dangers of various chemicals used in American plants and factories were going seriously underreported. Hamilton saw that European medical journals were brimming with research about industrial poisoning, while the U.S. had nothing to say about chemical dangers for workers.
From 1911-1920, Hamilton worked as a special investigator for the Bureau of Labor Statistics. She traveled from factory to factory, interviewing owners and managers in a sweeping, but informal, survey. Although she had little authority to assert herself, Hamilton credited American manufacturers for their openness in giving her tours. It wasn't sufficient, however. She decided that, to get a more complete picture of the problems caused by white lead and lead oxide, she needed to go straight to the workers. Hamilton tracked down hospital records, interviewed workers who could scarcely speak English, and connected the dots of their health problems to lay the groundwork for sweeping reforms.
She went on to conduct similar studies for various arms of the government around the country, proving the risks involved with carbon monoxide, phosphorus, benzene, and many other chemicals used in myriad industries. Although she thought highly of many individual American industrialists, Hamilton maintained a deep distrust of the businessmen's ability to self-regulate: "Perhaps it is our instinctive American lawlessness that prompts us to oppose all legal control, even when we are willing to do of our own accord what the law requires. But I believe it is more the survival in American industry of the feudalistic spirit, for democracy has never yet really penetrated into many of our greatest industries."
In 1919, Hamilton was appointed as the first female professor at Harvard University, causing headlines around the country. She admitted that her breakthrough was long overdue, but, throughout her career, Hamilton expressed a belief that her gender helped her cause instead of hindering it. In speaking with factory managers and doctors, she said it likely seemed sensible that a woman would care for the welfare of workers: "It seemed natural and right that a woman should put the care of the producing workman ahead of the value of the thing he was producing; in a man it would have been sentimentality or radicalism."
As a scientist, social welfare advocate, and pacifist, Hamilton remained active for the rest of her life. She lived to be 101 years old. Three months after her death, in 1970, the Occupational Safety and Health Act was passed in the U.S. The next year, the journal American Men of Science was changed to American Men and Women of Science.
Sources:
https://www.pbs.org/newshour/health/celebrating-life-alice-hamilton-founding-mother-occupational-medicine
https://www.sciencehistory.org/historical-profile/alice-hamilton
Exploring the Dangerous Trades: The Autobiography of Alice Hamilton, M.D. by Alice Hamilton, 1942
Image Credit: Library of Congress
Winter's Not Done Yet
I just looked out my window and it's a wet, gray, early March day. I didn't mean for that to rhyme; I just wanted to describe what it looks like outside my window.
I'm actually now in "spring mode," ready to wear lighter clothing and put the shovels away, but winter isn't finished with us quite yet. We just had a nor'easter that gave us a ton of rain and winds and damage to coastal homes, and tonight and tomorrow we're supposed to get hit with another storm. This time more snow will be involved, anywhere between 1 and 12 inches, depending on where you live.
This is what I find funny about weather forecasts now: they have so much information that, in a way, they're less accurate. A typical snowstorm forecast will go something like this:
"The European computer model says we're going to get hammered by this storm, with over a foot of snow. The American model says we're going to get only an inch or two. Then this third model says that we're going to be somewhere in the middle, maybe four to six inches. We're still collecting data, but that's our best guess right now. Back to you, Ed."
That's a great forecast. I could have told you the same thing sitting on my couch in my sweatpants. But they used the word computer and showed a lot of Doppler radar images, so I guess we better pay attention to it.
People … People Who Need Cloned Dogs
I love dogs more than I love some people I know, but I'm not sure I could ever do this. Barbra Streisand cloned her dog. She wrote about it for The New York Times.
Streisand had her dog Samantha for 14 years, and just before the dog died, the vet scraped the inside of her cheek to get her DNA. The singer has a friend who did the same thing with his dog, and she wanted to try it to see if it would work. And it certainly did. It produced five puppies, three of which she kept and two she gave away.
It's a little too sci-fi for me. I have this vision of an army of cloned little dogs taking over the planet. But I'm happy that Streisand is happy.
By the way, for the title of this section, I almost went with "Send in the Clones."
Chiweenie
Every year I like to point out new words that are added to the various print and online dictionaries, even if sometimes they aren't words at all. The Merriam-Webster Dictionary is my favorite. I just bought a brand new one because my old one vanished somehow, and it's perfect timing, because this past week they announced some words that were added to the classic tome. And when I say "some" words, I mean 850.
Some of the new words and phrases include wordie (a lover of words), chiweenie (a cross between a Chihuahua and a dachshund, even if they're not cloned), hate-watch (where you watch a movie or TV show even though you know it's bad), and dumpster fire (which is defined as "a disastrous event," though I've seen it used to mean a series of disastrous events, or just an overall definition of how things are going).
They're also now including mansplain, but to be honest, I'm a little afraid to tell you what that is.
Mister Rogers' Neighborhood at 50
To celebrate the 50th anniversary of Mister Rogers' Neighborhood, PBS is airing a special this week titled It's You I Like. It focuses on what Fred Rogers and the show meant to various people, including John Lithgow, Whoopi Goldberg, and Yo-Yo Ma. It's hosted by Michael Keaton, who got his start in pictures as a crew member on the show. Here's a preview:
The Razzies
Everyone knew who was going to win the Best This and That at the Oscars this year — the results were fairly predictable — but who won the awards for the Worst of the Year? The Golden Raspberry Awards, or Razzies, are held the day before the Oscars every year, and this year's list of "winners" includes Tom Cruise for Worst Actor (The Mummy) and Tyler Perry for Worst Actress (Boo 2! A Madea Halloween), and The Emoji Movie was named The Worst Movie of the Year. Other people who won Razzies include Mel Gibson and Kim Basinger.
Oddly, the winners didn't show up to accept their awards.
RIP Roger Bannister and David Ogden Stiers
Roger Bannister was the first person to break the four-minute mile, which he did on May 6, 1954. He later had a career as a neurologist. He died Saturday at the age of 88.
David Ogden Stiers was an actor best known for his role as Major Charles Emerson Winchester on M*A*S*H and for voice work in many animated films. He died Saturday at the age of 75.
Quote of the Week
"Now there are so many young people, and all my old friends are dead. They have either drunk themselves to death or they have naturally popped off the vine."
—actor Christopher Plummer, on how the Oscars have changed
The Best and the Worst
Best: I'm cheating a little because this isn't from this week, but I didn't see it until this week, so it still counts, right? It's a letter that New Yorker writer Alexander Woollcott sent to Ira Gershwin, and is now posted at Argosy Books in New York City. My favorite part is where he manages to tell Gershwin that he hopes he fries in hell, but still signs it "affectionately."
Letter from Alexander Woollcott to Ira Gershwin, on display outside the Argosy Bookstore, New York. pic.twitter.com/wmtC2LGeP9

— southpaw (@nycsouthpaw) February 20, 2018
Worst: Just one last thing about the Oscars. Every year they have an "In Memoriam" segment, aka the "What People Are They Going to Leave Out This Year?" segment. Sure, it's hard to pare down hundreds of people into a few dozen, but they're making a decision about who to include and who not to include. This year they left out John Mahoney, Tobe Hooper, Powers Boothe, Dorothy Malone (who actually won an Oscar!), Adam West, John Gavin, Dina Merrill, Michael Parks, Jean Porter, Richard Anderson, Anne Jeffreys, and Michael Nyqvist, among many others — but they included people like a hairstylist and a public relations guy. I'm sure they were lovely people, but don't tell me you don't have time to include Rose Marie, a woman who was in the movies and television for 90 years, if you are going to include people movie fans have never heard of before.
This Week in History
Alexander Graham Bell Born (March 3, 1847)
The man who invented the telephone in 1876 would often greet people with a "Whoo-hoo!" when talking to them on the phone. Today, he'd probably just text an emoji. Here's a Post piece from 1900 on how to use the telephone, and here's Ron Carlson's essay on why he wants the landline to stick around forever.
Barbie Introduced (March 9, 1959)
Next year will mark the 60th anniversary of everyone's favorite doll. This month, Mattel is releasing new dolls to honor Amelia Earhart, Frida Kahlo, and other inspiring women.
This Week in Saturday Evening Post History: Freedom from Want (March 6, 1943)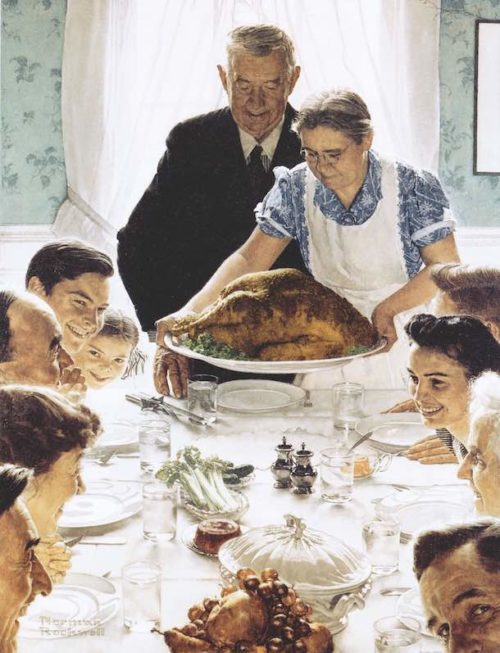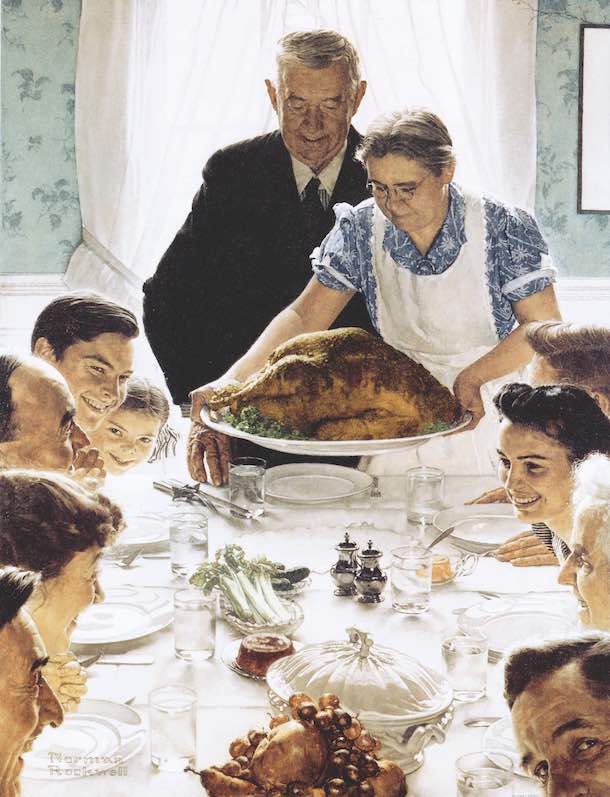 The Post asked four writers to craft essays to accompany Norman Rockwell's Four Freedoms paintings. Poet Carlos Bulosan contributed the essay for Freedom from Want.
The painting has to be one of the most parodied in history, with everyone from The Simpsons, superheroes, and the cast of Modern Family replacing the original family.
March Is National Celery Month
I think we can all agree there isn't a more exciting food than celery! It's light green! It's mostly water! It doesn't have a lot of flavor! Did I mention it's mostly water?!
Okay, no matter how many exclamation points I use, I can't get you pumped up for celery, but I happen to really love it (and not just with peanut butter spread on it). Here's a recipe for Easy Homemade Chicken Salad from Genius Kitchen, which sounds good, though I think they might be overdoing it with the mustard, green peppers, and hard-boiled eggs. Here's a simpler recipe from the same site.
I've noticed a lot of recipes include water chestnuts, but I wouldn't go that route either. I do like white pepper in mine and maybe even some grapes. Yes, grapes.
Next Week's Holidays and Events
Daylight Saving Time begins (March 11)
I hear there are people who like it when it stays light until 8 or 9 p.m. I'm not one of those people, but I know they exist. Set your clocks an hour ahead before you go to bed.
National Girl Scout Day (March 12)
How can you celebrate the day if you're not a Girl Scout yourself? By purchasing some cookies, of course. I like the Samoas, which apparently are now called Caramel deLites.
Falls are one of life's great overlooked perils. We fear terror attacks, shark bites, Ebola outbreaks, and other minutely remote dangers, yet over 646,000 people die worldwide each year after falling. Falls are the second leading cause of death by injury, after car accidents. In the United States, falls cause 32,000 fatalities a year (more than four times the number caused by drowning and fires combined). Nearly three times as many people die in the U.S. after falling as are murdered by firearms.
Falls are even more significant as a cause of injury. More patients go to emergency rooms in the U.S. after falling than from any other form of mishap, according to the Centers for Disease Control and Prevention (CDC), more than twice the number injured by car accidents. The cost is enormous. As well as taking up more than a third of ER budgets, fall-related injuries often lead to expensive personal injury claims. In one case in an Irish supermarket, a woman was awarded 1.4 million euros [approximately $1.6 million] compensation when she slipped on grapes inside the store.
It makes sense that falls dwarf most other hazards. To be shot or get in a car accident, you first need to be in the vicinity of a gun or a car. But falls can happen anywhere at any time to anyone.
The most dangerous spots for falls are not rooftops or cliffs, but the low-level interior settings of everyday life: shower stalls, supermarket aisles, and stairways. Any fall, even a tumble out of bed, can change life profoundly, taking someone from robust health to grave disability in less than one second.
Falling can cause bone fractures and, occasionally, injuries to internal organs, the brain, and the spinal cord. "Anybody can fall," says Elliot J. Roth, co-medical director of the patient recovery unit at the Shirley Ryan AbilityLab in Chicago. "And most of the traumatic brain injury patients and spinal cord injury patients we see had no previous disability."
There is no Journal of Falls, though research into falling, gait, and balance has increased tremendously over the past two decades. Advances in technology improve our understanding of how and why people fall, offer possibilities to mitigate the severity of falls, and improve medicine's ability to treat those who have hurt themselves falling.
Scientists are now encouraging people to learn how to fall to minimize injury — to view falling not so much as an unexpected hazard to be avoided but as an inevitability to be prepared for.
You can trip or slip when walking, but someone standing stock still can fall too — because of a loss of consciousness, vertigo, or something supposedly solid giving way. However it happens, gravity takes hold and a brief violent drama begins. And like any drama, every fall has a beginning, middle, and end.
"We can think of falls as having three stages: initiation, descent, and impact," says Stephen Robinovitch, a professor in the School of Engineering Science and the Department of Biomedical Physiology and Kinesiology at Simon Fraser University in British Columbia, Canada. "Most research in the area of falls relates to 'balance maintenance' — how we perform activities such as stand- ing, walking, and transferring without losing balance."
Fall injuries are the leading cause of death by injury in people over 60.
By transferring, he means changing from one state to another: from walking to stopping, from lying in a bed to standing, or from standing to sitting in a chair. "We have found that falls among older adults in long-term care are just as likely to occur during standing and transferring as during walking," says Robinovitch, who installed cameras in a pair of Canadian nursing homes and closely analyzed 227 falls over three years.
Only 3 percent were due to slips and 21 percent due to trips, compared to 41 percent caused by incorrect weight shifting — excessive sway during standing or missteps during walking. For instance, an elderly woman with a walker turns her upper body, and it moves forward while her feet remain planted. She topples over due to "freezing," a common symptom of Parkinson's experienced regularly by about half of those with the disease.
In general, elderly people are particularly prone to falls because they are more likely to have illnesses that affect their cognition, coordination, agility, and strength. "Almost anything that goes wrong with your brain or your muscles or joints is going to affect your balance," says Fay Horak, professor of neurology at Oregon Health & Science University.
Fall injuries are the leading cause of death by injury in people over 60, Horak says. Every year, about 30 percent of those 65 and older living in senior residences have a fall, and when they get older than 80, that number rises to 50 percent. A third of those falls lead to injury, according to the CDC, with 5 percent resulting in serious injury. It gets expensive. In 2012, the average hospitalization cost after a fall was $34,000.
How you prepare for the possibility of falling, what you do when falling, what you hit after falling — all determine whether and how severely you are hurt. And what condition you are in is key. A Yale School of Medicine study of 754 over-70s, published in the Journal of the American Medical Association in 2013, found that the more serious a disability you have beforehand, the more likely you will be severely hurt by a fall. Even what you eat is a factor: A study of more than 12,000 elderly French people in 2015 found a connection between poor nutrition and falling or being hurt in falls.
"Over one-half of older adults who fall are unable to rise independently, and are at risk for a 'long lie' after a fall, especially if they live alone, which can greatly increase the clinical consequences of the falls," Robinovitch says. He and his colleagues are working to develop wearable sensor systems that detect falls with high accuracy, as well as providing information on their causes, and on near-falls.
Not that a device needs to be high-tech to mitigate falls. Wrestlers use mats because they expect to fall; running backs wear pads. Given that a person over 70 is three times as likely to experience a fatal fall as someone younger, why don't elderly people generally use either?
The potential benefit of cushioning is certainly there. e CDC estimates that $31 billion a year is spent on medical care for over-65s injured in falls — $10 billion for hip fractures alone (90 percent of which are due to falls). Studies show that such pads reduce the harmful effects of falling.
But older people have all the vanity, inhibition, forget fulness, wishful thinking, and lack of caution that younger people have, and won't wear pads. More are carrying canes and using walkers than before, but many more who could benefit shun them because, to them, canes and walkers imply infirmity. This sets up another vicious cycle related to falling: Fearing the appearance of disability, some elderly people refuse to use canes, thereby increasing their chances of falling and becoming disabled.
One unexpected piece of anti-fall technology is the hearing aid. While the inner ear's vestibular system is maintaining balance, sound itself also seems to have a role.
"We definitely found that individuals with hearing loss had more dificulty with balance and gait and showed significant improvement when they had a hearing aid," says Linda Thibodeau, a professor at the University of Texas at Dallas's Advanced Hearing Research Center, summarizing a recent pilot study. "Most people don't know about this."
Thibodeau says one reason it's important to establish this link is that insurance companies don't typically cover hearing aids, because they are seen as improving lifestyle more than sustaining basic health. Hearing aids can be expensive — up to $4,000 each — but a broken hip, which insurance companies do cover, can cost 5 or 10 times that figure or more and lead to profound disability or death.
Nearly half of people in their 70s have hearing loss but typically wait 10 to 20 years beyond the time when they could first benefit before they seek treatment. If the connection to balance and falls were better known, that delay might be reduced.
Given the tremendous cost of falls to individuals and society, and the increasing knowledge of how and why falls occur, what can you do to prevent them? And can you do anything to lessen harm in the split second after you start to fall?
1. Prepare Your Environment
Secure loose rugs or get rid of them. Make sure the tops and bottoms of stairs are lit. Clean up spills immediately. Install safety bars in showers and put down traction strips, and treat slick surfaces such as smooth marble floors with anti-slip coatings. If there's ice outside your home, clear it and put down salt.
2. Fall-Proof Your Routine
Watch where you are going. Don't walk while reading or using your phone. Always hold handrails — most people using stairways do not. Don't have your hands in your pockets, as this reduces your ability to regain your balance when you stumble. Remember that your balance can be thrown off by a heavy suitcase, backpack, or bag.
Roth asks most of his patients who have fallen to describe in detail what happened. "Sometimes people are not paying attention. Multitasking is a myth, and people should try very hard to avoid multitasking. No texting while walking."
3. Improve Your Gear
Wear good shoes with treads. On ice, wear cleats — you can buy inexpensive soles with metal studs that slip over your shoes. Do not wear high heels, or at least have a second pair of flat shoes for walking between locations. Get a hearing aid if you need one. Wear a helmet when bicycling, skiing, and skateboarding. Use a cane or walker if required. Hike with a walking stick.
4. Prepare Your Body
Lower body strength is important for recovering from slips, upper body strength for surviving falls. Martial arts training can help you learn how to fall. Drugs and alcohol are obviously a factor in falls — more than half of adult falls are associated with alcohol use — as is sleep apnea. Get a balanced diet to support bone density and muscle strength. If you feel light-headed or faint, sit down immediately. Don't worry about the social graces; you can get back up once you've established you are not going to lose consciousness.
Understandably, some elderly people fear falling so much that they don't even want to contemplate it. "People should know they could improve their balance with practice, even if they have a neurological problem," Horak says.
5. Fall the Right Way
What happens once you are falling? Scientists studying falling are developing "safe landing responses" to help limit the damage from falls. If you are falling, first protect your head — 37 percent of falls by elderly people in a study by Robinovitch and colleagues involved hitting their heads, particularly during falls forward. Fight trainers and parachute jump coaches encourage people to try not to fall straight forward or backward. The key is to roll, and try to let the fleshy side parts of your body absorb the impact.
"You want to reach back for the floor with your hands," says Chuck Coyl, a theatrical fight director out of Chicago, describing how he tells actors to fall on stage. "Distribute the weight on the calf, thigh, into the glutes, rolling on the outside of your leg as opposed to falling straight back."
Young people break their wrists because they shoot their hands out quickly when falling. Older people break their hips because they don't get their hands out quickly enough. You'd much rather break a wrist than a hip.
Neil Steinberg is a columnist on staff at the Chicago Sun-Times. He has written for Esquire, Rolling Stone, Forbes, The Washington Post, and many other publications.
This article is featured in the January/February 2018 issue of The Saturday Evening Post. Subscribe to the magazine for more art, inspiring stories, fiction, humor, and features from our archives.
Adapted from the original article first published by Wellcome on Mosaic and is republished here under a Creative Commons license.
Hans Zimmer is one of Hollywood's most successful and innovative composers, with soundtracks for over 150 films ranging from Driving Miss Daisy to Gladiator to the current Oscar frontrunner, Dunkirk. Zimmer's original score for The Lion King earned him an Academy Award; he's been nominated for eight more.
The celebrated musician fought past his life-long stage fright to give a show-stopping performance on last year's Grammy Awards, providing guitar riffs for Pharrell Williams. That inspired a world tour, giving enthusiastic audiences live performances of the powerful musical moments they first experienced in a dark theater. He was a surprise hit at Coachella alongside mega-stars like Kendrick Lamar and Lady Gaga.
Since he was a kid, Zimmer just wanted to make music. "My father died when I was really young, so growing up, music was a refuge for me," he remembers.
"Then when you become a teenager, it turns into a completely different thing. It becomes — how am I going to say this politely? – when it comes to girls, it's better than talking to them."
Jeanne Wolf: Now that your live show is a hit, can I finally call you a rock star?
Hans Zimmer: I don't think I'm a rock star but it is exciting to go out there and play in front of people instead of hiding behind a movie screen. I have a feeling that it might have made me a better composer, because I was actually able to feel the audience in real time rather than what we do making movies, where we're basically guessing. We're hoping that the soundtrack we're creating is going to resonate and add to the experience for people in a theater. As soon as I finish a movie, I forget everything that I've written. I have to forget, because otherwise you don't make room for the new ideas. So when we are playing the old soundtracks every night on tour, we are reinventing and sort of improving them. That's a luxury you don't have when you're making a film.
JW: There has been a remarkable reaction to your compositions for the movie Dunkirk. The suspense-driving track is so unique that it's hard to describe. Where did that come from?
HZ: Usually I start out by writing a tune, but there's no melody in the Dunkirk soundtrack. The whole idea was how do we keep the tension going? How do we play with the concept that time is running out? Everything had to live up to that. For months I would go to sleep, and I would start dreaming the scenes, and then I would wake up and go back to the studio. I never had any reprieve from it. When I actually went on the Dunkirk location, the weather had turned really nasty. I was on that beach, and it was unbearably cold. Sand was blowing at you from every direction, the poor actors were standing there in the freezing wind, and there's [director] Chris Nolan charging down the beach. So when I was composing, I felt Chris' hand on my hand like he was pressing the keys down with me. I really tried as much as possible to make it his score.
JW: With all you've done, I always love your enthusiasm.
HZ: The operative word in music is play. The thing that we really carry over from our childhood is that sense of playfulness. I think all that happens is we try to get very serious about being very playful. The hours we keep are absurd. I'm forever begging forgiveness of my children for not being around, but on the other hand, they love being in my studio. I think what my kids have seen through their whole childhood watching me work is people being passionate about what they're doing and having fun, having a sense of humor about a catastrophe (which isn't really a catastrophe). Making movies, there's never enough time, never enough money, it's raining on the day you need sunshine, and it's sunny on the day you're trying to shoot a rain scene. I sort of make it my job in a funny way to remind the filmmakers what the original dream was and enhance it. I think about what made every body try to do the impossible.
JW: I have interviewed a lot of rock stars, and they talk about that high when you connect with the audience. Did you experience that kind of connection?
HZ: Constantly, constantly. Yes, absolutely. I mean, I really felt that the audience was hungry to have a different experience, and we managed to give them that. They had a sort of idea what it would be like, but to be honest, no one has ever done it this way, so the element of surprise was really nice, and the element of surprise for me was really nice. Just how open they were and how welcoming they were. I asked everybody for advice before this, and people kept saying that the attention span of young people is really bad these days, and you have to play short pieces. I don't know. "Pirates" is 14 minutes long. "The Dark Knight" thing is 22 minutes long. These aren't short pieces, and the audience really stuck with it. The audience loved that we would take them on a journey and take them back into the world.
JW: How great was that? You are still so excited about what you do. I love your participation. Could you describe what drives you now?
HZ: Yes. Actually what was interesting for this tour was going back. Obviously, I had to go back in time and look at all of the pieces that I've written. The tour was playing the old soundtracks again, and every night we were reinventing and sort of improving them. All of the stuff that you can't do because you have time restrictions. A movie needs to be finished.
JW: And you have to fit to the scene.
HZ: Exactly. So what drives me is basically that I know I can write a better piece of music. I know I'm still learning and figuring it out. Dunkirk was such a learning curve because we really reached through every rule book. It wasn't even about "Let's invent a new way of doing this." It was "Let's invent and then we actually have to learn how to do it." Every day was a day of having no idea of how to get around the next corner.
JW: Listening is a big part of your art. Do you think you're a good listener with the people close to you? Because it's hard to be nowadays.
HZ: I think I try to be a good listener. My children keep telling me that — so that's the greatest compliment that I can get.
JW: That is a great compliment. It means you're hearing me and you understand me.
HZ: Yes, exactly. I suppose you know, partly the reason I have the career I've had is that I listen to my directors. I don't listen when they tell me what to do. I listen to the subtext. I listen to what the —. Look, every movie starts with the same thing. Somebody phones you up and says, "I want to tell you a story," which is already a great start. What a great life — these people telling me stories.
JW: Has there been a director — there must be more than one — whom you butt heads with or think you'll never be able to please?
HZ: Oh totally. Often. Those are the directors that I've worked with more than once. Gore Verbinsky and I would go at each other pretty badly. Terry Malick once said to me, "The way we speak to each other, only brothers can speak to one another that way." I remember I was doing Hannibal, working with Ridley Scott. It was about 11 o'clock on a Sunday night. They had just gotten back from shooting, and we were in the cutting room looking at a shot of Julianne Moore's face with a tear running down her cheek, and I say, "Oh yeah, she's crying because she's in love with him." And Ridley goes, "No. It's a tear of disgust." Then we start arguing about this and it got sort of feisty, and suddenly we're on our feet and we're in each other's faces and I just stepped back and I thought, Wow. This is amazing. It's Sunday night at 11 o'clock and grown men are passionately arguing about what a tear running down a woman's cheek means.
JW: Have you figured out where you got your courage?
HZ: Well, I think from the people who were kind and took me on when I had no career. Stanley Myers, the great film composer who wrote The Deer Hunter, he took me under his wing. One of the first people I ever got to work with. I also learned a lot from George Martin.
JW: Oh! The Beatles man.
HZ: I remember the first time I ever got paid for doing music was for George Martin. Weirdly, I remember the check more than the sessions. It was astonishing after struggling. I can't tell you how many tins of baked beans I ate because it was the only thing I could afford. Somebody was actually paying me to make music.
JW: Wow. How many tins of baked beans did it take to be here?
HZ: Years.
JW: The people don't understand that the memory of that gives you courage, too.
HZ: My daughter asked me once, "Dad, what was it like being a poor artist?" I realized that I'd never thought about it. It never occurred to me that I was a poor artist because everybody around me was in the same boat. That just seemed to be life, and we were making music all day long. I still have really bad eating habits. I usually don't have lunch because I'm in the middle of writing something. Do I live a normal life? No. Look, I'm coming up to my 60th birthday, and I think it has worked out so far.
JW: Yes. Oh, boy, has it. We want a full life, but do we really want what someone else defines as a normal life? No. Not somebody who goes to play Coachella.
HZ: No, and the world is shifting tremendously with technology and stuff like this. So many things which we took for granted that came from the Industrial Revolution — like job security — are just disappearing, and I think at the end of the day the one thing that isn't disappearing is to be an artist. To write poetry, to paint a painting, to write music.
JW: Could you have dreamed that you would be as excited, as turned on, as buzzed about what you do now as you were in the beginning — or more!
HZ: Yes. I don't know why. Well actually, I have to say, and every director knows this about me, I do a little thing where I ask myself when I get up, "What if I was to go to the studio today to make music, and the answer is 'No, we need to find somebody else.'" But it hasn't happened yet. Literally, the last four weeks of the tour we were so tired, but all I was doing was planning the next piece of music and the next adventure. That's just how I'm built, and everybody around me is sort of built that way as well.
An abridged version of this article is featured in the November/December 2017 issue of The Saturday Evening Post. Subscribe to the magazine for more art, inspiring stories, fiction, humor, and features from our archives.
[Editor's note: Arthur Schlesinger Jr.'s "Joe College Is Dead" was first published in the September 21, 1968, edition of the Post. We republish it here as part of our 50th anniversary commemoration of the Summer of Love. Scroll to the bottom to see this story as it appeared in the magazine.]
Throughout our history, our sons and daughters have been the bearers of our aspirations, commissioned by birth to fulfill our dreams. Today, more than ever before in any country, the indispensable climax of the children's preparation — and the parents' hope — is college. "Going to college" is now considered the key to life — the key not only to intellectual training but to social status and economic success.
The United States today has nearly 6 million college students — 46 percent of all young people from 18 to 21. By 1970 we are expected to have 7.5 million — which means that our student population will have more than doubled in the single decade of the '60s. Yet, the more college students we have, the more baffling they seem to become. For years, adults saw college life in a panorama of reassuring images, derived from their own sentimental memories (or from the movies) — big men on campus, fraternities and sororities, junior proms, goldfish swallowing, panty raids, winning one for the Gipper, tearing down goalposts after the Big Game, homecoming. College represented the "best years of life," a time of innocent frivolity and high jinks regarded by the old with easy indulgence. But the familiar stereotypes don't work anymore. The new undergraduate seems a strange, even a menacing, phenomenon, consumed with mysterious resentments, committed to frenetic agitations.
Many adults look on college students today as spoiled and ungrateful kids who don't know how lucky they are to be born in the greatest country on earth. Even men long identified with liberal views find the new undergraduate, in his extreme manifestations, almost unbearable. The hard-working student, Vice President Hubert Humphrey tells us, "is being replaced on our living-room televisions by the shouter of obscenities and hate." President Nathan M. Pusey of Harvard speaks of "Walter Mittys of the left … [who] play at being revolutionaries and fancy themselves rising to positions of command atop the debris as the structures of society come crashing down." George F. Kennan talks of "banners and epithets and obscenities and virtually meaningless slogans … screaming tantrums and brawling in the streets." Yet the very magnitude of student discontent makes it hard to blame the trouble on individual malcontents and neurotics. A society that produces such an angry reaction among so many of its young people perhaps has some questions to ask itself.
Obviously most of today's students came to college to prepare themselves to earn a living. Most still have the same political and economic views as their parents. Most, until 1968, supported military escalation in Vietnam. Most believe safely in God, law and order, the Republican and Democratic parties, and the capitalist system. Some may even tear down goalposts and swallow goldfish, if only to keep their parents happy.
Yet something sets these students apart from their elders — both in the United States and in much of the developed world. For this college generation has grown up in an era when the rate of social change has been faster than ever before. This constant acceleration in the velocity of history means that lives alter with startling and irresistible rapidity, that inherited ideas and institutions live in constant jeopardy of technological obsolescence. For an older generation, change was still something of a historical abstraction, dramatized in occasional spectacular innovations, like the automobile or the airplane; it was not a daily threat to identity. For our children, it is the vivid, continuous, overpowering fact of everyday life, suffusing every moment with tension and therefore, for the sensitive, intensifying the individual search for identity and meaning. The very indispensability of a college education for success in life compounds the tension; one has only to watch high-school seniors worrying about the fate of their college applications.
Nor does one have to be a devout McLuhanite to accept Marshall McLuhan's emphasis on the fact that this is the first generation to have grown up in the electronic epoch. Television affects our children by its rapid and early communication to them of styles and possibilities of life, as well as by its horrid relish of crime and cruelty. But it affects the young far more fundamentally by creating new modes of perception. What McLuhan has called "the instantaneous world of electric informational media" alters basically the way people perceive their experience. Where print culture gave experience a frame, McLuhan has argued, providing it with a logical sequence and a sense of distance, electronic communication is simultaneous and collective; it "involves all of us all at once." This is why the children of the television age differ more from their parents than their parents differed from their own fathers and mothers. Both older generations, after all, were nurtured in the same typographical culture.
Another factor distinguishes this generation — its affluence. The postwar rise in college enrollment in America, it should be noted, comes not from any dramatic increase in the number of youngsters from poor families but from sweeping in the remaining children of the middle class. And for these sons and daughters of the comfortable, status and affluence are, in the words of student radical leader Tom Hayden, "facts of life, not goals to be striven for." This puts many students in a position to resist economic pressures to buckle down and conform. As another radical has written, "Our minds have been let loose to try to fill up the meaning that used to be filled by economic necessity."
The velocity of history, the electronic revolution, the affluent society — these have given today's college students a distinctive outlook on the world. And a fourth fact must not be forgotten: that this generation has grown up in an age of chronic violence. My generation has been through depressions, crime waves, riots and wars; but for us episodes of violence remain abnormalities. For the young, the environment of violence has become normal. They are the first generation of the nuclear age — the children of Hiroshima. The United States has been at war as long as many of them can remember — and the Vietnam war has been a particularly brutalizing war. Most students have come to feel that the insensate destruction we have wrought in a rural Asian country 10,000 miles away has far outrun any rational assessment of our national interest. Within the United States, moreover, they have lived with the possibility, as long as many of them can remember, of violence provoked by racial injustice. Even casual crime has acquired a new dimension. Some have never known a time when it was safe to walk down the streets of their home city at night. Above all, they have seen the assassinations of three men who embodied the idealism of American life. The impact of this can hardly be overstated. And — let us face it — our national reaction to these horrors has only strengthened their disenchantment: brief remorse followed by business as usual and the National Rifle Association triumphant.
The combination of these factors has given the young both an immediacy of involvement in society and a sense of their individual helplessness in the face of the social juggernaut. The highly organized modern state undermines their feelings of personal identity by threatening to turn them all into interchangeable numbers on IBM cards. Contemporary industrial democracies stifle identity in one way, Communist states in another, but the sense of impotence is all-pervasive among the young. So too, therefore, is the desperate passion to reestablish identity and potency by assaults upon the system.
Such factors have set off the guerrilla warfare of students against the existing structures of society not only in the United States but throughout the developed world. (Student unrest in underdeveloped countries is more predictable and has different sources.) Uprisings at Berkeley and Columbia are paralleled by uprisings at the Sorbonne and Nanterre, in the universities of England and Italy, in Spain and Yugoslavia and Poland, in Brazil and Japan and China. Every country can offer local grievances to detonate local revolts. But these are only the pretexts for the rebellion. They are the visible symbols for what the young perceive as the deeper absurdity and depravity of their societies.
American undergraduates first fixed on racial injustice as the emblem of a corrupt society. But in the last two years, resistance to the draft has provided a main outlet for undergraduate revolt.
Until very recently, most college students supported the war in Vietnam — so long as other young men were fighting it. It used to exasperate Robert Kennedy when he asked college audiences in 1966 and 1967 what they thought we should do in Vietnam — hands waving for escalation — and then asked what they thought of student deferment — the same hands waving for a safe haven for themselves. At last, as the draft began to cut deeper, the colleges began to think about the war; and the more they thought about it, the less sense it made.
No one should underestimate the magnitude of this new anti-draft feeling. In 1968, I have not encountered a single student who still supports military escalation in Vietnam. Not all students who hate the war burn draft cards or flee to Canada. Many — and this may be as courageous a position as that of defiance — feel, after conscientious consideration, that they must respect laws with which they disagree, so long as the means to change these laws remain unimpaired. Yet even they regard with sympathy their friends who choose to resist. One who is himself prepared to go to Vietnam said to me, "Every student wants to avoid the draft. Every student, realizing that the method to this end is very individual, respects any method that works — or attempts that do not."
The anti-draft revolt somewhat diminished this year after President Johnson's March 31st speech, the Paris negotiations and the McCarthy and Kennedy campaigns. But it will resume, and with new ferocity, if the next President intensifies the war. In April, The New York Times carried a four-page advertisement headed: "We, Presidents of Student Government and Editors of campus newspapers at more than 500 American colleges, believe that we should not be forced to fight in the Vietnam war because the Vietnam war is unjust and immoral." In June, a hundred former presidents of college student bodies joined campus editors to declare, "We publicly and collectively express our intention to refuse induction and to aid and support those who decide to refuse. We will not serve in the military as long as the war in Vietnam continues."
However, if we Americans blame the trouble on the campuses just on the war (or, to take another popular theory, on permissive ideas about childrearing), we will not understand the reasons for turbulence. After all, the students of Paris were not rioting against a government that threatened to conscript them for a war in Vietnam; nor are the students of Poland, Spain, and Japan in revolt because their parents were devotees of Dr. Spock. The disquietude goes deeper, and it was well explained by, of all people, Charles de Gaulle. The "anguish of the young," the old general said after his own troubles in June with French students, was "infinitely" natural in the mechanical society, the modern consumer society, because it does not offer them what they need, that is, an ideal, an impetus, a hope, and I think that ideal, that impetus, and that hope, they can and must find in participation.
Not every American student exemplifies this anguish. It appears, for example, more in large colleges than in small, more in good colleges than in bad, more in urban colleges than in rural, more in private and state than in denominational institutions, more in the humanities and social sciences than in the physical and technological sciences, more among bright than among mediocre students. Yet, as anyone who lectures on the college circuit can testify, the anguish has penetrated surprisingly widely — among chemists, engineers, Young Republicans, football players, and into those last strongholds of the received truth, the Catholic and fundamentalist colleges.
How to define this anguish? It begins with the students' profound dislike for the impersonal society that produced them. The world, as it roars down on them, seems about to suppress their individualities and computerize their futures. They call it, if they vaguely accept it, "the rat race," or, if they resist it, "The System" or "The Establishment." They see it as a conspiracy against idealism in society and identity in themselves. An outburst on a recent Public Broadcast Laboratory program conveys the flavor. The System, one student said, hits at me through every single thing it does. It hits at me because it tells me what kind of a person I can be, that I have to wear shoes all the time, which I don't have on right now. … It hits at me in every single way. It tells me what I have to do with my life. It tells me what kind of thoughts I can think. It tells me everything.
Another student added, with rhetorical bravado, "Regardless of what your alternatives are, until you destroy this system, you aren't going to be able to create anything."
The more typical expression of this mood is private and quiet. It takes the form of an unassuming but resolute passion to seize control of one's own future. My generation had the illusion that man made himself through his opportunities (Franklin D. Roosevelt); but this era has imposed on our children the belief that man makes himself through his choices (Jean-Paul Sartre). They now want, with a terrible urgency, to give their own choices transcendental meaning. They have moved beyond the Bohemian self-indulgence of a decade ago — Allen Ginsberg and Jack Kerouac. "We do not feel like a cool swinging generation," a Radcliffe senior said this year in a commencement prayer. "We are eaten up by an intensity that we cannot name. Somehow this year, more than others, we have had to draw lines, to try to find an absolute right with which we could identify ourselves. First in the face of the daily killings and draft calls … then with the assassinations of Martin Luther King and Senator Kennedy."
The contemporary student generation can see nothing better than to act on impulses of truth: "Ici, on sponlane," as a French student wrote on the walls of his college during the Paris insurgency. They are going to tell it, as they say, like it is, to reject the established complacencies and hypocrisies of their inherited existence. One student said to me:
Basically, the concept of this "do your thing" bit, as ludicrous as it sounds, may be the key to the matter. What it means is similar to Mill's On Liberty because it allows anybody to do what he wants to do as long as it does not intrude on anyone else's liberty. Therefore, nobody tries to impose anything on anybody, nor do they not accept a Negro, a hippie, a clubby, etc. I really believe that today we see beyond superficial appearances and thus, in the end, will have a society of very divergent styles, but it will be successfully integrated into a really viable whole. . . . We test out old thoughts and customs and either dispose of them or retain them according to their merits.
Along with this comes an insistence on openness and authenticity in personal relationships. A 1968 graduate — a girl — puts it clearly:
I think in personal conduct people admire the ability to be vulnerable. That takes a certain amount of strength, but it is the only thing which makes honesty and openness possible. It means you say the truth and somehow leave open a part of your way of thinking. Of course, you cannot be vulnerable with everyone or you would destroy yourself — but it is the willingness to be open, not just California-cheerful open, which is almost a mask since it is on all the time, and therefore cannot be truthful. It is a little deeper than that. … It means being strong enough to reveal your weaknesses. This willingness to be vulnerable — and those you are vulnerable with are your friends — coupled with ability to be resilient, to be strong but supple, those are good qualities, because inherent in them are honesty and humor, and the good capacity to love.
This is the ethos of the young — a commitment not to abstract pieties but to concrete and immediate acts of integrity. It leads to a desire to prove oneself by action and participation — whether in the Peace Corps and VISTA or in the trials of everyday existence. The young prefer performance to platitude. The self-serving rhetoric of our society bores and exasperates them, and those who live by this rhetoric — e.g., their parents — lose their respect.
It is understandably difficult for parents, who have worked hard for their children and their communities, to see themselves as smug and hypocritical. But it is also understandable that the children of the '60s should have grown sensitive to the gap between what their parents say their values are and what (as the young see it) their values really are. The gap has been made vivid in the way the land of freedom and equality so long and unthinkingly condemned the Negro to tenth-class citizenship. "It is quite right that the young should talk about us as hypocrites," Judge Charles E. Wyzanski Jr. recently said at Lake Forest College. "We are."
And more often than they know, parents themselves unconsciously reveal to their children a cynicism about the system or a disgust for it. Every father who bewails the tensions of the competitive, acquisitive life, who says he "lives for the weekend," who conveys to his children the sense that his life is unfulfilled — they are all, as Prof. Kenneth Keniston of Yale has put it, "unwittingly engaged in social criticism." Sometimes these frustrated parents find compensation in the rebellion of their young. There is even what one observer has described as the "my son, the revolutionary" reaction of proud parents, like the mother of Mark Rudd, the Columbia student firebrand who emerged in the spring of 1968 as the Che Guevara of Morningside Heights.
Today's students are not generally mad at their parents. Often they regard their father and mother with a certain compassion as victims of the system that they themselves are determined to resist. In many cases — and this is even true of the militant students — they are only applying the values that their parents affirmed; they are not rebelling against their parents' attitudes but extending them. Revolt against parents is no longer a big issue. There is so little to revolt against. Seventy-five years ago parents had unquestioning confidence in a set of rather stern values. They knew what was right and what was wrong. Contemporary parents themselves have been swept along too much by the speed-up of modern life to be sure of anything. They may be square, but they are generally too doubtful and diffident to impose their squareness on their children.
Parents today are not so much intrusive as irrelevant. Mike Nichols caught one student's-eye view of his elders beautifully in The Graduate, with his portrait, so cherished by college students today, of a shy young man freaked out by the surrounding world of towering, braying, pathetic adults. A girl who finished college last June sums it up:
People like their parents as long as their parents do not interfere a whole lot, putting pressure on choice of careers, grades, personal life. … I think freshmen tend to discuss and dislike their parents more than seniors. By then, supposedly, you have some distance on them, and you can afford to be amused or affectionate about them. For instance, if your parents are for Reagan or were for Goldwater, you know the space between you and them on it, and the impossibility of crossing it, so you let them go their imbecilic way and stand back amused. Other people say that they really like their parents. But nobody wants to go back home. For any length of time, it is usually a bad trip.
One student even looks forward to an ultimate "communion of interests" between today's students and their parents, only "with the younger half having gone through more (which may be necessary in this more complicated, difficult, tense, scary world) to get to the same place."
No, the boys and girls of the 1960s, unlike the heroes and heroines of Dreiser, Lewis, Fitzgerald and Wolfe, are not targeted against their parents. Their determination is to reject the set of impersonal institutions — the "structures"— which also victimize their parents. And the most convenient "structure" for them to reject is inevitably the college in which they live. In doing so, they construct plausible academic reasons to justify their rejection — classes too large, professors too inaccessible, curricula too rigid, and so on. One wonders, though, whether educational reform is the real reason for student self-assertion, or just a handy one. One sometimes suspects that the fashionable cry against Clark Kerr's "multiversity" is a pretext, and one doubts whether students today would really prefer to sit on a log with Mark Hopkins.
This does not mean that "student power" is a fake issue. But the students' object is only incidentally educational reform. Their essential purpose is to show the authorities that they exist as human beings and, through a democratization of the colleges, to increase control of their lives. For one of the oddities about the American system is the fact that American higher education, that extraordinary force for the modernization of society, has never modernized itself. Harold Howe II, the federal Commissioner of Education, has pointed out that "professors who live in the realm of higher education and largely control it are boldly reshaping the world outside the campus gates while neglecting to make corresponding changes to the world within." Students cannot understand "why university professors who are responsible for the reach into space, for splitting the atom, and for the interpretation of man's journey on earth seem unable to find the way to make the university pertinent to their lives."
An "academic revolution" has taken place in recent years; but in some senses it has only made the problem worse. As analyzed by David Riesman and Christopher Jencks in their recent book by that name, it involves the increasing domination of undergraduate education by the methods and values of graduate education. Many professors are more concerned with colleagues than with students, thus increasing the undergraduate longing, in the words of Riesman and Jencks, for "a sense that an adult takes them seriously, and indeed that they have some kind of power over adults which at least partially offsets the power adults obviously have over them."
Academic government, in most cases, is strictly autocratic. Some colleges still operate according to rules appropriate to the boys' academies that most of our colleges essentially were in the early 19th century. A Harvard professor, modifying a famous phrase, once described his institution as "a despotism not tempered by the fear of assassination." As a Columbia student recently put it, "American colleges and universities (with a few exceptions, such as Antioch) are about as democratic as Saudi Arabia." The students at Columbia, he adds, were "simply fighting for what Americans fought for two centuries ago — the right to govern themselves."
What does this right imply? At Berkeley students boldly advocated the principle of cogobierno — joint government by students and faculties. This principle has effectively ruined the universities of Latin America, and no sensible person would wish to apply it to the United States. However, many forms of student participation are conceivable short of cogobierno — student membership, for example, on boards of trustees, student control of discipline, housing and other nonacademic matters, student consultation on curriculum and examinations. These student demands may he novel, but they are hardly unreasonable. Yet most college administrations for years have rejected them with about as much consideration as Sukarno, say, would have given to a petition from a crowd of Indonesian peasants.
One can hardly overstate the years of student docility under this traditional and bland academic tyranny. It was only seven years ago that David Riesman, as a professor noting undergraduate complaints about college and society, wrote, "When I ask such students what they have done about these things, they are surprised at the very thought they could do anything. They think I am joking when I suggest that, if things came to the worst, they could picket!" But the careful student generation of the '50s was already passing away. Soon John F. Kennedy, the civil-rights freedom riders, then the Vietnam war, stirred the campuses into new life. Still college presidents and deans ignored the signs of protest. The result inevitably has been to hand the initiative to student extremists, who seek to prove that force is the only way to make complacent administrators and preoccupied professors listen to legitimate grievances. "Our aim," as an Oxford student leader put it, "is to completely democratize the University. We shall look for cases on which we can confront authoritarianism in colleges, faculties, and the University." Or, in the words of Mark Rudd of Columbia: "Our style of politics is to clarify the enemy, to put him up against the wall."
The present spearhead of undergraduate extremism is that strange organization, or nonorganization, called Students for a Democratic Society. S.D.S. began half a dozen years ago as a rather thoughtful movement of student radicals. Its Port Huron statement of June, 1962, a humane and interesting if interminable document, introduced "participatory democracy" — that is, active individual participation "in those social decisions determining the quality and direction of his life" — as the student's solution to contemporary perplexities. In these years S.D.S. performed valuable work in combating discrimination and poverty; and this work generated a remarkable feeling of fellowship among those involved. But the Port Huron statement no longer expresses official SDS policy; and SDS itself has become an excellent example of what Lenin, complaining about left-wing Communism in 1919, called "an infantile disorder."
This is not to suggest that SDS is Communist, even if it contains Maoist and Castroite (or Guevaraite) factions. The basic thrust of SDS is, if anything, syndicalist and anarchistic, though the historical illiteracy of its leadership assures it a most confused and erratic form of anarcho-syndicalism. The anarchistic impulse extends to its organization — the infatuation with decentralization is so great that there is none (the joke is "the Communists can't take over S.D.S. — they can't find it") — as well as to its program. The infatuation with the creative power of immediate action is so great that there is none.
Anarchism, with its unrelenting assault on all forms of authority, is a natural adolescent response to a world of structures. As a French student scribbled on the wall of his university at Nanterre, "L'anarchie, c'est je." But the danger of anarchism has always been that, lacking rational goals, it moves toward nihilism. The strategy of confrontation turns into a strategy of provocation, intended to drive authority into acts of suppression supposed to reveal the "hidden violence" and true nature of society. Confrontation politics requires both an internal sense of infallibility and an external insistence on discipline. Soon the SDS people began to show themselves, as one student put it to me, "exclusionary, self-righteous, and single-minded. I feel that they, along with certain McCarthy people, are the one group that does not think that everybody should do their thing, but rather do the SDS thing." In time SDS virtually rejected participatory democracy. Prof. William Appleman Williams of Wisconsin, whose own historical writing stimulated this generation of student radicals, ended by calling them "the most selfish people I know. They just terrify me. … They say, 'I'm right and you're wrong and you can't talk because you're wrong.'"
In 1967, SDS began to discuss in its workshops how confrontation politics — seizing buildings, taking hostages, and so on — could be used to bring down a great university and selected Columbia as its 1968 target. The result was the uprising last April, which brutal police intervention transformed from an SDS Putsch into a general student insurrection. At Columbia, the SDS leaders displayed no interest in negotiating the ostensible issues. Their interest was power. "If we win," said Mark Rudd, the SDS leader, "we will take control of your world, your corporation, your university and attempt to mold a world in which we and other people can live as human beings. Your power is directly threatened, since we will have to destroy that power before we can take over." For the sake of power, they were prepared, as a liberal Columbia professor put it, to "exact a conformity that makes Joe McCarthy look like a civil libertarian."
As the SDS leaders get increasing kicks out of their revolutionary rhetoric, they have grown mindless, arrogant and, at times, vicious in their treatment of others. In recent months, the young men who incite riot and talk revolution have encouraged acts of exceptional squalor — not only the denial of free speech but the rifling of personal files, the destruction of the research notes of an unpopular professor — in fact, a general commitment not to university reform but to destruction for the sake of destruction. Their influence is to turn students into what John Osborne, one of Britain's "angry young men" of the '50s, has called "instant rabble." Their effect is to betray the function of the university, which is nothing if not a place of unfettered inquiry, and to repudiate the western tradition of intellectual freedom.
What sort of factor will SDS be in the future? No one, including its own national office, can be sure how many members SDS has. J. Edgar Hoover, who is not addicted to minimizing the enemy, told Congress on February 23 that in 1967 SDS had 6,371 members, of whom 875 had paid dues since January 1. Whatever the number, it is an infinitesimal fraction of the American college population. Yet this fact should not induce undue complacency in the country clubs. Many students who would never dream of joining SDS or of approving its tactics nevertheless share its sense of estrangement from American society. This spring the Gallup Poll reported that one student in five had taken part in protest demonstrations — a statistic that suggests not only that a million students may he counted as activists but that the proportion has probably doubled since the estimates of student rebels in the spring of 1966 as 1 in 10 (Samuel Luhell) and 1 in 12 (the Educational Testing Service). All studies, moreover, indicate that the activists are good students and that they abound in the best universities.
What is significant is not only the rather large number of student activists today but their success in winning the tacit consent of the less involved. This does not mean that the majority applauds the gratuitous violence that has swept through many institutions. But activists very often appear to mirror general student concerns and anxieties on a wide range of issues, social and political as well as academic.
A recent episode at Antioch explains why the majority goes along with the activists. Although on other campuses it is considered a paragon of democracy — its students, for example, can attend the meetings of its board of trustees — this fine old experimental college in Yellow Springs, Ohio, evidently still has problems of its own. A year ago the board of trustees met before an audience of some 75 students. One member began to read the report of the committee on the college investments. As he droned along, a student suddenly jumped up and shouted, "This is all a lot of ———" A second student then arose and said, with elaborate irony, "You shouldn't talk that way. These wonderful trustees are giving of their time and substance to help us out." Next, in quick succession, half a dozen other students got up and called caustic single sentences at the startled trustees. At this point, the lights went out. When they came on 30 seconds later, the trustees were confronted by a tableau: one masked student standing with his foot on the chest of another masked student prostrate on the floor. The boy on the floor said, "Massa, is it all right if I use LSD?" The standing student replied, parodying a phrase cherished by academic administrators, "It is all right if you follow institutional processes." A series of similar Qs and As followed. The lights went out again; there were sounds of scurrying; and, when the lights came on, all but a dozen students had gone.
A moment of silence followed. Then the trustee who had been reading the report from the committee on investments resumed exactly where he had left off. This was too much for a colleague, who broke in and said reasonably, "Mr. Chairman, I don't think that we ought to act as if nothing had happened." The chairman asked what he proposed, and the trustee suggested that they invite the students who had remained to tell them what this demonstration had been all about. The students still in the room responded that, while they had not approved of the demonstration, they were now delighted that it had forced the trustees to listen to them. "You may not like what you saw," one student remarked. "But now you are discussing things that you would never be discussing on your own initiative." And for the first time the Antioch board of trustees permitted on its agenda some of the problems that were worrying the Antioch students.
This story illustrates a disastrous paradox: The extremist approach works. "I feel like I just wasted three and a half years trying to change this university," a Columbia senior said after the troubles last spring. "I played the game of rational discourse and persuasion. Now there's a mood of reconstruction. All the log-jams are broken — violence pays. The tactics of obstruction weren't right, weren't justified, but look what happened." The activists understand what has until recently escaped the attention of the deans — that a small number of undergraduates, if they don't give a damn, can shut down great and ancient universities. As a result, when the activists turn on, the administrators at last begin to do things which, if they had any sense, they would have done on their own long ago — as Columbia is revising its administrative structure for the first time (The New York Times tells us) since 1810. Commissioner of Education Howe says, "Perhaps students are resorting to unorthodox means because orthodox means are unavailable to them. In any case, they are forcing open new and necessary avenues of communication." Both Berkeley and Columbia will be wiser and better universities as a result of the student revolts. One can hardly blame the president of the Harvard Crimson for his conclusion:
All the talk in the world about the unacceptability of illegal protest, all the use of police force and all the repressive legislation will not change the fact that attention is drawn to evils in our universities in this way. As long as students have no legitimate democratic voice, attention is drawn only in this way.
The students' demand for a "legitimate democratic voice" in the decisions that control their future is part of a larger search for control and for meaning in life. The old sources of authority — parents and professors — have lost their potency. Nor does organized religion retain much power either to impose relevant values or to advance the quest for meaning. Nominal affiliation persists, but religious belief in the traditional sense is no longer widespread in college. A Catholic girl recently said that among students she knew, "there definitely is no interest in any doctrine about the supernatural. The interest is in human values." An eastern sophomore says: "Nobody thinks about religion but probably respect people who have religion because it is so rare."
As students, finding little sustenance in traditional authorities, seek out values on their own, their search often takes forms that an older generation can only regard as grotesque or perilous. Thus drugs — a device by which, if people cannot find harmony in the world, they can instill harmony in their own consciousness. For many young people, drugs offer the closest thing to a spiritual experience they have; their "trips," like more conventional forms of mysticism, are excursions in pursuit of transcendental meanings in the cosmos.
The invasion of the life of the young by drugs is relatively recent; and it provides a good illustration of the interesting fact that there is conflict not only between the generations but within the younger generation itself. "When I was a freshman in 1960," a venerable figure of 25 just out of law school, tells me, "drugs were really a fringe phenomenon. Today pot is the pervasive form of nightly enjoyment for students. How can parents understand this if a person like myself, hardly four years older than my sister, isn't able to understand it?" His sister, who has just graduated from college, reports, "You see, the people who have been coming in as freshmen since even my first year, '64, and with a big boom in '66, have been turned on. Once again, as last year, the biggest pushers are in the freshman class."
As for the drugs themselves, marijuana is a staple. It causes little discussion in its purchase, use or nonuse. On the large campuses, "everybody" has smoked it at one time or another, or at least this is a common student impression. A more precise estimate — from Dr. Stanley F. Yolles, director of the National Institute of Mental Health — is that "about two million college and high-school students have had some experience with marijuana. Fifty percent of those who have tried it experienced no effects." Presumably, most of the rest find in the chemical expansion of consciousness an occasional means of relaxation or refreshment — what liquor provides for their parents. It is hard to persuade students (and many doctors) that "grass" is any more lethal than tobacco or alcohol, and parents achieving a high on their fourth martini are advised not to launch a tipsy tirade against marijuana.
LSD, on the other hand, is quite another matter, and its vogue has notably waned in the last year or so. Students, reading about its possible genetic effects and hearing about the "bad trips" of their friends, simply reject it as too risky. College students, it should be added, are very rarely hippies; when drugs begin to define a whole way of life, studies must go by the boards. A few students may now be turning from "acid" to "speed" (Methedrine). But an interesting departure, reported from Cambridge, Mass., is the resurgence of simple, old-fashioned drinking. "Younger kids who really started right off with grass often missed the whole alcoholic thing, and now they stop you on the street and say, wow, they got drunk and what a trip it was." No doubt this development will reassure troubled parents.
Love is another medium in which the young conduct their search for meaning. Against Vietnam they cried, "Make love, not war." "The student movement," one girl observed, "is not a cause. … It is a collision between this one person and that one person. It is a I am going to sit beside you. … Love alone is radical."
Here attitudes have relaxed, though it is not clear how much the change in sexual attitudes has produced a change in sexual behavior — to some degree, certainly, but not so much as some parents fear. A poll this spring at Oberlin showed that 40 percent of the unmarried women students had (or claimed to have) sexual relations. Dr. Paul Gebhard, who succeeded the late Dr. Alfred Kinsey as director of the Institute for Sex Research at Indiana University, observes that sexual relations among college students are "more fun nowadays," especially for women, and create less guilt. One girl undergraduate says, "I am convinced there is a greater naturalness and acceptance and much less uptightness about sex in the present college era than in the one earlier."
Unquestionably the pill has considerably simplified the problem. "No longer is it [again a girl is speaking], oh I can't sleep with anyone because sex is sinful or risky or whatever; it is rather, do I want to sleep with this person and, if I do, how will it affect me or the relationship. … The emphasis is on satisfying, whole, friendly, honest relationships of which sex is only a part. Where sex is accepted as an extension of things, then nobody really talks about it that much, except as a pleasant thing."
The new naturalness has encouraged the practice known to deans as "cohabitation" and to students as "shacking up" or "the arrangement" — that is, male and female students living together in off-campus apartments. Rolling with the punch, colleges are now experimenting with coeducational student housing. Nearly half the institutions represented in the Association of College and University Housing Officers now have one form or another of mixed housing. What may be even more shocking to old grads is the vision of the future conveyed by the report that at Stanford the Lambda Nu fraternity proposes next year to go coed.
Though students today favor a code of behavior that is personal, not modeled on that of parents, pastors or professors, they have not abandoned heroes. Nearly all regard John F. Kennedy with admiration and reverence. Many this year followed and then mourned his brother; many others followed Eugene McCarthy (and cut their hair and beards in order to be 'clean for Gene'); many like John Lindsay. Among writers, the situation is more puzzling. The press reports an enthusiasm on the campuses for J.R.R. Tolkien and The Lord of the Rings; but I must confess sympathy for a perceptive girl who says:
When I stand in lunch lines, I see people holding Tolkien in their hands, but they aren't the people I know. I guess that people like it because it hands them a whole society and set of symbols and passwords which they can use to describe themselves, set off the cliques. It gives people a whole world of the imagination without having to use their imagination.
The German writer Hermann Hesse with his novels about romantic quests for self-knowledge is having a current whirl — The New Republic reports an electronic-rock group on the west coast calling itself Steppenwolf.
But the testimony is general that the old, whether in public affairs or in literature, don't count for very much in the colleges. "The models for today's students," a sophomore writes, "probably come more from their contemporaries than any other group — the latest draft-card burners, people with the guts to live the way they want despite society's prohibitions, etc. — or from older people who sympathize with them and give intellectual prestige to their feelings."
Above all, students find in music and visual images the vehicles that bring home reality. "THE GREAT HEROES OF THIS DAY AND AGE," a girl affirms in full capitals, "ARE BOB DYLAN AND THE BEATLES." Dylan "gave us a social conscience and then he gave us folk-rock and open honest talk about drugs and sex and life and memory and past." One student thinks Dylan "may have a profounder influence than the Beatles because he is American and sings about America — and his evocative powers are profound, to affect those poor people and us. John Wesley Harding is a wandering, obscure, and sad album, but it is also gentle and tender and necessary."
As for the Beatles, "Well, they taught us how to be happy. We evolved with the Beatles." The evolution was from a simple happiness to a more complex form of sensibility — from the first, Beatle songs, with their insistent beat, to the intricate electronic songs of today and their witty, ambiguous lyrics.
"When you really listen to Sergeant Pepper, it can be an exhausting, amazing, frightening experience. Especially A Day in the Life, which is a hair-raising song because it is about our futures, too, and death."
What these heroes stand for, in one way or another, is the affirmation of the private self against the enveloping structures and hypocrisies of organized society. They embody styles of life that the young find desirable and admirable and that they seek for themselves. "Let there be born in us," the Radcliffe commencement prayer this year concluded, "a strange joy that will help us to live and to die and to remake the soul of our time."
Yet college students have no easy optimism about the future. "People don't talk about the future," says one. "That's too depressing because it means growing old and having responsibilities and the eventual capitulation to the System, because it won't change." "Mostly students know what they don't want to be," says another. "They don't want to be tied down to a hopeless, boring regimen; they don't want to give in to the Establishment after spending most of their youth avoiding it; they don't want to profit through special-interest groups and to the detriment of people in need. Mostly, they want to make the society they live in better, richer for all, more fun. The problem is that they lack the plans to accomplish the ends."
For the moment they are determined, in the words of the student orator at the Notre Dame commencement this year, not to be satisfied to "play the success game." More college graduates every year embark on careers of public and community service. The acquisitive life of business holds less and less appeal. Yet one can hardly doubt that a good many — perhaps most — of these defiant young people will be absorbed by the System and end living worthy lives as advertising men or insurance salesmen. Hal Draper, an old radical musing on the 800 sit-inners arrested at Berkeley at the height of the Free Speech Movement, wrote, "Ten years from now, most of them will be rising in the world and in income, living in the suburbs from Terra Linda to Atherton, raising two or three babies, voting Democratic, and wondering what on earth they were doing in Sproul Hall — trying to remember, and failing."
One must hope, for the sake of the country, that some of this fascinating generation do remember — not the angry and senseless things they may have done, but the generous hopes that prompted them to act for a better life. But who can say? Certainly not their elders. Yet the attempt at understanding may even be a useful exercise for the older generation. I discovered this in talking to students for the purposes of this piece. And I treasure a note from one who patiently cooperated. "Even as I distrust anybody of the older generation who tries to write about the younger," the letter said, "I think it will be interesting to see how you figure it out."
This article is featured in the July/August 2017 issue of The Saturday Evening Post. Subscribe to the magazine for more art, inspiring stories, fiction, humor, and features from our archives.
A Typing Controversy
Like a lot of people of a certain age, I took a typing class in high school. I hated it and didn't do well, which always makes me chuckle because now I actually type for a living, every single day. I think what I disliked at the time was having to sit a certain way, holding my hands in a certain position, endlessly recording the events of all good men who come to their country's aid. Like a kid who just wants to play the guitar instead of learning chords or how to read music, I just wanted to type. Also, my teacher looked a lot like Larry Fine of the Three Stooges, and that distracted me.
One thing I remember from typing is you needed to put two spaces after a period. But that's not really true online, and that has a lot of people who still like to put in two spaces a little, well, irritated. In this piece at Mel, amusingly titled "For the Love of God, Stop Putting Two Spaces after a Period," John McDermott explains in detail why you should now only put one space after a period. In this follow-up piece, McDermott explains how a lot of people didn't like to be told to put only one space after a period and let him know it in often colorful, vulgar terms (and often using only one space after a period).
I've never really thought about how many spaces come after periods in print books and magazines and newspapers. It does really stick out when I get an e-mail where someone uses two spaces. Now I'm going to really notice it, and it's probably going to drive me batty.
Boomers vs. GenXers vs. Millennials
Every generation complains about the generation that preceded them. Millennials blame Generation X for everything, Generation X blames Boomers for everything, and Boomers blame The Silent Generation, who then blame The Greatest Generation. At least I think that's how it goes. It's hard to keep track of who is named what when and why.
I have a slightly different take. I'm a GenXer, and I've never blamed Boomers for anything. It never occurred to me to blame Boomers. Instead, like any normal GenXer or Boomer, I complain about Millennials.
BuzzFeed has the results of a poll conducted by the Ipsos firm that found out what older people and younger people think they should do to be considered an adult. The topics range from living at home and doing your own laundry to paying your own bills and having an annual medical checkup.
Shouldn't all of these numbers be near or at 100 percent? Not every category for every age group, of course, but some of these numbers seem low to me. Only 39 percent of people aged 35–54 consider cooking for themselves more than twice a week to be a sign you're an adult? Only 43 percent of those aged 18–34 think getting no financial support from their parents is a sign you're an adult? Only 16 percent of everyone polled gets a flu shot? I'd love to see a similar poll taken in 1980 or 1960.
Some of the results shock me, but not as much as finding out that the word adult is now used as a verb.
And the Tony Nominees Are …
I could go into detail about this year's Tony nominations. About how this person or this show got a lot of nominations or how this person was snubbed or what the nominations mean. But I haven't seen any of the shows, don't really know much about the shows, and I've never been to a Broadway show. But here's the list of this year's nominees. You probably know more than I do.
The awards show will air June 17 on CBS.
Strike Averted!
Three weeks ago, I told you about a possible writers strike that was about to hit Hollywood. But now we don't have to worry about it because the two sides came to an agreement at the last minute on Tuesday. It's a three-year deal that gives writers more money (including increases in residuals), expanded contract protection, and changes to healthcare.
Now, if you were actually hoping for a Hollywood strike, you might be in luck: An actors strike could be next.
Frozen in Time
Whenever I watch House Hunters I get a little irritated, for two reasons. One, I don't really believe that the show is completely honest. The setups seem staged, and everything is a little too scripted (and a 2012 investigation seems to back up that theory). Second, I hate when the couples are shown an older home, maybe a midcentury home with its original rooms and design and appliances, and the first thing that comes out of their mouths is "we have to tear this out!" I hate that. Those homes should be owned by people who want to keep most of the original features intact.
Like the people shown in this Wall Street Journal piece titled "Life Inside a Time Capsule." It's about people who buy older homes and decide to keep them the way they've always been, almost like living their lives the way the previous owners lived theirs decades ago. The slideshow is terrific, even if some of the designs of the '70s homes may disorient you for a moment.
RIP Florence Finch, Norman T. Hatch, Colonel Bruce Hampton, Lorna Gray, Trustin Howard, Leo Thorsness, and Bruce Hall
Florence Fitch was a World War II hero whose bravery wasn't even known to the public until decades later. She actually died on December 8 at the age of 101, but her family didn't make the announcement until this week.
Norman T. Hatch had a connection to World War II as well. He was a Marine cinematographer whose shocking footage of a battle in the Pacific won him an Academy Award in 1946. He died April 22 at the age of 96.
Colonel Bruce Hampton was considered the "Godfather of the Jamband Scene" and played with such people as Frank Zappa, Blues Traveler, Spin Doctors, and Widespread Panic, as well as many of his own bands. He collapsed on stage on Monday during a birthday celebration. He was 70.
Lorna Gray was an actress who appeared in several shorts of the aforementioned Three Stooges and in movies with people like John Wayne and Buster Keaton, as well as many other films during the '30s, '40s, and '50s. She passed away Sunday at the age of 99.
Trustin Howard was the head writer of The Joey Bishop Show and often acted in movies under the name Slick Slavin. He died in April at the age of 93.
Leo Thorsness was an airman held captive along with John McCain in the prison known as "The Hanoi Hilton" during the Vietnam War. He died Tuesday at the age of 85.
Bruce Hall was a CBS newsman for 20 years and an NBC newsman for 17 years. He covered space for both networks, as well as thousands of other stories. He died Tuesday at the age of 76.
This Week in History
Citizen Kane Premieres (May 1, 1941)
The classic Orson Welles film had its world premiere at the RKO Palace Theatre in New York City. The movie is usually on "best movies of all time" lists, including this critics poll in The Saturday Evening Post in 1978.
Hindenburg Explodes (May 6, 1937)
Here's how reporter Herbert Morrison described the event on the ground. By the way, this is how Morrison actually sounded. The video we usually see has an audio recording that was running too fast, and Morrison's voice has always sounded higher than it was.
This Week in Saturday Evening Post History: Stan the Man Cover (May 1, 1954)
The man called Stan was Stan Musial, outfielder and first baseman for the St. Louis Cardinals, and in this cover from John Falter, he's shown signing autographs for fans. Here's the profile from that issue of the Post, titled "The Mystery of Stan Musial."
May Is National Hamburger Month
Who invented the hamburger? It's an odd thing to think about since it seems to have been with us forever. Taking a look at the Wikipedia page for hamburgers (yes, there's a Wikipedia page for hamburgers), a version of its origin story goes all the way back to 1758, but it's not really the modern one we enjoy. Some people say the first hamburger was served at Louis' Lunch in New Haven, Connecticut, in 1900. Others say it was Charlie Nagreen in 1885 (a meatball sandwich), while White Castle says it was the invention of Otto Kuase in 1881. And that's only three of the many possible inventors. There's a dispute because it all comes down to not only when it was invented but also what the exact definition of hamburger is.
Someone should make a movie about it.
Here are three burgers to make this month: a Spiced Buffalo Burger from Emeril Lagasse, a Turkey-Meatloaf Burger from Martha Stewart, and a Cheese-Stuffed Burger from country star Trisha Yearwood.
By the way, if you do get a hamburger this month and have to borrow the money to do so, make sure you pay it back by Tuesday. Like Wimpy.
Next Week's Holidays and Events
V-E Day (May 8)
Also known as "Victory in Europe" Day, it's the day in 1942 when we celebrated the formal surrender of Germany, which ended World War II in Europe.
National Teachers Day (May 9)​
In April, the 2017 Teacher of the Year was honored at the White House. Her name is Sydney Chaffee, and she teaches at the Codman Academy in Boston.
Do you still have your old, corded phone? We have 7 Reasons to Keep Your Landline Phone.
The landline was once our connection. For almost a hundred years, it was the model for talking to someone who was not in the room with us. The telephone wire plugged into the wall jack, and the phone wires ran from the house to the perfectly named telephone pole, and from that pole and all of its stalwart cousins standing along our streets, those wires found the people we would talk to on what was called the telephone.
We had a telephone on the little desk in the kitchen. For years the phone would ring, the beautiful sonorous periodic ringing that alerted us all that a call was coming in — someone had dialed our number! — and my mother would answer it. My father, unless he was there alone, did not answer the telephone because it fell under the duties of the household, I think, and he was a welder who was away all day fixing things and didn't come home to answer the phone. After some years, we had another phone. Not another line, but another phone. When that happened, when people achieved two phones, it was thought far and wide to be a sort of luxury, a phone in the kitchen and one upstairs, so indulgent and in fact sort of lazy in that you wouldn't have to come down to answer the phone, but you could simply turn there in the bedroom and take the call. It was the beginning of taking a call while not fully dressed.
When the phone rang in our house, we didn't know who it was. I want to say it could have been anybody, but it couldn't have been anybody. It was one of four or five people who had our number. We generally knew what they would say by what time the phone rang. Morning calls were certain people, neighbors, and early evening were relatives looking to chat. We didn't want any calls after 10 or 11 at night, and we lived in fear of any call after midnight. My father said we should unplug it when we went to bed so that no one would have dire trouble in the night.
The telephone didn't ring a dozen times a day, and its sound was a kind of minor event. Kids didn't pick up the phone. I didn't get a phone call until I was 12, if then. My mother would pick up the ringing phone and say hello and we all knew in a moment whom she was talking to, and her voice as she spoke to one of her sisters or my father or a friend was the tenor of the house. We didn't listen to what she said, but we knew by her tone what the world was like.
There were films and stories in which the people in the dark, lonely house lifted the telephone receiver to find it dead, the wires cut. Sometimes we saw the gloved hand and the wire cutters snip the cord outside in the night. They were cut off! No communication in or out! The people on the island were getting murdered one by one, and there were heavy clues about who would be next, and all of this because the lines were down or cut or out of service. None of this: "Can you hear me now?" It was: "No one can possibly hear us now." People were alone. Now, of course, the people on the island, as soon as there is any mischief, all send text messages with photos along with voicemails from their cellphones. So, everybody is safer, but our stories have taken a mortal blow from the fact that no one now is ever alone. No one is going to write a film where the bad guy goes around with his tiny little snippers and clips the internal diode in each cellphone. And most of the time, in the world that offered that special condition — being alone — as a possibility, it was a good thing. We miss it.
We didn't want any calls after 10 or 11 at night, and we lived in fear of any call after midnight.
There is a moment we also miss, which was a wondrous landline moment. The phone would ring after dinner, and my brother would answer it and say hello, and after a moment, he would holler, "Ronnie! It's for you." The phrase is long gone because no one shares a phone anymore. And my brother would call me loudly enough to wake the house, the downstairs and the upstairs. I was 16 and the phone was for me! But he wouldn't stop there. He would ask, as he'd been instructed in phone etiquette, who was calling, and then he would yell, at the same terrific volume, "It's Joylene!," a name that had never been said aloud before in my house and the sound of which would arouse in all listeners, mainly my mother and father and little brother, the same alertness as if he had said, "There is an alligator in the house! A big one!" I would spring from my bed, throwing to the floor (sacrilege!) the new issue of Famous Monsters of Filmland I'd been studying, and sprint down the stairs, sweat bursting from my forehead before he could add what I heard him say as I turned the slippery corner into the kitchen: "Ronnie, it's Joylene, a girl from school!" Then I would yank the phone from him, ignoring his grin, and say hello to Joylene, the nicest girl in the 10th grade, in such a way as to make it sound like, "Yes, who's calling and why are you bothering me?" And no matter that she needed to know what time I would pick her up for the sophomore dance tomorrow night, I would answer in monosyllables, listening hard to the old telltale clues of our house so I could hear the residents creeping closer in the hall to hear what Ronnie was saying to Joylene: yes, no, okay, yes, sure, okay. Bye. And standing there in the kitchen in a household with a landline, I knew that the news was now public. Ronnie was taking Joylene to the dance. The village had been alerted.
This is the information we're not getting now. There are no such moments in our beautiful houses now when the phone rings and everyone stops and listens to it ring twice, knowing someone else will rise to answer, and the communal well will fill.
Ron Carlson is the award-winning author of six story collections and six novels, most recently Return to Oakpine. His fiction has appeared in Harper's, The New Yorker, Playboy, and GQ, and has been featured on NPR's This American Life and Selected Shorts.

From the Archive: Reach Out and Touch
Though landline phones may be on the endangered species list, in the 1950s and before, they were the lifeline of communities — and a teenager's life. Throughout the 20th century, telephone accessibility and use increased dramatically. And with more use came more misuse. To counter growing problems with the mumblers, party-line hogs, and profanity, utility companies launched national campaigns to instruct consumers on proper telephone etiquette.
In So Many Words
People who talk interminably about conversation being dead in the United States ought to listen for a change — preferably on a party line. The Federal Communications Commission, in its recently published statistics for the fiscal year of 1954, reports that there were, on an average, 179,000,000 local telephone conversations a day, as well as 6,600,000 long-distance calls daily.
Purists frequently have strict interpretations of what constitutes conversation, but even in the 18th century undoubtedly only a minuscule part of talk was "brilliant."
Perhaps the most pleasant conversation in the world is the easy, friendly exchange of personal thoughts and doings, which wouldn't rate one-two with Dr. Samuel Johnson.
At any rate, telephone-company officials estimate that in a three-minute call the number of words exchanged may range — depending on whether the conversation is at a "normal pace" or a "blue-streak" rate — from 450 to 750, averaging about 500 words a call. This means, in a manner of speaking, that the nation's telephone conversations represent approximately 185,000,000 addresses and soliloquies a day. Anyway it's a safe bet that among all the trivial and perfunctory telephone messages, an extraordinary number of people at both ends of the telephone line every day find in their own "conversation" something pretty essential to getting through an average day.
—"Is Our Talk Witty, or Just Non-Stop?,"
Editorial, July 16, 1955
You Talking to Me?
In the Bell System and in other large companies, such as the General Telephone Corporation, the problem is classified as one of etiquette, or manners. A look at their bulging files on etiquette suggests that, among all the machines with which men have complicated their living while seeking to enrich their lives, the telephone stands apart. It is used more frequently by more people than any other complex mechanism we have, but the more it is used, the more it is misused. In contrast to the oboe, which Danny Kaye condemned as an ill wind nobody blows good, the telephone has to be described as a good instrument nearly everybody ill-treats.
Bad telephone manners are by no means limited to those who shout, or to those who hold the transmitter more than an inch from their lips when speaking. They are also displayed by the mumblers; the chewers and gnawers who try to talk with a mouth full of gum, or with pipes, cigars, pencils, or other impediments between their teeth; the wrong-number guessers who disdain directories; the executives who want the party they are calling to be on the line before picking up their own phones; the party-line hogs; the busy, busy people who let their phones ring and ring before answering; the operator baiters; and a long list of others. To the telephone executive, they all add up to one thing — wasteful inefficiency. Even the time-honored word "hello" is now passé. It is a fascinating, if idle, speculation to wonder how Alexander Graham Bell, the man who invented the telephone in 1876, would make out if he should return from his grave. It was his habit to open a telephone conversation with a resounding "Whoo-hoo."…
Since the United States has more telephones in service than all the rest of the world combined, by a ratio of about six to five, it is here that the problems of bad telephone manners reach gigantic proportions. The operating utilities long ago realized that the installation of equipment and the maintenance of service was only part of their job. As early as 1912 they had begun a campaign to teach subscribers how to make more effective use of the instrument.
In that year the New York Telephone Company, a part of the Bell System, asked one of its bright young copy writers — a fellow named Howard G. Stokes — to prepare a booklet that could be used in this educational program. Stokes took the oblique approach. He felt he couldn't come right out and tell the customers they were a lot of ill-mannered, ill-tempered boors, however truthful that might have been. So he reminded his readers that a display of friendliness is the surest way to get things done easily and quickly, and extolled the virtues of cheerful courtesy. Anticipating Dale Carnegie by decades, Stokes titled his booklet Winning Friends by Telephone, and closed it with the line, "The voice with the smile wins."
—"How's Your Telephone Etiquette?"
by Craig Thompson, March 16, 1957
This article is featured in the March/April 2017 issue of The Saturday Evening Post. Subscribe to the magazine for more art, inspiring stories, fiction, humor, and features from our archives. 
Margaret Guroff is the author of The Mechanical Horse: How the Bicycle Reshaped American Life (2016), from which her essay "How Bikes Built Our Highways" is adapted.
Ramona Whittaker: How did you become interested in bicycles and their impact on America's highways?
Margaret Guroff: I saw a brief mention in a history book about how cyclists were instrumental in getting U.S. roads paved in the 1890s. Until then, I hadn't really been aware of bikes as existing before cars, and when I started to look into the role of the bicycle in American culture, I found its influence all over—not only in the Good Roads Movement, but in the auto industry, the invention of the airplane, the development of consumer culture. The bicycle also influenced the way women dressed and it empowered women during 1890s when they were getting together to advocate for the vote.
RW: The mode of transportation became a game changer?
MG: Exactly. On bicycles, young women could get around without chaperones — which had been frowned upon before — and they could get where they were going under their own steam. Bicycling also helped people understand that exercise was good for you — something many Americans didn't believe before the bicycle. They thought that if you did something that made your heart rate rise, you would damage your heart. A lot of people really didn't know that if you exercise, it makes you feel stronger. And many doctors thought that you were born with a certain amount of energy. When you spent it, that was it. Doctors were very likely — particularly as adults got older — to say, "You just have to sit down, just chill."
RW: Was that true especially for women?
MG: Yes. Proper women wore corsets to help them carry all their clothing — which could add up to 25 pounds of skirts, dresses, and stuff. A corset helped distribute this weight up and down their torsos. But all that weight and the constriction of a corset made it likely that if they stood up or moved too fast, they would faint. This created an illusion that women were weak and shouldn't exert themselves.
RW: How did the bicycle change women's fashion, and how did the public react?
MG: Dress reforms were actually proposed in the middle of the 19th century. Women's rights advocates Amelia Bloomer, Susan B. Anthony, and Elizabeth Cady Stanton all decided to wear Turkish-style flowing pants that were weren't constraining or heavy but were still very modest. They thought it was a much healthier way for women to dress, and they were trying to set a trend. They eventually had to give it up, because they were being harassed. Critics called the outfit a "bloomer costume." They'd yell at these women and even throw things at them. So, bloomers didn't catch on in the 1850s. But when the bicycle became popular at the end of the 19th century, women realized they couldn't ride in their long, flowing skirts, and some of them started wearing the bloomers that had been advocated 40 years earlier. These women also were mocked. It's not like it was normal for women to wear pants in 1890. A story on the front page of a tabloid called the National Police Gazette in 1893 carried the headline "She Wore Trousers" as if it was shocking that a woman would do this in public. The difference was that even though women wearing bloomers in the 1890s were getting the same kind of harassment as Amelia Bloomer did in the 1850s, they had a new motivation. They were willing to put up with mockery to be able to ride bicycles. Within just a few years, there were so many women riding bicycles that it became much more acceptable to wear pants or shorter skirts to do so.
RW: Did bicycles offer women a new form of independence and sense of freedom?
MG: Yes, it's amazing. In 1896, Susan B. Anthony said, "Let me tell you what I think of bicycling. I think it has done more to emancipate women than anything else in the world. It gives women a feeling of freedom and self-reliance. I stand and rejoice every time I see a woman ride by on a wheel…the picture of free, untrammeled womanhood." She saw clearly that the bicycle was motivating non-activists to take political action. They thought they were just having fun, but really were turning the culture upside down.
RW: What was one of the most surprising things you learned about the bicycle in your research?
MG: One of the coolest things I learned was about the Wright brothers. Everyone knows they were bicycle mechanics, but it always seemed to me a coincidence that bicycle mechanics invented the airplane. What I discovered by reading the work of historians like Tom Crouch, who wrote a great biography of the Wright brothers called The Bishop's Boys, was that the bicycle gave the Wrights a crucial insight into how to keep an airplane aloft. Many inventors who were working on airplanes were trying to throw something in the air that would know how to go straight on its own. The Wright brothers went at it a different way. They realized that you don't have to create a machine that knows on its own to go straight, because the pilots can be the brains of the machine. When you're riding a bike, your body becomes one with the machine, and your sense of balance, and the unconscious corrections you make as you ride, are what balance the machine. The Wrights were able to take that same concept and put it in the air.
RW: Can you tell us more about the history of biking in America versus that of biking in Europe? Did bicycling affect other countries the same way it affected ours?
MG: Though a lot of developments were parallel, there were some interesting divergences. The main one came at the end of the 19th century. There had been a big 1890s bike boom in Europe as well as the U.S., but when that fad ended in the U.S., bike use really dropped off a cliff here. People without horses still rode them get to work or make deliveries, but they became absolutely unfashionable. Nobody rode them for fun. And this is years before the automobile became affordable for anyone other than the super rich. In order to keep the market for American bicycles going, bicycle manufacturers started targeting the youth market. They ended up making bicycles a childhood necessity, but they also made bikes seem like they were only for kids. As soon as you turned 16, you wouldn't be caught dead on one, and no adult would ride one. That was very much an American phenomenon; it didn't happen anywhere else as far as I'm aware, and it didn't really start to turn around until the 1960s. There was a huge bike boom here in the 1970s, and by the 1980s, the United States started exporting styles, like the rugged mountain bike with straight handlebars that you could ride off-road. That was invented in the United States and caught on overseas.
RW: Would you say that biking in the U.S. today is as common as it is in Europe?
MG: It's not, but in American cities, it can feel like it's going in that direction. There are many more bike lanes than there were 10 years ago. There are many more people on bikes, including middle-aged people and young parents toting kids around. Where it's safe to ride and people live near places they need to go, there is a mini-boom, though nationally, bike ridership is going down. Outside of the prosperous parts of cities, many people don't live near their work, church, or shops, so bicycling is not practical for them. And in many parts of the country, roads are designed to allow cars to go as fast as possible, which makes them too dangerous for cyclists. And it's no longer the case that every American kid has a bike, because a lot of kids don't have a safe place to ride or don't live close enough to the places they'd want to ride to.
RW: Are many people concerned about climate change biking to and from work?
MG: Riding your bike more is certainly one way you can reduce your carbon footprint. But it has to be practical for people. You have to get to work, you have to haul groceries, you have to get your kids to school. If you live in a place where it's not possible to do those things on a bike or on foot or with public transit, you're going to have to drive. Cities have a vested interest in making it easier for people to bicycle because bikes don't pollute the air, they don't cause wear and tear on the roads, they don't create the same parking demands.
RW: Bikes are very popular on college campuses.
MG: Colleges are typically places where everything is closer together, so they're easy to get around by bike. And most students who live on campus don't have little kids that they need to provide transportation for, or jobs many miles away that they have to commute to. So bikes work well in that environment.
RW: If bicycles became a more popular form of transportation, where would they have the most impact? What would be the effect of more bicycles on the road?
MG: That's hard to say, because there are changes coming to traffic that could make the roads much safer for bikes and pedestrians, or much less safe. We know that we're going to have autonomous cars soon. But how are they going to behave? Will they be well programmed and well-regulated to make traffic calmer and more logical, and make it safer for bikes? Or will they be out there like bumper cars, clipping anything that gets in their way? If the roads do become safer for bikes, you'll see more of them — studies show that the safer it is to ride, the more people ride.
RW: What are the most bike-friendly cities in the U.S.?
MG: Brooklyn is one of the centers of biking in the country. Also Portland, Oregon, is huge for biking. Seattle is really good for biking. I work in D.C., which has one of the highest bike-commuting rates in the country. We have laws that are very helpful, such a leading pedestrian indicator law that gives pedestrians and bikes a few extra seconds to cross the street, so that they clear the intersection before traffic starts moving. It makes everybody safer and makes traffic move better. Chicago is supposed to be great and also Minneapolis, which is amazing to me because it's so cold up there. But you can bike all winter long, you just have to have the right gear.
One really exciting thing that's happening all over the country is the rise of bike-share systems. You use your credit card to check out a bike, go where you're going, and check it back in. That's an amenity that can make biking accessible to people who can't necessarily use a bike as their main form of transportation. In New York, for example, if you live in one of the outer boroughs, you can take the subway into Manhattan for work, but then use a bikeshare bike to go across town for lunch or something. Bikeshares are turning American cities into places where you can bike on a whim, where you might not have wanted to or been able to before.
RW: Do you ride your bike to work, and what kind of bicycle do you own?
MG: Yes, I ride a green 1999 Jamis Aurora touring bike. I love it. I ride an hour to work — it's about half an hour on a woodsy rails-to-trails path — and then across town through traffic. By the time I get to my desk, I feel like a hero.
Read Margaret Guroff's essay, "How Bikes Built Our Highways," which appears in the January/February 2016 issue of The Saturday Evening Post.
Some things haven't changed in 100 years – in 1916, people still eagerly shopped for presents. What they shopped for, however, has changed a lot! Go back in time with these ads from the December 1916 issue of the Post.
In 1930s, humorist J.P. McEvoy wrote the Post column "Father Meets Son" presented to readers in the form of letters filled with advice for navigating life's rocky road. Employing a mix of wry humor and tough love, Dad doled out life lessons on everything from work to women. Readers loved it.
Dad continues to encourage his son to find the best in his humble job by expounding on the wisdom of Grover Cleveland, how to weed out good advice from malarkey, and why boring people are more interesting than his so-called friends.
Father Meets Son: A Disappointing Job, Part Two
By J.P. McEvoy
Originally published on October 3, 1936
Dear Son: I am going to save your letter received today. My boy, it's a honey! When you are older, you will want to read it again. I thought the lamentations of Job and the passionate protests of Jeremiah were something, but you are right up in front, running one, two, three.
As you recite the litany of your sorrows, over and over you ring the old refrain: "What will my friends say? What will people say?" Son, it should cheer you to hear that most of us have suffered from this same silly, but painful, sickness. It is only when we recover — if ever — that we realize the salty truth: The people who matter don't say anything, and what the people who don't matter say, doesn't matter. But old Lao-tse said it better twenty-five hundred years ago: "Those who know, do not speak; those who speak, do not know."
"I am working in a filling station," you lament, "and my friends who knew me in college drive up and I have to fill their cars and wash their windshields, and they kid the life out of me. When I go home at night I feel as though I just can't go back the next morning and face them."
Well, as Grover Cleveland used to say, we are facing a condition, not a theory. Suppose you just forget how you feel. Check your emotions with your hat and come on in. Let's face this condition together for a moment.
Who are these friends? Pleasant acquaintances? Most so-called friends are just that. People you met yesterday, like today and will forget tomorrow. Be sure, they likewise will forget you tomorrow. How, then, can they be sincerely interested in what you do? And if they are not sincerely interested, of what earthly value is their opinion one way or the other?
"But I have friends," you cry, "real friends. Dozens!"
Then you have nothing to worry about. You are rich. In comparison, Rockefeller is sitting on the corner with a tin cup in his hand.
But Youth is optimistic — and a good thing too. When you are young anyone who flatters you is a friend, but as you grow older these "dozens" of friends will thin out. You may have one real friend left — maybe two, rarely three, but seldom more.
Your "dozens" of friends will be up in the stand tossing their hats in the air when you make a touchdown. But if you are thrown for a loss your real friend will be the one to meet you in the shower room as they carry you off the field, and he will stay and help put your nose back in place.
Your "dozens" of friends will be around your neck and in your lap and overflowing the rumble if you have a car to drive them in, but if you are filling the gas tank and washing the windshield, your real friend will be the one who says: "Hi, pal! Aren't you a lucky stiff to be working? But I know a better spot. I'll go over there tonight and open it up for you, or break a leg trying." When you have a friend like that, you can really care what he thinks and says. And as you learn to analyze your other friends in this way, you will be surprised to discover that you really don't care what most of them think or say, and that they have lost their power to upset you, discourage you or hurt you in any way.
So much for your friends. "What will people say?" is something else again.
This is something that you will have to lick very early, or it will lick you. It isn't enough to tell yourself that what "they" say doesn't matter. You've got to believe it. And more than believe it, you've got to know it. Because it's true.
First of all, people don't know anything about you. They really don't. Second, they don't even know very much about themselves. So, when they tell you what you should do, ask them how they know. And if they say because they do it themselves, ask them why they do it. That will floor all but the wisest, and they are the only ones you should listen to anyway. If they give you a good reason why they do things, ask them why that reason should apply to you. And then, if they give you a good reason based on shrewd knowledge of you — not snap judgment, not a prejudice, not a conventional attitude — then you can really take what they say under serious consideration, and make up your own mind whether you want to apply it or not. You can learn to listen to everybody — you should — you must — even if they bore you. Remember, there are really no boring talkers. There are only bored listeners.
Listen patiently, critically, even to a bore. Ask yourself: "Why does this man bore me so? How can he possibly be such a bore?" If you are a writer, you may want to write a bore someday, so you should study how a real one is put together. If you are an actor, you may want to play the role of a bore. If this fellow can bore you so completely, learn the trick so you can play the part convincingly. You may want to be a salesman, and from a bore you can learn how not to bore people.
If you start learning to listen, you will find yourself listening to learn. Everybody can tell you something interesting — something old to him, but new to you. When people drive up to your filling station, listen to them when they talk to you. Keep not only your ears open but all your pores. Be a magpie. Gather every shiny scrap of information about anything and everything, and fly home to your nest with it.
But as for what people say, they will say what they have always said. They will say you mustn't do this and that because it isn't done. In spite of the fact that it's being done all the time all around them, and either they can't see it, or won't. They will say a young man must make good contacts if he wants to get along in the world, but the truth is, if you get along in the world, you will make good contacts. Remember, if you are the best in anything, you will meet the best in everything.
Lindbergh, flying to Paris with a toothbrush and a sandwich in his pocket, carried letters of introduction to the best contacts. But what put him over was that he got over.
Affectionately,
Dad
Previous: A Disappointing Job, Part One 
Next: Meeting Betty
People are too easily distracted. News of a major tragedy will hold their interest for a few days, but boredom quickly sets in and attention drifts away.
That's what the Post editors concluded after people learned a hurricane had destroyed a major American city on the Gulf Coast. "Money and food were sent," they wrote. "The heart of the country went out in sympathy. The awful story was eagerly read. But by the third day there was a distinct falling off in interest. … By the [fifth day] even the headlines were not looked at."
They weren't describing New Orleans in 2005, but Galveston in 1900.
In September of that year, a hurricane swept inland to destroy a city and kill some 10,000 people, making it still the deadliest natural disaster in U.S. history. It was, of course, a major news story. Yet two months later, Post editors observed that people had quickly lost interest in the tragedy.
The editorial — published nearly a century before life became enmeshed with the Web and smartphones — blamed technology for the lack of focus. Life was becoming too fast-paced. Rapid communication, made possible by steamships, the telegraph, and the new telephone, was making people impatient with any delay. Even the kinetoscope, Edison's patented personal hand-cranked movie viewer (pictured above), was contributing to America's growing inability to stay focused.
We can smile at the thought that steamships were making people more distracted. But it appears that technology does indeed make it harder for us to concentrate. This year, the Microsoft Corporation published a study that showed between the year 2000 and 2013 the average attention span dropped from 12 to 8 seconds. That's one second less than the attention span of a goldfish.
If true, this fact suggests that people will find it increasingly difficult to remember and learn from tragedy. And if that's the case, maybe we should heed the editors' advice from 115 years ago: "But it were well if, with all our increasing swiftness, we should stop and think a while now and then."
When Lisa Kudrow and the five other cast members of Friends decided to leave that show after its 10th season in 2004, they were giving up the most lucrative deal in TV history. For their last two seasons, they were each being paid a million dollars per episode. Yet, they agreed it was time to move on. Friends is syndicated around the world, so it seems those characters will never disappear from view, but Kudrow has done quite well for herself in the years since the show ended, as an innovative producer (Web Therapy and Who Do You Think You Are?), and before, as a versatile actor (The Opposite of Sex, Wonderland, and Analyze This).
Kudrow was born in Encino, California, on July 30, 1963. Her father is a retired doctor specializing in headache research. She has two older brothers, one, a neurologist, and her sister is a sculptor. Growing up, she was shy and felt awkward, and only started to blossom when she went off to study at Vassar. It was her intention to follow her father and brother into the medical profession, but then her brother's best friend, Jon Lovitz, suggested she give improvisation a try, and once Kudrow hit the stage at The Groundlings, she was hooked. She went on countless auditions, with guest appearances on Cheers and Newhart, finally landing a small role as a waitress in Mad About You. That led to Friends and an Emmy for Best Supporting Actress in 1998. She married advertising executive Michel Stern in 1995, and they have a son, Julian, 15.
Question: You turned 50 in July. How did you celebrate that?
Lisa Kudrow: Quietly.
Q: How old do you feel?
LK: In my 40s.
Q: Three years ago you gave the commencement address at Vassar. What did you say that you wish someone had said to you when you graduated?
LK: People who are 22 sometimes don't listen. What I wanted to impart was that it's going to be hard, but don't let it get to you. You have to look at spinning disappointment into road signs. If something doesn't work, go another way. You can't take it personally.
Q: So your theme was don't give up, because failure can lead to success. How much failure did you have to deal with yourself?
LK: A lot, but I chose not to look at it that way. Every audition you don't do well in, the job you didn't get, you get into trouble when you start looking at it as failure. I try to be happy for everything that happens, the good and the bad. Otherwise I wouldn't be right here.
Q: It seems like you've experienced more good than bad lately. Your show Web Therapy started as three-minute shorts on the Internet and was picked up as a series of half-hour episodes on Showtime. How did that start?
LK: I was asked if I wanted to do a Web series and said no. But whenever I say absolutely not, I know that's not rational. My brain just keeps on working on it anyway. So I thought if you were going to do a Web series, you should go straight into the storm, and make it about the Internet. I started thinking about things that people do on the Internet—people were revealing themselves, they were dating, doing intimate things really quickly, with not a lot of thought. And I thought, nothing could be a worse idea than to do therapy. That's a funny idea, how people could go online and do a three-minute session with a so-called therapist and be able to say at work, "Yeah, I'm in therapy." Then L Studio asked us if we had any ideas for a Web series, and we said, "There's one thing we would do." So then we had to figure out the details.
Q: Can you describe how you saw your character Fiona Wallice?
LK: She doesn't know much about therapy, and she's not even accredited. So we made her really self-serving, judgmental, and not having to adhere to any rules of therapy. I've been in therapy but I'm not a trained therapist, so that's perfect. [Laughs.]
Q: How did you manage to get people like Julia Louis-Dreyfus to play your sister, Lily Tomlin your scheming mother, Meryl Streep the guide to set your gay husband straight, Steve Carell as your boyfriend, and Meg Ryan as a happy hoarder?
LK: In the beginning it was very hard. No one knew what it was. So we went to people we knew, like Bob Balaban and Jane Lynch, who had just shot the Glee pilot. Then Courteney Cox agreed to do it, which was a big deal. My co-producers are friends with Julia Louis-Dreyfus, and she agreed to play my sister. Then we asked Lily Tomlin, and she had so many ideas, which took it to a higher level. We just said, "You're in a psychiatric hospital" and she said, "That's good. I want to have sock puppets and make socko drama." And she came in with these sock puppets with wigs that matched her own wigs. Hilarious. Then I ran into Meryl Streep, and she said she'd love to do it. She's just fantastic.
Q: When David Schwimmer's character began to get too dark, did you have to stop filming and regroup?
LK: No, we didn't have to stop and regroup [laughs], but at one point we did have to go, "Wait, is he really going to rape me?" His story line was that he had once witnessed me having an affair with his father, and the only solution he had discovered, with his horrible therapist, to purge this was to sleep with me. He was so good. Oh my God! He just blew us away.
Q: Why are we fascinated by watching despicable people on reality shows?
LK: Because we can't believe our eyes. Maybe it's just a window into my soul, but sometimes you see something that makes you so mad, and you'd like to say something, but you don't. And then you see these people on these shows doing it, and it makes you feel better that you did keep it to yourself. You're grateful to your parents for raising you better than that.
Q: Do you think reality-type shows will always be with us, or will the pendulum swing back to scripted shows?
LK: That's a good question. Game shows and contests have never gone away. I'm nervous for the biographical reality shows because what's next? The actual Colosseum where people are killing each other? I don't know what other level it can go to.
Q: You're doing a biographical show with Who Do You Think You Are?
LK: That's more like a documentary series than a reality series. They call it alternative reality because they think no one will want to watch documentaries.
Q: You traced your own genealogy for one episode. You knew that some of your family had been lost in the Holocaust—what did you find out that you didn't know?
LK: Since I was a kid I had seen documentaries about the Holocaust, and I read what I could about it. I watched World at War—remember that series? They had a number of episodes on the Holocaust. There was some pretty graphic stuff in there. I took a lot of Jewish history classes and studied Hebrew for two years in college. But the striking thing to me is that while I studied it, I never applied it to my own family history. So I didn't have to be burdened with the nightmare of what happened to people I knew. Then as I got older my grandmother told me it was Hitler who killed everybody in her family, and that's the first time I came face-to-face with it. In my fully denial state of mind it was, "No, no, we're not part of the Holocaust." But I learned we are.
For the past dozen years, our family has welcomed the new year at our friends' house. They belong to the Quaker meeting that I pastor, and are on their best behavior. I'd hate to think what would happen if I weren't there to keep things under control. We cheat at board games, watch old episodes of Johnny Carson, play ping-pong, discretely gossip about people who aren't there, and overeat. At the stroke of midnight, we blow horns, throw confetti on one another, then leave before we're pressed into service to clean up the mess we've made.
When our children were small, we stayed home and slept through that golden moment. We would stir at midnight when the teenagers next door set off firecrackers, then fall back to sleep. When our children went to school and discovered their friends stayed up past midnight, the going to bed early stopped, and we had to look around for somewhere to go. Several churches in our town have New Year's Eve parties, but that felt too much like work. If I were a mechanic, I wouldn't want to welcome the new year underneath a car. We were looking for something mildly decadent, but not so naughty it would get me fired, so we jumped at the chance to attend our friends' party, throw confetti, gossip, and toss back a stiff apple cider at the appointed hour.
I assumed most people in the world celebrated the new year the way Americans do, but they don't. In Belgium, children write nice letters to their parents and read them aloud. I don't know who started that practice, but I bet it wasn't a kid. That sounds like an adult's idea. People in France give presents to one another. A kid dreamed up that custom; I guarantee it. In Germany, people drop a lump of hot lead into cold water to see what shape it makes. They believe the resulting shape reveals their future. For instance, if the lead assumes the shape of a bullet, it means someone is going to shoot you. But if the chunk of lead looks like France or Poland, it means you'll be invaded by Germans. I could never live in India, where on New Year's Eve they're expected to finish any uncompleted work. My life is a train of unfinished tasks, one railcar after another of half-finished efforts, with no caboose in sight.
Hungarians make effigies called "Jack Straws," then burn them at midnight. The effigies symbolize everything bad that happened the previous year, so burning them wipes the slate clean. Theoretically, it's supposed to bring them good luck in the upcoming year, though it never does since they always have to make effigies the next New Year's Eve. If you have to continually repeat a tradition meant to ensure good luck, it means it doesn't work.
In Scotland they clean their homes. My father's family is from Scotland, but I must be adopted because I wouldn't dream of cleaning my house on New Year's Eve. I think my birth parents were from Australia, where they welcome the new year camping on the beach.
This is our first New Year's with the kids grown and gone. People arch their eyebrows and say, "Oh, you can finally whoop it up." But Quakers aren't known for their whooping. We're good for a whoop or two, then settle down pretty quickly.
When I was little, I would take a bath, put on my pajamas, lie on the living room floor with my brothers and sister, and watch Guy Lombardo at the Waldorf Astoria Hotel in New York City. My dad would light a fire in the fireplace, and my mom would make popcorn. We were each allowed one bottle of Coke. The glass ball would drop in Times Square. Mr. New Year's Eve, Guy Lombardo himself, would pick up his baton and the Royal Canadians would swing into action with Auld Lang Syne. My father would grow misty-eyed.
"If we were still in Scotland," he would say, "we'd be cleaning the house right now."
The stories of people living with ADHD are as unique as the people themselves. As author Sharon Begley writes in "If It's Boring, I'm Done!" (Nov/Dec 2012), people with ADHD who finally receive accurate diagnosis and treatment share one thing in common: a sense that what was once shrouded in mystery is now lit with understanding, that a weight has been lifted, and a puzzle solved.
The Post profiles several well-known individuals—Ty Pennington, Shane Victorino, Karina Smirnoff, and Andrés Torres—who share their struggles and triumphs in coping with ADHD, a condition that afflicts millions of American adults, largely underdiagnosed.
But as these celebrities clearly demonstrate, once diagnosed and treated, adults with ADHD can truly thrive.
Ty Pennington
America knows Ty as the hyper-energetic man on the megaphone, juggling 18 projects simultaneously to transform homes for deserving families on the former TV program Extreme Makeover: Home Edition. More recently, the same energy surfaced on the daytime show The Revolution. Today, Ty is busy working on a home décor and fabric line.
But the 47-year-old is equally enthusiastic and candid when talking about success in coping with his lifelong battle with ADHD.
"I was diagnosed before they really knew what to call it," says Ty. "My mom was studying to be a child psychologist. I was lucky because she went to my elementary school to evaluate kids and study the 'worst' ones. Everybody was saying that 'I don't think you really want to know who that one is.' Watching through the classroom window, she saw me distract everyone—from hitting Johnny in the back of the head to climbing out the window. I was a constant distraction. It seems comical when you are young. I was an out-of-control kid."
Ty's mother tried several different interventions but none worked, and she worried as she watched her young son struggle academically and emotionally.
"The telling thing about ADHD as a kid is that feeling you get when people are saying that there is something wrong with you," the TV host says. "It's tough to communicate why (you) are doing something in school and why you are not digesting studies as much as other kids are. However in some categories, you excel. For example, in geometry where graphic shapes are at play I stood out. Today, I promote the arts because it offers kids who might not be academically inclined a chance to find what they are good at. While I was the odd man out, I could focus on my projects until I was pretty well known, then I turned back into Mr. Excitement."
As with many individuals now and especially then, Ty remained undiagnosed until his late teens.
"It wasn't until I was out of high school and in my first year of college that my art instructor asked to get in touch with my mom. I was making drawings that were a little dark," he recalls. "During the early days, doctors put me on antihistamines to calm me down."
The antihistamines made him drowsy. But nothing seemed to really work. Fortunately, Ty discovered another outlet for his boundless energy—sports.
"I have always been the Energizer Bunny, way before I was medicated," Ty says. "Sports, for many, is an area where you can gain confidence. You are not going to gain confidence from bringing home a book report with a B on it. With sports, you can define yourself as a certain player in a certain sport. With some kids, it is the only arena where they can find their confidence, as part of a team. Any time you can take a kid and get them out of the isolated 'odd kid out' mentality and make them part of something, that's good."
At 17, he was finally diagnosed with ADHD and offered effective treatment to manage his symptoms. The diagnosis was literally a true game changer.
"I played soccer my entire life beginning at age 8 and was good," he admits. "But when finally diagnosed and medicated, I played like I never could. Finally, I could read the field, thinking ahead of the play before I got there. I had no idea how."
Off the field, he began to notice other changes as well helping him focus and achieve goals that he never thought possible.
"ADHD affects your communication skills as well as your confidence. I no longer spoke in fragments for one thing," he says. "People began to see a change in me, on the soccer field and in academics as well. Reading has always been a challenge. You get lost after several paragraphs. You realize that your eyes are still reading but you are not soaking in the information. I have always been very visual, so I would draw pictures for a history class so that looking at the picture would help me visualize the information I was reading."
It was in the visual arts where Ty discovered a place to focus his considerable energy and talents.
"ADHD affects so many aspects of life, including your confidence level," Ty says. "You have to believe in yourself. When people are challenged with ADD, especially ADHD, they really have to find an outlet where they can shine. For me, that was in art. I put myself through art school and people began praising me for the talent. I had not had that experience before—people praising me for something."
A familiar face to almost everyone in America, Ty now meets many families who face a situation all to familiar to the artist.
"Families see that I can complete a task, which is a big accomplishment," explains Ty. "And some of those tasks have been pretty monumental. I can lead a team and build a house in less than four days while keeping my fingers and digits at the same time. ADD and working with power tools is not the smartest choice."
The challenges of ADHD overshadow personal relationships as well, but medication can help.
"ADHD affects your family life and any relationships because communication is the biggest drawback to ADD," he says. "Because you can't get out what you want to say. Sometimes another medium like writing or art can help, you can communicate better. One of the reasons you can get into trouble in relationships is the belief that you are not as good as someone else; you cannot live up to their expectations. Everyone would love not to be on medication, but people do not realize that (it) is so easy to go off your routine. But medication provides an extra helping hand to keep you on your routine."
In 1960, Pete Martin spoke with Perry Como about his celebrity. In honor of the 100th anniversary of Como's birth and Zac Bissonnette's piece, Why Perry Como Matters, we are reprinting the interview in its entirety.
I looked at his hair. It was thick. It had a tendency to curl. It was exactly the right length — not too long, not too short. It wasn't a butch through which his scalp showed pinkly. I envied him his hair and his even tan, every inch of which was exactly the same degree of darkness. There were no freckles, no peeling spots, I thought, figures that his hair should look right. He should know about such things. After all, fit's the most famous barber since Delilah, although he abandoned his tonsorial trade about twenty-five years ago to sing for his living.
"I understand you're a big man in the icechomping field," I said to Perry Como. "I'm an ice eater myself, and it drives my wife to distraction. She says she can hear the echo of my molars all over the house. Does your dentist tell you it's bad for your teeth when you crack a whole cube with one bite?"
Como looked cautiously around his office as if he were afraid it was bugged. "I've never told him," he said in a low, conspiratorial voice.
"You mean he can't tell by just looking into your mouth?" I asked.
"He's preoccupied with some other dental problems of mine," Como explained. "For eighteen years I've had a small space between my two front teeth. That was my Number One problem. It was a minor one. I acquired a major one many years ago when they drilled why you should know this, but once your teeth are ground and capped, they're tender afterward. If you get a little cavity or decay on the uncapped part of the tooth, the dentist has to take the cap off, drill a little higher and put on another cap. Dentically speaking, I've been going through hell for eighteen years. In all honesty, I guess if I had laid off my ice-breaker bit, my teeth would be in pretty good shape."
I said, "I'm curious about how you go about crunching ice with caps on."
"Obviously my caps are made of concrete," Como said, "I can polish off a whole bowl of ice in no time at all." He thought for a moment, then added, "I'll tell you why I think I'm an ice craver. When I play a lot of golf, as I frequently do, and it's very hot, I perspire bucketfuls. I get dehydrated and I have to push that lost water back into my body, I'm not very big, but in one round of golf I can ooze between five and seven pounds."
"On just an ordinary, peaceful, quiet day of golf?" I asked.
"It's actually water. It's bloat that vanishes."
I said, "I understand that you play a very leisurely game of golf, a lazy game. So why all the perspiration?"
He smiled, confessing, "I can sweat like a herd of wild animals. My pores are wide open and ready to go any time. I'll tell you a secret," he went on, "I know your spies have told you that my rounds of golf aren't strenuous, that I keep my eyes and ears open to the crunch of grass underfoot and the sound of birdsong as I journey around eighteen holes. They doubtless tell you also that I seem to relish these things so greatly that I play very slowly. Well, to use a sweet word instead of a crude one, that's a lot of hooey. I may appear to loiter, but honestly I'm just as fast as anybody else on a golf course." He thought of something and added, "With the exception of England. I really had a problem there. For some reason, British players hit the ball and run. Their wives may find them something less than volcanic at home, but put them down on a golf course, and it's Balaklava and The Charge of the Light Brigade all over again. They charge at you like wild boars — polite wild boars, mind you, but if they want to play through you, if you're smart, you let them play."
I said, "The only English golf match I've ever seen was one played between Bob Hope and Bing Crosby for the Playing Fields of England Fund, They had to call it off on the fourth hole because they were driving their balls right down the spectators' throats. Twelve or fifteen thousand people crowded onto the fairways until there weren't any fairways; there were just masses of people."
"I played in a few of those things myself," Como said. "They're fun until they start leaving you no room to play in. After that they're murder."
I said, "I helped Bob Hope write his story for The Saturday Evening Post. There are those who say he's no good without his writers around him, but I can testify that there were many times when he said sidesplitting things to me on his own, without his writers thinking them up for him."
"He's a swifty with an ad lib," Como agreed. "Hope's played a lot of golf exhibitions for charity, and I've played with him on some of them. You gather together three or four characters like Hope, and ten or twenty thousand people are apt to turn out. When the galleries start lining up on the fairways until they leave only a long, narrow slit for you to drive through, it scares the hell out of you. You could kill a spectator if you hit him in the wrong spot.
"Most of the benefits I've played," he went on, "have been for boys' clubs or for such things as cerebral-palsy funds. I remember one day in Washington, D.C, when there were five of us—Hope and I, Ben Hogan, Ed Sullivan and Jimmy Demaret. Most of the people who'd come out to see us play weren't golfers and knew no golf etiquette. They didn't even have enough gumption to know they were in danger and get out of the way when Hope and Sullivan and I were shooting. Hogan and Demaret knew where their shots were going, but you can't stand in front of Hope or me when we're shooting without running a good chance of having a slice or a hook slam into you.
"That was the maddest day I can remember. Bob was flying in from somewhere with Jim Demaret. They were supposed to be there at one o'clock, but when they didn't show up, Hogan gave the crowd a golf clinic.
He showed them how to hit some balls, then he explained his shots over a microphone to kill time. People were milling and trampling around out of hand, and I was hiding in the locker room. I wasn't about to go out there and get flattened. Finally there was the sound of police-motorcycle sirens, and in came Hope.
"From the moment we teed off on the first hole, trying to play golf was ridiculous. By the time we got to where a ball had landed, it was gone, and we never saw it again. I didn't see the same ball twice all day. There were supposed to be marshals to protect us — they were really to protect the crowd —but they didn't. So the people gathered in the middle of the fairways and grabbed the balls as fast as we hit them. We kept trying anyhow and finally got to the fifth hole, which was a well-trapped par three. I'll never forget what Bob did then. It showed a softer and kinder side of this man who seems so cocky on the outside. He told the rest of us, 'I'm going to hit it in the trap,' and sure enough, that's where he hit it.
"I wish I had a movie of the action for the next fifteen minutes. Bob deliberately hit that ball from one trap to another, dealing out stale jokes for the crowd every second of the time. He was giving the crowd a show for their money, and it was hilariously funny. He'd hit under the ball so it would go straight up in the air, or he'd top it and bury it in the sand. You know, people consistently underestimate Bob. He's much more than just a funny man; he's a very kind man too.
"We played four more holes because we thought we ought to play at least nine, after which we dropped everything and ran for the clubhouse like rabbits. I simply couldn't have stood another nine holes. We'd be there yet. It had taken us four and a half hours to play the holes we did play. When we saw a ball, we hit it. The rest of the time we were signing autographs and walking. A couple of times I even walked in the wrong direction because I couldn't see the fairway."