Read all of art critic David Apatoff's columns here.
The first time I attended the annual convention of the National Cartoonists Society I looked around suspiciously. The artists seated in the hotel ballroom all looked pretty normal to me. They each had only one head and dressed like ordinary human beings. Yet, these were the creative oddballs responsible for the hilarious and offbeat comics that we see in newspapers, comic books, and magazines.
Then one of the cartoonists stood up. "As many of you are aware, he began soberly, "this year we lost our dear friend and long-standing member, Roy. In his memory, we will observe a moment of… complaining." The room erupted: "The air conditioning in this hotel sucks!" called out one voice. "Your room is better than mine!" complained another. Pandemonium descended as, for a full minute, Roy was administered a cartoonist's version of last rites.
Clearly there was going to be nothing conventional about a convention of cartoonists.
Every year, cartoonists from all around the country (and a few from overseas) gather at the NCS convention to renew friendships, swap stories, and celebrate the achievements of their peers. Many groups hold conferences in hotels or convention centers, but one year the NCS took over Elvis Presley's mansion, Graceland, for their event. We were watching "the King" on a big screen dancing with a Vegas showgirl in a sparkly bikini when a voice called out from behind me, "Hey!! That's my wife!!!" With cartoonists, nothing surprises me anymore.
When the cartoonists gather, they bestow an award called "The Reuben" on the outstanding cartoonist of the year. The Reuben is the cartoonist's equivalent of an Oscar, except it looks a little different.
The Reuben is named after cartoonist Rube Goldberg. As this year's invitation noted, "Everyone knows the name of NCS co-founder Rube Goldberg — cartoonist, humorist, sculptor, author, engineer, and inventor — but it's been almost 50 years since his death, and his output has slowed down considerably."
Comics, like jazz, are one of the few genuine American art forms. Like jazz, comics were disparaged for years, but critics have grudgingly come to recognize that comics are responsible for some of the best pen and ink drawing of the 20th century. Original drawings by cartoonists are now praised as legitimate art in distinguished museum collections. This year, the comic strip Krazy Kat was honored in a major exhibition in Spain at one of the leading contemporary art institutions in the world. Comics are also responsible for many of our cultural icons; they've shaped our vocabulary and provided much of our folklore, myths and legends.
Great Americans have aspired to be cartoonists but could not make the grade, so they had to find employment elsewhere. These include Hugh Hefner, Pulitzer prize-winning novelist John Updike, comedian Jonathan Winter, CNN news anchor Jake Tapper, and actors Ginger Rogers, Jane Powell, and Jackie Gleason. None of them was good enough.
On the other hand, several cartoonists who did become successful got their start submitting gag cartoons to The Saturday Evening Post. Three of the greatest, most popular cartoonists in history — Charles Schulz who went on to create Peanuts, Mort Walker who created Beetle Bailey, and Hank Ketcham who created Dennis the Menace — all worked in their early days for The Saturday Evening Post and went on to make fortunes with their own syndicated strips.
In 1935, when women cartoonists were still a rarity, Marjorie Henderson Buell created the irrepressible character Little Lulu for the Post.
Lulu became a smash hit, and she was especially popular with nascent feminists who admired her moxie.
Decades later, a group calling itself "Friends of Lulu" would convene in her name to celebrate her spirit.
Today, conditions are much better, and some of the most popular cartoons are written and drawn by talented and enterprising women cartoonists. They banded together for a group photo after this year's panel on "Women Pioneers of Cartoon Art":
Another popular group this year were the cartoonists from MAD, the irreverent magazine that has influenced the taste and sense of humor of an entire generation.
Some of the creative talents responsible for MAD conducted a popular panel along with fans and collectors at the convention.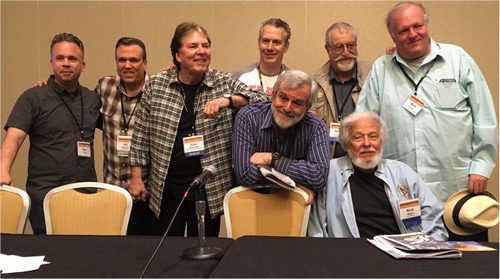 It has been said that producing a daily comic strip is like "running in front of a train." Many cartoonists write and draw new material every day of the week, with larger installments on Sunday. Cartoonists work long hours hunched over a drawing board trying to meet deadlines, so it's no surprise that when they get out into the public and have an opportunity to socialize, some of them become enthusiastic.
This year's convention included a two hour trivia contest with questions about the history of cartoons that ranged from obscure to surreal. At least a dozen teams competed in a hard fought battle, but in the end, the team "The Shmendricks" emerged triumphant.
I now make a point of going to the NCS convention every year. There is no place on earth quite like it. For one thing, there are doodles everywhere, made by artists whose fingers itch to draw. While it is not always clear where a cartoonist's head is, there is no doubt where their hearts are. Every year members of the NCS set aside substantial time for charitable work in their host city, visiting and entertaining sick children in local hospitals, using their talents to work with public libraries, the USO, and veterans' hospitals. There is no more meaningful use of a cartoonist's funny drawing skills than to cheer up a child with a serious illness.
Next year the convention will be held in Huntington Beach, California.