These cartoons show why first dates are the worst dates!
It's National Hug Your Hound Day! Enjoy our cartoons about humorous hounds and their hapless humans.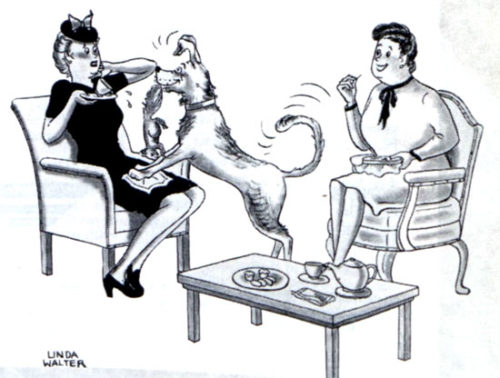 "If you are not absolutely thrilled and delighted with your purchase, maybe you're expecting too much from a cheap TV vegetable slicer."
There's always someone around the corner ready to make a liar out of you. I've recently told you how hard it is to be a cartoonist. Except for Randy Glasbergen, who sold his first cartoons to the The Saturday Evening Post while still in high school.
"Unemployment rates are up again. I'd like to tell you more, but I just got canned."
With wry humor like this, it's no surprise that Randy was once a staff writer for Hallmark cards and "currently writes and draws greeting cards and calendars for Recycled Greetings, Nobleworks, American Greetings, and others."
"Hello, employment agency? There's been a mistake. I asked for 100 elves!"
You'll find Randy in The Wall Street Journal, Woman's World, Harvard Business Review, Reader's Digest, and almost every issue, I'm delighted to say, of The Saturday Evening Post. I have a least one Glasbergen T-shirt and mouse pad and there are coffee cups, posters, and other merchandise in specific categories like "Glasbergen Cat Cartoons" and "Glasbergen Holiday Cartoons." These characters are everywhere!
"I can get by on just 2 hours of sleep every day, as long as I nap for 14 hours."
It seems to me most cartoonists have pets, and you can often tell it in their work, as with this cat. Randy is married with four grown children and five grandchildren, along with "two basset hounds, four cats, two guinea pigs." Comic fodder, indeed.
"I finally put something aside for my retirement. I put aside my plans to retire."
When I said the Glasbergen characters are everywhere, I wasn't kidding. Several anthologies of his cartoons have been published not only in the U.S., but the UK, Germany, The Netherlands, and China.
"What's the big idea sending your employees outside to smoke?"
One would think a cartoonist this successful would have a state of-the-art studio, but apparently not. Randy works "at home on the third floor of a creaky old Victorian home, formerly a boarding house for local school teachers."
"The insurance company won't pay for your skateboard accident. They said that stupidity is a pre-existing condition."
Keep reading the Post for the best cartoonists around.