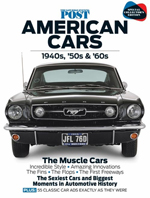 This article and other features about the golden era of American cars can be found in the Post's Special Collector's Edition, American Cars: 1940s, '50s & '60s.
It took vision (and money) to replace the network of narrow, unsafe roadways originally designed for horse-and-buggy travel with the wide, safe concrete thoroughfares we take for granted today.
—Originally published November 22, 1952—
Aprosperous New Yorker I know used to garage a long, shiny, high-bracket car near his Park Avenue apartment. He used it only irregularly in summer, less in winter, since daily driving in Manhattan is about as convenient as walking on one's hands. Two years ago, he happened to add up what it all cost — the fee for his garage plus insurance, depreciation, gas, and oil. The total startled him.
So he sold his car and took to drive-yourself rentals. For suburban evenings, country weekends, or vacations, he calls up and orders himself the exact long, shiny equivalent of his former car to use as long as he likes at a day-and-mile cost, covering gas and oil, that leaves him hundreds of annual dollars to the good at no loss in convenience.
In effect, he has joined what now amounts to a national carpool of more than 20,000 passenger vehicles available from Bangor to San Diego, Miami to Seattle, as well as throughout Canada and spotted in Hawaii, the West Indies, Britain, and on the Continent. This is the stock in trade of the drive-yourself industry, which rates with television, popcorn, and motels as a field newly booming after World War II.
The Hertz Driv-Ur-Self System, largest in the field, had only 2,346 passenger cars available in 1947. This year it plans on 12,000. Its nearest rival, the Avis Rent-A-Car System, now has more than 4,000 from a standing start five years ago.
Rental-car users include all sorts and conditions of men and women who look like good risks. In Denver, a fast-­moving salesman gets off a plane and into a new rental sedan arranged for by advance reservation through the airline — a deal sparing him the task of driving his own car all the way from Kansas City. In Atlanta, a legal secretary with a month's vacation, who does not own a car, rents one to take Pop and Mom visiting the folks from Austin to Norfolk. Sun-seeking families who once wasted fatiguing and hazardous days driving to Florida or Arizona because they needed their car while there now make the trip by train or plane and rent a car to use on the spot. In Toledo, four girls from the same insurance office club up on car rental for a long vacation trip to the Great Smokies at less expense per person than on public transportation.
The growing number of customers makes drive-yourself men feel that their business is limited only by availability of cars. They think their business will keep on booming because of the costly inconvenience of keeping a car in a big city.
Walter L. Jacobs, a Chicago car salesman, embarked with a stock of 12 secondhand Model Ts on what was to be the nucleus of the present Hertz system.
The car-rental business dates back almost 40 years, to the time when the art of cranking a Model T without breaking the wrist was still widely known. In the 1920s the pioneer Saunders system, starting with two secondhand Fords in Omaha during World War I, spread wide. It went under in the depression. In 1920, however, Walter L. Jacobs, a Chicago car salesman, embarked with a stock of 12 secondhand Model Ts on what was to be the nucleus of the present Hertz system, first taken over by John Hertz, of Yellow Cab fame, then becoming a division of General Motors.
In 1924, a rental Willys-Knight became infamous as the car used by Richard Loeb and Nathan Leopold in murdering Bobby Franks in Chicago. This luridly emphasizes the fact, which old-timers candidly admit, now that the business is unimpeachably respectable, that during this first rugged decade their patrons were not all Sunday-school superintendents.
One veteran says renters used to be 90 percent bootleggers, hoodlums — the Capone mob, for instance — and ladies practicing the world's oldest profession. The percentage may be exaggerated, but few deny the general impression. Bootleggers, for instance, liked being able to make customer deliveries in inconspicuous rented jobs with never the same license tags twice. After repeal, however, the index of customer respectability gradually rose.
The rental car business meets a need, and competition is rising. An Avis man said, "No car-rental man with any business sense fears competition." The way they all think of it, the sky's the limit, with enough and to spare for one and all.
—"Tales of the Rented Cars," November 22, 1952
Become a Saturday Evening Post member and enjoy unlimited access. Subscribe now