Read all of art critic David Apatoff's columns here.
In the Golden Age of American illustration (approximately 1890 – 1940) the most popular artists were the great storytellers.
It wasn't enough to be a talented painter. Illustrators had to use their skills to tell stories that touched the public imagination. This required them to stage convincing pictures incorporating facial expressions and body language, costumes and lighting, props and backgrounds. These ingredients had to be combined in a narrative that seemed "true" to a human nature that the public recognized.
"Fine" artists cared less about storytelling. During this same period, "fine" art became more abstract and chilly; it stopped telling stories and began visualizing concepts and ideas… or nothing at all.
Illustration reached its Golden Age before movies and television existed. This left illustrators unchallenged as the country's visual imagination for love stories, folktales, parables and legends. Norman Rockwell, Maxfield Parrish, Charles Dana Gibson, and James Montgomery Flagg were celebrity storytellers — the George Lucas and Stephen Spielberg of their day. The public loved their work and followed it religiously.
Today, illustration has changed. Rockwell could spend months on a painting, while today's illustrators are often given only a few days. Rockwell worked with slow drying oil paint on large canvases, but by the 1950s most illustrators had migrated to quick drying water colors or acrylic paint. They painted on smaller, lighter cardboard. Today, most work on a computer. But perhaps the most crucial difference is that few illustrators today have the patience or talent to tell persuasive stories the way Golden Age illustrators did. They leave that job to filmmakers. Rather than compete with cameras to create realistic scenes, many illustrators have turned to flat, stylized pictures focusing on concepts.
However, for contemporary illustrators with the talent and the heart to be modern storytellers, illustration shows us that human nature has not changed. The styles have changed, the clothing and certainly the technology have changed, but the same heartwarming truths that resonated during the Golden Age resonate today.
For example, everyone recognizes this type of person, the smug young graduate setting out to conquer the world.
This early Post cover was painted by Norman Rockwell's hero, J. C. Leyendecker, in 1920. Note the imperious sneer and raised eyebrow, the arrogance of youth who does not yet know what he does not know.
Nearly 40 years later, it would be Norman Rockwell's turn to try his hand with the stereotype of the graduate, but the world looked very different in 1959. Instead of the smug confidence on the face of Leyendecker's graduate, Rockwell offered us a fresh scrubbed graduate facing a world of daunting headlines.
Despite the differences, we still recognize both of those very human stories. Fast forward several more decades and we find another version of the graduate, this one by the talented C.F. Payne:
Today's digital cameras and recorders have transformed the graduation experience again. The loving family has become paparazzi in a media feeding frenzy. The graduate has become the centerpiece once again but seems a little overwhelmed by it all. (Did you note that this time the graduate is a girl?)
There have been many changes over the years in the world awaiting these graduates, and yet these three illustrators have focused on timeless elements of human nature so these three stories still "ring true."
As another example, compare Rockwell's famous painting of old timers practicing their music in the back of Shuffleton's barber shop after hours…
…with Payne's painting of today's old timers practicing their beloved rock 'n' roll after hours in the basement:
Payne's modern version would not work nearly so well if he was not a master of facial expressions. Compare the dads thinking they're so cool, and the horrified expression of the young daughter coming down the stairs. We all understand what's going on here.
Of course, every great illustrator is eventually called upon to paint young love. Norman Rockwell's cover of a boy serenading a girl is something we all can relate to, on one side or the other:
It was painted 90 years ago, but the awkward story is still fresh enough to make us wince.
90 years later, Payne is showing us that music is still "the food of love" for gawky teenagers. You know these children, just as you know the couple on Rockwell's cover.
Here's another Payne illustration of modern trysting. Again, look at the waiter's expression as he waits for the young, self-absorbed couple:
The technology has changed since Rockwell's day, but whether you live in the city or the country, in the North or the South, you know this couple and you laugh.
As a final example, look how Norman Rockwell's exhausted Santa Claus receives help from his elves to get the job done:
But Payne's more modern Santa was able to benefit from modern efficiencies:
Newer technologies are a recurring theme in Payne's "slice of life" illustrations, yet at their core is always the same warm heart that made Rockwell's paintings resonate with viewers. Where Rockwell's pictures of young love rely on handwritten notes, Payne's schoolchildren send their hearts via cell phone. But we all recognize that the emotions are the same.
Payne is quick to acknowledge the influence of Rockwell in his work. When he was a boy, Payne was inspired by Rockwell, along with other "great artists." He recalled, "You just can't run away from the impact of Rockwell…. Rockwell set such a standard, not only with his storytelling but also with his craftsmanship." Rockwell's example compelled Payne to do his best: "If I don't do my very best people will just not accept it. It cannot be mediocre because they've already got this torchbearer who set a standard." Payne's favorite Rockwell paintings included the classic boy on the weather vane [above] and the old cowboy listening to the Victrola: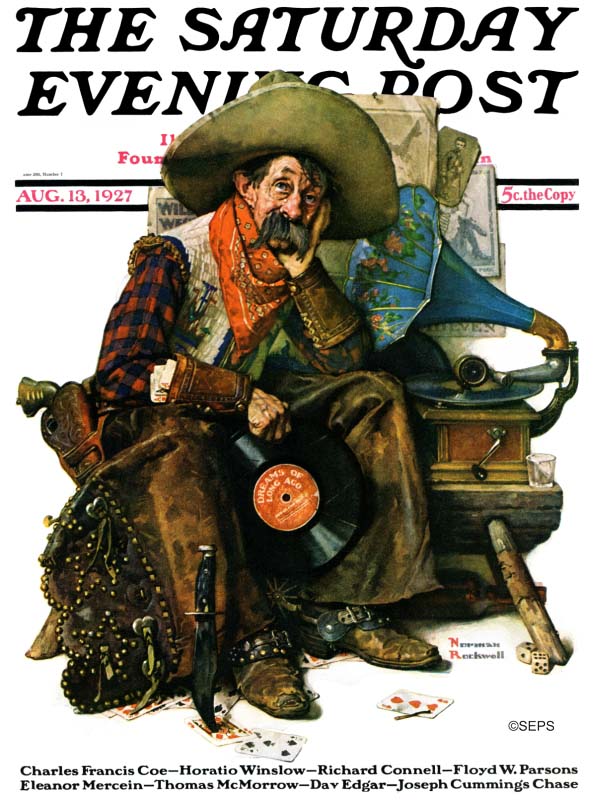 When Payne arrived at college, some of his art teachers pressed him to abandon Rockwell's "out of date" realism. In an interview with Brian Kane, Payne remembered, "They'd say… 'Rockwell is not to be admired,' so I'd get into arguments with my instructors…. I was one of those who refused to buy it."
Payne went on to master traditional drawing skills and develop the full range of artistic talents that would make him a first class storyteller in pictures, as well as one of the top illustrators in America. He was recently elected to the Society of Illustrators Hall of Fame.
For decades he has painted covers for magazines such as Time, Reader's Digest, Sports Illustrated, the New York Times Book Review, The Atlantic, and U.S. News & World Report. He has illustrated numerous children's books and his work has been exhibited in art galleries and museums around the country. He learned how to paint any scenario he imagined; he learned perspective and anatomy and realism, but perhaps most importantly, he developed an uncanny ability to capture a wide range of subtle facial expressions and apply them with humor and humanity.
Apart from technical skill and talent, the humanity of the paintings from the Golden Age of illustration is a lot of what makes those old paintings continue to resonate today. It's also a lot of what makes Payne stand out in this generation.
Become a Saturday Evening Post member and enjoy unlimited access. Subscribe now