Several claim to be the very first, but there can only be one. Which theme park holds the title of America's oldest?
First, let's clear up a common misconception: the idea that the terms "amusement park" and "theme park" are interchangeable. While both industries thrive on similar styles of rides and entertainment, a theme park, as the name suggests, contains only attractions that relate to a central concept. This umbrella includes parks like Universal Studios and Legoland.
Based on that definition, Lake Compounce doesn't qualify, despite its 1846 opening making it the oldest amusement park in America. Similarly, Cedar Point, the second-oldest amusement park in America (1870), and the first to build a hotel specifically for the park, can't be considered because their attractions don't have a unifying theme. That's also true of New York's iconic Coney Island, where the original Deno's Wonder Wheel Amusement Park has been around since 1920.
Six Flags Over Texas would be a good guess; opened in 1961 by Angus G. Wynne, the original park derived its name from the six nations that had governed Texas: France, Spain, Mexico, the Republic of Texas, the United States of America, and the Confederacy. It was the first theme park to feature smaller, themed regions, with each governing nation receiving its own land full of attractions dedicated to its time period and culture. But it wasn't the first.
Perhaps Disneyland wears the crown. After all, it opened in 1955, five years prior to Six Flags, with 160 acres of Disney-film-themed attractions. It was the first theme park to incorporate interactive-museum experiences into its entertainment arsenal, the first in the Western Hemisphere to have a daily-operating monorail, and the first to introduce talking animatronics. Despite these achievements, Disneyland actually opened nine years after America's first theme park.
The oldest park that claims to be "the first theme park" is Knott's Berry Farm, built in the area now known as Buena Park, California. The park began as a simple berry stand in 1920 and grew over the years to include a fried chicken restaurant, a gift shop, a rock garden, a waterwheel, and a reconstruction of George Washington's fireplace.
Over time, Knott's Berry Farm became famous and profitable enough from its various small attractions that Walter Knott decided to build a Ghost Town to entertain guests. Construction began on it in 1940, and when it was finished, the town included various attractions, including a saloon, a hotel, and a sheriff's office, as well as numerous actors portraying the inhabitants of the town and putting shows on for guests. The Ghost Town proved popular and was followed by new rides and entertainment venues, like a gold-panning experience, a railroad, and a wagon camp. Each of these new attractions revolved around an Old West theme.
But Knott's Berry Farm loses on a technicality: it was never actually themed in totality. While the later attractions were all connected by a central idea, the early sources of entertainment weren't. The only thing connecting the rock garden with the waterwheel or the fireplace was that they were all located at the farm. It was never truly a "theme park."
The park that wears the title of America's first theme park isn't what you might expect. First, it's not located in what most would consider a popular summer spot. Rather, it's tucked in the southern part of a decidedly midwestern state. Second, its entire year-long theme revolves around a guy who the rest of the world only acknowledges for one month. Finally, all of its roller coasters, except one, are still wooden in a time where 96 percent of roller coasters are made of steel.
The only theme park that fits this description, the oldest theme park in America, is the Indiana attraction that opened 76 years ago as Santa Claus Land.
Santa Claus Land was founded by industrialist Louis J. Koch after he took a trip to the town of Santa Claus, Indiana with his nine children and was disappointed to find no Santa Claus there. Koch, a self-proclaimed lover of children and holiday celebrations, resolved to create a park where children would be able to meet the town's namesake, as well as enjoy other attractions while they waited to talk to Santa.
When Koch's original park opened in 1946 (nine years before Disneyland), it contained a House of Dolls, a restaurant, a miniature North Pole train, and a series of actors portraying elves, as well as Santa Claus himself. The park immediately proved popular amongst families, including that of President Ronald Reagan, who visited the park in 1955. This success led to new rides and attractions spreading outward from the initial village, including a full-sized train ride that stayed with the park until 2001.
When Louis Koch died, his son Bill became president of Santa Claus Land. Bill continued to expand the park with more Christmas rides designed for children and more shows and shops aimed at adults. However, in the early 1980s, Bill and the other Kochs decided that Christmas was not the only theme possibility for the park, but they still wanted to stay true to their father's love of holiday celebrations.
The park was renamed Holiday World and expanded to include regions for Halloween and the Fourth of July; the rides and shows continued to be themed according to the overarching idea. In 1993, a connected water park, Splashin' Safari, was added, and in 2006 a Thanksgiving section joined the theme.
Holiday World is still thriving today; just shy of 900,000 people have visited it in 2022.
Santa Claus Land proved revolutionary in the entertainment industry. Not only did it lay the creative groundwork for theme park giants like Disney World and Six Flags, but it also showed that smaller parks, such as Cliff's Amusement Park (which is actually centered around a desert environment theme) and Dutch Wonderland (a medieval theme park for a young demographic) could be successful.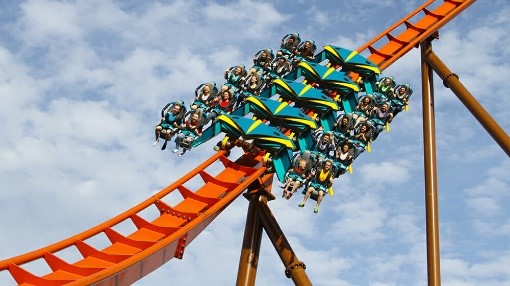 While theme parks have been ingrained in the culture of the United States for a far smaller period of time than their older amusement park siblings, their devotion to family fun continues to make them a beloved part of summertime in America.
Correction: The founder of Santa Claus Land was Louis J. Koch, not Robert.
Become a Saturday Evening Post member and enjoy unlimited access. Subscribe now