All photos of Norman Rockwell's original paintings that appear in this article were taken by David Apatoff at the Norman Rockwell Museum.
You may think you know Norman Rockwell, but unless you've visited the Norman Rockwell Museum to see his big, juicy original paintings you can't really know the artist.
I recently made a return trip to the museum in Stockbridge, Massachusetts. It's a beautiful building surrounded by woods, now resplendent in their autumn foliage. Inside the museum, I recognized some familiar pictures from  The Saturday Evening Post, but these versions were a totally different experience from the printed covers you probably know and love.
For one thing, they are five or six times larger than the magazine. For another, their details are sharper and their colors are glorious. The paintings were rich with touches that don't come through in the printed versions. If Rockwell paintings impress you on the printed covers, the originals show us the true genius of the artist.
Take for example this Post cover from 1927:
Rockwell's original painting hangs on the wall at the museum:
Standing in front of the painting you see many marvelous touches that you didn't notice on the cover, but which add so much character and personality. In the detail below, Rockwell's bright red paint looks like it's still wet:
A lesser artist (or a lazier one) would have saved time by painting conventional shoes on the young man. Most busy Post readers would probably never notice the difference. But look at all the awareness that Rockwell squeezed into those shoes; they are a work of art by themselves.
And those socks!  Puhleese!
You might notice that Rockwell's colors in this painting glow like jewels. Rockwell was aware that, due to the limited technology of his day, the colors of his painting would inevitably become duller when printed on paper. To compensate for that effect, he employed vivid colors that grab your attention from across a room. How was he able to achieve those colors?  For a hint, check out the silhouette of the boy's profile beneath his hat. Shadows are supposed to be dark, right?  Perhaps black or gray? Well Rockwell manages to squeeze the whole rainbow into his shadows. This one contains red, green, blue, and yellow, but you wouldn't notice unless you are standing right in front of the painting. Then you appreciate a master at work.
Let's consider another example. You may have seen copies of this famous 1959 Post cover of an American family tree:
For regular readers of the Post, these 22 little vignettes show enough detail so that we can follow the joke on the cover. However, standing in front of the painting we realize there is far more here to relish. Each of these faces is a carefully studied portrait. Each has a different facial expression, different eyes, a different structure or tilt to the head. Many artists develop a standard template for painting faces, but Rockwell brings fresh curiosity to each one. He must have searched long and hard to find the archetypes to tell these stories: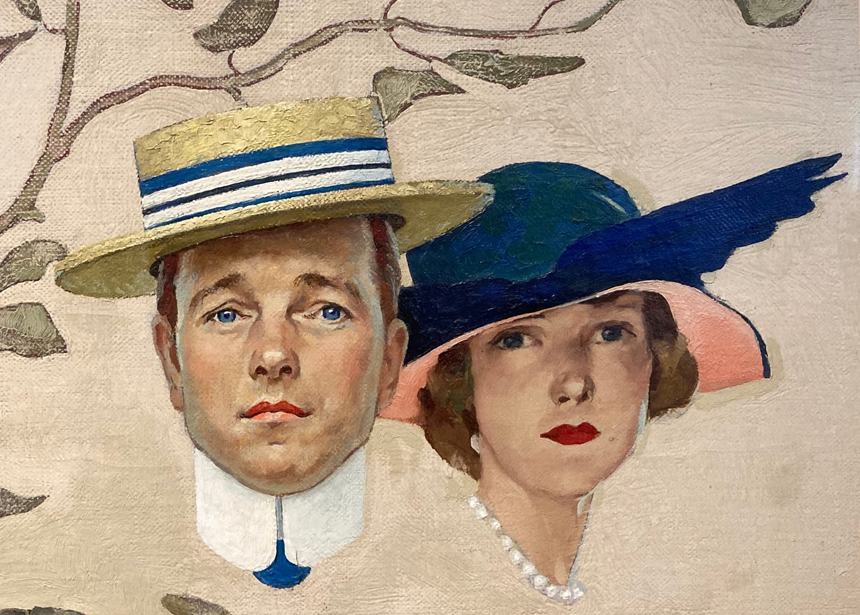 Again and again, Rockwell's original paintings surprise us, not just with the artist's care but with his love of his craft. My trip to the Rockwell Museum reminded me that Rockwell the perfectionist added plenty of touches that might not be visible on a printed magazine cover; Rockwell painted them to satisfy himself. He could have gotten by with doing less for his covers, but the Museum reveals an artist driven by his art.
Become a Saturday Evening Post member and enjoy unlimited access. Subscribe now