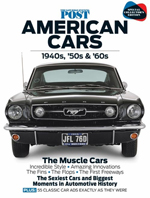 This article and other features about the golden era of American cars can be found in the Post's Special Collector's Edition, American Cars: 1940s, '50s & '60s.
The versatile station wagon, nearly extinct today in the shadow of the roomier SUV, became a must-have, all-purpose form of family transport in peak years of the baby boom.
—"From All-American Automobile," originally published May 26, 1956
In the year 1955, Robert W. May, of Brandon, Mississippi, achieved a stirring statistic. Completing his 20th year as a Chevrolet dealer, he sold more station wagons in 12 months than he had sold in all the preceding 19 years put together. In Doylestown, Pennsylvania, Jenks Watson was rather surprised to find that in the first two months of 1956, 40 percent of his Plymouth and Dodge deliveries were station wagons. A similar percentage for the same period was recorded by Cottrell-Anderson Pontiac agency in Flemington, New Jersey, while in Salinas, California, Cochran Motors discovered that in 1955 one of every five Fords sold was a station wagon, a percentage that quadrupled the company's 1951 figure.
The unusual thing about these better-than-average performances is that they are not rarities. They are simply random evidence of the sharpest and possibly the most significant recent swing in the history of automobile tastes — the whopping rise of the station wagon. The horse may be gone, but this is certainly the day of the wagon. Here are the measurements of the phenomenon: Before the war, the automobile-manufacturing industry in no single year ever made as many as one station wagon in every 100 cars
produced, and even in early postwar years the ratio was little more than 1 in 50. Today at least every 10th car manufactured is a wagon. In the low-priced field, the station wagon of one company accounts for every second car produced, and in others a wagon is every seventh or eighth or ninth. Last year the volume of wagons came within 10 percent of doubling the preceding year, and it is more than probable that new records will be set in 1956, certainly in the percentage of wagons to total cars.
Automobile manufacturers know a million reasons for the surge, most of them good, none of them quite precise. However, it is seldom denied that four factors are especially important. They are the adoption of all-metal bodies, suburban living, the new American leisure, and babies.
More wagons are showing up on rural-mail routes, and the wagon as a troop transport for Cub Scouts and Brownies is well established. One of the Big Three manufacturers learned this latter fact the hard way in 1953. In that year, the maker, for unknown reasons, dropped its three-seat, eight-passenger wagon, offering nothing but a two-seat, six-passenger model. An angry host of housewives promptly made it clear that the missing third seat had a basic capacity of three Cubs and, allowing for squeeze and lamination, a potential of at least twice that many. The manufacturer sorrowfully marked 1953 as "the year of the den mothers' revolt" and hastily introduced a new nine-passenger wagon.
Unlike the mule, the station wagon has at least partial pride of ancestry and a glowing hope of posterity. It bears the lineage of rich estates where in past decades it denoted a family that not only could afford an extra car for guest hauling but also had servants to keep the wagon's wooden panels varnished and, for as long as possible, unrotted and unsplintered. As it is made today, the station wagon is roughly two-thirds a standard car of its particular line, identical with its companion sedans as far back as the middle-door pillar. From there on back, the roof continues relatively straight instead of dropping down to provide a low cover for a luggage-and-spare-tire compartment. It is common, also, for the wagon to be more heavily sprung in the rear. An extra spring leaf or two may be added, or heavier coils, or, as in one case, helper springs. The tires frequently have more plies or are of different size.
The station wagon is a logical automobile. On the same frame as a coupe, for example, it carries more than just a cupola on its foundation, but roofs over the entire serviceable riding area. The surprising fact is that this total space was not used in all cars from the very beginning. For, in the eyes of a space engineer, pulling a roof down to make a low cover for a trunk space is like throwing away a potential room in a house.
Become a Saturday Evening Post member and enjoy unlimited access. Subscribe now