Managing editor and logophile Andy Hollandbeck reveals the sometimes surprising roots of common English words and phrases. Remember: Etymology tells us where a word comes from, but not what it means today.
All around the country, people have decorated their homes for Halloween with jack-o'-lanterns, white-sheet ghosts, and fake cobwebs. I, on the other hand, in order to add realism to my holiday decorations, have been cultivating actual cobwebs throughout the house for the past year.
At least that's what I'm telling people who notice the dusty, gossamer strands in the corners of my closets, in the gaps on my bookshelves, and practically everywhere in my basement.
We all understand that spiders build webs, and that word web traces back to the Old English webb, meaning "woven fabric." But where does the cob in cobweb come from?
As long as there have been people, there have been spiders spinning webs — and occasionally biting the unwary. So the people on the island of Britain had well-established names arachnids long before the Norman Conquest brought massive French (and by extension Latin) influence to their language. One of those names in Old English was spiðra, which became the Modern English spider.
Another name was atorcoppe, from ator- "poison, venom" plus copp "top, summit," which by extension had come to mean "head." Atorcoppe literally meant "poison head." (Some spiders could be described, before the advent of zoology, as little more than a tiny head with eight legs and a venomous bite.)
If atorcoppe rings a bell in your memory, you might be a fan of J.R.R. Tolkien: In The Hobbit, when the dwarves are captured by a colony of spiders, an invisible Bilbo Baggins sings a song to anger them and thus draw them away from his friends. His song begins like this:
Old fat spider spinning in a tree!
Old fat spider can't see me!
Attercop! Attercop!
Won't you stop,
Stop your spinning and look for me?
It worked, too, because "no spider has ever liked being called Attercop."
Back in the real world of English language history, atorcoppe was sometimes shortened to just coppe, like the way we get phone from telephone. So for some people, a spider's web was called a coppewebbe. This word stuck around and underwent some spelling and pronunciation changes to turn it into cobweb in the 16th century.
So the cob in cobweb comes from the abbreviation of a word that meant "spider." But from a stricter analysis of the roots, cobweb is more accurately "head-web," or perhaps, for fans of Spider-Man, "web-head."
Have a happy and safe Halloween!
Featured image: Corrado Baratta / Shutterstock
Want even more laughs? Subscribe to the magazine for cartoons, art, inspiring stories, fiction, humor, and features from our archives.
Costume parties must have been popular in the 1950s, because these cartoons aren't just from our October issues. But we're posting them in this collection to remind you that adults can have fun at Halloween, too!
Want even more laughs? Subscribe to the magazine for cartoons, art, inspiring stories, fiction, humor, and features from our archives.
It's hard to make a more iconic Halloween movie than Halloween, but that's not to say that there aren't legions of other films where Halloween plays a critical role. Much like Christmas, Halloween is such a big holiday in the American imagination that it appears in a number of films that aren't directly about Halloween, or even horror. Last year, the Post took a look at "The OTHER Classic Christmas Movies," so it's only fair that we do the same for Halloween.
10. Batman Forever (1995)
For some reason, the first three modern Batman films all rotated around some kind of holiday celebration. 1989's Batman featured the Gotham City bicentennial, 1992's Batman Returns took place at Christmas, and 1995's Batman Forever landed on Halloween. The holiday doesn't have a huge impact on the overall plot, but it shows up significantly later in the film. Two-Face (Tommy Lee Jones) and The Riddler (Jim Carrey), having discovered Batman's secret identity and fool an unusually dim Alfred (Michael Gough) using Halloween costumes. With Alfred's guard down, the villains and their henchmen invade Wayne Manor, destroying much of the mansion and Batcave while kidnapping Chase Meridian (Nicole Kidman) and setting up a final showdown between the villains, Batman (Val Kilmer), and his new partner, Robin (Chris O'Donnell).
9. Meet Me in St. Louis (1944)
EVERYBODY knows that Meet Me in St. Louis is where we got "Have Yourself a Merry Little Christmas." But not everyone quite recalls that the movie basically takes place over most of a year from 1903 until the World's Fair opens in 1904. The movie is based on a novel of the same name by Sally Benson, which was originally presented as a string of short stories in The New Yorker. The Halloween sequence represents a pivotal moment in the plot's central relationship. Esther (Judy Garland) has been in love with John (Tom Drake) from a distance for a while. However, her sister Tootie alleges that John hurt her while Tootie was out for trick-or-treat. Esther attacks John in a rage, but Tootie admits that John actually protected her and sister Agnes from the police after a bungled prank. Esther's apology to John leads to their first kiss.
8. Mean Girls (2004)
Tina Fey took on a terrifying subject when she adapted Mean Girls from Rosalind Wiseman's book, Queen Bees and Wannabees, and that was the teenage trauma associated with high school cliques. Mean Girls covers a lot of ground when it comes to how young women interact, including social expectations versus reality, the spitefulness that can arise in a compressed setting like a high school, and how kids are often unaware of the damage that words can do. One key scene takes place at a Halloween party; the lead-in starts off light, playing off of the ongoing trend of hyper-sexualized costumes, but it takes a turn when Cady (Lindsay Lohan) is betrayed at the party, setting her on a course that affects the rest of the film.
7. We Need to Talk About Kevin (2011)
A soul-crushing novel made into a soul-crushing movie, We Need to Talk About Kevin deals with one of the worst possible nightmares for a parent: what do you do when your child is the one who conducts a school massacre? The epistolary novel by Lionel Shriver was made into a haunting film starring Tilda Swinton as Kevin's mother, Eva. As Eva drives home one night, the demons plaguing her and her family seem to come to life, moving in and out of the shadows as she sees them out her car window. It is, however, only Halloween, but the frightening vista underscores Eva's own inner turmoil and the tragedy that has played out over the course of Kevin's life.
6. The Harry Potter Series (2001-2011)
Take a hugely successful book series. Recruit appealing newcomers for the young leads. Add some of the most accomplished adult actors in England. Never stray too far from the books. Spend ten years becoming of the one best loved movie series of all time. We all watched that work for the Harry Potter series. Obviously, the magic-based series lends itself to Halloween. Moreover, since every book roughly covers one school year, it's easy to slot those scenes in the plot. Each book at least references Halloween. Not all of the films touch on it, although there are recurring references. A running concern is the fact that Voldemort was originally defeated on Halloween Night. Rowling also tied important events to the holiday in the first four books. Easily one of the most memorable Halloween scenes is in the first book and first film, Harry Potter and the Sorcerer's Stone. When a Mountain Troll gets into the school, the student body panics. Only Harry and Ron keep their cool to try to find Hermione. Making their way to the girls' restroom, they find Hermione under attack by the creature. Encouraged by Hermione, Ron performs a spell that uses the troll's own club to knock him out. Not everyone is pleased (Quirrell is a double-agent, Snape is annoyed), but Professor McGonagall gives the lads points for saving their friend.
5. The Crow (1994)
The supernatural revenge thriller based on the comic book series by James O'Barr found tragedy in the on-set death of leading man Brandon Lee and triumph in the critical and financial success of the film and its soundtrack. The plot turns around October 30th, once known as Devil's Night in Detroit for a phenomenon of arsons taking place on that date over several decades; on one Devil's Night, Eric Draven and his fiancée, Shelly, are murdered on the day before their wedding (which would have been Halloween). Draven returns one year later to deal out harsh vengeance on those responsible. The city, already portrayed in a dark and gothic manner by director Alex Proyas, also has the trappings of Halloween, including trick-or-treating children that pass Draven in costume.
4. Watchmen (2009)
Based on the medium-changing comic book series by Alan Moore and Dave Gibbons (seriously; it's on Time's list of 100 Best Novels from 1923 onward), Zach Snyder's Watchmen takes great pains to present an adaptation that's as close to the page and panel as possible. The story takes place in an alternative 1985 where Nixon is still president and America won the Vietnam War thanks to the intervention of the super-powered Dr. Manhattan. Though the story constantly jumps in time, the main narrative is set in 1985 on the verge of Halloween . . . and nuclear holocaust. Halloween imagery sneaks in at the edges, and several critical plot developments (many of which are horrifying in their own right) occur across October 31 and November 1.
3. The Karate Kid (1984)
One of the more memorable Halloween scenes from any high school-related film happens in The Karate Kid. At a Halloween dance, Daniel (Ralph Macchio) wants to be with Ali (Elisabeth Shue), but he's been trying avoid the bullying of Johnny and his Cobra Kai buddies. Daniel cleverly dresses in a shower costume to conceal his identity. But when Johnny breaks off from the other Cobra Kais (who are all dressed in matching skeleton costumes and facepaint) to smoke weed in the bathroom, Daniel takes the opportunity to rig up a hose and douse Johnny. The Cobra Kais chase Daniel down and deal him a violent beating until Mr. Miyagi (Noriyuki "Pat" Morita) intervenes. Miyagi dismantles the bullies by himself and helps treat Daniel's injuries. Soon after, Miyagi begins to train Daniel so that he can confront the Kais at the All-Valley Tournament.
2. E.T. (1982)
Is there anyone who doesn't know E.T.? What you might not recall is that Halloween actually plays a crucial role in advancing the plot. E.T. wants to "phone home" so that his people can come back for him. However, Elliott and his brother Michael need to sneak E.T. and the communication array he's built to the nearby woods where they'll have a better chance of making contact. That's where Halloween comes in. The boys use that most reliable of disguises (from a kid's point of view): a white sheet ghost costume. They first have to convince their mother that they're actually taking their little sister, Gertie, out, which works. Although a chance encounter with a kid dressed as Yoda distracts the alien, they are still able to get him to the forest to make his call.
1. To Kill a Mockingbird (1962)
Speaking of important scenes occurring at Halloween . . . the climactic action of To Kill a Mockingbird happens on Halloween night after a pageant where Scout is dressed as a giant ham. As Scout and her brother Jem walk through the woods toward home, they are attacked. Scout can't see much because of her costume, but she realizes that someone else stopped their attacker. It soon becomes clear that they were attacked by Bob Ewell, whom Atticus had shamed in court. The man who saved them was their reclusive neighbor, Arthur "Boo" Radley. As Atticus and Sheriff Tate piece together events, they realize that Boo stabbed Ewell, killing him. However, Tate decides to list it as an accident, sparing Boo the attention and circus of a trial.
Featured image: leolintang / Shutterstock
Halloween is upon us once again. Last year, the Post looked at the question, "What's the right horror film for the whole family?" And while staying in for movies is still an excellent choice for this spooky season, especially with the pandemic still present, films aren't your only choice for eerie entertainment. So the new question becomes, "What are the right horror reads for the whole family?"
Every family's view of content is different, and every family has a different standard for when it's okay for the kids to indulge in scary fare. What we have here are some baseline recommendations, standout books that you might check out as starters, along with some appropriate ages. Again, your own idea of what's appropriate and when may vary, but that's why comment sections were created.
1.The Littles (9 and under): Scary, Scary Halloween by Eve Bunting and Jan Brett (1988)
Halloween-themed picture books abound, with lots of great, funny reads like Goblin Walk, but this one is a superlative effort from two huge talents. Eve Bunting has more than 250 books to her credit; she moves as easily from fiction to non-fiction as she does from picture books to novels. Jan Brett has been writing and drawing books for kids since the 1970s, and she's received effusive praise for her lovely, intricate art. Scary, Scary Halloween brings them together in a delightful way, with rhyming verse and outstanding visual renditions of a scary Halloween night. An unseen narrator talks of monsters stalking through the neighborhood before the story takes not one, but two, surprise twists. It's a great one to read to the little ones, and to have them read back to you as they get bigger.
2. Kids to Tweens: The Halloween Tree by Ray Bradbury (1972)
Let's be clear: Ray Bradbury's The Halloween Tree is for EVERYONE, but it serves this particular demographic extremely well. Bradbury is, of course, one of the most exalted names in science fiction and fantasy, but he might also be the King of Halloween. His loving and nuanced takes on the holiday cause his name to appear repeatedly (and deservedly) on this list. The Halloween Tree is a touching story about friendship that also delves into the history of the holiday and its antecedent, Samhain. After a boy named Pipkin disappears, eight of his friends come together with the strange Mr. Moundshroud to travel through time to find their friend; along the way, they learn about the traditions of the Greeks, Romans, and Celts, visit medieval France, and witness what happens at Mexico's Day of the Dead celebration. When the cost of saving Pipkin becomes clear, his friends come together for their friend in a moving finale.
3. Teens: Something Wicked This Way Comes by Ray Bradbury (1962)
Today's teens have access to a steady diet of horror material in both print and film; between libraries and streaming services, there's not a lot that they haven't already seen. That's what makes Something Wicked This Way Comes special, in a way, because they might not have seen it. Bradbury's 1962 masterpiece is all about the transition from youth to adulthood, while also baking in the regrets of age. When a strange carnival arrives in Green Town, Illinois on October 23, 13-year-old best friends Will Halloway (born one minute before midnight on October 30) and Jim Nightshade (born one minute after on October 31) are drawn into its orbit. At first, only Will and Jim seem aware of the unnatural events unfolding from the Cooger & Dark's Pandemonium Shadow Show, but they find an unexpected ally in Will's 54-year-old father. You can smell the autumn air in Bradbury's rich descriptions of the season. The story, by turns wistful and terrifying, is one of the gold standards of dark fantasy. Teens can easily identify with the protagonists, as one of the primary forces in their own lives is the pull of adulthood.
4. Adults: A Night in the Lonesome October by Roger Zelazney (1993) and October Dreams: A Celebration of Halloween (edited by Richard Chizmar and Robert Morrish, 2000)
A Night in the Lonesome October (not to be confused with Night in the Lonesome October by Richard Laymon, which is great in its own right) is creepy, funny, delightful, and demented. Zelazney was the celebrated writer of the bestselling The Chronicles of Amber series and dozens of other works; he won the Hugo Award six times and the Nebula three. 1993's ANITLO was one his favorites of his own work; it was also his last novel, as he died in 1995. But what a great final statement it is. After an introduction, the 31 remaining chapters each take place on one day in October leading to Halloween in late 1800s London. The story is told from the point of view of Snuff, the canine companion and magical familiar of one Jack the Ripper. However, Jack is actually trying to save the world in a story that involves (either directly or by clever parody) the Lovecraft mythos, Dracula, Sherlock Holmes, the Wolf Man, the Frankenstein Monster, Rasputin, and more. The book is by turns haunting and hilarious, with Snuff and the other familiars alternately trying to help their masters save or destroy the world. Surprise alliances and betrayals abound, and it's a real feat of imagination.
On the darker side, the 2000 anthology October Dreams: A Celebration of Halloween is simply one of the best collections about Halloween ever put to print. Collecting short stories along with non-fiction Halloween reminiscences by a murderer's row of talent, the book includes the likes of Bradbury, Dean Koontz, Poppy Z. Brite, Christopher Golden, Jack Ketchum, Gahan Wilson, Richard Laymon, Dennis Etchison, Ramsey Campbell, Peter Straub, and many more. At over 650 pages, it's a slab of fiendish goodness.
5. The Adult History Buff: Halloween: The History of America's Darkest Holiday by David J. Skal (2016)
An October surprise bonus category! Yes, The Halloween Tree digs into the roots of the holiday, but this is a phenomenal book by one of the most authoritative writers on horror. Skal has written essential non-fiction like The Monster Show: A Cultural History of Horror, Hollywood Gothic, and Something in the Blood: The Untold Story of Bram Stoker, the Man Who Wrote Dracula. Here, he turns his keen insights to Halloween itself. Skal's real talent lies in engaging a topic on both the macro and micro level, juxtaposing how that topic impacts the culture as a whole while also using laser-precise examples to show just how deeply that impact runs. Skal's examination runs the gamut from the early Celtic days to a present where we (in non-pandemic years) spend about $9 billion celebrating the holiday.
6. Grandparents: Ghost Story by Peter Straub (1979)
This one goes off theme just a tiny bit, but bear with it. Yes, Ghost Story takes place across multiple time periods with one of the most climactic sequences occurring during a blizzard. But it is one of the grand champions of scary storytelling, and the initial protagonists are a group of older gentlemen and one gentleman's wife. With many mature main characters and Straub's deep appreciation for the canon and history of American horror (references to Nathaniel Hawthorne and Donald Wandrei abound, and nods are clearly made to George Romero and Straub's pal Stephen King), Straub crafts a particularly literary story that thrives on human emotion. There is some really dark stuff, but there are also seeds of hope, especially when the older men reach out to two other protagonists (one much younger) to help them navigate the terror that has them under siege.
And there you have it: like the film list, it's a list to get you started (and to start discussions). Enjoy this very strange season, get lost in the books that you intend to read, and maybe, just maybe, leave a light on.
Featured image: Marsan / Shutterstock
America has to face a frightening fact this October: we are still in the midst of the COVID-19 pandemic. Even with states reopening and calls from certain quarters to get back to business as usual, coronavirus cases are on the rise in 27 states as of this writing. With a proper vaccine still a fair distance from the horizon, many are wondering what to do about that most social of holidays, Halloween. The creepy catch is that there's no single standard or strategy across the nation, so here's a snapshot of how different communities are handling various events in the hopes that the outcome isn't too scary.
The Louisville Jack O'Lantern Spectacular: The Post called this the "Best Halloween Event in the Midwest" in 2018. This year, The Jack O'Lantern Spectacular will still boast over 5,000 intricately carved and lighted pumpkins, but the event will be a drive-thru affair. Organizers decided that it was a solid way to hold the event but still maintain social distancing. The Spectacular, which benefits the Louisville Parks Foundation and requires tickets, runs now through November 1.
Haunted Houses: Local haunted house attractions are a mixed bag. Some have opted to close, and some, like Hanna Haunted Acres, which the Post visited in 2019, will remain open. HHA, considered one of the best haunted house events in the country, lists the series of precautions that they're taking on the front page of their website. Face masks are required, capacity will be limited, and distancing will be maintained. Contact-free temperature checks are required to enter. The staff has upgraded cleaning procedures and made more hand-sanitizing stations available for patrons. The Hanna website also contains more COVID-19 information for guests, including safety reminders and symptom lists (that could guide you to remain home). Haunted attraction site TheScareFactor.com is maintaining a running list of which regular attractions are open or closed in all 50 states, plus Washington D.C. and Puerto Rico. The state with the most closings is California, with 37, though 32 are open and 90 are unconfirmed; the state with the most remaining open is Ohio, with 72, which is offset by 34 closed and 25 presently unknown.
It's Free to See the Full Moon (Both of Them): 2020 has been legitimately spooky, so spooky in fact that October this year gets two full moons. By a twin quirk of astronomy and the calendar, the first three days of October have a full moon, and it will be full again on Halloween (which is rare; the last full moon on Halloween that was visible in North America was in 1944). It should be an extremely bright moon as well. Granted, you might not be able to build a whole event out of seeing the full moon, but it's easy (and free) to do while maintaining socially distancing.
Staying Safe the CDC Way: The Centers for Disease Control added a section to the "Your Health" area of their website that's all about staying safe throughout the holidays. The section comes with a lengthy introduction about precautions to take in the event that you host or attend any kind of holiday gathering. In the Halloween segment, the CDC lists activities and whether they can be considered lower, moderate, or higher risk. Many traditional activities like treat-or-treating, trunk-or-treat events, indoor haunted houses, and indoor parties fall into the higher-risk area.
Likewise, CNN Health also published a list of 31 activity suggestions that people can do safely. These ideas run from the extremely modern (celebrating with Animal Crossing) to the tried-and-true (Scary Movie Night).
State by State, City by City: Every community, city, and state is likely to have their own rules, which you should be able to find online. Cities like Los Angeles will be shutting down larger gatherings and have forbidden big events like carnivals and haunted houses from operating at all. The famous Greenwich Village Halloween Parade in New York has been cancelled, as have big events in Salem, Massachusetts. Here's a list of some of the more significant cities with cancellations or big changes.
One example of state rules can be found in the Illinois Department of Public Health's response to Halloween activities. The IDPH encouraged people to stay at home, but also acknowledged that people will go out anyway and therefore issued guidelines. A statement from IDPH Director Dr. Ngozi Ezike in The Chicago Tribune emphasized some familiar points: "Remember, we know what our best tools are: wearing our masks, keeping our distance, limiting event sizes, washing your hands, and looking out for public health and each other." Illinois is also one of several states that is prohibiting indoor haunted houses at the moment, though outdoor versions may still occur under restrictions. Consult the guidelines for your community to see what is and isn't allowed this year.
The Choice is Yours: The decision about what to do (if anything) for Halloween is up to each individual (or each family). The best practices are obviously to be cautious and thoughtful. Costume masks don't work like personal protection masks, for example, and indoor gatherings offer some of the highest risks. There are clearly a number of ways to have a good time, even if we have to modify the expectations set by previous holidays. As long as you practice social distancing, make smart choices, and avoid babysitting in Haddonfield, Illinois, you can still have a Happy Halloween.
Featured image: (From the 2018 Louisville Jack O' Lantern Spectacular; photo by Becky Brownfield)
Monsters have always been with us. Through the centuries, stories of creatures have emerged in every culture, with folklore often being taken as fact. The New World didn't escape this phenomenon; whispers of American monsters are almost as old as the country itself. Here's a look at eight of the more famous creatures reputed to roam the shadowy corners of the country.
1. The Fouke Monster (Arkansas)
First noted in newspaper reports from the 1850s in an area that includes the towns of Fouke, Jonesville, and Boggy Creek, this monster (dismissed by most as a bear) evolved into more of an ape man or Sasquatch in reported sightings. The first sighting that anyone took seriously occurred in 1953. In 1971, a spate of sightings drew wider attention, particularly after alleged footprints were found. This surge in interest led to the Charles B. Pierce film, The Legend of Boggy Creek, a docudrama that combined interviews and reenactments. Remarkably, the film became the ninth highest grossing movie of 1972. Since then, there have been three unauthorized and one official sequel that keeps the monster in public consciousness, although most experts have dismissed the footprints as a hoax and the various sightings as anecdotal.
2. Mothman (West Virginia)
For a creature with fairly few sightings, the Mothman has generated a lot of lore, books, and even a film starring Richard Gere. Seen in the area of Point Pleasant between November 1966 and December 1967, the Mothmanwas responsible for the November 16, 1966, headline "Couples See Man-Sized Bird…Creature…Something" in the Point Pleasant Register. The consistent theme in reported sightings are the apparently red or glowing eyes of the creature. Many of these reports are dismissed as actually being sightings of larger birds, like herons. Shortly after the Mothman appearances, the nearby Silver Bridge over the Ohio River collapsed. That inspired John Keel's 1975 book, The Mothman Prophecies, suggesting a tie between the creature and the collapse; the book was made into the Gere film in 2002. Point Pleasant commemorates their famous cryptid with an annual September festival.
3. Champ the Lake Monster (Vermont and New York)
Why should Loch Ness have all the fun? Lake Champlain runs 125 miles, touching Vermont and New York while also extending into Quebec, Canada. That wide area has allowed for over 300 reported sightings of the area's own lake monster. Dubbed "Champ," the legend of the lake monster has become woven in the local fabric as a tourist attraction; in fact, Champ is so much a part of life in the region that the local baseball team named itself the Vermont Lake Monsters in 2005. Newspaper reports of sightings go all the way back to 1819; "Champ" got so well-known that P.T. Barnum offered rewards for his capture more than once in the late 1800s. Today, despite a widely circulated photo in 2005, most observers believe that "sightings" can be attributed to things like floating wood, while tracks occasionally found on the banks are likely the prints of larger breeds of snapping turtle.
4. Tahoe Tessie (Lake Tahoe, Nevada & California)
While not as widely known as Champ, Tahoe Tessie has her own fandom, even generating children's books. Tales of creatures living in the lake stretch back centuries to Native Americans, but the more modern narrative seemed to form around 1844 as more white settlers moved into the area. More recently, wrestling and reality TV star Brie Bella talked about her own Tahoe Tessie experience on a 2018 episode of Total Divas. As is the case with most American monsters, a number of alternative explanations exist; in this case, Tessie sightings are mostly attributed to confusion with large breeds of fish that thrive in the rather deep (700 feet at points) lake.
5. Shunka Warakin (Montana)
With a name apparently derived from Ioway (the language of the tribes known today as the Iowa Tribe of Oklahoma and the Iowa Tribe of Kansas and Nebraska), shhuhnkha Warahwalkin originally meant "carries off dogs." The shunka warakin is itself a large dog or wolf-like creature, comparable to Ice Age dire wolves (yes, like in Game of Thrones). The creatures drew more interest in 2005 and 2006 when 120 sheep were killed over an 11-month period; a large, unusually colored animal was shot and killed. Despite speculation, it appeared to simply be a larger than normal wolf with a reddish coloring.
6. Jersey Devil (New Jersey)
The Jersey Devil has almost as much of a lengthy backstory as Bigfoot. Said to inhabit the Pine Barrens of New Jersey, legend has it that the winged creature may have been the cursed 13th offspring of the Leeds family. The "Leeds Devil" became a popular folk story in the area, and began to inspire sightings in the 1800s. In 1909, a rash of sightings and reported attacks occurred; these were later dismissed as the product of mass hysteria and outright hoaxing, as some people had created fake footprints. Sightings, track appearances, and hoaxes continued well into the late 20th Century. The Jersey Devil remains one of the most well-known cryptids. It's also the basis for the name of New Jersey's NHL team, the New Jersey Devils, which adopted the name after their move from Colorado to the Garden State in 1982.
7. Chupacabra (Puerto Rico, Southwestern states)
The goat-sucker (yes, that's what chupacabra means in Spanish) is the most recent addition to the monster gallery.  It erupted from seemingly out of nowhere in the mid 1990s, when original witness Madelyne Tolentino reported seeing it. The creature was believed to be responsible for a rash of animal attacks that included the draining of blood. Hundreds of animals were found dead, and hysteria around the story leaped from Puerto Rico to the United States. All of the various features of the story would later be explained away in Benjamin Radford's 2011 book Tracking the Chupacabra, but by then the creature had been cemented in legend.
8. Bigfoot (Pacific Northwest and elsewhere)
In terms of the myth, legends of a "big man" extend back in history among the Native tribes of what is now the United States and Canada (where he's called Sasquatch, among other names). A boom in Bigfoot sightings happened between the 1950s and 1970s (coinciding with a number of other entries in this list). The high point is undoubtedly the Patterson-Gimlin film, that piece of footage from 1967 that purports to show a bigfoot near Orleans, California.  Bigfoot sightings still pop up from time to time, and books and reality shows continue to be created in pursuit of the hirsute recluse.
Believe it or not, America's oldest magazine has a connection to one of America's most popular monsters. Saturday Evening Post contributor Ivan T. Sanderson led a colorful life. He earned a B.A. in zoology from Cambridge, followed by M.A.s in botany and ethnology; he also served in British Naval Intelligence during World War II. Sanderson actually coined the term "cryptozoology" and would write about topics like sea monsters and frozen mammoths for the Post beginning in the 1940s. Over time, Sanderson became interested in Bigfoot, and would publish articles elsewhere about the Yeti (Abominable Snowman) and its American cousin.
Taken together, the supposed monsters of America represent an ongoing fascination with the unknown. While story after story has been debunked, and whereas today's science easily shoots down many suppositions and hoaxes, there's something oddly enthralling when you hear about a bigfoot sighting. It demonstrates an almost hopeful lack of cynicism, as if there's most certainly an unnatural natural world that exists just beyond our field of vision.
Featured image: Shutterstock.com.
Want even more laughs? Subscribe to the magazine for cartoons, art, inspiring stories, fiction, humor, and features from our archives.
Want even more laughs? Subscribe to the magazine for cartoons, art, inspiring stories, fiction, humor, and features from our archives.
Every year, as the autumn chill sets in and the days on the calendar drift closer to Halloween, peaceful American nights are split with the sound of screams. They're special screams, the kind that mix fright with delight, an ear-splitting cocktail that can only come from one place: the haunted house attraction. All over the country, you'll find them in fields, vacant department stores, museums, and public parks. One of the greatest haunted attractions in the country can be found in the Hoosier state:  Hanna Haunted Acres.
Ranked number two in the entire country by USA's Greatest Haunts (behind only Ultimate Terror Scream Park in Sacramento, CA), Hanna Haunted Acres takes advantage of its setting by offering six attractions that include a hayride, a corn maze, and four separately themed indoor haunts. Open since 1992, they've drawn praise from groups like the Haunted House Association. A reputation that prodigious raises the question: how great is it? I decided to find out.
This intrepid staff writer decided to go right into the belly of the beast with my favorite companions: my family. They accompanied me on last year's trek to last year's stellar Louisville Jack O'Lantern Spectacular (where my wife Becky was team photographer), and they were ready to get scared. This time, however, I'd be writing with two additional correspondents: Connor (age 14) and Kyle (12). The website recommends that 12 is generally the proper lower age for attendees, as they've got some seriously gross effects (that's a compliment). Our passes were provided by the venue.
From the large common area, the four indoor attractions are split between buildings, with the entrance to Pandemic (the corn maze) off to the left. In between the buildings are the concession stand and entrance to the Hanna Haunted Hayride. Various tents offered a virtual reality experience and a palm reader. Things had just opened and it was still a little lighter outside, so we opted to go indoors first; this turned out to be a good choice for the overall impact of our trip.
For our first attraction, we hit . . .
Blood Barn: The theme here is pretty obvious: it's the kind of combination haunted barn/slaughterhouse vibe you'd find in films like A Texas Chainsaw Massacre or 1980's Motel Hell. At the outset, one of the attendants ran down a list of rules and expectations, reiterating that the actors do not touch the patrons and that patrons shouldn't touch the actors. The staff was overwhelmingly positive and helpful and dutifully recited the rules. One attendant even made sure to note that if one of the party lost something (a phone, etc.) that she or someone else could go back in to look for it. The Barn turned out to be the shortest tour time (about five minutes), but it packed a lot in. The characters' costumes here played to the theme. We were surprised to find some mechanically-powered scares in addition to the jump-scares supplied by the cast.
Outbreak: Outbreak packs more of a zombie apocalypse vibe. While the rustic horror of Blood Barn was well-designed, Outbreak is a level up, with wrecked cars, jagged fencing, and other markings of a society in collapse. The larger venue and longer walk-through time allowed for more actors and more scares, a couple of which really startled us. This setting was particularly good at distracting you with one effect and following up with another, bigger scare while your attention was diverted. This installation also made use of air-powered scares and characters, as well as wire-rigged elements. As we made our exit, one cast member even followed us out the door to continue menacing us for a few extra seconds. Outbreak was a solid entry.
Freakshow: Freakshow taps into that bedrock of fear: clowns. With a backstory that suggested crazed clowns and other carnies created by a toxin, you knew that you'd be in for a particular experience. As we walked in the first door, the clown heads everywhere made that clear. The overall carnival theme had some great fine details, such as a stray bucket of popcorn with a human face inside. The performers here really leaned into their costumes, playing the scary clown roles to the hilt. They also made good work of "the follow," quietly insinuating themselves into groups for a later scare. One performer in ringmaster gear unleashed a prolonged squealing giggle that was worthy of a Batman villain; he kept it up as he followed along, seemingly delighted with his own ability to menace. This was a standout.
Descension: This is a new attraction, and it really worked for me. Advertised as a dark haunt, it uses the lack of light effectively. Some passages are pitch-black, while others are dimly lit, which might be even spookier. Despite the mentions of tunnels in the site description, visitors don't need to actually crawl. However, the atmosphere does lend the definite feeling of being in a cave. One of my favorite unexpected moments of the entire visit came in this building, but I'm not going to reveal it here. But it was a substantial surprise.
Pandemic: Pandemic is a strong entry in that most Midwestern of haunting genres: the haunted corn maze. With a theme built around a plane crash, a virus, and human-animal hybrids hiding in the corn, this one had a great premise from the outset. On the inside of the maze, scares came quickly from a variety of characters, including, yes, that old favorite: Guy With Chainsaw. It actually took some work to figure your way out of the maze, which lent an extra air of tension as you could hear other visitors screaming while you tried to find your way. That elevates this maze from others where the scares are too few and far between.
Hanna Haunted Hayride: Hanna Haunted Acres considers this their signature attraction, and it's easy to see why. This is a scary joy from start to finish. Clocking in at nearly 20 minutes, it's a much longer ride than a lot of other locations will give you, and the trip is backed with a great variety of performers, apparatuses, animatronics, and clever set design. You get ambient music, sound effects, bursts of flame, and shocks coming from all directions (even above). The constantly evolving parade of elements kept the guests engaged for the entire ride, and that's a tough feat to achieve. That steady progress also kept the attendees focused on the ride itself, rather that side conversations that can detract from your immersion in the experience. Instead, people were either reacting to some excellent set piece or laughing or screaming. I thought that the other attractions ran from very solid to great, but this one is outstanding.
Hanna Haunted Acres really brings the scares.  They did a great job of living up to their reputation and obviously entertained the crowd. Our family had a truly good time. If you're the kind of person that goes out of your way to chase what's lurking in the dark, this is a fine place to find it. Connor and Kyle filed their reports as well.
Kyle's Take: We were able to participate in all the experiences at Hanna Haunted Acres. We started at Blood Barn, which in my opinion was the least scary. There were a few jump scares including a man with a pig mask and a machete. After that we continued to Outbreak which was filled with zombies and people wrapped in gauze and bandages. Outbreak was longer than Blood Barn was, and more people were hidden in secret places. Everyone got pretty freaked out by a zombie popping out of a fridge with a loud pop and screaming.
After "escaping" Outbreak, we headed to Freakshow, the haunted carnival.  Freakshow was filled with clown masks on the walls, bright colors, and clowns popping out left and right. There were two clowns that followed us at two different points. One of them was a clown shorter than 5 feet with a razorblade in his hand. The other was a taller guy with pale white clown makeup.
After leaving Freakshow, we ventured into Descension. Descension was mainly dark and sparsely lit with blue lights. My favorite animatronic was in Descension. Also, in Descension was a thick fog layer that made it appear that there was no floor beneath you and was cut off around your waist. We travelled to Pandemic next, which was an artificial cornfield with creatures (mainly with chainsaws) inside. It was a little hard to navigate at first, but we eventually found the exit.
After finding our way out of the corn maze, we rode the Haunted Hayride which include pyrotechnics, flashing lights, and animatronics. My favorite part was when a guy took off his mask and pointed his staff at people and asked how we were doing.
The experience was great, and the staff did a great job of being safe and respectful. I totally recommend going there if you haven't before.
Connor's Take: Hanna Haunted Acres provides a wide variety of entertaining experiences that both frighten and delight at the same time. No two exhibits are the same, whether you're being followed by clowns in the Freakshow haunt or chased through a corn maze by a chainsaw-wielding killer in Pandemic.
We were able to travel through all six experiences, each filled with skilled actors fitted with costumes, makeup, and tools designed to solicit maximum response from visitors. Each experience also contains an array of detailed animatronics that talk, float, swing, or lunge at you, sometimes all at once. Nothing touches you, but that fact does nothing to make it seem less real. I spent the entire time jumping or laughing at the reactions of my family members.
You'll have a great time at Hanna Haunted Acres. It doesn't matter if things are coming at you through the smoke in the Descension area or giant monsters are blowing fire at the sky during the Haunted Hayride. All the experiences provided me with tremendous quantities of fun, even when it was a little frightening. It's a brilliant dose of Halloween fun for those who like to be up close and personal with things they only ever see in their nightmares.
The Details: Hanna Haunted Acres is located at 7323 E Hanna Ave in Indianapolis, Indiana, and will remain open until November 2. Hours run from 7 p.m. to 10:30 p.m. on Sundays and open weeknights (consult the calendar) and 7 p.m. to Midnight on Friday and Saturday. A full pricing chart is on the website. Hanna Haunted Acres offers some substantial discounts if you purchase online ahead of time. You can purchase general admission to all attractions, a Hayride only pass, or a Fast Pass, which covers all six attractions and puts you in a fast lane. If you can swing it, the Fast Pass is a great option, particularly with the Hayride as it builds up a substantial queue. Children five and under are free on the Hayride; the other attractions require paid admission, but are not recommended for children under 12.
Featured image: Hanna Haunted Hayride Entrance. (Photo by Becky Brownfield).
What's your earliest memory of Halloween? For some, it's the commercial with the tagline, "The Night He Came Home." For others, it was the 1981 showing on NBC's Friday Night at the Movies. Then there are those that saw it in the theatre upon its first release in October of 1978. Whatever your first exposure to John Carpenter and co-writer Debra Hill's tale of terror was, we can all agree that the film left an indelible impression on popular culture. Now, 40 years later, the latest iteration of what's become an eleven-film horror staple sits atop the box office with record-shattering grosses. But just what made the original film so special? We look back at four factors that may ensure that Halloween lasts forever.
1. John Carpenter
It may be easy, and a little glib, to just say "the director made it good." As always, it's about how Carpenter made it that makes the difference. As the late, great film critic Roger Ebert noted in his original review of the film, Carpenter makes this horror film about more than violence by employing pure artistry. Ebert wrote, "Carpenter is uncannily skilled, for example, at the use of foregrounds in his compositions, and everyone who likes thrillers knows that foregrounds are crucial: The camera establishes the situation, and then it pans to one side, and something unexpectedly looms up in the foreground."

The walking home sequence from Halloween.
Carpenter also made masterful use of tracking shots, such as the early scene where he follows Laurie Strode (Jamie Lee Curtis) and her friends down the sidewalk. It's just the ladies, the camera, and the score that Carpenter composed himself. It is an incredible bit of tension as we wait for something to happen. There's an early tease of discomfort with a station wagon, but that briefly abates. When we do fully see "The Shape," Michael Myers, himself suddenly appear from behind a bush, then simply step back out of sight, it's a visceral shock.
2. Jamie Lee Curtis
The original Halloween trailer.
Born into both Hollywood and horror royalty, Jamie Lee Curtis seemed genetically predisposed to become a genre icon. The daughter of Tony Curtis and Janet Leigh (of Psycho fame), Curtis made her film debut as Laurie Strode in Halloween at age 19. Laurie wasn't the first "final girl" in horror, but Carpenter and Hill took pains to make her more than the last victim standing; they wrote her as smart, resourceful, and dedicated to the children in her care. Lou Cedrone of The Baltimore Evening Sun was among the early critics that sang Curtis's praises for her performance. Halloween launched Curtis on a track of acting and writing that hasn't slowed in 40 years. She went on appear in Carpenter's The Fog and has played Laurie in four subsequent films, including this year's new Halloween. In the book John Carpenter: Prince of Darkness by Gilles Boulenger, Carpenter recalled meeting with Curtis for the part of Laurie and that "I liked her instantly." From the cult of fandom surrounding Curtis in the Laurie role and her overall career, it's clear that he's never been alone in that assessment.
3. The Shape aka Michael Myers
Creating a classic movie antagonist is hard. One presumes it's even more difficult when the character doesn't speak. On top of that, the character's face is covered in an expressionless mask for the majority of the film. Michael Myers, occasionally referred to as simply, The Shape, nevertheless managed to become a figure of extreme menace thanks to Carpenter's assured direction and a physically imposing performance by Nick Castle. In the Boulenger book, Carpenter said, "I always thought that the mask for evil should be an eerie, featureless mask." In a bit of a humorous turn, the Myers mask was actually a Captain Kirk mask based on the features of William Shatner; production designer/art director Tommy Lee Wallace spray-painted it the pale blue that appears in the film. Carpenter loved the effect, saying, "It was almost like if Myers was wearing human flesh. Like Ed Gein."
4. The Score
Halloween Theme, composed by John Carpenter.
One element of the film that's received nearly universal praise since its release is the score. Carpenter generally does his own scores, and he manages to set a chilling tone on a consistent basis. He intentionally used five-four time because he knew that it would sound strange. As Carpenter told Boulenger, "Most popular music and most symphonic and classical music are not in that kind of weird time, so it sets you on edge [when you hear it] all the more since I used little high electronic driving notes." Carpenter went on to say, "I've written better music now, but nothing will be more memorable and more compelling than this little simple thing. Isn't it odd?" Odd, perhaps, but also eerie and unforgettable.
The complete list of things that work in Halloween runs much longer. There's the legendary Donald Pleasance at Doctor Samuel Loomis. You see strong supporting work from Nancy's friends, played by PJ Soles and Nancy Loomis (no relation). The individual pieces bind together into a very strong whole. In 2006, the film was chosen to be preserved in the United States National Film Registry by the Library of Congress as being "culturally, historically, or aesthetically significant." At the end of the night, despite all of the talent and craftsmanship that went into the film, horror movies sometimes really only need to be answered with one question: was it scary? As Doctor Loomis would say, "As a matter of fact, it was."
Featured Image: Original Halloween promo and poster art. (©Compass International Pictures)
Imagine. Pre-electricity, no moon. It's late October, and the people whisper: This is the season for witchery, the night the spirits of the dead rise from their graves and hover behind the hedges.
The wind kicks up, and branches click like skeletal finger bones. You make it home, run inside, wedge a chair against the door, and strain to listen. There's a sharp rap at the window, and when you turn, terrified, it's there, leering at you — a glowing, disembodied head with a deep black hole where its mouth should be.
It's just a scooped-out pumpkin, nicked from a field by some local boys and lit from the inside with the stub of a candle. But it has spooked you. When you look again, it's gone.
Halloween in early 19th-century America was a night for pranks, tricks, illusions, and anarchy. Jack-o'-lanterns dangled from the ends of sticks, and teens jumped out from behind walls to terrorize smaller kids. Like the pumpkin patches and pageants that kids love today, it was all in good fun — but then, over time, it wasn't.
As America modernized and urbanized, mischief turned to mayhem and eventually incited a movement to quell what the mid-20th-century press called the "Halloween problem" — and to make the holiday a safer diversion for youngsters. If it weren't for the tricks of the past, there'd be no treats today.
Halloween was born nearly 2,000 years ago in the Celtic countries of northwestern Europe. November 1 was the right time for it — the date cut the agricultural year in two. It was the Gaelic festival of Samhain, summer's end, the beginning of the dangerous season of darkness and cold — which according to folklore, created a rift in reality that set spirits free, both good and bad. Those spirits were to blame for the creepy things — people lost in fairy mounds, dangerous creatures that emerged from the mist — that happened at that time of year.
Pranksters coated chapel seats with molasses in 1887, exploded pipe bombs for kicks in 1888, and smeared the walls of new houses with black paint in 1891.
Immigrants from Ireland and Scotland brought their Halloween superstitions to America in the 18th and 19th centuries, and their youngsters — our great- and great-great-grandfathers — became the first American masterminds of mischief. Kids strung ropes across sidewalks to trip people in the dark, tied the doorknobs of opposing apartments together, mowed down shrubs, upset swill barrels, rattled or soaped windows, and, once, filled the streets of Catalina Island with boats. Pranksters coated chapel seats with molasses in 1887, exploded pipe bombs for kicks in 1888, and smeared the walls of new houses with black paint in 1891. Two hundred boys in Washington, D.C., used bags of flour to attack well-dressed folks on streetcars in 1894.
In this era, when Americans generally lived in small communities and better knew their neighbors, it was often the local grouch who was the brunt of Halloween mischief. The children would cause trouble, and the adults would just smile guiltily to themselves, amused by rocking chairs engineered onto rooftops, or pigs set free from sties. But when early 20th-century Americans moved into crowded urban centers — full of big-city problems like poverty, segregation, and unemployment — pranking took on a new edge. Kids pulled fire alarms, threw bricks through shop windows, and painted obscenities on the principal's home. They struck out blindly against property owners, adults, and authority in general. They begged for money or sweets, and threatened vandalism if they didn't receive them.
Some grown-ups began to fight back. Newspapers in the early 20th century reported incidents of home­owners firing buckshot at pranksters who were only 11 or 12 years old. "Letting the air out of tires isn't fun anymore," wrote the super­intendent of schools of Rochester, New York, in a newspaper editorial in 1942, as U.S. participation in World War II was escalating. "It's sabotage. Soaping windows isn't fun this year. Your government needs soaps and greases for the war. … Even ringing doorbells has lost its appeal because it may mean disturbing the sleep of a tired war worker who needs his rest." That same year, the Chicago City Council voted to abolish Halloween and instead institute a "Conservation Day" on October 31. (Implementation got kicked to the mayor, who doesn't appear to have done much about it.)
"Letting the air out of tires isn't fun anymore," wrote the superintendent of schools of Rochester, New York, in 1942.
The effort to restrain and recast the holiday continued after World War II, as adults moved Halloween celebrations indoors and away from destructive tricks and gave the holiday over to younger and younger children. The Senate Judiciary Committee under President Truman recommended Halloween be repurposed as "Youth Honor Day" in 1950, hoping that communities would celebrate and cultivate the moral fiber of children. The House of Representatives, sidetracked by the Korean War, neglected to act on the motion, but there were communities that took it up: On October 31, 1955, in Ocala, Florida, a Youth Honor Day king and queen were crowned at a massive party sponsored by the local Moose Lodge. As late as 1962, New York City Mayor Robert F. Wagner Jr. wanted to change Halloween to UNICEF Day, to shift the emphasis of the night to charity.
Of course, the real solution was already gaining in practice by that time. Since there were children already out demanding sweets or money, why not turn it into a constructive tradition? Teach them how to politely ask for sweets from neighbors, and urge adults to have treats at the ready. The first magazine articles detailing "trick or treat" in the United States appeared in The American Home in the late 1930s. Radio programs aimed at children, such as The Baby Snooks Show, and TV shows aimed at families, like The Jack Benny Program, put the idea of trick-or-treating in front of a national audience. The 1952 Donald Duck cartoon Trick or Treat reached millions via movie screens and TV. It featured the antics of Huey, Dewey, and Louie, who, with the help of Witch Hazel's potions, get Uncle Donald to give them candy instead of the explosives he first pops into their treat bags.
The transition could be slow. On one episode of The Adventures of Ozzie and Harriet, costumed kids come to the door, and Ozzie and Harriet are baffled. But food companies — Beatrice Foods, Borden, National ­Biscuit Company — quickly took notice and got into the candy business, and even tobacco companies like Philip Morris jumped in. Halloween candy and costume profits hit $300 million in 1965 and kept rising. Trick-or-treating — child-oriented and ideal for the emerging suburbs that housed a generation of baby boomers — became synonymous with Halloween. Reckless behavior was muted, and porch lights welcomed costumed kids coast to coast.
Today, trick-or-treating has more variants: trunk or treat, where kids go car-to-car in a parking lot asking for candy; and trick or treat for UNICEF, where youngsters collect money for charity along with their treats. Few children, especially young ones, have an inkling of what mischief was once possible.
For those nostalgic about the old days of Halloween mischief, all is not lost. Query the MIT police about the dissected-and-reassembled police car placed atop the Great Dome on the college's Cambridge campus in 1994. Or ask the New York City pranksters who decorated a Lexington Avenue subway car as a haunted house in 2008. There's even an annual Naked Pumpkin Run in Boulder, Colorado.
The modern Halloween prank — be it spectacle, internet joke, entertainment, or clever subversion — is a treat in disguise, an offering that's usually as much fun for the tricked as it is for the trickster. Halloween is still seen as a day to cause mischief, to mock authority, and make the haves give to the have-nots — or at least shine a light on the fact that they should. For that, Americans can thank the long line of pranksters who came before us.
This article appears in the September/October 2018 issue of The Saturday Evening Post. Subscribe to the magazine for more art, inspiring stories, fiction, humor, and features from our archives.
A true artist can take an everyday item and invest it with so much skill and imagination that it becomes something much bigger in the eye of the beholder. That case could be made for music or film or gallery art, but could it actually be made for pumpkins? Based on the Louisville Jack O'Lantern Spectacular, currently running until November 4th at Iroquois Park in Louisville, Kentucky, it's entirely possible.
This year's installation includes 5,000 pumpkins along the trail, which runs one-third of a mile. Jack O'Lantern Spectacular got its start in Oxford, Massachusetts in 1988 as a local school fundraiser featuring artistically carved jack o'lanterns. The creators behind it eventually formed Passion for Pumpkins, Inc., and the company has gone on to produce art shows and events around the country. Their artists combine traditional carving with Sharpies, paint and more to pull off some truly spectacular pieces. All of the Jack O' Lanterns in their shows are indeed made from real pumpkins. Roughly 40 artists did all of the work for this year's show. In the beginning, local talent was solicited through resources like Craig's List, but it's grown to the point where word-of-mouth and outreach to Louisville Visual Arts attracts talent.
Louisville Parks and Rec produced this video about the 2015 Jack O'Lantern Spectacular.
Today, the company operates shows in communities like Providence, Rhode Island, and Minneapolis, Minnesota. The Louisville installation is in its sixth year and runs as a benefit for the Louisville Parks Foundation, a non-profit that works on park improvements through the area. Mounting the show takes several months of planning; layout and designs typically begin in June, with actual carving taking place much closer to the event due to the fact that the pumpkins will rot. Pumpkins are frequently modified or swapped out during the course of the show, creating slightly different viewing experiences if you attend more than once.
According to Erika Nelson, Communications Director of the Louisville Parks Foundation, the temporary nature of a carved pumpkin is something that the show considers. The pumpkins may last up to a week, but warm weather can make that stay shorter. Another danger to the pumpkins is posed by animals. Nelson says, "Being in the woods, animals are absolutely taking nibbles here and there. Sometimes they will eat most of the pumpkin and it will need to be replaced. Other times, we may be able to get by with a couple of bites out and leave it on the trail for another day. It really depends on where they decided to snack and how hungry they were."
The event is also conscious of repurposing resources. Nelson explains that Passion for Pumpkins takes care of the seeds and innards. She says, "Most of the material goes to compost. Seeds for the bigger pumpkins are returned to the growers so they can continue to grow prize winning pumpkins." As for after the event, if any pumpkins are intact, they are generally donated to any organization that might want them.
You may be wondering what's so special about a jack o' lantern display, perhaps picturing a single simple carved pumpkin perched on a neighbor's porch. If that's the case, you'd be comparing a local folk singer busking for quarters to Live Aid. This is the Godzilla of Halloween displays, and it's earned raves from the likes of The Huffington Post, CityNova, and MSN.com, who called it one of the "10 Best Places to Celebrate Halloween in America." The show has drawn about 75,000 people annually over the course of the event. This year, Nelson says, "We're projecting closer to 90,000."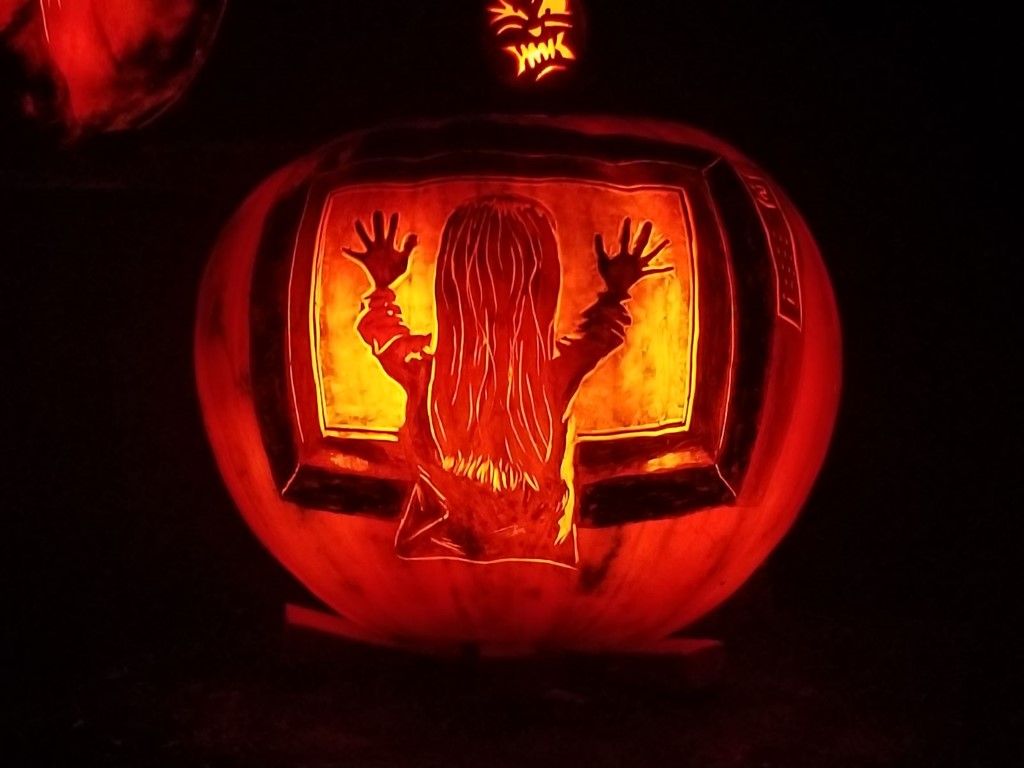 The structure of the event is impressive in terms of both scale and execution. Arranged on a wooded trail that goes for one-third of a mile, the Spectacular weaves along a path that's surrounded by the 5,000 jack o'lanterns. There are areas dedicated to specific themes like "Grimm Fairy Tales" or "Science Fiction." The decorated pumpkins encompass a dazzling array of characters, books, and films. Other jack o'lanterns feature inventive facial designs and expressions.
Some areas include builds that reflect the theme. The fairy tale area includes a castle, for example, while lighted UFOs hover over the science fiction area. A 20,000 Leagues Under the Sea display features a giant squid with tentacles grasping other decorations. Over it all is a sea of twinkling green lights in the tree canopy. Further backdrop is providing by music chosen for each area; the theme from The X-Files plays near the aliens, while the theme from The Avengers plays by the super-hero jack o'lanterns. Local color gets a shout-out as well, with a segment dedicated to famous people and events from Kentucky, including Hunter S. Thompson and local sports legends.
The Jack O'Lantern Spectacular easily earns its name. It's definitely something that you need to see for yourself in order to comprehend the sheer scale and immersive overall experience. It's fun for all ages, it benefits a great cause, and it's an honest artistic achievement. The Great Pumpkin himself would most certainly approve.
Anyone Who's ever laughed at someone taking a blow to the head on America's Funniest Home Videos knows that there's a fine line between the comedic and the serious. That fine line also exists in our relationship with horror movies; every time we're startled when a cat jumps into frame, , we laugh. Some filmmakers have made art from walking that fine line by combining genuine scares with genuine hilarity. It's a tough trick, and not everyone who tries it manages the same measure of success.
We identified a few of the very best scarily funny horror films. We hope they bring you some laughs, but you might want to keep the light on, just in case.
Abbot and Costello Meet Frankenstein (1948)
The original Abbot and Costello Meet Frankenstein trailer.
From 1931 until 1945, the monsters of Universal Studios ruled Hollywood. The very first cinematic universe featured Dracula, Frankenstein's monster, the Wolf Man, and more; they began crossing over with Frankenstein Meets the Wolf Man in 1943.
Meanwhile, Abbot and Costello spent the '40s building up an incredible resume as comedy hit makers, amassing 21 films together by 1948, mostly for Universal. Knowing that their monsters were hitting the end of their run, Universal decided to combine two of their big franchises in Abbot and Costello Meet Frankenstein.
The film was the Infinity War of its day, with the comedians running into Dracula (Bela Lugosi, in the only other time he played the count after the 1931 classic), Frankenstein's monster (Glenn Strange), the Wolf Man (Lon Chaney, Jr., for the fifth time), and the Invisible Man (voiced by Vincent Price). Simultaneously spooky and funny, the film was a hit and led to four more horror team-ups for the comedic pair.
The Fearless Vampire Killers (1967)
The original trailer for The Fearless Vampire Killers.
Incredibly problematic today — because it stars and was cowritten and directed by Roman Polanski — The Fearless Vampire Killer nevertheless retains a strong critical reputation for combining authentic scares with loads of comedy. It wrings a lot of humor out of incompetent vampire killing and turns the notion of using a crucifix as a weapon on its head by proving it to be ineffective against Jewish vampires. Noted for Douglas Slocombe's striking cinematography, particularly a treacherous journey across the top of a snowy castle and a show-stopping ballroom sequence featuring vampires that flit in and out of site as they fail to cast reflections in a room-length mirror, TFVK still contains much to be admired on a cinematic level.
On a depressing note, it was during the filming of TFVK that Polanski met and fell in love with his eventual wife Sharon Tate, who would be murdered by the Manson family just two years later. Despite the tragedy that surrounds it, the film maintains its craftsmanship and many funny moments.
Young Frankenstein (1974)
The original Young Frankenstein trailer.
Considered by many to be among the finest comedies of all time, Mel Brooks' ode to Universal Monsters succeeds in part due to its scholarly attention to detail. Brooks used props from the 1931 Frankenstein in the lab, and he shot the film in black and white to echo the overall look and feel. The script, written by Brooks and star Gene Wilder, worked in nods to the earlier films while layering in plenty of sight gags and ribald comedy. It's an approach that worked, as the film became an immediate success with a reputation that's only grown. The American Film Institute considered it the 13th greatest comedy on its list of the 100 funniest American films.
The Rocky Horror Picture Show (1975)
The "Time Warp" from The Rocky Horror Picture Show.
Richard O'Brien created the concepts for The Rocky Horror Show while working as an actor in England. He wrote it as a musical love letter to the B-grade science fiction and horror films that he grew up loving. O'Brien and director Jim Sharman put it together for the stage in 1973. Producer Lou Adler saw it and bought the rights to turn it into a film. Sharman directed, O'Brien played Riff Raff, and history was in the making.
Initially panned by critics, The Rocky Horror Picture Show became a staple of midnight showings beginning with Waverly Theater in New York. It soon turned into the ultimate audience participation film, with viewers dressing as characters, bringing props, and clutching an alternative script with lines to shout in response to the actors on screen. Though the film only boasts a couple of outright horror moments, it's steeped in the tradition and is full of funny moments and memorable tunes.
Love at First Bite (1979)
The original Love at First Bite trailer.
George Hamilton has been famous simply for being, well, the very-tanned George Hamilton for so long that people forget that he's a skilled comedic actor. His entry on this list comes from this classic skewering of Dracula. Made in the same vein (yes, we went there) of affection that Mel Brooks hit for Young Frankenstein, Hamilton plays a Lugosi-esque Dracula who comes to New York in the '70s in pursuit of the model he believes to be the reincarnation of his lost love. Much of the humor comes from Dracula's interaction with the modern world of the 1970s, including discos and taxis. A high point is Dracula and Renfield's (Arte Johnson) heist at a blood bank.
An American Werewolf in London (1981)
The trailer for An American Werewolf in London.
Some people hear that An American Werewolf in London is classified as a horror-comedy and are completely baffled; they remember it as being supremely scary. Amazingly, it does exist in a near perfect balance of bloodcurdling and gut-busting thanks to writer-director John Landis, an able cast, and the groundbreaking effects and makeup work of Rick Baker. A good portion of the humor is provided by Jack Goodman (Griffin Dunne) in a supporting role; after he dies in the initial attack that infects David Kessler (David Naughton) with lycanthropy, Goodman continues to haunt his friend through advancing stages of decomposition. The most profound memory most have of the film is Kessler's transformation into the wolf. At nearly three minutes long, it's a tiny epic of effects and acting that sticks with audiences long after the final frame.
Gremlins (1984)
The original Gremlins trailer.
Director Joe Dante keeps things light for the early stages of Gremlins, but once Spike and his buddies turn, he goes for broke. In fact, this is one of two films (the other being Indiana Jones and the Temple of Doom) that directly led to the creation of the PG-13 rating. The scene most at issue is Lynn Peltzer's kitchen showdown with a group of Gremlins in which she dispatches them via blender, microwave, and butcher knife. Despite the occasionally gruesome nature of the action, the film comes stocked with solid laughs, including a scene of a theater full of Gremlins becoming enraptured by a showing of Snow White and the Seven Dwarfs.
Evil Dead II (aka Evil Dead 2: Dead by Dawn) (1987)
The original Evil Dead 2 trailer.
Sam Raimi's original Evil Dead was as brutal as they come. Well-regarded for its innovative camera work and effects that were managed on a meager budget, it included few scenes that you would describe as funny. For the sequel, Raimi, co-writer Scott Spiegel, producer Rob Tapert, and star Bruce Campbell decided to lean in to more slapstick humor, echoing films that Raimi and Campbell had made together when they were younger. The result is a fiendishly funny gross-out, powered by a manic and quotable Campbell performance as hero Ash. An instant cult classic, the film went on to generate another sequel, Army of Darkness, in 2003, and a television series, Ash vs Evil Dead, that ran for three seasons on Starz.
Killer Klowns from Outer Space (1988)
The original Killer Klowns from Outer Space trailer.
Even without this film, the three Chiado brothers would have a strong reputation as puppeteers and creators of effects. You can see their work in movies like Pee-wee's Big Adventure (they did the "Large Marge" scene), Critters, and Team America: World Police. On Killer Klowns, they took their knack for prop creation to delirious heights, turning every manner of circus paraphernalia into something deadly. The film owns its deliberately goofy tone, but also manages to work in genuine scares. And if you're already scared of clowns … stay far away. You'll never look at cotton candy the same way again.
Beetlejuice (1988)
The original Beetlejuice trailer.
Much more funny that it is scary, Beetlejuice sprang from a screenplay by horror novelist Michael McDowell and writer-producer Warren Skaaren. But the real heartbeat of the film comes from famously eccentric director Tim Burton. Burton infuses the film with his patented goth surrealist aesthetic, wringing comedy out of social discomfort, surprising music cues, and a hilariously over-the-top performance by Michael Keaton. While some very little ones might still be freaked out by various depictions of the afterlife and some unsettling claymation effects, this film really can be enjoyed by the whole family.
Tremors (1990)
The original Tremors trailer.
Witness the birth of a franchise that just refuses to die! Ron Underwood's Tremors manages to juggle a number of tones, notably suspense and comedy. He also makes the bulk of the protagonists regular people from the wilds of Nevada, pulling additional laughs from unlikely heroes stranded in town surrounded by subterranean monsters that are driven by noise to attack. Kevin Bacon, Fred Ward, and Finn Carter do great work as two handymen and a grad student who try to warn the town and end up as the central characters. Country legend Reba McEntire, in her film debut, earns big laughs with Family Ties dad Michael Gross as a pair of overly enthusiastic survivalists who play a big role in battling the "graboids." The movie was liked by critics, did moderate business at the box office, and positively exploded on video. It's surge in popularity led to six more Tremors films and a short-lived TV series.
Peter Jackson's Combined Early Work (1987-1992; 1996)
The trailer for Braindead (aka Dead Alive).
This one's a bit of a cheat, but this is definitely a case of a career that adds up. Peter Jackson earned an Academy Award nomination for his screenplay for Heavenly Creatures in 1995 and conquered the film world with The Lord of the Rings. But before that, he had the reputation for deliriously funny gross-out cinema driven by inventive camera moves and clever writing. His feature debut, 1987's Bad Taste, was the tale of aliens invading New Zealand to harvest the new intergalactic fast food delicacy: humans. Meet the Feebles, from 1989, was a demented take on the Muppets long before Avenue Q or The Happyland Murders. Jackson took a swing at the zombie apocalypse in Braindead (aka Dead Alive) in 1992. Cult successes all, they eventually led to Jackson landing Heavenly Creatures, which told the story of real-life murder while introducing Kate Winslet in her film debut. Jackson stepped back to his familiar horror vibe for The Frighteners in 1996, a movie that drew some praise for effects and stylish photography. The common thread in Taste, Feebles, Braindead, and The Frighteners is comedy of excess offset by a few truly shocking moments.
Shaun of the Dead (2004)
The original Shaun of the Dead trailer.
Edgar Wright made his mark as a director of television in Britain, including the much-loved comedy series Spaced, which starred its creator and writer, Simon Pegg. During the course of that series, the pair discovered their affinity for the zombie films of George Romero while doing a horror spoof episode. The two subsequently teamed up to write Shaun of the Dead; Wright would again direct, with Pegg as the star. The film became the first cinematic calling card for Wright's signature visuals, involving frenetic camera moves, quick cuts, split-screens, and more. Populated by familiar faces from British television (notably Nick Frost), the film takes place during a zombie apocalypse in London; however, it's also quite clever in occasionally making that the backdrop to another story about the relationship between Shaun (Pegg) and Liz (Kate Ashfield).
Filled with incredibly funny sequences and an obvious affection for the source material, Shaun of the Dead garnered critical praise and a number of awards while launching Wright, Pegg, and Frost into greater stardom. Wright recently directed the acclaimed Baby Driver, Frost is a regular on AMC's Into the Badlands, and Pegg plays ongoing roles in both the Mission: Impossible and Star Trek franchises.
Zombieland (2009)
The trailer for Zombieland.
Every horror film and movie monster comes with a particular set of rules. This concept becomes central to many genre entries, including the Scream series. However, the rules for zombies have never been so frequently updated, addressed, and reiterated as they were in Zombieland. Beginning with a zombie apocalypse premise, the film follows four survivors (who only identify themselves to one another by their cities of origin) who try to reach the alleged safety of a California theme park. The four leads (Woody Harrelson, Jesse Eisenberg, Emma Stone, and Abigail Breslin) have crackling chemistry and make the material work on levels both human and humorous. And if you ever had any doubts about the genius of Bill Murray, this one will eliminate those. It's extremely entertaining overall, with some excellent scare sequences (especially Amber Heard's zombified rampage in Eisenberg's apartment).
What We Do in the Shadows (2014)
The trailer for What We Do in the Shadows.
Taika Waititi had already established himself with his directorial work on HBO series Flight of the Conchords and his feature film Boy. Conchords co-creator and star Jermaine Clement teamed up with the director to write and star in his vampire "mockumentary." Following four vampire housemates in Wellington, New Zealand, Shadows takes the formula established by shows like The Real World and turns it on its head with horror, humor, and occasional shocks of violence. The film was well received by critics and audiences alike and has spun-off a mini-universe of sorts; a sequel called We're Wolves is in preproduction, a spin-off television series called Wellington Paranormal just aired in New Zealand, and American network FX is preparing an American series version of the original film. The movie also helped catapult Waititi's career forward, landing him at the helm of recent worldwide hit Thor: Ragnarok.
Featured Image: Young Frankenstein film poster. (Art by John Alvin; © 20th Century Fox.)
The holiday TV special holds a special place in the hearts of kids of all ages. Every occasion seems to merit a number of animated or live-action celebrations, including special episodes of ongoing series. Halloween can lay claim to an almost endless parade of cartoon and live-action interpretations, some of which have gotten lost in the folds of time. It would be a monumental task to exhume all the fan favorites that have drawn small audiences over the years, so we focus on five overlooked Halloween specials in particular — including one that was written by one of the greatest fantasy writers of all time.
Halloween Is Grinch Night (1977)
Eleven years after the huge success of How the Grinch Stole Christmas, the Grinch returned in this trippy Halloween installment. While there are differences of opinion among critics as to whether this is a sequel or a prequel, what is certain is that it's a creepy, offbeat little fable. The animation and overall vibe are different from the Christmas story we know — it was directed by Gerald Baldwin rather than Chuck Jones. It also features more songs and a generally surrealistic tone. It might not be everybody's slice of roast beast, but it's certainly an interesting one to check out.
Halloween Is Grinch Night
A Scooby-Doo Halloween (2003)
Presented as the sixth episode of season two of What's New, Scooby-Doo?, this special finds the gang heading to the small town of Banning Junction to spend Halloween with Velma's family and see KISS. Yes, you read that correctly. The famous rock band lends their voices and music to the proceedings as the gang tries to solve the mystery of some larcenous and destructive robot scarecrows. Viewers get treated to an animated performance of "Shout It Out Loud," as well as one classic KISS dialogue exchange: When the robot scarecrows storm their show and guitarist Tommy Thayer wants to know the plan, Paul Stanley says, "What we always do! Keep playing until the cops come!"
KISS plays "Shout It Out Loud" in A Scooby-Doo Halloween.
The Midnight Hour (1985)
Jack Bender's career in television remains something even experienced directors would envy. He's directed many episodes of classic TV, such as The Sopranos, Game of Thrones, Alias, Felicity, Beverly Hills 90210, and 36 episodes of Lost, including the series finale. Among all of that inarguable greatness rests a dusty gem that has a hardcore horror cult following. The Midnight Hour is a made-for-TV comedic horror film with a heavy emphasis on the music of the 1960s; it additionally features one song from The Smiths and an original number, "Get Dead." One of the most interesting things about it is its unique tone, combining music, witchcraft, zombies, vampires, friendly 1950s ghost cheerleaders, and teen comedy. While it might not be to everyone's taste, it's definitely an early signpost that Bender was capable of making fantasy elements work on screen.
The Midnight Hour
A Wonderful World of Disney Trio (1997, 1982, 1983)
Disney films and specials have been running as an anthology brand on television since 1954. Beginning with Walt Disney's Disneyland in that year and moving through a series of name changes that generally include World in the title, the programming umbrella has often included holiday programming and compilations. Disney put three different specials into rotation in the late '70s and early '80s as distinct episodes, one of which was later made available on home video:
Halloween Hall o' Fame aired in 1977, featured Jonathan Winters as host, and included four classic cartoons: "Trick or Treat," "Lonesome Ghosts," "Pluto's Judgement Day," and "The Legend of Sleepy Hollow."
Disney's Halloween Treat aired in 1982 and combined some of the pieces from Hall o' Fame with additional animated segments and a pumpkin puppet host; it ran numerous times and received a VHS release.
In 1983, A Disney Halloween pushed the length to 90 minutes and combined a number of features into one special. The Magic Mirror hosts a tour through 23 animated segments, including previously used Halloween-themed bits and excerpts of villain scenes from various Disney films. It ran on both ABC and various Disney channels into the late '90s.
While no exact reproductions of these specials are available on DVD today, and only portions are available on YouTube, the pending introduction of the Disney Streaming Service certainly opens up the possibility that they'll be seen in their entirety again.
A compilation of Disney Halloween specials on YouTube.
The Halloween Tree (1993)
A giant of fantasy and science fiction, Ray Bradbury wrote 27 novels and more than 600 short stories. He was fascinated with Halloween and childhood, returning to those subjects in his writing in novels like Something Wicked This Way Comes and collections like The October Country. Beginning in 1950, he published 14 short stories and two poems in The Saturday Evening Post, and later served on its fiction board.
Based on Bradbury's classic 1972 novel with a screenplay written by the fantasy master himself, The Halloween Tree first aired in 1993 and captured an Emmy for Outstanding Writing in an Animated Program. The story follows a group of children as they time-travel through the traditions that led up to Halloween in an effort to rescue their friend. Bradbury himself narrates, and the voice of antagonist Mr. Carapace Clavicle Moundshroud is provided by none other than Leonard Nimoy. The film enjoys some perennial popularity through nearly annual showings on Cartoon Network but still manages to fly under the mainstream radar. Interestingly, it received six separate VHS releases between 1994 (including two that came with the book) and 2000. It's been released twice on DVD, mostly recently in 2016.
The Halloween Tree
https://files.saturdayeveningpost.com/uploads/reprints/The_Happiness_Machine/index.html
As a special Saturday Evening Post bonus, you can read "The Happiness Machine" from Ray Bradbury's collection Dandelion Wine.
Featured Image: The Halloween Tree home video cover art; ©Hanna-Barbera/Turner Home Entertainment
For nine years, my wife and I lived in the city, down a long lane, next to the Quaker meeting I pastored. Our first Halloween, we loaded up on candy, anticipating a horde of pirates, ghosts, and witches. But the lane was dark and spooky and not one kid showed up, so for the next month, we ate mini Snickers for dessert at every meal, even breakfast. Then we moved to a small town, and carloads of urchins mobbed our home at Halloween, swarming our front door like rats on raw meat. After the first hour, we were out of candy and began emptying our cupboard to beat back the mob, doling out squares of baking chocolate, sugar cubes, packets of Sweet'N Low. When we ran out of treats, they began TP'ing our trees, soaping our windows, and igniting paper sacks of manure on our porch. It was wonderfully nostalgic, reminding me of my childhood, and I went to bed happy.
We made the mistake of leaving our pumpkin outside, and woke the next morning to find it splattered on the street in front of our house.
"And they say the youth of today have no gumption!" I said to my wife, thrilled to be living in a town whose youth weren't adverse to labor. If you've ever hefted a pumpkin over your head to smash it, you'll know it's no easy task.
It wasn't as if I were out any money. I got the pumpkin free at the hardware store in our town. If you wait until Halloween to get your pumpkin, as I do, the hardware man will pay you to take it off his hands. Nor did I invest much time carving the pumpkin. Triangle eyes, a square nose, and a gap-toothed smile. I've carved every pumpkin the exact same way since I was 6 years old and my parents first entrusted me with a knife.
I remember that day well, because I still have the scar. While blood was spurting in a high arc from my forearm, my father said, "Yep, that's a cut all right. Looks like you hit an artery." My father exposed me to danger early and often so the lessons would stick. Sever an artery once, and you'll think twice before doing it again, I guarantee it.
But things changed on the Halloween front. Parents horned in on what had been a kid's affair. Children were no longer turned loose to find their own costumes, there was no more rifling through the attic for hobo clothes. Costume stores began sprouting up, and parents shelled out 50 bucks for their kid to be a ninja, a Spiderman, or a ballerina. Costumes became the measure of parental worth.

Around the same time as the outbreak of costume stores, someone discovered there was money to be made selling pumpkin-carving kits. There were no kits in my day, by cracky. A steak knife from the silverware drawer sufficed. Gone were the pumpkins with perfectly good triangle eyes and noses and gap-toothed smiles. Then someone, Martha Stewart, I think, wrote a magazine article about decorating with pumpkins, and, before long, pumpkins were sculpted by adults, not carved by kids. That was when Halloween began floating belly-up in the holiday fishbowl. Martha Stewart was sent to jail, but for entirely the wrong reason.
Now, God help us, parents are accompanying their children door to door. I would have sooner stayed home than had my parents tag along the night of Halloween. What is a boy to do when, in the presence of his parents, he must administer a well-deserved trick to the grouch down the street? His hand dips furtively into the folds of the costume to withdraw a bar of soap, only to have his father, who has forgotten the pure joy of delinquency, give him the stink eye. What have we become?
Certain pastors I know get all worked up about Christmas losing its meaning. This pastor is fine with Christmas. I want to return Halloween to its former glory. So I'm starting a movement to reclaim Halloween. First, no more adults poking their noses in where they don't belong. If a kid wants to go trick-or-treating, the kid will have to come up with the costume, not the parent. No more store-bought costumes. It will be against the law. Second, every fourth house will have to hand out popcorn balls. There is no candy bar in the world that compares with a popcorn ball, but no one hands them out anymore. My movement will promise a popcorn ball in every Halloween bag.
If this sounds good to you, I urge you to write in my name during the next presidential election so I can get these, and other, crucial problems solved.