Christmas is a season outside of time. Each holiday is new and fresh while at the same time connecting u to every other Christmas we've ever known. So each holiday season brings with it not just joyful moments but a generous helping of the past.
Christmas planning can be a joy, but it often veers towards comedy. In the hands of Post cover artists, the experience is presented in equal parts delight, misery, and silliness.
If the windup to Christmas is hectic and exhausting, John Falter's cover reminds us what an amazing spectacle the holiday is to children. In their cautious, pajama'd descent down the staircase at first light, one can almost feel their joy that, after weeks of longing and anticipation, the magical day has finally arrived.
This article is featured in the November/December 2019 issue of The Saturday Evening Post. Subscribe to the magazine for more art, inspiring stories, fiction, humor, and features from our archives.
Featured image and artwork: SEPS.
Humor is like a magic trick. To succeed, it needs to look effortless, and the devices used to make it must work invisibly. Comedy is often found in the unexpected, a contrast between the serious and the frivolous or the modern and the old-fashioned. Or it may be discovered in the all-too-familiar. Such is the case here with Richard Sargent's portrayal of a dad who is about to be vanquished by his Christmas Eve wrapping project. Sargent, who referred to himself as "king of the pregnant pause," tended to de-emphasize an illustration's background, drawing full attention to his subject matter.
Whatever our age, we never lose our inner child, particularly at Christmas. Russian-born Constantin Alajalov specialized in illustrations gently pointing out human frailty. While a youth in St. Petersbug, his life was disrupted by the Russian Revolution. For years he survived by painting propaganda murals and posters, but he managed to defect, first to Turkey and finally to the United States. He quickly found success in America as a muralist. His magazine careerwas launched when a friend suggested he send some paintings to The New Yorker. To his surprise, they were accepted and used as covers. He would eventually complete 74 lighthearted covers for the Post.
Rockwell went to extraordinary lengths to create verisimilitude. Here, instead of working in the studio, he set up his easel in Chicago's Marshall Field's department store even though all we see of it is the back of a sales counter. The store happily provided the setting and toys for the scene, but the artist felt the picture needed more dolls, so he went out and purchased a number of them. He reported the Post editors that he owned more dolls than any other 53-year-old-kid.
As the camera became ubiquitous, the new tradition of the family Christmas card was taking hold. But it's not always so easy getting everyone to cooperate. Sewell was widely known for his skill in capturing average Americans — and children in particular — with humor and affection.
We were delighted a few years ago to receive an email from Betsy Norfleet with information about the creation of this iconic 1951 cover. Betsy told us that it was her mother, Betty, who portrays the housewife directing her harried real-life husband, George. As the story goes, George was not only brutally scratched by the needles but also threw his back out posing in the scrunched-up position for house on end.
Dutch-born Prins turns this over into a vivid story that umps off the page like a movie sequence. Notice his clever evocation of the passage of time in the differing differing degrees of light shining (or not shining) through the kitchen window. This sweetly humorous illustration also has a wistful quality: All those weeks of preparation — the buying of gifts, the careful wrapping — then suddenly we're left with a roomful of shredded paper.
The outdoors beckons, and there beneath the tree are some keen skates that would be great to take to the pond. Unfortunately, this young man has some work to do. It may prove to be a long afternoon, with just two letters written and five more to go.
These illustrations and many others are featured in the Post's Special Collector's Edition, Norman Rockwell: Christmas in America. This edition can be ordered here. 
People talk about the special bond between mothers and sons, but some of these '40s and '50s moms don't look so sure.
Any mother can relate to the problem of the growth spurt, as painted by Frances Tipton Hunter, who created 18 covers for The Saturday Evening Post. Hunter was particularly interested in drawing children and animals. She also illustrated a series of paper dolls in the 1920s for the Ladies' Home Journal, which proved to be extremely popular.
[From the editors of the April 17, 1948, issue of the Post] The old, old losing fight to keep a boy in clean clothes, when in five minutes he can get dirtier than a grease monkey, is noted here by an artist taking his first crack at a cover. He is George Hughes, one of the country's best-known illustrators, whose work in that field is highly familiar to Post readers.
[From the editors of the June 5, 1948, issue of the Post] Stevan Dohanos' two sons, Peter and Paul, were in an Eastern boys' school and about this time last year, getting-out time, he took the family car up to help them move home. A passenger car, he learned, is no proper vehicle for such a job. It calls for a light truck or van. Brooding about this, and what it meant for the future, Dohanos mentioned his trip to a friend with a son or sons in college. They told him his real moving jobs are still ahead, when he tries to load the contents of one college room. The artist made his sketches on the Yale campus, but rearranged things to suit his purposes. The boy is George Ritter, of Westport, Connecticut, no Yale man. The artist didn't use a Yale man, on the remarkable theory that none would like to cut class.
[From the editors of the October 16, 1948, issue of the Post] It's that suspenseful occasion when a young man puts on his first tuxedo to go out to a formal party—or more commonly, first puts on his father's tuxedo or one borrowed from an older brother. Looking around for models, it occurred to artist George Hughes that some of his neighbors would serve excellently. The boy getting ready to dazzle them at the dinner dance, if he doesn't forget and wear moccasins, is Tommy Rockwell, son of artist Norman Rockwell. The woman essaying the puzzling job of tying somebody else's tie is Tommy's mother. That is Tommy's room, in Arlington, Vermont, and Hughes was much impressed—he thought it remarkably tidy, as boys' rooms go. Temporarily tidy, at least, and you can't ask more than that.
[From the editors of the February 25, 1950, issue of the Post] "Outfitters to Young Gentlemen," proclaims the suit box, in a blundering effort to make the victim of its contents feel as swell as he looks. The young character does not wish to look like a young gentleman. What, he wonders in horror, will the gang down the street think when he bursts upon their gaze and is recognized as the guy they had always thought of as a normal, gun-toting cowboy? Will they clasp their hands as mother is doing, only with a less complimentary ecstasy? One ray of hope plays on the dark scene. In the next few weeks other misguided mothers will get this same new-suit fever, and on Easter Sunday many young cowpokes, in similar outrageous disguises, will be comforted by their companionship in misery.
[From the editors of the September 8, 1951, issue of the Post] This mother's face is charming upside-down, but if you will also stand on your head, you will find that she wears a choleric expression. She is mad at her son, which is unreasonable, for she herself has lost his shoe. He took it off last June, and is it not a woman's duty to take care of her men's clothing? We know where the shoe is: it is either in the Apache hide-out under the forsythia bush, in the cowpoke's corral in the vacant lot down the street, or Fido is preserving it in his kennel as an objet d'art. Junior will go to school in sneakers, and nobody will care except his mother, who doesn't go to school. Next week she very likely will think all this is funny, and what the moral of Jack Welch's theme is, we don't know.
[From the editors of the September 20, 1952, issue of the Post] Inventors are so smart at dreaming up new types of cloth, why doesn't some bright fellow concoct a rubber-base fabric, so that the suit of an expanding boy can occasionally be put on a stretcher and thus increase in pace with its master? When this idea goes into production, we get a 10 per cent cut or somebody gets sued. Meanwhile, Dick Sargent's distraught homemaker can take a few gussets in that stationary suit and hang it on Son #2, but then the boy will promptly outgrow it. Oh, for the deflated old days when it wasn't necessary to stop eating for a while to finance a new suit or stop buying suits to eat. Well, better times ahead, mother! Soon the lads will be big enough to hand down their clothes to their father.
[From the editors of the November 8, 1952, issue of the Post] Little Johnny Tomorrow has just walked past young Mr. Today, making the latter look aged and out of date. It reminds us of a sad occasion when an airliner captain asked a little passenger if this was his first time up. "Fourteenth," said the lad. 'Can't ever get up higher 'n five, ten thousand feet in these old planes, though. How's the United States ever going to build a space platform if you fellas can't make altitude?" The captain, epitome of modernism, turned green and crept away to rev up his creaky old engines; and the boy should have been spanked for insolence, except that actually he had his feet on the ground. When artist Sewell's youngster gets tired of wearing that helmet, the hostess could put it on somebody who is snoring.
[From the editors of the December 20, 1952, issue of the Post] What is lovelier than the glow of care-free joy in the faces of happy children? Will the lady on the cover have the time to defend her food and change those expressions to the pinched melancholy of starvation? She will if she can make it across the room in time.  It will be fairly cruel if she imprisons the lads in the kitchen with nice, healthy, disillusioning peanut-butter sandwiches, but not as cruel as the time Dick Sargent set up that enchanting pastry in his dining room to paint. He has sons. The mouths of the sons began to water. They watered for a week. Two weeks. Three. Then the sons were released at the pastry. They ate it so fast they apparently did not notice it was petrified, claims the fiendish father.
[From the editors of the October 22, 1955, issue of the Post] Mother is making rapid progress at teaching the boys to maintain a tidy room; if George Hughes had painted this the day school opened, the detail would have given him a lame arm. Now, here is portrayed an intelligent female who in her delicate way molds the character of men; so, when her boys are seniors in college, they will be 27 per cent tidier than now. Then they will get married and never leave so much as a pipe cleaner lying about—for six weeks. After that they will revert to human beings, and what they don't chuck around will be what they haven't got. A woman's picking-up-stuff is never done. Why doesn't this mother shock the boys into tidy conduct by simply leaving their shambles untouched? Because they like it this way. She'd better go buy herself a new hat.
[From the editors of the May 11, 1957, issue of the Post] Johnny's happy shout of "Mother, I've brought something for you!" is an understatement. Dick Sargent certainly can paint the most delicious-looking mud; did he use maple fudge for a model? Now then, when mother regards her ex-clean carpet and the adoration in the eyes of her seldom-so-soiled son, what type of emotion will possess her? Although a mother's ups and downs often come simultaneously, and situations like this are all in the day's work and love, the temperature of her reaction will depend partly on whether she's a phlegmatic soul or pop-offy soul. Yet it's a good bet that before she undertakes to make things come clean, she will administer to her son, fudge and all, a good, sound—kissing. Afterthought: if Fido decides to shake himself, all bets are off.
[From the editors of the February 15, 1958, issue of the Post] It's typical of the male sex that Johnny is realizing how much his favorite lady means to him only when she is about to go away—and that's enough psychology for this week. So John wants to cling to her, which will overlay a stunning new chocolate pattern on her dress, a chic addition to what seems to be a golden-fingerprint motif already put there by designer Amos Sewell. Without meaning to be unreasonable about this, is Miss Sitter going to come to the rescue or wait until the television program ends? Johnny's situation is a bit pathetic as mamma delivers what football fans will recognize as a beautiful straight-arm; yet he does have loving parents, a swell home, luscious food, brisk entertainment and a pretty girl to dine with—what more can a young fellow ask?
[From the editors of the November 29, 1958, issue of the Post] It looks as if artist Amos Sewell's cover urchin is entering a bathtub of his own free will, and is therefore outwitting himself. Johnny's decision to try out his diving gear has made him forget to remember that using water for the purpose of getting clean is bitterly repugnant to him. Mother could remind him of this, but why burden his little mind with confusing thoughts? So down Johnny will dive into the mysterious depths, seeking treasure on the floor of the sea, and down there he may well find a bar of soap. Then if mother and son excitedly agree that Johnny has found a rare specimen of submarine life worth maybe a trillion dollars or more, they will be sharing just a little white lie from which, as mother makes with the soap, great good will come.
Celebrate a century of beachgoing with these sun-sational covers. You might have sand in your shoes for a week afterward, but that's a small price to pay.
Summertime, 1927 – J.C. Leyendecker
For guys and gals alike, sharp style is a must to complement even the most radiant bronzed glow.
King of the Beach – J.C. Leyendecker
Armed with trusty life preserver, the guard holds court over his sun-toasted subjects with all the regality of a king and twice the jawline.
Joys of Summer – Norman Rockwell
Et tu, ice cream? Getting lost in a spiraling forest of umbrellas isn't especially ideal when you've got cool treats on hand rapidly turning to Neapolitan soup.
Palefaces at the Beach – Constantin Alajalov
A prayer for some cloud cover might be in order if this ghostly couple wants to remain distinguishable from overcooked lobsters by day's end.
Baby at the Beach – Austin Briggs
The tugboat may capsize when the tide arrives, but for one new to the sights and smells of the seaside, witnessing the frothy waves curl into the sand probably beats just about any plastic trinket.
Baby & Nail Polish – Stevan Dohanos
With Mom preoccupied, this baby can pick up a few early glamour lessons, though it would appear she hasn't quite mastered coloring inside the lines.
Thunderstorm at the Shore – Ben Kimberly Prins
So much for fun in the sun. If the obsidian cloudbursts weren't enough, a few peals of lightning are good reason to send sunbathers and picnickers packing.
Babysitter at Beach Stand – George Hughes
Who says you can't mix work and play? Sipping a soda and rocking a bonnet-clad tot, this babysitter just might perfect the art of multitasking as long as that begrudging chef doesn't boil the milk.
Big Pole Little Fish – Richard Sargent
There's plenty of fish in the sea, but the odds of this fellow catching one bigger than a guppy might be doubtful, especially with a snickering chorus of freckled critics present.
Sunscreen? – Kurt Ard
Even with enough lotion globbed on to withstand most natural disasters, some are just bound to flake under the harsh afternoon rays. Of course, where some see searing obstacles, others see opportunities to pick up a glorious golden sheen.
Eavesdropping on Love – Amos Sewell
Forget frolicking in the surf when there's romantic comedy of this caliber to be had.
Cold Water Swimmer – Richard Sargent
Perhaps auditioning for the Polar Bear Club under the disgruntled gaze of that swaddled lifeguard, this brave swimmer can have the entire shore to himself, as long as he doesn't mind a touch of hypothermia. Like age, temperature is just a number.
Fun for the Whole Family!
The educational road trip leading up to a spectacular vista is not always appreciated by those for whom all that effort was expended. Artist Richard Sargent was also a father and the complex and often hilarious child-parent dynamic was a regular theme.
Beached
Retirees in the 1930s may not have known how to dress down for the shore, but they seem to be enjoying the sand just as much as their modern-day equivalents do.
Dedicated vacationers march to the water first thing in the morning, forming an impromptu parade.
Baggage
Universal Truth No. 1: After a week at the beach, you will accumulate at least twice the baggage that you arrived with.
Universal Truth No. 2: Vacations are short and much anticipated, which doesn't leave time for unpacking — at least not in Dad's view.
Disappointment
When your job is to help others achieve their dreams as is the case for this travel agent, sometimes you need a quiet moment to dream one up for yourself.
You can't plan the weather for that dream vacation, but this family is determined to get in as much outdoor time as humanly possible.
Back Again
When you go away for what looks to be about three weeks — judging from the number of newspapers on the lawn, strewn about the front entry by some lout of a paperboy — there's a lot of cleanup to be done. The weight of this realization is quite evident in the droop of Father's shoulders.
There may be no place like home, but after a long trip, Rockwell's family requires rest.
Moments with mom have taken center stage on The Saturday Evening Post cover throughout the 20th century. Norman Rockwell, Richard Sargent, George Hughes, Amos Sewell, and others have shown the special, sometimes challenging, and often humorous roles that moms play. As a salute to mothers everywhere, we present this look at moms on the covers of The Saturday Evening Post.
Celebrating Mom on the covers of The Saturday Evening Post (click on the covers to see larger image):
Occupations: Artist, illustrator, portraitist
Schools: Moline High School, Moline Illinois Art School, Corcoran School of Art, Phillips Memorial Gallery
Studio Work: Printing and Engraving Plant, Advertising, Freelance
Art Genre: American Art
Marital Status/Family: Wife Helen and son Anthony
Richard "Dick" Sargent, one of The Saturday Evening Post's most prolific illustrators, was a Midwesterner born in Moline, Illinois in 1911. His early career in art began just after his graduation from Moline High School, when he went to work for a local printing and engraving plant. While there, Sargent attended night classes at the Moline Illinois Art School, the foundation for his future career as an artist.
As his artistic prowess developed, he advanced further into creating professional artwork for advertising firms and later, a solo career as an artist and illustrator. The artist worked in advertising for over 20 years, starting in 1928, prior to making a name for himself as a freelance illustrator. During this time period, Sargent further honed his artistic skills by taking classes at both the Corcoran School of Art and the Phillips Memorial Gallery in Washington, D.C.
By the time Sargent headed out into the world to make a name for himself as a solo artist, he had started a family. They later provided inspiration for some of his most successful works of art. He married his sweetheart, Helen, and had a rambunctious, mischief-prone redheaded son named Anthony who was often depicted on the cover of The Post. The suburban life they built together established the perfect model for scenes of 1950s Baby Boomer households in everyday situations of suburban American life.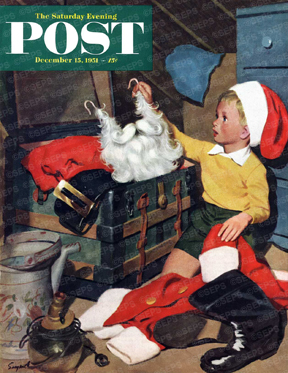 In 1951, Sargent completed his first Saturday Evening Post cover, "Truth About Santa", for the December 15th Christmas issue. While Sargent's popularity grew through The Saturday Evening Post, he also received illustration work from magazines such as Fortune, Woman's Day, Photoplay, and American Magazine. Americans adored Sargent and his art for the ability to show a pregnant scene with an open-ended conclusion that commented on the situational comedy of life.
In addition to his work as a magazine illustrator, Sargent also received special commissions that afforded him the opportunity to travel the world. In 1954, the USO sent Sargent to Korea to entertain troops fighting in the Korean conflict. He later remarked, "We'd put on civilian clothes to work in- the boys would get such a kick out of seeing somebody in good old stateside civvies." He spent six weeks flying throughout the country where he met with American soldiers and created art for them to send home to loved ones.
Sargent caught the "travel bug" on his trip to Korea and again vacationed out of the North American continent to Paris, France in 1959. He used his wife as a model in many works he created there to highlight Parisian life and landmarks. By the 1960s, photography had taken the place of illustration in magazine cover art. This caused the couple to move to the Andalusia region of Spain to live out the rest of their days in peaceful retirement. Sargent died suddenly in 1978 at the age of 67.
Covers by Richard "Dick" Sargent

Celebrate Mother's Day with 1950s covers from popular Post illustrators Richard "Dick" Sargent (1911-1978) and John Falter (1910-1982). And if any of these covers remind you of your own childhood … you might want to order a bigger bouquet.
Sack Full of Trouble
Richard Sargent
April 14, 1956
Moms today may not have to reenact the American Indian Wars with junior in the store aisles, but that doesn't mean multitasking with a grocery list and an active toddler is any easier than it was 50 years ago.
Popular artist Dick Sargent was a master of what art experts have come to call "sitcom covers." Editors noted of this 1956 cover that Sargent, just to prove it could be done, borrowed a little boy to fit into a paper bag. "He let the boy's father do it to assure that he himself would not get scalped."
Sargent's adeptness with facial expressions told the story: the mom's weariness, the shell-shocked look of the grocer, and an expression on the boy's face that says, "My work is done here."


Learning to Fly
John Falter
June 20, 1953
"Once upon a time a very small boy stood on the roof of the garage behind his home," Post editors wrote of 1953's Learning to Fly (at right). "He had made every reasonable arrangement to fly down. He had carefully studied the aerodynamics of the situation and met them with the most scientific equipment available."
The cover was a flashback to a Nebraska afternoon when artist John Falter himself was on the roof of his boyhood home, as his own mother agonized below. And the boy, who grew up to recreate the comical events of his childhood for the enjoyment of Post readers everywhere, eventually found his wings.


Crashing Mom's Card Party
Richard Sargent
December 20, 1952
"What is lovelier than the glow of carefree joy in the faces of happy children?" asked Post editors of this 1952 illustration. "Will the lady on the cover have the heart to defend her food and change those expressions to the pinched melancholy of starvation? She will if she can make it across the room in time."
Sargent had set the scene for Crashing Mom's Card Party in his dining room with real pastries, testing the self-restraint of his three sons. "The mouths of those sons began to water," wrote the editors, "They watered for a week. Two weeks. Three. Then the sons were released at the pastry. They ate it so fast they apparently did not notice it was petrified, claims the fiendish father."


Mother's Little Helpers
John Falter
April 18, 1953
There is much to be said about good intentions, besides the road to you-know-where being paved with them. Adding to the tension in this piece, an apple waits in the unsuspecting Mom's path (no doubt left by one of her good-intentioned little helpers).
"My main concern in doing Post covers was trying to do something based on my own experiences," illustrator John Falter said. "I found my niche as a painter of Americana with an accent on the Middle West. I brought out some of the homeliness and humor of Middle Western town life and home life."
Overflowing Tub
John Falter
December 3, 1955
Like Learning to Fly, this Falter cover is fraught with enough anxiety to make the viewer cringe for Mom (and Dad). While the artist conveys enough despair for us to recognize that the situation is distressing, the overall effect is humorous.
In addition to childhood's predicaments, Falter depicted a wide range of subjects, including nature's beauty and intricate bird's eye views of cities.


Visit our Artists Gallery and tell us which is your favorite Post cover by John Falter, Richard Sargent, or other artists. For a chance to be featured in our next Readers' Favorites series, send your email to [email protected]t.org. Remember to include your name, along with the title and date (or just a good description) of your favorite piece.
Artist Richard Sargent (1911-1979) painted 47 Post covers between 1951 and 1962, when photographs were rapidly replacing magazine illustrations.
A Midwesterner, he was born and raised in Moline, Illinois, and went to art school there.
He later became quite the world traveler, but he always remembered the all-American folk back home and loved putting them in situations that tended to go awry.
Take, for instance, Sargent's cover from November 1953 (below). Mr. Jones is feeling like a tin can in a trash compactor, but squeezing out of his car may be easier than explaining why he was late for work because he missed the 7:35a.m. train in to the city.
"The trouble with painters," said Post editors of this 1953 cover, "is that they build up awful situations like this, then blithely start work on another cover, leaving the victims to get out of the mess, if possible." And leaving the observer to wonder what happens next.
Artist Sargent was a master at the pregnant situation: Will the man above be able to squeeze out of his car and make the train? Will the dog at the buffet make off with the ham? Will the dog in this painting make a meal of the doctor?
When editors asked, "Sargent says he doesn't know what will happen, because the dog's hair is so long he can't see the expression in his eyes." The rat.
Sargent had three sons, starting with a redheaded moppet with a mischievous bent named Anthony–the inspiration for many a cover.
Apparently, Little Red's skills have not reached a level tolerable even to himself in this 1955 cover. Sargent's own redheaded son was grown by 1954 when an excited Sargent called a Post editor and said, "Well, what do you suppose happened to me?"
The staffer guessed, "Land a painting in the Metropolitan Museum?"
"Better than that!" Sargent cried. "Listen. I'm a little guy: five feet six, 125 pounds. Always wanted to be an athlete when I was a kid—always the last kid to be picked on a team. All my life I've yearned to be written up in the sports news. You know the Wykagyl golf course?" (This was a famous suburban New York club near Sargent's home.) "Well, sir, you're talking to a champion! Anthony and I just won the Father and Son championship!"
Honestly, this guy couldn't wait to share the family triumph with his friends at the Post. After sifting through biographical details about the artist, it seemed this little conversation told much more about the man.
Yep, confirmed the editors, the write-up in the New Rochelle paper detailed the duo's spiffy score of net 66. So the Post ran its own photo of Sargent and family with the trophy.
The lively little redheaded Anthony was by then six feet three and playing golf in the low 80's. Noting that his dad scored in the 90's, the editors suggested "he plays better with a brush."
To purchase Richard Sargent's cover art, with or without the masthead, visit Art.com.
Pop psychologists these days talk about key changes in life; an "aha moment". Post cover artists, however, are fond of "uh oh" moments.
Worried Rental Agent by Richard Sargent
While potential renters are checking out the closet space, the rental agent is checking out the child. A little boy with a big slingshot is scoping out possible new targets. Did we mention lots of nice windows? Definitely bears watching. This is from 1953.
Public Aquarium by George Hughes
Okay, which little boy came up with this bright idea? "Swimming with the fishes" does not normally have a good connotation, but it sounds cool to these kids. Maybe they're thinking of diving for buried treasure. The security guard is having one of those "uh oh" moments. This is from 1954 by artist George Hughes.
Dr. and the Dog by Richard Sargent
Talk about a guard! Little Billy is tensed up for a shot and the dog isn't sure the doctor should proceed. Maybe. We can't exactly tell the dog's mood because we can't see his eyes. But the prognosis for the doctor doesn't look good. Like the cover with the worried real estate agent above, this cover was by Richard Sargent.
Automobile Showroom by Amos Sewell
Wow! A cool new 1957 something-or-other! Teen One is dying to drive this baby to see how fast she can go. Teen Two is daydreaming about how hot Mary Ellen would look in the seat next to him. And Teen Three is underneath the car soon to emerge with a mechanical question that will stump the watchful dealer. Artist Amos Sewell painted this cover, so the editors dubbed the vehicle the Amos Sewell Super-whiz. That's the cool thing about being an artist; if you want a hot new car you can just manufacture it yourself.
Saturday Rain by Earl Mayan
The raindrops bear watching, but it looks like the happy gardener is going to win this round. Artist Earl Mayan painted himself as the chagrined golfer, and a friend of his posed for the role of happy flower guy. But will the clouds pass and produce fine golfing weather after all? Well, there's always next weekend.
Kittens in the Basement by John Falter
When Harry the Cat turns out to be Harriett, it is definitely an uh-oh moment. Let's hope the kids don't get too attached to the little cuties because while they're thinking up names for them, Mom and Pop are trying to figure out ways to get rid of them. That will make the dog happy, because right now he looks like he's lost his best friends.
After steering the car for three days during the steep climb toward Point Lookout, Dad remains more than vexed by his little ones' complete disinterest in "looking out"—a moment immortalized by Post artist Richard Sargent in 1953…
Fast forward 50 years: The scene remains unchanged with technology advancing everything—except the kids' interest in looking up.
A frog in the school library? The librarian on Dick Sargent's February 1956 cover can't figure out why Jimmy seems so engrossed with his history homework. Notice the gloppy fountain pen where he started taking notes until he decided it was much more fun playing with little Froggy. If the librarian zeroes in for closer inspection, will screams ensue? We showed you hardworking teachers, but what about the other school workers?
Artist Richard Sargent shows us that principals, too, have their crosses to bear (below). In the February 1959 two-part cover, we see little Bobby greeting the principal happily in a "nice to see you, sir!" gesture. Gee, what a nice kid. But … the gesture changes in panel two, after the little stinker got in trouble in class. It looks as if he was sent to the Library next door to get a book on how to behave (Manners Are Fun, the title reads) and decides to let baldy know what he really thinks. Let's hope that door doesn't open and Mr. Principal sees that tongue sticking out. He'll have more than a boring book to worry about.
At least little Bobby wasn't sent to the principal's office for fighting, as in the Frances Tipton Hunter cover from September 1936 (below). Two boys stand disheveled outside the principal's office: They have some explaining to do, starting with the black eye. Certainly not the first time this has happened. Artist J.C. Leyendecker showed us two schoolboys going at each other fast and furious way back in 1911. What is it about boys and fighting? Wait a minute. There is that Rockwell cover from May 1953 with the girl in pigtails boasting quite a shiner while sitting outside the principal's office.
Let's not forget the hardworking bus drivers. "At what point did I lose control?" The driver is musing in the September 1950 cover. Climbing over seats, pulling hair, and just being overall rowdy, this is quite a trip. And the school year is only beginning. Will the poor driver make it to Thanksgiving vacation?
Showing the other side of the coin is the September 12, 1959, cover by the same artist. After a summer of noise and bustling activity interspersed with whining complaints of "I'm bored," Mom finally gets the kids off to school. And it is a sweet moment indeed as she kicks off her shoes, lies back, and enjoys a cup of coffee, with nary a thought for the poor bus driver. Hey, she's done her time.
But we're being unfair here. Not all students are misbehaving little monsters, right? There's the October 16, 1920, cover … never mind, that boy has a slingshot. Okay, there's artist Alan Foster's September 1930 cover … never mind, that boy is writing "I was tardy" a hundred times on the blackboard. We've got it! Norman Rockwell's June 26, 1926, cover of the schoolmaster extolling the virtues of the young scholar who seems to be grabbing "first in class" honors. May you shine as brightly this school year.
Gallery
It's one of the cutest darn covers we've seen. A tiny boy in his yellow slicker and rain hat is gleefully standing at the bottom of the stairs holding up a handmade Mother's Day card, and no doubt Mom will be thrilled—until she sees the muddy footprints on the carpet behind the boy.
Richard Sargent was one of the Post's great visual humorists. His clever observations enlivened the covers during the 1950s and early 60s. Like the one where the house-calling doctor is about to give a sick boy a shot. Mom is concerned, wringing her hands. And the doctor is concerned for another reason. Sitting close to him on the bed, rather too close actually, is the observant family dog—a very big family dog.
Mom is exhausted. The Indian wars are over, and the miniature brave won. The April 14, 1956 cover shows just how daunting motherhood can be. The faces of the grocer carrying the boy away from the store and the little chief's mom (with a skewed headdress herself) tell the story. The face of the little boy has "rotten" written all over it. Poor Mom.
Born and bred a Midwesterner, Sargent traveled to distant places during his career but never lost that touch of Middle America that made his more than 30 Post covers so appealing. He was the master of setting up pregnant situations, leaving you to wonder "what happens next?" Like the proud mom praising little Johnny for cleaning his room. What happens when she discovers that everything was shoved under the bed?
After struggling to find work during the mid-60s, Sargent and his wife, Helen, moved to the Andalusia region of Spain where he painted leisurely and enjoyed retirement. In 1978, he died suddenly at the age of 67 and was buried in Spain, a country he grew to love during the last 15 years of his life. What we will always remember are the many fun memories that he captured so well of our growing years as a culture.
Click here to read the Post's retrospective on Motherhood.