It might seem impossible to believe, but it's been 30 years since the Griswolds first celebrated Christmas on the big screen. Opening on December 1, 1989, National Lampoon's Christmas Vacation, where Chevy Chase's Clark Griswold tries to put together the perfect Christmas at home despite an increasingly large number of houseguests and an ongoing series of disasters, went on to be the highest grossing film in the original Vacation series. It has become a modern holiday classic, earning multiple home video re-releases and special editions while remaining a perennially popular television attraction. Here's a look behind the extremely bright lights at some of the fun facts behind the film.
1. Don't You (Forget About John Hughes)
Though he's held up as the paragon of '80s teen films, writer/director John Hughes created a number of other films for a variety of audiences, including Mr. Mom and the pirate action film Nate and Hayes. After a start in advertising, Hughes caught on as a writer for the humor magazine National Lampoon, which would soon break into film-producing success with 1979's National Lampoon's Animal House. Hughes's first story for the magazine was "Vacation '58." That tale of a family trip became the basis for the first Vacation film, which he wrote. He co-wrote European Vacation with Robert Klane, and then handled the screenplay for Christmas on his own. Like the original film, Christmas Vacation was based on a Hughes/Lampoon piece, "Christmas '59."
2. Honey, Who Are the Kids?
The Griswolds are, of course, the central family of the Vacation films. Dad Clark and long-suffering wife Ellen have been played by Chevy Chase and Beverly D'Angelo since the beginning. However, son Rusty and daughter Audrey were played by different actors in each of the five theatrical films. The original Vacation featured Anthony Michael Hall and Dana Barron in the roles. They were followed by, respectively, Jason Lively and Dana Hill in European Vacation, Johnny Galecki and Juliette Lewis in Christmas Vacation, and Ethan Embry and Marisol Nichols in Vegas Vacation. In the 2015 reboot, simply titled Vacation, adult Rusty is played by Ed Helms and adult Audrey is played by Leslie Mann; however, in a great sight gag, all of the other previous actors appear in childhood photos. Barron did play Audrey again in the 2003 made-for-TV film National Lampoon's Christmas Vacation 2: Cousin Eddie's Island Adventure, and yes, that really happened.
3. The Music Is Missing (on CD)
Two oddities surround the soundtrack and music used in the film. The first is that no soundtrack album was ever released, which is strange when you consider that holiday soundtracks can be perennial sellers regardless of the success or failure of a film; no one's quite sure why, although a limited edition CD pressing was sold in the 1990s at Six Flags Magic Mountain (which was used as Wally World in the first film) and those discs fetch more than $100 online today. The other is that Christmas is the sole film in the franchise to not use an iteration of Lindsey Buckingham's "Holiday Road." A replacement theme, "Christmas Vacation," was written by Barry Mann and Cynthia Weil, and performed by Mavis Staples. Other prominently featured songs include "Mele Kalikimaka (Hawaiian Christmas Song)" by Bing Crosby and The Andrews Sisters, "The Spirit of Christmas" by Ray Charles, and "Here Comes Santa Claus" by Gene Autry. The instrumental score was done by Angelo Badalamenti, the prolific composing legend most known for his work with director David Lynch.
4. Scene Stealing, the Quaid Way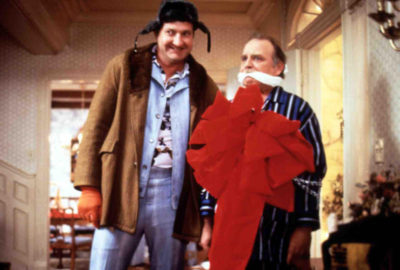 Randy Quaid's Cousin Eddie is only in the first Vacation film for a few minutes, but he made a deep impression. After missing the first sequel, Eddie and Catherine (Miriam Flynn) came back, and Eddie in particular provided a number of memorable moments. In an oral history of the film conducted by Rolling Stone, Flynn recounted how she and Quaid got into character; she said, "Randy and I always said that all you have to do is put those clothes on us and we were ready to go. Once I remember the costume person said to me, "Randy thinks it'd be funny to have his underwear show through his white pants. What if you did that too?" And I went, "Um, no. That will be just Randy." In the same article, Chase said, "I loved working with Randy on all of the Vacation movies . . . He just gets right into it. When we're in the grocery store and he gets that huge 100 pound bag of dog food and slams it down. I don't think anybody wrote that. That was just Randy reaching out and grabbing it." Quaid's Eddie is so iconic of a comedy role that he inspired an exclusive Build-A-Bear Workshop plush of his character this year, complete with signature hat and robe.
5. He's Chevy Chase, and She's Not
Of course, the whole franchise doesn't work without Chevy Chase and Beverly D'Angelo. The duo's effortless chemistry comes with a real-life friendship that's been on display not just in films, but in numerous interviews and D'Angelo's appearance at The Comedy Central Roast of Chevy Chase. Chase was the first of the original SNL cast members to break out in film, putting together a string of comedy successes that included Foul Play, Caddyshack, and Fletch. In fact, the Vacation series would go on to include a number of past and future SNL players (as well as Second City and SCTV alums); in addition to Chase and Quaid, there's Anthony Michael Hall (who became the youngest cast member ever two years after Vacation), John Candy, Eugene Levy, Brian Doyle-Murray, Julia Louis-Dreyfus, Julia Sweeney, and Fred Willard. Chase has continued to work in comedy for decades, including more recent successes like Community and the Hot Tub Time Machine movies.
D'Angelo has had an amazingly diverse career. After working as an artist for the Hanna-Barbera Studios and singing back-up with The Hawks (before they became The Band), she worked on both Broadway and television before breaking into film with a part in Annie Hall. She's worked practically non-stop in film and television, appearing in series like Entourage and Insatiable. D'Angelo also has CMA Award for Album of the Year, as she both portrayed and sang as Patsy Cline in the 1980 film Coal Miner's Daughter.
It's hard to define what makes a classic, or at least beloved, film. The Vacation movies thrive because they work on simple, relatable premise: families like to spend time together, but it can still be a chore. You can also add Murphy's Law: if anything can go wrong, it will. Chase imbues his Clark Griswold with a fanatic, almost hopeless, optimism that he's going to make everyone have fun, even if it kills him. Chase's genius at physical comedy and unhinged line deliveries play terrifically off of D'Angelo and everyone else around them. What results are outrageous situations that still carry an element of truth. Viewers can say, "That could be my family," and mean it.  It can make the most hardened cynic want to gather around the tree and sing carols (provided of course that the tree is squirrel-free and not, well, on fire).
Featured image: PictureLux / The Hollywood Archive / Alamy Stock Photo.
Become a Saturday Evening Post member and enjoy unlimited access. Subscribe now