See all Post Artists Videos.
Featured image: Stevan Dohanos / SEPS
No Siree, My Clue Was Good, I Can Prove It!
School has started — or will soon be starting, depending on where you live — and that means all of the kids and their parents are going to Staples and Target to buy their school supplies. I won't pretend I loved school when I was a kid, but I certainly loved buying all of the notebooks and pencils and other things I would need for the school year. Funny how I never used a pen as a kid; it was always a pencil. Now I'm starting to get back into pencils, thanks to discovering the Blackwing line. I spend way too much money on writing utensils and paper products.
CBS This Morning's John Dickerson is also a notebook and pen aficionado, and here he talks about his love of pencils, the memories they invoke, and how they can be a tool in the war against information overload and being in front of a screen all day.
By the way, bonus points to anyone who gets what I'm referring to with the "no siree" line. No fair Googling! If you give up, here's the answer.
Breaking News about "Breaking News"
This hasn't been a good month for Michael Jackson.
Last week I told you that the Eagles had overtaken the King of Pop for the No. 1 spot when it comes to album sales. Now we find out that some songs on an album released after Jackson died might not even feature his voice.
There's a class action lawsuit going on involving Sony and fans, and many online news sources reported that Sony actually admitted the songs weren't sung by Jackson but by an impersonator. But that's not exactly what lawyers for Sony said. They were giving a hypothetical legal argument based on the merits of the case and said, "even if the vocals weren't Jackson's …" Of course, some people might think that just bringing up a defense like that means it's possible the songs are sung by someone else.
This actually isn't a new story. Rumors have been swirling since the album Michael came out in 2010 that the vocals aren't Jackson's, and while members of Jackson's family at first said it was him, some of them now aren't sure. You can judge for yourself. Music experts say it's Jackson. Here are "Breaking News," "Monster," and "Keep Your Head Up."
Booze News
Don't drink alcohol.
That seems to be the results of a new global study published in The Lancet last week. In fact, experts are saying that no amount of alcohol is safe. It's the type of news that makes you want to, well, take a drink.
This comes many years after all the experts told us that one glass a day of red wine is good for us. Now it seems that all alcohol has turned into battery acid or something. But hey! Here's an expert who says that we shouldn't panic. (I choose to believe this expert.)
But even if it turns out alcohol isn't good for us, we can still eat meat and cheese and chocolate.
Back to school. pic.twitter.com/K5ifoR6SV7

— You Had One Job (@_youhadonejob1) August 25, 2018
The Old Man and the Gun
Robert Redford announced recently that he is retiring from acting. Here's the trailer for his last movie, The Old Man and the Gun, which will be released on September 28. Looks good!
Chicago, 1968
This week marks the 50th anniversary of the 1968 Democratic National Convention in Chicago, an event marked by riots, arrests, and CBS newsman Dan Rather getting punched on live television. It was just one of the many intense events of a very tumultuous year, as Daniel Patrick Moynihan wrote in the classic Post article "Has This Country Gone Mad?"
RIP John McCain, Neil Simon, and Robin Leach
John McCain was a war hero, a longtime Arizona senator, and the Republican nominee for president in 2008. He died Saturday at the age of 81.
Here's McCain's farewell letter to the nation, and here's what fellow senator and close friend Lindsey Graham had to say about McCain a few days ago.
Neil Simon was the acclaimed writer of such plays as The Odd Couple, Barefoot in the Park, Come Blow Your Horn, Sweet Charity, Lost in Yonkers, and Biloxi Blues. He also wrote several screenplays and worked alongside Mel Brooks and Carl Reiner for the classic 1950s variety show Your Show of Shows. He died last week at the age of 91.
Robin Leach was the man who wished us "champagne wishes and caviar dreams" on the popular show Lifestyles of the Rich and Famous. He died last Friday at the age of 76.
This Week in History
Lyndon Baines Johnson Born (August 29, 1908)
Author Robert Caro has been writing a multi-volume biography of the 36th president, starting with 1982's The Path to Power. He's working on the final book in the series now. Late-night host Conan O'Brien, a huge fan of Caro's, has been trying to get the writer on his show for years, to no avail. But he's not going to stop trying.
Beatles' Last Concert (August 29, 1966)
This was the last concert that John, Paul, George, and Ringo put on … unless you count the impromptu performance on that roof.
This Week in Saturday Evening Post History: Postcards (August 25, 1951)
What I love about this Stevan Dohanos cover is that it takes something rather mundane — buying postcards during a summer vacation — and makes it rather beautiful.
End of Summer Recipes
Sure, I can call this section "End of Summer Recipes," but it's hard to do that when I'm sitting here in 90-degree temps and dew points in the 60s. Just as I finished that sentence, the power went out for a few seconds. Now I'm typing this knowing it's not going to be saved until my internet comes back. This is the second time the power has gone out today. Funny, I can go through an entire winter of storms, with wet snow and ice and intense winds and not have one power outage, but when it's really hot, I can get two in one morning.
But Labor Day marks the official (or is that unofficial?) end of the summer season, and here are some recipes to try this weekend. How about these Sweet Hawaiian Mini Burgers or this German Potato Salad, which uses mustard instead of mayonnaise, so millennials will like it? For a refreshing drink, you can try this Vintage Lemonade, and for dessert this cold Hershey's Chocolate Milkshake.
Now if you'll excuse me, I have to go turn my fan back on.
Next Week's Holidays and Events
V-J Day (September 2)
This marks the day that Japan surrendered to the Allies during World War II. It can be a confusing holiday because "V-J Day" can be a reference to the day that Japan's surrender was announced (August 14 or 15 in the UK and other places, depending on your time zone) and September 2 in the US, which is the day that Japan officially signed the surrender papers.
Labor Day (September 3)
Here's a gallery of Post covers that show how labor and the workforce have changed over the decades.
Read a Book Day (September 6)
Come on. You should read a book every day!
Pride of country
Holidays were always a source of inspiration for Post illustrators, and no day could be more inspiring than the glorious Fourth of July. Here, a variety of Post illustrators give their tributes to the day, the country, and the American people.
Ka-Boom!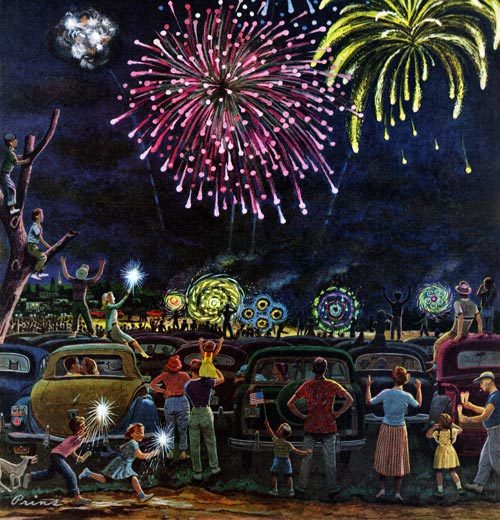 Rockets, thunder, and explosions of light were a sign of rejoicing in 1953 America. While such a display would inspire terror in war-torn countries of this time, Post editors noted that for Americans, "the roaring fire in the sky is nothing to be afraid of; it is beautiful."
John Falter, famous for his portrayals of small-town America, captures the atmosphere of the Fourth in Perkasie, Pennsylvania. To GIs still in the Pacific in 1945, the image of this humble celebration must have been a reminder of what they were fighting for.
J.C. Leyendecker has Uncle Sam somnolently posed over a lit firecracker. Was the artist suggesting that the Roaring '20s would soon wake Sam up?
Light of Liberty
In an intriguing interplay between light and shadow, artist Katherine Wireman evokes the delight of a just-lit holiday lantern.
Stevan Dohanos tried to fit the entire Delaware Academy Central School Band on the bandshell in Delhi, New York. But the small stage wouldn't permit it, so he dedicated this cover to the full third of the band members who had to sit this one out.
Leyendecker's Fourth of July cover for 1934 presents an electric figure whose torch shines brightly even at the height of the Great Depression.
This article is featured in the July/August 2018 issue of The Saturday Evening Post. Subscribe to the magazine for more art, inspiring stories, fiction, humor, and features from our archives.
An old Jewish proverb says that God couldn't be everywhere, so He created mothers. And mothers do have certain godlike qualities. Not only do they give us life, but they are our counselors, confidantes, protectors, disciplinarians, and teachers. But for all their love and sacrifice, moms seldom get the recognition they deserve. In this gallery, the Post commemorates the fun — and just as frequently the frustration — that motherhood entails.
Never a Dull Moment
First date. An awkward and exhilarating rite of passage in a teen's — and mother's — life. Time stands still for the starry-eyed daughter (above) who can't wait till dawn to riff about her big night out. Time also seems to come to a halt in the run-up to the big Gold and Green Dance (below). Can a boy survive his mom's ministrations?
The doctor will see you now. A waiting room full of distractions keeps anxiety in check for some young patients and their moms, but clearly not for all.
Behind the Scenes
Cooking up something sweet. A special surprise lurks behind the kitchen door courtesy of a culinary crew only a mom could love.
Morning glory. With the brood now safely off to school, this mom finally gets to kick back for some well-deserved "me time."
It's the Thought That Counts
What to buy? 1940s-era stereotypes about the limits of a mother's desires seem to have narrowed a daughter's options.
Good news, bad news. Wet, muddy, and full of enthusiasm, a boy and his dog announce a "special delivery".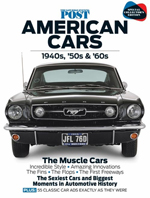 This article and other features about the golden era of American cars can be found in the Post's Special Collector's Edition, American Cars: 1940s, '50s & '60s.
It took vision (and money) to replace the network of narrow, unsafe roadways originally designed for horse-and-buggy travel with the wide, safe concrete thoroughfares we take for granted today.
—Originally published January 6, 1940—
The big cat roared with suddenly awakened fury; gears clashed as their teeth set for the long climb. The skinner yanked his hat brim down to shade his eyes; grinned as he eased in the clutch. The cat surged forward violently. Dust rose in a yellow cloud as the sharp lip of the bulldozer bit into the bone-dry hillside. A new highway was being born.
Up the steep slope the tractor scrambled stubbornly, like a flat-footed mountain goat. The operator hung on grimly, his eyes fixed on the stakes set by the engineers to mark the cut. In war, he and his kind will be the boys to drive the tanks; a pockmarked battlefield will be duck soup for a cat-skinner.
Two million cubic yards of rock and dirt would be dug out of those brown hillsides in the trail of the caterpillar pioneer. Dug out and tamped into the valleys. "Use the hills to make the fills," road engineers say — so that you and I may speed 60 miles an hour safely, where we used to come face to face with death around a hundred hairpin curves at 25.
Power shovels and angle-dozers, carryalls and sheep's-foot rollers, scarifiers, scrapers, rooters, tampers, rippers, blasting outfits, stump pullers, mighty machines drawn by thunderous tractors would follow the bulldozer, and after them would come rock layers, concrete mixers, smoothers, heavy rollers.
Then white lines would be painted down the middle of each pavement lane; reflector signs would sprout along the shoulders, "Speed 45 Miles." The governor would make a speech. A pretty girl in shorts would cut a ribbon. Traffic would stream through with sirens shrieking.
The new road will save miles and minutes; you won't get stuck now on curves behind trucks or one-lunged jalopies. Also it will save lives, will prevent crack-ups of speeders. Cost $180,000 a mile, but, unlike a lot of other things in government, it's paid for, and before it was built, engineers had figured how much revenue it would bring in to build more of the same kind. That's where your gasoline tax goes.
The gas tax is beginning to buy more than asphalt and concrete. On newer roads it is a form of accident and life insurance, which doesn't pay for death but pays you dividends in life and limb. "Our job," road builders say, "is to provide a transportation system that the reasonably careful driver can use at 60 miles or more an hour in safety and in comfort and without surprise."
And so they're building automatic highways, which swing you safely round curves without slackening speed, give you ample room to pass trucks without danger of sideswiping, warn you by prepared condition of the pavement to get back on your side of the road, steer you through an intersection maze with neither words nor music from the traffic cops.
Out on the Mojave Desert, where summer heat is so intense that motorists travel at night and travel fast, cars constantly ran off a certain curve and wrecked themselves. The road was wide enough; the pavement was good; sight distance was without obstruction. Yet drivers couldn't stick to the highway round that bend.
California's safety engineer, J.W. Vickrey, studied, pondered, measured, found that the superelevation had been built to hold cars on that curve at 45. He had it rebuilt, banked for 75-mile speed. The accidents stopped.
"Not very cooperative with the highway patrol," someone commented.
"We're trying to save lives," Vickrey retorted. "If the police think they can stop speeding out there by arrests, they're welcome to try. We are realists."
Safety without Slogans
Briefly, that tells the story of the newest highway-safety campaign. It is very young. It has no slogans. It is seeking no publicity — no billboards, no write-ups in the papers, no horror pictures of death and disaster. It doesn't even ask the motorist to slow down. But already its mechanical tricks are beginning to show results. It will get more as we create:
Freeways, which will limit city-gateway highways to through traffic, released from present hindrances and hazards caused by side roads, driveways, parking, hot-dog stands, and 25-mile zoning.
Separate roads for trucks — sometime in the future because of the high cost, but sure to come to relieve delays and accidents.
More four-lane divided highways, especially for 10 miles each side of cities, where congestion piles up, and on hills where you can't see what's coming.
More three-lane roads, with roughened center strips.
Longer sight distances for safe passing.
Shorter curves if passing must be prohibited — a very new idea in safety construction, growing out of the fact that drivers lose patience and take a chance if no-passing zones are more than a mile in length.
"Our job," road builders say, "is to provide a transportation system that the reasonably careful driver can use at 60 miles or more an hour in safety and in comfort and without surprise."
Intersections scientifically channelized by islands or pavement markings for the benefit of timid drivers.
Greater super-elevation of curves on high-speed ­highways.
Sandpaper finishes to prevent skidding.
Better stability of foundations.
Postponement of deterioration by intensive research.
Cement-concrete mixtures that will not buckle.
Rubber joints in concrete highways.
Eleven-foot traffic lanes for safe maneuvering at high speed.
Traffic stripes that are nationally understandable.
Smoother pavement as determined by the bump-meter — old macadam often had 70 inches of bumps per mile; new concrete has been laid with as little as 3 ½ inches of irregularities per mile.
Use of fixed-time light signals as defined by traffic count and not by pride or salesmanship — 1,000 vehicles an hour is the minimum to justify the red and green lights.
Stronger bridges — quickly, if we should go to war.
More parking lots in cities — more necessary, engineers declare, than overhead highways, and a lot less expensive.
Pedestrian areas in cities, where motor traffic will be forbidden.
Some of these improvements are already in effect. All of them are being studied nationally, in highway laboratories, on the roads themselves. Engineered safety is based not on guesswork, but on mathematics; not on emotion, but on science, research, electric eyes, and careful recordkeeping. A new idea in construction or design, discovered in California or Missouri or New York, quickly becomes all-American through the coordinating efforts of the Association of State Highway Officials and the National Conference on Street and Highway Safety. Federal aid eliminates state boundaries on the through routes. In effect, all our transcontinental highways, east and west and north and south, are military roads, though we don't call them that. They have been studied with the War Department, and lately highway engineers have been working with the motor manufacturers to the end that chassis for big guns shall have their weight distributed on many wheels. Most bridges were not built for quite such heavy loads.
All down the line, highway builders are busily planning for growth. Charles Purcell, California's chief highway engineer, and others like him have not only an unquenchable desire to build more and better and safer roads but also a burning passion to get the gas-tax money's worth.
In his 11 years in office, Purcell has supervised the spending of a quarter of a billion dollars, but he and his men still think in terms of what can be. "The ultimate development of our transportation system will cost again as much as already has been spent," Purcell says, "but just as they stand today, our national highways are the finest demonstration of working democracy that the world has ever seen."
—"The Road Drives the Car," January 6, 1940
Whether you're a die-hard train buff, a transportation geek, or merely a weary commuter, trains have long played a major role in American life. These covers — from as early as 1901 — reflect our love affair with locomotives.
The top panel of this painting by Thornton Utz shows a well-dressed group of commuters waiting for the Empire Express. Notice the lady in red on the near left with her caged canary. Scene Two: Skirts and hats are flying as the Express roars by. The poor kid on in the letter sweater crashes into the birdcage. The third panel shows a disheveled lot, to say the least. Do you see what happened to the befuddled canary?
Train buffs love this turn-of-the-century railroad engineer. Standing by the mighty mechanical monster he conducts, he poses for artist J.J. Gould.
As far back as 1901, trains have graced our covers. Horseless carriages, ships and trains – what will they think of next? A cityscape in the background completes this bow to modernity. The quote below the cover art says: "Bowing respectfully to the past, and rendering justice to the present, we salute the future and true progress. – Montalembert".
We love this cover by artist Stevan Dohanos from 1947. The editors noted that the artist had actually worked on the Baltimore and Ohio Railroad for a few years. "He checked loads and tracks, beginning a ten-mile hike at 6:30 every morning. He came to think highly of the switchyard men, because in their shacks he could get warm." Dohanos painted this in his hometown of Lorain, Ohio.
John Falter, when a child, used to listen to freight trains chugging up a nearby hill and worry about whether they'd make it. Our scene is Missouri, the Missouri River and Kansas beyond. This time we are in Missouri, looking at Kansas in the distance. This time the kids are waving clear across the river to the train. Or maybe they just know somebody in Kansas to wave to.
Artist John Falter did 129 Post covers, and this is a good example of why. Belching smoke along the mighty Missouri River, this steam engine doesn't warrant a glance from the boys walking by. They also are probably unaware they are using a route once used by Lewis and Clark. You are in Kansas, looking over into Missouri in this one.
Descriptions by Diana Denny.
Trapeze artists, clowns, elephants… the exotic magic of the circus has long been a part of the American tradition. These colorful Saturday Evening Post illustrations capture the spirit of the Big Top.
Charles Bull painted dozens of covers featuring animals — cows and cats, owls and eagles, deer and dogs — for The Saturday Evening Post and its sister publication, Country Gentleman. This was his only cover showing animals at the circus.
Leyendecker painted six circus-themed covers for the Post, most of which featured the majestic elephant. That little black and white dog must have been Leyendecker's muse, appearing on at least 16 of his Post covers.
Our art critic, David Apatoff, notes that the original paintings that were reproduced on the cover of the Post were far larger than the magazine — sometimes four or five times larger. And they were painted with oil paint on canvas, just like fine art in the greatest museums. Often, Post cover artists had been trained in a classical fine art tradition. Leyendecker, for example, trained in Paris at the Académie Julian. For more on this particular painting, read Apatoff's article, The Hidden Talent of Post Cover Artists.
A look behind the scenes at the big top reveals the house of disciplined practice that result in a show that delights the circus-goers in the ring. The pup learns his lesson under the stern eye of the older dog, who manages a degree of dignity despite the absurdity of the costume.
These music-making "steam pianos" were often seen on riverboats and in circuses. Most had 32 whistles. The sound will be forever associated with the circus.
Leyendecker masterfully captures the tension between the muscular strength of the horse and the delicate balancing act of the rider. The horse reflects the astonishing colors of the circus around him.
Maurice Bower offers another view of circus horses and riders. Horses were a favorite subject of Bower's; he painted numerous covers featuring them pulling stagecoaches, sulkies, and firetrucks.
Stevan Dohanos showed that circuses meant palate-tickling excitement to cows too. Poster paste — a succulent mixture of flour and water, and copper sulphate to keep it from souring — seems to be the bovine equivalent of a dry martini. The two Ringling Brothers Barnum and Bailey bill posters, Bill Feigley and Bob Aikens, who consented to pose for Dohanos, kept a wary eye on horned kibitzers while covering previous circus posters with their own particular brand.
Stevan Dohanos painted the big parade down Main Street, once a standard feature of that great summer day, The Day the Circus Came to Town. "Circuses don't parade much anymore," said the artist in 1948, "but I think it's a grand old custom and I wish I could help restore it." The clowns were members of the famous Ringling Brothers-Barnum and Bailey team, with the sad-faced Emmett Kelly pretending to play the clarinet. The clowns posed for Dohanos in the back lot behind Madison Square Garden, between performances in New York.
2018 Rock & Roll Hall of Fame Inductees
Of course, I mean the year 2018. It would be really weird if the Rock & Roll Hall of Fame inducted that many musicians in a single year.
The inductees this time around are Dire Straits, The Moody Blues, The Cars, Bon Jovi, Nina Simone, and Sister Rosetta Tharpe. All fine choices, I guess (don't get me started on Bon Jovi), but it means that a lot of people didn't make it again this year (musicians are eligible 25 years after the release of their first commercial recording), including Depeche Mode, Judas Priest, Eurythmics, the Zombies, Janet Jackson, Devo, New Order, Iron Maiden, Roxy Music, the Cure, Tina Turner, and the Smiths.
I would also add Marshall Crenshaw to that list. I don't know if he'll ever be nominated but he deserves to be there.
Stink, Stank, Stunk!
This is a great story. It involves a five-year-old boy from Jackson, Mississippi, who called 911. Why did he call? Because he was upset that the Grinch was going to steal Christmas.
The father got on the phone to assure the 911 operator that there was no problem. The police went to the house to check on things anyway, and the boy showed them a YouTube clip of the Grinch and what he had planned. The police assured him that they weren't going to let the green guy steal anything, and to prove it, they invited the boy to the police station two nights later so he could actually lock up the Grinch in a cell.
Of course, now the family has to make sure the boy doesn't watch The Grinch Who Stole Christmas again, or he may think the Grinch escaped. Or at least let him watch it until the end, when his heart grows bigger as he learns the true meaning of the holiday and gives all the gifts back.
It's the Most Wonderful, Annoying Words of the Year
Every December, magazines, newspapers, and websites release their best-and-worst lists for the year. The best and worst movies, the best and worst albums, the best and worst political stories of the year. It's a year-end tradition we look forward to as much as stuffing and the first snow.
I don't know if this counts as a "best" or a "worst" — maybe it's the best of the worst — but the list of the most annoying words of 2017 has been released by Marist College. For the ninth year in a row, Americans have declared the word whatever the "winner."
Other annoying words and phrases of the year include fake news; literally; you know what I mean; ya know, right; and huge. Actually, I would add the words actually, like, irregardless, basically, selfie, hashtag, and viral.
Maybe Marist should declare that whatever can no longer be named an annoying word of the year. It's won way too many years. It's the Modern Family of annoying words and should take itself out of consideration.
New Raymond Chandler
Raymond Chandler is one of my favorite writers, so when I heard that there was a newly discovered short story about to be published, I was more excited than a salad in a paper towel factory (I have no idea what that even means, that's how excited I am). The story is in the current issue of The Strand, and it's titled "It's All Right — He Only Died."
From that title, you might be expecting a two-fisted Philip Marlowe detective tale, but it's actually about … the U.S. healthcare system? That's right, Chandler was thinking about that way back in the 1950s (he died in 1959). Luckily, in the six decades since the story was written, we've completely solved any problems we may have had with healthcare.
Last-Minute Gift Idea
Did you know that Christmas is this Monday? That means you only have this weekend to buy the rest of your gifts, unless you're one of those people who goes to CVS on Christmas morning and grabs a box of chocolate or whatever perfume is on sale.
May I suggest something that can be enjoyed the entire year, something that's like getting a new Christmas gift every other month? A subscription to The Saturday Evening Post! Right now you can get an entire year (six issues) for a savings of up to 49 percent. With that subscription, you also get discounts on car rentals, travel, entertainment, even insurance! It's a great deal and a great magazine (and I'd say that even if I didn't work here).
RIP Keely Smith
Keely Smith was an acclaimed singer known for her partnership with husband and bandleader Louis Prima. She is remembered for such songs as "I Wish You Love," "That Old Black Magic," and "I've Got You Under My Skin." She died Saturday at the age of 89.
Here's her version of "I'll Be Home for Christmas."
The Best and the Worst
Best: My favorite things this week haven't even happened yet. They're on TV tonight. CBS is continuing its annual tradition of showing back-to-back classic episodes of I Love Lucy and The Dick Van Dyke Show. It all starts at 8 p.m.
Worst: This also involves CBS's airing of I Love Lucy and The Dick Van Dyke Show. As I mentioned just four seconds ago, it's great that they air these episodes every Christmas. But do they have to be colorized? And do they have to be the edited versions of the episodes? That's a travesty (the latter more than the former). These shows were both originally on CBS, so I don't know why they have to show edited versions. And as for colorizing them, that was interesting the first time as a little historical pop culture curio, but colorizing TV shows and movies rarely works (the colorized Miracle on 34th Street I watched the other night looked awful). Really, viewers can handle black and white.
This Week in History
Wright Brothers Take Off (December 17, 1903)
Here's an interview the Post did with Orville Wright in 1928 on the 25th anniversary of the historic flight.
A Christmas Carol Published (December 19, 1843)
The classic Charles Dickens novella has been filmed a gazillion times and the basic plot has been used in countless stories and TV shows. The first film made from the story was a 1901 short silent film titled Scrooge, or, Marley's Ghost.
If you really enjoy the story, you could start a collection of various editions. This guy did, and he's up to 1,000 of them.
This Week in Saturday Evening Post History: Centering the Christmas Tree (December 22, 1951)
Remember I told you a couple of weeks ago that I like artificial Christmas trees because they don't shed like real trees? Look at this cover by Stevan Dohanos. Just look at it! Pine needles all over the place.
Christmas Recipes
I was listening to "The Christmas Song" the other day — I've already heard it 100 times this month — and realized that it's been 30 years since I've had chestnuts roasting on an open fire. Actually, I've never had chestnuts roasting on an open fire. My mom used to boil them.
But it did get me thinking about the foods that are mentioned in Christmas songs, so I thought I'd list some recipes for you to make this holiday season. Here are five vintage and delicious recipes for chestnuts, and if you enjoy "We Wish You a Merry Christmas," here's a recipe for figgy pudding. Brenda Lee sang about pumpkin pie in "Rockin' Around the Christmas Tree," and if you're a "Grandma Got Run Over by a Reindeer" fan, here's an eggnog recipe from Alton Brown (please note that it includes bourbon). And don't forget, it's a marshmallow world that we live in.
Merry Christmas!
Next Week's Holidays and Events
Boxing Day (December 26)
The holiday started in Britain in the 1830s as a day to honor "post-men, errand-boys, and servants of various kinds."
National Fruitcake Day (December 27)
Also known as "The Day Everyone Throws Away the Fruitcake They Got for Christmas" Day.
In honor of National Farmer's Day, we share some of our favorite illustrations of the people who worked the farms of America in the 1940s. 
In a year when many of the Post covers featured war-related images, this glowing, pastoral scene must have been a soothing one to readers. This painting reflects the regionalist style that was popularized by artists such as Thomas Hart Benton and Grant Wood. However, most of Radebaugh's paintings were more futuristic; he created numerous illustrations for the airline and automotive industries.  
Although he painted several interior illustrations for the Post, this was Ray Prohaska's only cover. The woman atop the wagon with her straw hat, polka-dot hair ribbons, and plaid shirt is the quintessential farm girl. As with the previous cover, this happy scene gave readers a respite from the war.  
John Atherton painted 40 covers for the Post. Many were bold, architectural compositions of industry — steel mills, grain elevators, ore mines, and lumber yards. Atherton painted a number of more pastoral scenes, such as this farmer with his cornucopia of fruits, vegetables, and grains.  
Stevan Dohanos, inspired by Norman Rockwell's talent, depicted everyday life in the 123 covers he created for the Post. Dohanos was also busy aiding the war effort by painting recruitment posters and wall murals for federal buildings. He also designed stamps for the federal government, starting during the Roosevelt administration, and staying in the profession the rest of his life. 
Stevan Dohanos made pencil studies of the lamb in this painting early in December on the farm of Raymond Platt, in Redding, Connecticut. Before he found his cover subject, however, he made a number of sketches in a drafty shed where lambs and ewes of all ages were quartered. "They stepped on my sketches and equipment; they pushed me all over the shed," says Mr. Dohanos. "In fact, they acted just like people." 
This Mead Schaeffer cover shows corn being picked by the "bang-board" method, which allowed a man to throw ears into the wagon without looking, because they would bang against a high board at the far side of the wagon and drop in. By 1948, most big farms used mechanical corn pickers, including the Lawton, Iowa, farm of Louis Peterson, the setting of this picture. The mechanical picker had already been used on much of the field, as the rows of stubble indicate, but the day Schaeffer was there, the machine was busy elsewhere. Farmer Peterson needed a little corn for his hogs. He got it the bang-board way—and Schaeffer got this cover. 
John Atherton's cover painting depicts life on a farm near Madison, Wisconsin. The machine is a husker and shredder, which sends the husked ears of corn into the waiting truck, chops the stalk and blows the choppings into the mow, like hay. The power comes from a tractor offstage to the left. 
Stevan Dohanos felt apologetic about the request he made in a hatchery in Wallingford, Connecticut. "What I'd like to paint," he said, "is baby chicks of one particular color. It's a color people like to see on a bleak March day—a kind of pale lemon yellow." It didn't faze the hatchery men. "We've got about any shade you like," they said, and began showing stock. The ones Dohanos chose—he thinks—were White Leghorns. The artist ended up pretty proud of his new knowledge. "That's a coal-stove brooder," he said professionally, "and technically correct. It has to be round. If it were square, you see, the chicks would get into the corners and crush themselves." 
This cover is meant to coincide with the wheat harvest in the famous North Dakota-Minnesota Red River Valley. Artist Schaeffer, conditioned to small patches of Eastern wheat, was amazed by the endless golden seas of Midwestern grain. One day, in the fields, Schaeffer wondered where everybody's lunch was coming from, and an airplane appeared, bringing same.  
From classic Cubs to the Bronx Bombers, our vintage baseball covers by Norman Rockwell, Stevan Dohanos, and other notable artists capture perfect moments in America's game.
See more videos from The Saturday Evening Post at www.saturdayeveningpost.com/video.
It's Not Easy Being Green
Is it possible for a puppet to get fired?
In the case of Kermit the Frog, it is. Specifically, the voice behind the Muppet has been fired. Disney has canned Steve Whitmire, who has provided the voice of the popular Sesame Street character for almost 30 years, after taking over the role from creator Jim Henson.
The reason? Whitmire says that two Disney executives told him it was because he sent notes that were too detailed, which made people uncomfortable, and also because of a contract dispute regarding a video project that Whitmire declined to do. Whitmire says that he's upset, because he's put three decades into the job and it's his "life's work." He sees it as a betrayal. In a press release, Disney says they let Whitmire go because he displayed "repeated unacceptable business conduct" over the years.
Matt Vogel will take over the role of Kermit. Miss Piggy, who has been romantically involved with Kermit in the past, could not be reached for comment.
Nose Candy
I know what you're thinking: You love chocolate, but you're tired of consuming it the old-fashioned way, via the mouth. Surely there must be a way to get chocolate into the body in some other way?
There is! It's called Coco Loko, and it's chocolate in powder form that you can snort! Apparently it has been popular at European parties for years, but now it's here in the United States, and people are wondering if it's legal to sell or even safe to eat, if "eat" can even be used to describe what you're doing with it.
Coming soon: Chocolate in liquid form that you take intravenously. You don't get the pleasure of experiencing the taste of the chocolate but you still get the rush and calories.
Michael Phelps Is Going to Race a Shark, for Some Reason
Actually, the reason is because it's part of the Discovery Channel's annual Shark Week. It's called, appropriately enough, "Phelps vs. Shark." The Olympic gold medal winner will race against a great white this Sunday, July 23, at 8 p.m. And no, Phelps won't be in a cage. Both he and the shark will be in open water. But since the show was taped weeks ago and Phelps is doing interviews for it this week, we can safely assume he wasn't eaten. No word yet on who won.
RIP Martin Landau, George Romero, Bob Wolff, Harvey Atkin, and John Bernecker
Martin Landau was a fine actor who had some great movie roles over the years, in such films as North by Northwest, Crimes and Misdemeanors, and Ed Wood, for which he won the Best Supporting Actor Oscar for playing Bela Lugosi. He also appeared in TV shows like Mission: Impossible, Space: 1999, and a million others since the 1950s. Landau died Saturday at the age of 89.
His first job was as a cartoonist for The New York Daily News, and he turned down the role of Mr. Spock on Star Trek.
If you like The Walking Dead you partly have George Romero to thank. He wrote and directed the classic 1968 horror flick Night of the Living Dead and its many sequels. He also directed Creepshow, The Dark Half, and a 1974 documentary titled O.J. Simpson: Juice on the Loose (which might be a good movie to watch this week to coincide with Simpson's parole hearing). Romero passed away Sunday at the age of 77.
Speaking of The Walking Dead, the show was temporarily shut down this week after the death on the set of stuntman John Bernecker. The 33-year-old also did stunts for movies like Logan and Fantastic Four as well as TV shows like Memphis Beat and The Vampire Diaries.
Bob Wolff was the longest-running sportscaster in TV and radio history. He's not only the only person to have announced the championship games in each of the four major sports, he interviewed Babe Ruth. Wolff died Saturday at the age of 96.
Harvey Atkin played the camp director in the classic comedy Meatballs, was a regular on Cagney & Lacey, and acted in such shows as Law and Order: SVU and many cartoons. He died earlier this week at the age of 74.
Town Honors World War II Vet with No Family
What happens when a World War II vet with no close relatives dies? Hopefully the community comes together to honor him. That's exactly what the citizens of Pembroke, Massachusetts did when former Marine Malcolm Phillips, who died at the age of 92.
Moon Dust
Nancy Carlson likes space so much that she paid $995 for a bag used on the historic Apollo 11 mission. The forgotten bag was auctioned off yesterday at Sotheby's, and she got a great return on her investment ($1.5 million). But she almost lost the bag in a legal fight with NASA.
After Carlson bought the bag, complete with moon dust still inside, she sent it to the space agency to make sure it was authentic. NASA said it was indeed a real bag used during Apollo 11, but she wasn't getting it back because it shouldn't have been sold in the first place! She sued and won but decided it would be safer to auction it off than keep it in her home.
This Week in History
Apollo 11 Lands on the Moon (July 20, 1969)
The NASA mission that included that bag happened 48 years ago yesterday (it's not a coincidence the Sotheby's auction took place yesterday). Neil Armstrong, Buzz Aldrin, and Michael Collins took off from the Kennedy Space Center on Merritt Island, Florida, on July 16 and landed on the moon four days later. Armstrong was the first to step foot on the surface, followed by Aldrin (Collins stayed on board the command module to pilot it). Here's how CBS covered it:
Ernest Hemingway Born (July 21, 1899)
The acclaimed author never wrote for the Post (he submitted but we didn't accept — sorry!) but he did appear on the March 12, 1966, cover.
This Week in Saturday Evening Post History
"Doing Dishes at the Beach" (July 19, 1952)
You can look at this Stevan Dohanos cover two ways. It could be a funny picture — oh, that wacky husband and kids of mine, having fun on the beach while I'm stuck doing dishes just like at home! — or you could look at it as kind of sad, for the very same reasons. I lean toward the latter. I think it's the way Dohanos shows her only from the back, looking off into the distance at her family having fun while she works, face unseen.
Today Is National Junk Food Day
At first, I thought I wasn't going to be able to link to any recipes for this day. How do you find recipes for "junk food"? It's usually just something we buy at the supermarket or fast food place, right? But this is the web, so …
Here are instructions on how to make a homemade version of a Big Mac, and here's a recipe for your own version of the Chick-Fil-A Chicken Sandwich. If your junk food tastes run more toward snacks and desserts, here are recipes for homemade versions of Oreos, Hostess Sno Balls, peanut butter cups, and Goldfish Crackers.
Or if you're feeling lazy, you could just go out and buy them.
Next Week's Holidays and Events
National Parents' Day (July 23)
The day was established under President Bill Clinton in 1994.
National Talk in an Elevator Day (July 28)
This is the day you have permission to talk to random strangers you meet on the elevator, about anything you want. Anything! Talk to them about politics, about the weather, about movies, even talk to them about your collection of elephant figurines or the history of cheese. They'll love it!
RIP Adam West, Glenne Headly, and A.R. Gurney
Adam West will always be the best Batman to me, partly because of nostalgia and partly because I think many of the big-screen movies are too dark and underwhelming. In addition to that iconic role on the 1966–68 ABC series, West appeared in many other TV shows, including The Detectives and a long-running role as Mayor West on Family Guy. West died last Friday at the age of 88.
Here's a terrific story from the May 7, 1966, Saturday Evening Post that examines the phenomenon surrounding Batman.
West had a home in Ketchum, Idaho, and here's what it said in the town's phone book:
Classic humor from Adam West. His phone book listings in Ketchum ID pic.twitter.com/GVCGJOtRaf

— blueidaho (@svskier1) June 10, 2017
Glenne Headly was that actress you probably couldn't name off the top of your head but you remember from many movies, including Dick Tracy, Mr. Holland's Opus, Dirty Rotten Scoundrels, and many others. She was also in TV shows like ER and Lonesome Dove and was filming the new Hulu show Future Man. She also died last Friday, at the age of 62.
A.R. Gurney was an acclaimed playwright best known for his plays "Love Letters," which has been performed thousands of times. He also wrote "The Cocktail Hour," "The Dining Room," "The Middle Ages," and "Who Killed Richard Cory?," among other plays. He died Tuesday at the age of 86.
Must Be a Really Great Book
I hate to admit this (so much that I hope you just skip this paragraph and scroll down a bit), but I haven't been to my local library in almost 20 years. With the internet and my spending way too much money on books, I find no need to go. But that doesn't mean I don't support them, and it doesn't mean I don't think other people should go. Support your local library!
I do remember as a kid being really embarrassed when I had an overdue book. I'd hate going up to the librarian and having her look at the back of the book and see it was a day or two or seven overdue, and I'd have to pay whatever the fine was (a nickel a day maybe?). I thought of that after reading this story about a book that was returned to the Noah Webster Library in West Hartford, Connecticut. Usually, an overdue book being returned to a library wouldn't make the news, but this book was supposed to be returned by September 29, 1965.
That's not a typo. It was supposed to be back at the library 52 years ago. At least the borrower enclosed a note of apology.
Flags
My favorite story of the week concerns 11-year-old Preston Sharp of Redding, California, who was upset that not all of the veterans buried at his grandfather's cemetery had their tombstones decorated with a flag and decided to do something about it:
Every Single Beatles Song, Ranked
I'm no longer a fan of best and worst lists. They used to be fun, back when not everyone was doing them, but so many publications and sites do them now that they're basically meaningless. I mean, how many "Best Sci-Fi Movies of All Time" or "Best Sitcoms of All Time" lists do we need?
But if a list is extensive enough, they inadvertently become a one-stop history lesson for the subject, like this list from Bill Wyman that ranks all 213 Beatles songs. All lists are ripe for arguments and discussion, and this one is no exception. It's sort of silly to think that such a list could be 100 percent accurate (is there really a difference between number 77 and number 89?), but it does show how many fantastic songs John, Paul, George, and Ringo recorded.
I have to say that even though I don't like lists, I'm happy to see "Here, There, and Everywhere" in the top ten. What a great song.
The Formosa Is Back
If you've seen L.A. Confidential or Swingers, you've seen the Formosa Cafe in Los Angeles. Because it was located near the studios, it was a favorite hangout of many celebrities, from Frank Sinatra, Dean Martin, and Lana Turner to Brad Pitt, Jodie Foster, and Johnny Depp. It was set for demolition in 1991, but public outcry helped to preserve it. Several years ago, it was gutted and remodeled, but people hated that too, so it was rebuilt to look a lot like the original. Now it's under new ownership and, according to Los Angeles Magazine, it's going to reopen with all of its vintage charms intact. The reopening is scheduled for summer 2018.
This is one of the historic places I'd love to visit. Some people want to see Hoover Dam, I want to go to a bar in L.A.
I Bet Some of These Stars Hung Out There Too
Speaking of the golden age of Hollywood, the Post has a new special edition with the very same title. The Golden Age of Hollywood is a collection of great articles on people like Marilyn Monroe, Debbie Reynolds, Bogie and Bacall, John Wayne, Charlie Chaplin, Judy Garland, Cary Grant, Marlon Brando, and many other classic film stars. Here's how to order.
This Week in History
Warren Harding Becomes First President on the Radio (June 14, 1922)
The 29th president spoke at a memorial for "Star-Spangled Banner" poet Francis Scott Key in Baltimore.
John Bartlett Born (June 16, 1820)
The first edition of Bartlett's Familiar Quotations was privately published in 1855 and is now in its 18th edition.
This Week in Saturday Evening Post History: "Icing the Wedding Cake" (June 16, 1945)
This is a great cover by Stevan Dohanos, filled with lots of little details that make it feel realistic. I love the calendar in the background. I don't know if there was an actual calendar in the room that looked like that when Dohanos painted the picture, but a food-centered calendar, one with a loaf of bread as the picture for the month of June, looks like something a cook would have on his wall.
Today Is National Fudge Day
Here are three recipes for various types of fudge — Peanut Butter Fudge, Walnut Pumpkin Fudge, and Gimme S'More Low-Fat Fudge, which replaces a lot of the fat and calories via low-fat semisweet chocolate chips and graham crackers.
But you can pig out on the first two recipes if you want because tomorrow happens to be Eat All Your Veggies Day.
Next Week's Holidays and Events
​Father's Day (June 18)​
After dad opens up the ugly tie you bought him and you make him breakfast in bed, read him this poem from Charles Osgood titled "Father of the Year."
Juneteenth (June 19)
As the official site says, Juneteenth is the oldest known celebration commemorating the end of slavery. It became a state holiday in Texas in 1980 and its nationwide popularity is growing every year.
First Day of Summer (June 21)
Ah, summer. Hot days, the beach, people in flip-flops, sunlight until almost 9 p.m. I hate it. To help get through the next three months, here's a classic story Ray Bradbury wrote for the Post titled "Summer in the Air," tips on how to keep your pets safe from heat stroke and injuries, and here's a great piece by Jeff Nilsson on how air conditioning went from being a luxury to a necessity. I haven't had air conditioning in 26 years.
RIP Roger Moore, Dina Merrill, Anne R. Dick, and Marsh McCall
Every generation has their favorite James Bond, usually the one you remember seeing in movie theaters. I'm a Sean Connery guy, but the first 007 I saw in theaters was Roger Moore, who died earlier this week at the age of 89. Moore also played another famous character, The Saint, for several seasons and appeared in Maverick, Ivanhoe, and The Persuaders with Tony Curtis.
Here's a great story from a fan that illustrates the type of person Moore was.
Dina Merrill was an actress and philanthropist (she was the daughter of E.F. Hutton and Post cereal heiress Marjorie Merriweather Post), appearing in such movies as Desk Set, Operation Petticoat, BUtterfield 8, and The Player, as well as TV shows like To Tell the Truth, Murder, She Wrote, and Batman. She passed away Monday at the age of 93.
Anne R. Dick was a jewelry-maker, publisher, and writer who was also a major inspiration in the writings of her husband, Philip K. Dick, author of Do Androids Dream of Electric Sheep? (which was turned into the movie Blade Runner), The Man in the High Castle, and many other books and stories. She wrote a memoir of their time together, The Search for Philip K. Dick, and was about to publish her first novel. She died in April at the age of 90.
Marsh McCall started his TV career as a writer on Late Night with Conan O'Brien and went on to write for such shows as Just Shoot Me! and The Naked Truth. He was also a producer on Tim Allen's Last Man Standing and the Full House reboot, Fuller House, and co-created My Big Fat Greek Life. He died Sunday at the age of 52.
Print Books Are Back!
I prefer print books over e-books. It's not that I'm a Luddite and don't want to get involved with electronic versions of books — hey, I have the Kindle app! — it's just that I prefer the look, the feel, the history, even the smell of the printed page. Honestly, I spend so much time in front of screens already. I'm always looking for a way to get away from them, and print lets me do that.
It seems a lot of other people like them too, as this piece at The Guardian explains. E-book sales reached a high in 2014 but ever since then have seen their sales drop. In fact, last year, sales dropped 17 percent. It's also interesting to see that while many big bookstore chains have failed or aren't doing too well, independent bookstores are doing better.
I don't think e-books are going away, leaving us in a world where just print books exist — digital is still where we're headed — but I think there's a real future for print that goes beyond just being a niche product that only collectors are still interested in. Print books and bookstores are here to stay.
The American Writers Museum
Many of the books you'll find in those bookstores (boy, that's a tortured segue) were written by classic American writers, and now you can go to one place that celebrates their work. The American Writers Museum in Chicago opened recently and showcases the work of such writers as Mark Twain, Herman Melville, F. Scott Fitzgerald, Jack London, Shirley Jackson, John Updike, Kurt Vonnegut, David Foster Wallace, and even I Love Lucy writer Madelyn Pugh Davis (who, by the way, went to the same high school as both Kurt Vonnegut and former Saturday Evening Post owner Beurt SerVaas).
It won't surprise you that, yes, many of those writers wrote for the Post, including Fitzgerald, London, Jackson, and Vonnegut.
Journalists Aren't Normal, Study Shows
No, this isn't another story about so-called fake news. It's about a scientific study that shows journalists' brains aren't the same as everyone else's.
Neuroscientist Tara Swart, in association with the London Press Club, interviewed and tested 40 journalists from various newspapers, magazines, and websites and found out that not only do their brains show a lower-than-average level of functioning than the average population, they're also more prone to dehydration, to not getting enough exercise, to an inability to "silence the mind," and to self-medicate with caffeine, sugary foods, and alcohol.
Every single writer and journalist will tell you that those findings are absolutely true.
The study wasn't all bad news. It also showed that journalists did very well with things like "abstraction" (the ability to deal with ideas rather than events) and "value tagging" (the ability to figure out what's important or what has meaning). It just so happens that, to many journalists, those important things are caffeine, sugary foods, and alcohol.
Frankenstein and The Mummy and The Creature, Oh My!
Universal Studios wants to make a monster movie universe, a series of connected movies, much like all the Marvel movies are connected and part of the same universe. And they're going back to their roots to create that universe.
With the launch of The Mummy (with Tom Cruise) on June 9, the studio is well on its way to forming what is being called a "Dark Universe." Other movies in the series will include The Invisible Man (with Johnny Depp), Van Helsing, and new versions of Frankenstein (with Javier Bardem) and The Bride of Frankenstein.
I hope they don't ruin these movies with too many special effects when it comes to the actual monsters. They have to be guys in suits, right? That's the only way these movies will work. Part of the charm of the original Creature from the Black Lagoon was that we knew it was a guy in a creature suit swimming around. I don't want to see a CGI Creature or Frankenstein.
Finally, You Can Drink a Latte out of an Avocado
I didn't realize that drinking something out of a food was a thing, but then again, I'm just getting caught up on fidget spinners and Harry Styles.
The Truman Cafe in Melbourne, Australia, is currently serving the Avolatte, which combines two Australia favorites, lattes and avocados. It started as a joke, but now it has taken off and everyone is talking about it.
It probably won't catch on, and soon we'll be on to the next fad. Maybe my invention will become popular: drinking Diet Pepsi out of a hollowed-out tomato. I call it The Tomepsi.
This Week in History
Arthur Conan Doyle Born (May 22, 1859)
The creator of Sherlock Holmes contributed several articles to The Saturday Evening Post, including "The End of Devil Hawker," a nonfiction piece about the wrongful conviction of a half-English, half-Indian man, George Edalji.
Dunkirk Evacuation Begins (May 26, 1940)
Also known as Operation Dynamo, the evacuation of Allied troops from Dunkirk's beaches and harbor on the French coast took place between May 26 and June 4.
Director Christopher Nolan's new movie about the event, Dunkirk, opens on July 21. Here's the trailer:
This Week in Saturday Evening Post History: First Cake Cover (May 21, 1955)
I love that kitchen. I want to live in a time and place where that kitchen exists. This cover is by the great Stevan Dohanos, and it's so well done you don't even have to see the date on the cover to know it's from the 1950s. But it proves you can have all of the most modern appliances in your kitchen and they still won't guarantee you'll make a great cake. Even the oven looks shocked at how it turned out.
National Cherry Dessert Day
Today is the day when you can officially eat cherry-inspired desserts, such as these Cherry Oatmeal Cookies or this Cherry Dream Cake. You can also make Mary's Royal Cherry Trifle. "Mary" is Mary Berry, the tough but fair British food writer and co-host of The Great British Bake Off and The Great American Baking Show.
If you want to pour a latte into one of these desserts, well, I guess I can't stop you. I don't think Mary would be too happy about it, though.
Next Week's Holidays and Events
Memorial Day (May 29)
This Monday isn't just the unofficial kickoff to summer, the day to fire up the grill and get out the patio furniture and bug spray; it's also a day to honor our heroes.
National Doughnut Day (June 1)​
There are actually two National Doughnut Days (the other is on November 5), but most people consider this day the official day, as this Mental Floss piece explains. But feel free to celebrate both if you really like doughnuts.
On the anniversary of Florence Nightingale's birth, we celebrate nurses everywhere. Although most of these Post covers limit nurses to the maternity ward, the reality of their jobs was much more complex, far-reaching, and demanding than these sunny snapshots reveal.
While much has changed (can you imagine your nurse helping you light your cigarette?), we can't overestimate the enormous contribution that nurses have made to health care. Thank you for all that you do!
A new approach to painting –"dynamic symmetry"-  was emerging, and Rockwell's artist friend told him that he had better begin using it or his work would crumble. His next painting, using this technique, was a disappointment to him. It depicted a stone-faced fireman with an excited lad and his dog rushing to a fire as flames lit the scene. Rockwell gave the painting to a cousin who lived in Philadelphia, and vowed never to wander from the time-tested formulas that had worked so well in the past.
Monte Crews was an illustrator, art teacher, cartoonist, and movie theater owner. Like Norman Rockwell, Crews' covers are good examples of narrative art, where a single frame tells a detailed story. One can see the sense of urgency in this firefighter's eyes, as he holds the broken sledge hammer while pieces of burning wood fall around him.
Samul Nelson Abbott was known for his intricate and realistic illustrations, and did cover work for many of the major magazines of his day, including The Saturday Evening Post, Woman's Home Companion, and Ladies' Home Journal. Abbott painted two covers for the Post.
One day in the early 1940s, while rummaging through an old junk shop, Rockwell came upon a fancy fireman's frame. Since it was empty, and he felt he needed to fill it, he painted a cover using the frame and then put a painting into the frame. So actually, the frame generated the picture, and the picture was done for the frame.
[From the editors of the May 14, 1949 issue] Stevan Dohanos, seeking a small-town fire department with good equipment, but not those elaborate trucks that sprout ladders when a button is pressed, found just the thing at Center Square, Pennsylvania, not far from Art Editor Kenneth Stuart's home. When the fire boys had done posing. John Henryson, company secretary—who is dashing across the cover in pajamas—made Stuart an honorary, nonrunning member of his outfit. Will this burn up Stuart's home-town firemen at North Wales and raise his fire-insurance rate? Incidentally, four Post artists, long fascinated by that Center Square department store, have tried to figure out a theme for coverizing it, and failed. Too bad a false alarm wasn't turned in while they were thinking.
[From the editors of the December 16, 1950 issue] This could be the firemen of the Tunxis Hill Department in Fairfield County, Connecticut, but Stevan Dohanos is symbolizing the merry fact that fire brigades all over America know how to get extension ladders into the Christmas spirit. At this season some fire companies gather broken toys from neighborhood children and repair them for youngsters who otherwise might not find anything in their stockings; and that's another good thing about firemen. Would it take the cheer out of this scene if the boys hung a big placard behind the brightest lights, saying, "As most of us are volunteers, and hope to stay home Christmas, kindly electrify Christmas trees safely, so that they don't burn up"? But maybe the sign would catch fire.
[From the editors of the December 16, 1950 issue] It is comforting to reflect that in spite of rocket ships, disintegrator guns and all the charming new ways of imaginatively risking life and limb, one of the biggest thrills in little lives is still a careering, rip-roaring fire engine. Sort of makes you feel that the future of America is secure. Especially as today's little imaginers are handicapped by fire wagons no longer being towed by thundering, entrancing fire horses—are you antique enough to remember them? When the lad in the Dohanos scene has had his wonderful moment, papa will say, "Now let me sit there and show you how the pedals work"— for papa wants to play fireman too. Once, when a certain papa did that, the firebell rang, and boy! did he scram down out of there.
[From the editors of the April 3, 1954 issue] What gross inefficiency this is, scheduling the Vol. Fire Dept.'s annual dance the same night as the year's big fire. The entertainment committee will hear from this, unless they leave town under cover of Ben Prins' ruddy darkness. One toys with the notion that those flames could be a king-size bonfire organized on the other side of the hill by humorists. More likely the firemen have a grim and dangerous job to do, in which case there will be a special glow of enchantment when the men return safely and again enfold their dear ones in the dance. And then that one fellow now remaining behind with the fire belles won't turn out to be the beau of the ball. Hey, would he by any chance be the chairman of the entertainment committee?
[From the editors of the June 30, 1956 issue] The scene is out of John Falter's boyhood, and from this hilltop that looks like an ugly fire. But Falter, having added a modem chemical fire truck which he feels certain will save the barn, reflects that when he starts a fire, he can put it out. Seriously, this evokes a fervent thank-heaven for telephones, gasoline motors, new-fashioned antifire devices, and the know-how and courage of volunteer smoke-eaters. Falter didn't ride a horse bareback to his long-ago fire; his horse ran away and Johnny dismounted into a passing haystack. Then, finding himself alive, he proceeded on shanks' mare. To return to 1956, three volunteer boy-models, one on a horse, helped the painter by careering down a steep California hill again and again, which astonished onlookers, as there was no fire.
The weather may be dreary, but these rainy day covers will make you feel cheery!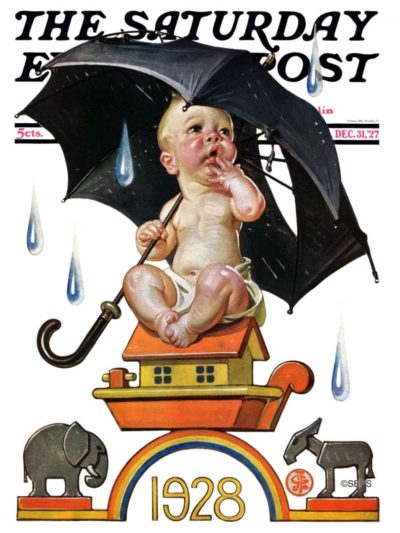 Artist J. C. Leyendecker was well known for his Baby New Year illustrations that graced many Post covers from the 1910s through the 1940s. Our 1928 baby awaits the possible repeal of Prohibition, symbolized by "wet" weather.
The subjects in this illustration were likely artist Ellen Pyle's own children; they served as the models in more than 20 of her Post covers.
[From the editors of the April 14, 1945 issue] Norman Rockwell suggested the idea to Atherton. The hatrack is in the hall of the Community House at Arlington, Vermont. Neighbors contributed the hats, coats and galoshes seen in the painting.
[From the editors of the July 17, 1945 issue] We imagine it is hard for anyone who has never sat on a Pacific spit kit of an island for months on end, contemplating the shapely curves of a can of tinned-pork products for emotional release, to understand Stevan Dohanos' cover. After such soul-gnawing, a flickering, one-dimensional pin-up girl enlarged many times on an improvised screen must have the pulling power a naked electric-light bulb has for a moth. Most South Pacific movies are now first-run, sometimes world premieres; but when "Wilson" was shown on Okinawa before an audience just back from the front lines, there were eight air-raid interruptions, and the show assumed a three-and-a-half-hour Gone With the Wind proportion. Perhaps the reason why Dohanos' G.I.'s are willing to sit in the rain is that their bucket seats are really magic carpets taking them home to Main Street for an hour or two.
[From the editors of the August 31, 1946 issue] The man who has determined to go fishing, Constantin Alajalov observed when he was in Florida, will go fishing until he catches a fish, in spite of bad weather. Alajalov determined to paint this truth. There were a few things on which he needed to refresh his recollection, but to do this, he needed only to go out in a boat on a similar day. We don't know how long the average determined fisherman has to wait for a sunny day. We do know how long Alajalov had to wait to catch a rainy one. One fair day followed another. He waited three weeks.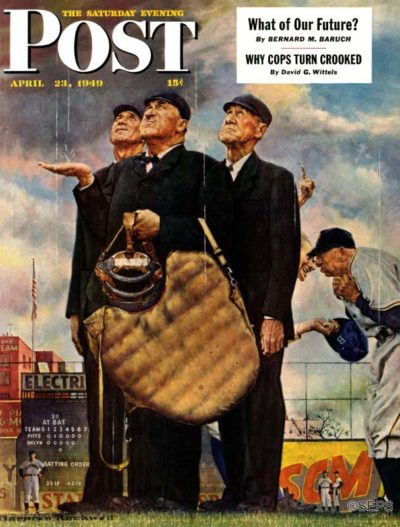 [From the editors of the April 23, 1949 issue] This week's Norman Rockwell cover depicts Ebbets Field, the home of the Brooklyn Dodgers. Here, the Dodgers are trailing the Pittsburgh Pirates 1-0 in the sixth inning. If the arbiters—left to right, Harry Goetz, Beans Reardon and Lou Jorda—call the game because of rain, the score will stand as is, and Pittsburgh will win. This irks the Brooklynites, who dislike having other teams win. In the picture, Clyde Sukeforth, a Brooklyn coach, could well be saying, "You may be all wet, but it ain't raining a drop!" The huddled
Pittsburgher—Bill Meyer, Pirate manager—is doubtless retorting, "For the love of Abner Doubleday, how can we play ball in this cloudburst?"
[From the editors of the May 22, 1954 issue] Rather than be depressed by Mr. Dohanos' soggy scene, note how the deluge has improved the situation. Any birthday party is fun, even if nothing more happens than the duly expected games, grub and slight fights between incompatible little boys. But to arrange for the routine confusion to be stepped up into the joyous chaos of a garden party dispersed by a cloudburst, that's a charming innovation indeed. And how delightful it is to throw a party in or into a garage, where tools and other weapons are available for favors as well as paper hats, where joy can he so much more unconfined than in an ordinary living-room hullabaloo. Even that pony thinks, Bless the rain—no more work. Fortunately, there isn't space here for what mother thinks.
[From the editors of the October 5, 1957 issue] Women can be such a handicap sometimes—"Aw, ma, halfbacks don't wear rubbers. Next thing, you'll want me to make touchdowns with my poncho on. Next thing, you'll want me to run the end with an umbrella." To which mother replies, "James, football men obey the quarterback's signals or get benched. The bench is home. Now then, four, eleven, forty-four, hip—on rubbers!" Well, the maxim says that mothers know best, and if James catches cold by getting wet everywhere except his feet, let's switch to the maxim that only Monday-morning quarterbacks think of everything. This might have been some action picture if Dick Sargent hadn't rung in mother; yet let's settle for the maxim that when it comes to painting, painters know best.
[From the editors of the March 22, 1958 issue] Of course, the children haven't been frightened by Papa's snoring, but by the awful sounds of Nature on an electrical rampage. So mother will gather them in her arms and love away their fear—mustn't it be wonderful to be a mother? If that lightning is bedeviling a far-north state, it should signify the breaking up of a winter which certainly needed breaking up; and yet not long ago some northern areas had thunderstorms followed by the blankety-blankest descent of snow for thirty-something years. Let's leave forecasting to the weatherman, who is welcome to it. Coby Whitmore's man of the house, buried there in the bed, must be the deepest sleeper this side of the proverbial log. How does mother get him up mornings—rap on his head with the book?
[From the editors of the May 25, 1958 issue] This wet cover had its origin in a drought. When crops withered in the Eastern states last summer, the Rev. Benjamin Axleroad, seen there at the door of St. Mark's Episcopal Church in Bridgewater, Conn., included in his prayers a plea for precipitation. And one Sunday, just as his service ended, down came the rain, exit drought. Weeks later artist Melbourne Brindle, a St. Mark's vestryman, puzzled some of the congregation by posing them at the church and refusing to tell them what it was all about—surprise, folks, you're in the Post! Comments on the cover scene: (l) artistic license helped keep that grass green during the drought; (2) if any of the parishioners were out on a golf course during the deluge, how remorseful they must have been that they weren't in church.
[From the editors of the July 8, 1961 issue] How do you like that? On Saturday afternoon—prime time at any golf club—comes the deluge. Well, that's par for the course, we suppose, and the course in this Ben Prins cover belongs to The Dunes Club of Myrtle Beach, South Carolina. That wave in the background is a fringe of the Atlantic Ocean, not the crest of an oncoming flood. The three-wheeled vehicle under the umbrella is what is known as a caddy car, and its occupants are either fair-weather athletes scurrying toward the indoor recreation of the nineteenth hole, or spirited souls bent on challenging their fellow duffers to a game of motorized water polo. At any rate they're not slowing down at the putting green. The weather being what it is, they're probably less concerned about sinking putts than about sinking, period.